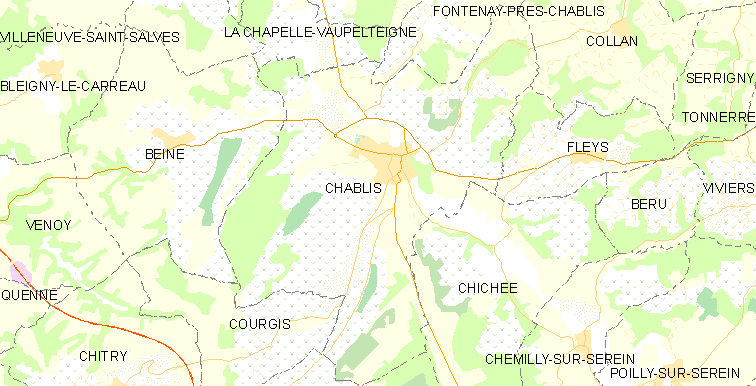 In the most northern part of Burgundy lies a small town (population 2366) where some of the most distinctive white wines in the world are made. The town of Chablis gave its name to the region comprising 19 towns. Chablis is physically closer to Sancerre and Champagne than to the Cote de Beaune (more the 60 miles away) where the most famous Burgundies are made.
History: Chablis has been made for centuries, perhaps as early as 510. In 867, Charles the Bald gave the town to a Benedictine abbey in Tours. By 1114, Cistercian monks had taken over and realized the land's potential for white wine. In 1477, Chablis became part of the Duchy of Burgundy and henceforth, has been associated with the Cote d'Or.
In the Middle Ages, Chablis was often used as sacramental wine. The wine became popular and was shipped to Picardie, England and Flanders. In a religious war, the Huguenots burned Chablis in 1568. It took a couple of centuries for Chablis to flourish again (because of the French Revolution and Prussian invasion) but when the vineyards finally recovered, things took a turn for the worse.
In the 19th century, Chablis suffered first from stiff competition from Southern France which transported wine more quickly by train to Paris, and then, from mildew and phylloxera infestation. Chablis did not fare well in the first half of the 20th century either - both World Wars had devastating effects and then frost wiped out two vintages, 1957 and 1961. Methods of frost protection and mechanization were introduced in the 1960s; frost continues to be the greatest challenge to making Chablis.
Terroir: In ancient times, the sea covered Burgundy. When the sea withdrew, the remaining soil was a mixture of clay and limestone studded with fossilized oyster shells and other marine sediment. This Jurassic marl makes the ground particularly well suited to growing the Chardonnay grape. This Kimmeridgian soil has lower calcium content than the Portlandian soil found in much of the rest of Burgundy. The vineyards are on very steep, rocky slopes of the hills running along both banks of the Serein, a small tributary of the River Yonne.
Appellations: There are four Chablis appellations - Petit Chablis, Chablis, Premier Cru Chablis (really a subdivision of AOC Chablis) and Grand Cru Chablis. The AOC Chablis and AOC Grand Cru Chablis were established in 1938 to protect its name (Americans had appropriated the name Chablis to sell inexpensive wines with no resemblance to Chablis). Approximately 32mm bottles are produced annually.
AOC Petit Chablis was created in 1944. Its vineyards are on hilltops and thus, get more wind and less afternoon sun than the more prestigious Chablis sites. Petit Chablis vineyards have Portlandian soil and, as a consequence, its wines are generally fruitier and less aromatic and complex than their higher ranked neighbors.
AOC Chablis vineyards tend to be south facing and on the lower parts of the hillsides (about 11,000 acres). Chablis and Petit Chablis are usually drunk young (1-3 years), but the best AOC Chablis also age well for up to 10 years.
Premier Cru Chablis comprises 40 climats (vineyard sites) which are split into 80 specific vineyards (about 1900 acres) facing southwest or southeast. Premier Cru Chablis differs from AOC Chablis in that its bouquet is typically more complex with hints of iodine, honey and green apple. It reaches its peak in about five years when it acquires a certain nuttiness, but can age longer.
Grand Cru Chablis is produced from 250 acres on southwest facing slopes divided into seven climats: Preuses, Bougros, Vaudesir, Grenouilles, Valmur, Les Clos and Blanchot. By regulation, the yields of Grand Cru vineyards are lower than the other designations and the alcohol content is one degree higher. Highly prized, the Grand Cru Chablis constitutes only about 3% of total Chablis production (but a far greater percentage of total Chablis revenue). The full body and acidity of the Grand Cru wines, and certain Premier Cru Chablis, make them well suited to be aged 10-20 years.
Style/Taste: Because of their common geology, Chablis is more similar to Sancerre than to other White Burgundies. Most of the fermentation is done in stainless steel; few makers use any oak. Chablis is a distinctive expression of Chardonnay; no other Chardonnay in either the Old World or the New World has its subtle, stony elegance. The color is pale straw yellow with a glint of green. The cool climate of Chablis results in austere wines of greater acidity and fresher minerality than other White Burgundies.