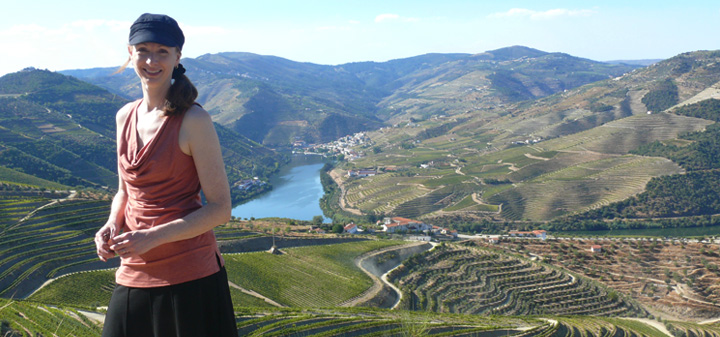 Meg Houston Maker has recently joined Grape Collective as Managing Editor. We pose some questions to Meg.
Where did you grow up?
I grew up in Maine, a proud Franco-American. My great, great grandparents immigrated to the United States from Québec at the turn of the last century, and we're all descended from a Frenchman named Pierre Piché. He set sail for the New World in the 1600s, leaving behind a tiny town in the Central Loire called Faye-La-Vineuse. Yes, "Vinous Faye." Is it any wonder that I ended up working in wine, and that I love Chinon?
What was your Aha! wine moment?
Wine and I don't really have a "how we met" story, but I do recall a turning point. I was at small gathering at a friend's house, and someone had brought an unpretentious red, I think a Valpolicella. Up to that point, I'd been drinking mostly California reds under $12 (this was a long time ago, when you could reasonably pay $12 for decent wine). There was just something about that bottle that struck me, and when I asked the man who'd brought it for details, he said little except that it was unfiltered. "Unfiltered" sounded exotic to me, although I had no clue what that really meant. Wasn't all wine unfiltered? Anyway, I couldn't stop thinking about that wine for days afterward, trying to sort out what had made it seem so interesting and complicated. I still love Valpolicella. And I married that man.
Best wine to give as a gift to a relative who has medium to poor wine knowledge?
A great méthode traditionnelle sparkling wine: Champagne, Cava, Trentodoc, Franciacorta, Crémant. Everyone loves bubbles.
What is the best present for the wine geek?
Riedel polishing cloths. If you have nice stems, you need that little towel.
Which wine regions are the most fun to visit?
The ones where the winemakers call themselves winegrowers, and there's no space in front of the cellar to park a bus.
Favorite wine books?
If by "favorite" you mean "most dog-eared," here are five:
Most inspired food and wine pairing?
Here's the most recent, anyway: Ryme Cellars' skin-contact Vermentino with Comté cheese. That cheese, from the Jura, is a soul-mate to Vin Jaune, so my pairing wasn't exactly innovative. But Ryme's wine, while savory, is also is fresh and sunny, and greeted that Old World cheese with a warm New World smile.
What did you think about Sideways—silly or great?
Silly. But I think it was meant to be silly.
What do you think of the 100-point scale—silly or great?
Silly. As is much of the discourse about it.
Opinions on natural wine?
Pour me a taste and I'll tell you.
No, seriously, my opinion on natural wine is colored by my decades as an organic gardener and cook. Vegetables that are thoughtfully grown are wonderful as they are, and should enjoy only gentle coaxing in the kitchen. They don't need a load of salt or sugar or butter to taste great. And they're seasonal: This year's ratatouille won't taste exactly like last year's ratatouille—even this week's won't taste exactly like last week's—because the flavors depend on the weather and the soil and the choices I've made in the garden. Similarly, I view wine as fundamentally an agricultural product: First grown, then made. If the winegrower has done her job well, she doesn't have to do too much in the cellar to make a wonderful wine.
A little salt is fine. A little sulphur is fine. Just not so much that you've turned it into something it isn't, and shouldn't be.