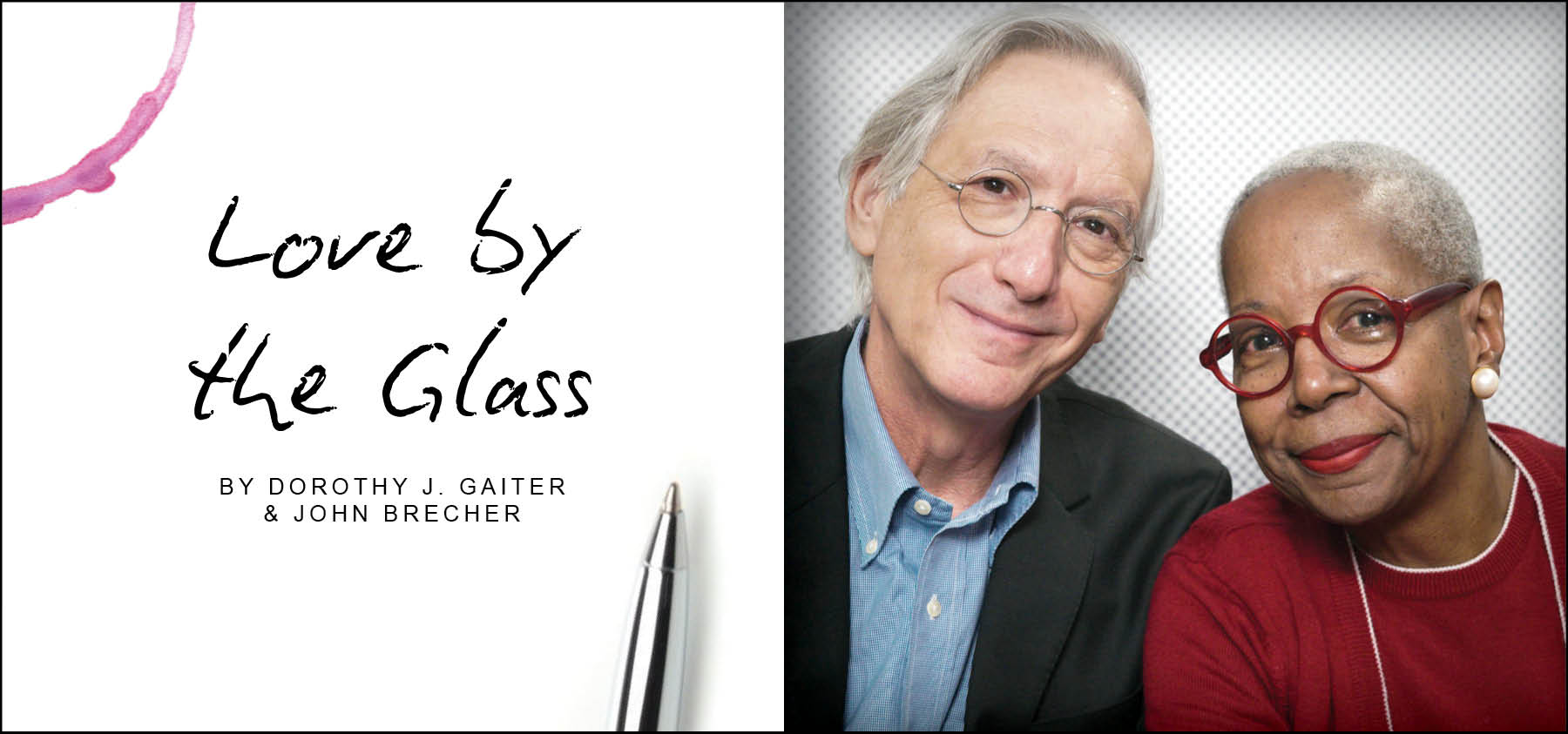 We have two words for you now that it's warmer: Chenin Blanc. Trust us.
This column kind of crept up on us. Our weekly sunset ritual usually starts with a white wine and somehow we never seem to have enough in the house. So when we recently reflected on which ones to stock up on, we discovered a pattern that had developed over several months: One was from France, another from Long Island, then one from South Africa and then California, and all were made from the Chenin Blanc grape. Hmmm, we thought. We need to shout from the rooftops about this underappreciated grape.
When we were growing up, Chenin Blanc was best-known as a bland jug wine. In South Africa, where it was that country's number one white wine and called Steen, it was also often not very good. Poor Chenin Blanc. It deserved better. It's stunningly versatile. Dry or sweet, sparkling or still, young or old, it has a special green apple mouth-watering acidity and a richness that can be quite luscious.
In terms of American wines, our eyes were opened about four decades ago when we tasted Chappellet Vineyard's Chenin Blanc. And then we discovered Vouvray, which is made in the Loire Valley of France from Chenin Blanc.
So here are the wines we enjoyed on our journey over the past few months. We hope these recommendations, at a wide range of prices, persuade you to find a bottle and become flag-wavers for this underdog.
--Vouvray is the classic Chenin Blanc wine. A while back, our daughter Media's fiancé, José, gave us a Domaine Huët Clos du Bourg Vouvray that we were wild about (he clearly has good taste in everything). We've been drinking it ever since. Our most recent notes read: "Clean, fresh, appley. Long, crisp finish. Lovely acidity. Nicely chewy. It tastes real, like the skins of white grapes, with a bit of nuttiness." ($40.) Two other reliable names are Champalou – probably the Vouvray we've had most over the years – and Domaine Boutet Saulnier.
--In 1983, When Charles and Ursula Massoud started Paumanok Vineyards in Aquebogue on Long Island, N.Y., there were some Chenin Blanc vines on the property. Years ago, they told us that Charles wanted to tear them out but Ursula persuaded him otherwise. Good thing! Chenin Blanc, now made by their son Kareem in two styles, is the winery's signature wine and it's delicious. We were delighted to see the regular estate version on the short but carefully chosen wine list at P.J. Clarke's next to Lincoln Center and it was just as marvelous as we remembered. Here's more, from Grape Collective, about the family and the winery.
We called P.J. Clarke's to ask how this arrived on its list and if it's a tough sell. Jeremy Mazal, president and COO of The Clarkes' Group, said he and owner Phil Scotti decided to add a Chenin Blanc to the list of the three New York restaurants about a year ago. "He said, 'I happen to love Chenin Blanc and I think Chenin Blanc is going to make a bit of a comeback," Mazal recalled Scotti saying. "We're not afraid to try anything," Mazal added. "If it doesn't work, we take it off the list." They chose the Paumanok because it's both local and delicious and then explained the wine to the staff to get them behind it: "You have to tell the story," Mazal said.
Was it tough sell? "Not as tough as when we put Godello on the list," he responded, but tough enough that they've replaced it on two of the lists. Mazal feels it's still too unfamiliar to diners who go to P.J. Clarke's because it feels comfortable (and it does). So what would he tell people to give this grape a chance?
"It's a great food wine. A Chardonnay or Cabernet you can drink by itself, but Chenin Blanc is not that wine. It pairs fantastically with certain foods and it makes the experience complimentary."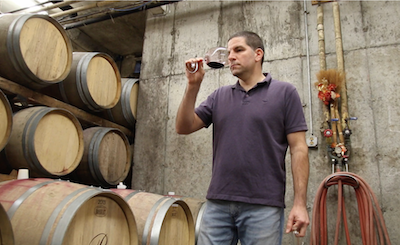 Kareem Massoud, the winemaker, agreed that it's food-friendly: "We can go on for a long while about the range of food-pairing possibilities. Our favorite pairing with our Chenin is with fresh, local oysters shucked raw on the half shell with a squeeze of lemon--delicious!"
(Photo, left: Kareem Massoud)
That's exactly how we first had it at the winery in the mid-'90s, years before we wrote about wine and were just friends of the Massouds. Paumanok's Chenin Blanc is so popular that the family is adding four acres to the 10 it already has, Kareem wrote us in an email, adding that their acreage is the only planting they're aware of in New York. They make 1,500 cases of their best-selling estate version and about 150 of the Minimalist version, which is made only when growing conditions are right, he said.
"Really the only people who don't like it are folks who don't like high acid whites," Kareem wrote about Chenin Blanc. "I like to call ours a 'Sour Patch' wine. Its sweet and sour citrus character offers a hint of sweetness on the attack and lots of acid on the finish. We also like to call it 'vinous lemonade.' Like lemonade, it is thirst-quenching and refreshing, and sensational when well-chilled." (Average price $26.)
--South Africa made a great deal of bad Steen before apartheid ended and the country was reopened to international trade. That's probably why 1) use the word "Steen" around a South African wine expert and you might get a disapproving look and 2) a marvelous wine we had recently called itself "Vinehugger White" and only on the back label in small type were the words "Chenin Blanc." It was Reyneke Wines 2018. Consider these notes: "Sophisticated, with depth and earth. Some lychee. Easy to drink yet sophisticated if you want to think about it. Bright acidity, with real life, but nicely restrained at the same time. Could be a crowd-pleaser but it could be more. Had it with Indian." That's a mighty good and interesting wine for about $14.99.
Jim Clarke, marketing manager for Wines of South Africa USA and one of the most knowledgeable and passionate people on the subject of the wines of South Africa, says that country still makes more Chenin Blanc than all of the world's wine regions combined.
Even though it has for years been South Africa's most widely planted grape, its status in the country's wine industry was not immune to shifting tastes and changes in the nation's politics. During "the pre-Mandela period," Clarke said, referring to the apartheid government before Nelson Mandela was freed in 1990 and elected President in 1994, Chenin Blanc was pumped out by co-ops more concerned with quantity than quality. After apartheid ended and with the country opened to international markets, some winemakers began to ask "what things can we recover from that period that were actually good?" Clarke said.
Clearly, Chenin Blanc benefitted from that reevaluation. "Americans are catching on to South African Chenin," he said, adding that South African Chenin Blanc imports were up 13% last year.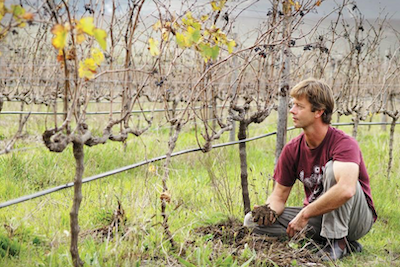 The 2018 Vinehugger White is made 100 percent from organically grown Chenin Blanc grapes by Reyneke, located in Stellenbosch. Reyneke's founder and viticulturist Johan Reyneke is a pioneer in environmentally conscious wine growing and his winery and vineyards were the country's first to be certified biodynamic. The Vinehugger, one of a handful of Chenin Blancs the winery makes, comes from young vines and is the only one made in concrete eggs, which "allows the wine to breathe during fermentation and maturation. This helps to develop the richness and texture of the wine," Johan Reyneke wrote us.
(Photo, above: Johan Reyneke)
Reyneke is also socially conscious, creating a range of wines called Cornerstone and devoting some proceeds from all his wines to programs that support his black employees, his business's cornerstones. "We buy houses for staff that have worked for the company for 10 years or longer, pay tertiary education fees and contribute to retirement annuity funds," Reyneke wrote. The Cornerstone range is marketed in the U.S. as Capstone, he said.
When we asked Reyneke why, unlike his other pricier Chenin Blancs, the Vinehugger states only in small type on the back label that it's Chenin Blanc, he wrote, "I'd have to ask the design team! Good question."
--Chenin Blanc acreage in California dropped almost 80 percent between 1997 and 2017, according to state figures, while it plummeted fully 99 percent in Napa, to just 17 acres. But there are some passionate holdouts. Chalone Vineyard is one of California's classic wineries, best-known for its Pinot Noir and Chardonnay grown high in the Gavilan Mountains.
We don't often see its Chenin Blanc, but the winery sent us a bottle recently to mark the 100th anniversary of the planting of its Chenin Blanc vineyard. The wine was $40, which seemed steep for a Chenin Blanc. But then we tasted it. "A fruit bowl – in a good sense – in a light off-dry package," we wrote. "Full-flavored but the weight is just right. Nice intensity. Good acidity. Slightly chewy, with fleshy fruits. White grape, kiwi, white peaches and a lovely finish. Refreshing and mouthwatering. Great with mushroom dishes or maybe cream sauces."
After we enjoyed that bottle, we went back to previous notes on this wine and discovered that we'd given the 1998 a rare Delicious! (our highest rating) in a blind tasting for The Wall Street Journal in 2000. One of the descriptions we used was "all the flavors of a fruit basket." Now that's consistency!
We called Chalone winemaker Gianni Abate and he told us that the Foley family, which owns Chalone now, is adding two acres of Chenin Blanc to the original 3.79 acres that were planted in 1919 by Lucien Charles Tamm, a French immigrant.
"We only make a couple hundred cases a year," Abate told us, and most of that is sold directly from the winery. Even after the new acreage is mature, "if we're lucky, we'll be making 300 to 400 cases. It's never going to be a huge program. But we have an easy time selling it.
"When people talk about Chalone and its history, a large amount of that talk is about the Chenin," Abate said. Even so, Abate said that Diageo, which owned Chalone before the Foleys, sold all of Chalone's Chenin Blanc grapes to another winemaker, more evidence of the ups and downs of this fine grape.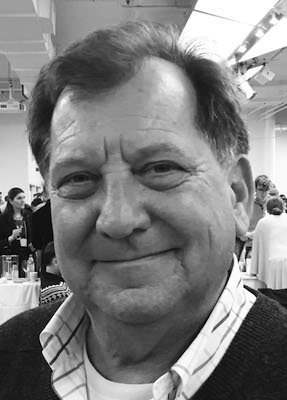 We'd also look for Chappellet and for Lang & Reed, a Napa winery best-known for Cabernet Franc that now makes a small amount of excellent Chenin Blanc. ($29.) We asked John Skupny, co-owner with his wife, Tracey, and winemaker of Lang & Reed Wine Co., why he believes in the grape.The Chenin Blanc is made by John and his son Reed. Lang, whose first name is Jerzy, has a farm in Alexander Valley.
(Photo, left: John Skupny)
"One can make a Chenin that preciously expresses the soil and climate of, say, the middle Loire, South Africa or California, each with its own unique expression of place and quality, which helps to make this wine such an exciting experience," he replied.
The label of the current vintage of Chappellet Chenin Blanc, the 2017, bears the signature of Molly Chappellet in gold in recognition of the winery's 50th anniversary and her abiding love of the wine. When she and her late husband, Donn, bought the property on Pritchard Hill in Napa, there were 35 acres of Chenin already there and in 2000 we rated its 1997 Chenin our "Best Value." Those vines had to be ripped out, but the family planted a new Chenin vineyard in 2007. Molly Chappellet designed the new packaging for the wines from that vineyard and included her signature.
"Yes, it's Mom's wine and we love it," Cyril Chappellet, the eldest of the founders' offspring and the board chairman, wrote in an email. The other wines in Chappellet's Signature Series bear Donn's signature. The winery sells most of the 1,000 cases of Chenin Blanc it makes from the winery and the balance sells in selected stores for about $34.
"When I'm pouring it at a tasting and someone is on the fence about tasting it, I usually lead with 'this wine is dry and crisp with a bit of honey on the nose and a hint of apple on the palate and is the perfect wine to enjoy with lunch or on your terrace before dinner,'" Cyril Chappellet told us. "That usually does the trick."
Dorothy J. Gaiter and John Brecher conceived and wrote The Wall Street Journal's wine column, "Tastings," from 1998 to 2010. Dorothy and John have been tasting and studying wine since 1973. Dottie has had a distinguished career in journalism as a reporter, editor, columnist and editorial writer at The Miami Herald and The New York Times as well as at The Journal. John was Page One Editor of The Journal, City Editor of The Miami Herald and a senior editor at Bloomberg News. They are well-known from their books and many television appearances, especially on Martha Stewart's show, and as the creators of the annual, international "Open That Bottle Night" celebration of wine and friendship. The first bottle they shared was André Cold Duck. They have two daughters.
Read more from Dorothy J. Gaiter and John Brecher on Grape Collective
Banner by Piers Parlett