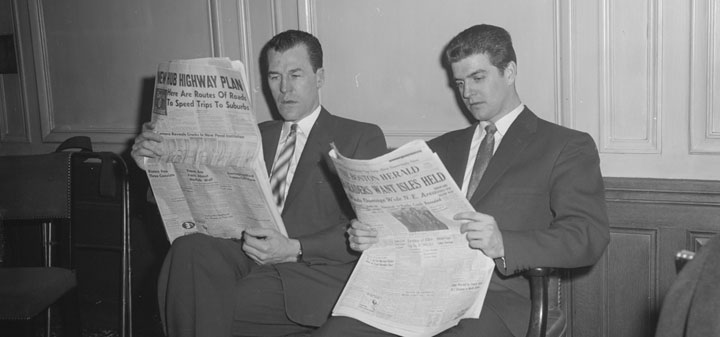 In Decanter, Cabernet Franc is slowly disappearing from the Left Bank. "At recent count, Leoville Barton has gone from 8% Cabernet Franc a few years ago to 3% now, Chateaux Haut Bailly has gone from 10% to 3% and routinely keeps it out of its first wine, Chateau Olivier in Pessac Leognan pulled up 2 hectares of Cabernet Franc in 2007 and replaced it with Petit Verdot and Cabernet Sauvignon, making them entirely Cabernet Franc-free, Chateau Talbot pulled up the entirety of its 3% Cabernet Franc… and there are plenty more."
CNBC on the impact of the drought on California winemakers. "For the first nine months of 2014, shipments of wines below $7 per bottle slid 2 to 3 percent, while more expensive wines saw double-digit growth, according to a 2015 industry update by the Allied Grape Growers, a California-based trade organization."
The OC Register on how the Catholic Church saved the California wine industry during Prohibition."The Christian Brothers had provided sacramental wine during Prohibition, and under Brother Timothy's guidance, the winery thrived as a quality commercial producer."
The Press Enterprise asks what did Jesus drink? ""The Romans flavored their wines with cinnamon and who knows what else," says Kitty Morse, author of "A Biblical Feast: Foods from the Holy Land for Today." "If you read Apicius, one of the first gourmets, they also flavored with black pepper and honey.""
Yahoo Health on easing depression with red wine.
In Winesearcher a recent attack on cult California winery Sine Qua Non has Mike Steinberger cheering. "These wines are trash," Levenberg wrote. "They are worse than trash, because they are trash elevated to the level of the profound."
Bloomberg on talks to the Vivino CEO.
Alder Yarrow profiles Austrian winemaker Rudi Pichler.
Robert Parker talks drinking 1,000 bottles per year in The Independent, via W. Blake Gray.