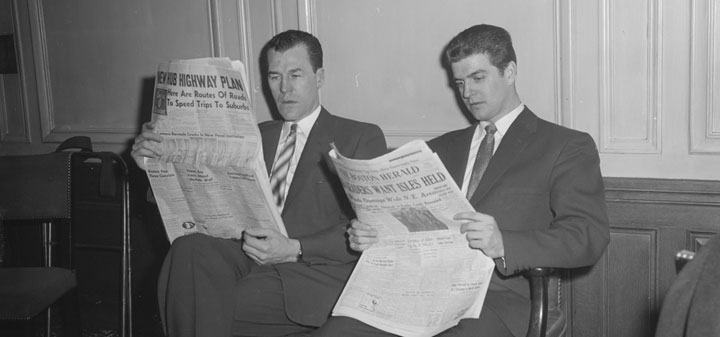 Vice on how LCD Soundsystem's James Murphy's wine bar is changing the world. "The Four Horsemen is a glittering unicorn among rock-star business ventures—it actually has a soul."
Forbes on Randall Grahm's crowdfunding initiative whose goal is to develop 10,000 new grape varietals. "The problems that I have to solve — how to grow grapes in a truly sustainable fashion with constrained resources, especially water — are essentially the same problems that perhaps most of the planet will have to confront sooner or later."
The Village Voice profiles Pasanella and Son wine shop.
Conde Nast Traveler takes a trip to Franciacorta wine country. "In fact, there's so much happening in the region—it's also one of the largest producers of caviar in the world—that it's almost a miracle that the Italians have managed to keep it under wraps."
The Daily Mail says hot men drinking wine is the latest Instagram craze to hit the net. "Men and Wine, which currently has 12,500 followers, is devoted to a rolling feed of luscious lads relaxing in various poses as they wind down with a glass of wine."
Punch goes inside NOLA's dreamy garden of wine.
Winefolly goes inside New York wine country.
W. Blake Gray on wine libel cases. "Michael Broadbent, a wine importer, was one of Wallace's main sources in the book and was interviewed and quoted extensively. He had imported and sold some counterfeit wines, but IMHO he doesn't look bad in the book; wine forger Hardy Rodenstock was great at fooling everyone. But Broadbent sued in the UK courts for defamation of character."
Zachary Sussman in The Wall Street Journal Magazine on the rise of the female sommelier. "For all that pioneers like Triffon have helped to smash the wine world's glass ceiling, she attributes the increased presence of women in the trade to "a natural progression."
Palate Press on wine and cancer.
Le Pan on Lebanese wine. "9 million bottles of wine produced annually For a country of around 3.5 million, that would point to a healthy interest in domestic wine, were it not that around half that figure is being distributed outside the country."