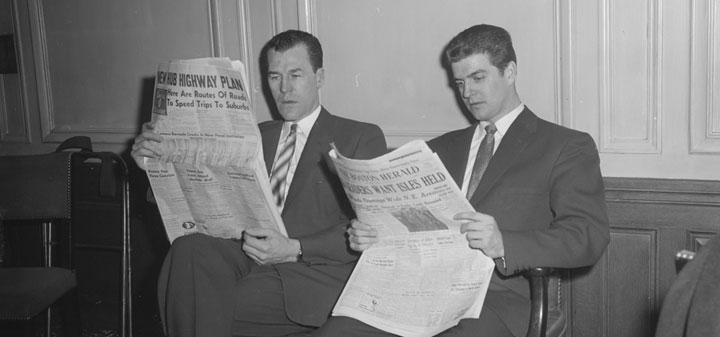 USA Today on women's growing influence at a New York wine event.
Inforum introduces the wineries of North Dakota. "Since 2002, when owner Jeff Peterson opened North Dakota's first licensed winery, Pointe of View Winery (www.povwinery.com), until today, the list of producers has grown to 12, with two more getting licensed this year and two more in development."
The Sacramento Bee on two French winemakers who have turned to Sonoma. "Both are from longtime Bordeaux wine families. Claire is the granddaughter of Jacques Merlaut, a vintner who collected several chateaux during his career. Gonzague is the son of another prosperous Bordeaux vintner, Lucien Lurton, who acquired enough chateaux to turn over one each to his 10 children."
Thestreet.com on how Silicon Valley Bank connects the tech world with wine. "But, says McMillan, referring to one of Napa's top vintners, "If I sent a bus to Bill Harlan, he'd kill me. You send the head of Intel Capital to him with his two buddies."
Le Pan looks at Slovenia.
Wine and Spirits looks at vines under volcano's in the Canary Islands.
Punch asks what is wine's equivalent of a beach read? "Has the obsession with place and detail made it harder to drink mindlessly? By trying to find a deeper meaning in even simple wines, have we denied ourselves the equivalent of a great beach read?"
In Bloomberg is Jay Z's new all Pinot Champagne worth $760 a bottle? "The bottle design, created by French fashion designer Andre Courreges, one of the inventors of the miniskirt, gives the entire Ace of Spades line the requisite luxe fashionista connection."
Vanity Fair on rosé. " "Pink meant unsophisticated and sweet," said Charles Bieler, the winemaker behind one of the country's most popular rosés, Charles and Charles. "That's a profile of white zin, which people like to piss on today—but let's be honest—it was a gateway wine for so many Americans."