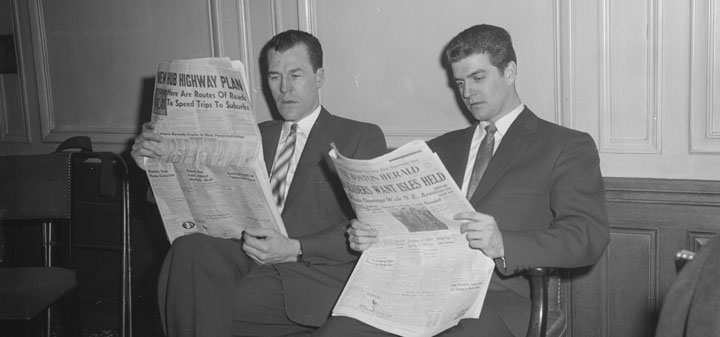 In the New York Times, "The Haggler" examines pre-arrival wine. "The idea is to put down cash on a few bottles, or cases, when the vintage is first announced and when it begins its journey from chateau to store. In the 18 months to two years that it takes wine to complete that trip, the price may have gone up 30 percent, or much more."
ABC on a new hybrid grape that allows cold weather regions to grow grapes. "One of the Cornell program's biggest successes is the Traminette, a cold-hardy white wine grape producing a floral, fragrant wine reminiscent of Gewurtztraminer. Since its release in 1996, Traminette has produced numerous award-winning wines and has been embraced by winemakers in the Midwest. Indiana winemakers have even dubbed Traminette the state's "signature wine" and have a website dedicated to it."
The Wall Street Journal on annoying wine habits. "When did a sommelier become the restaurant equivalent of a museum director or an art-gallery owner? I'm talking about the fact that just about every sommelier today talks in terms of curating a list, seemingly unsatisfied with the perception that all they do is buy and sell wine."
Gawker on wine surprise, a mix of wine and Red Bull. "If you think this sounds crazy, rest assured that Wine Surprise is not something I just came up with in the shower this morning. Wine Surprise is a time-honored tradition that dates back nigh one half-decade ago, when I, as the duly elected social chair of my sorority, was trying to determine what beverage to serve at a study group."
Winesearcher on the results of Auction Napa Valley. "Rick Jones, a retired grocery store executive who founded Jones Family Vineyards in Calistoga in 1996, paid $850,000 for Lot No. 31, "A Truly Legendary Evening". The lot, donated by Raymond Vineyards, includes dinner for 30 at the home of Raymond owner Jean-Charles Boisset with a private dinner performance by Legend on Boisset's personal piano."
Andrew Jefford in Decanter on the island of Limoux. "It's a substantial wine island, though: Limoux in fact has four times as much land under vineyard as Tasmania (7,800 ha compared to 1,800 ha)."
Jancis Robinson on the Santa Cruz Mountains. "As along so much of the Pacific's eastern rim, it is proximity to marine fogs that makes the difference. And the fact that the San Andreas Fault runs between these two properties, as Ridge's CEO Paul Draper (left, with Harvey in the Skyline vineyard above right), who lives above the fog line on top of 'his' ridge, knows from dramatic personal experience."