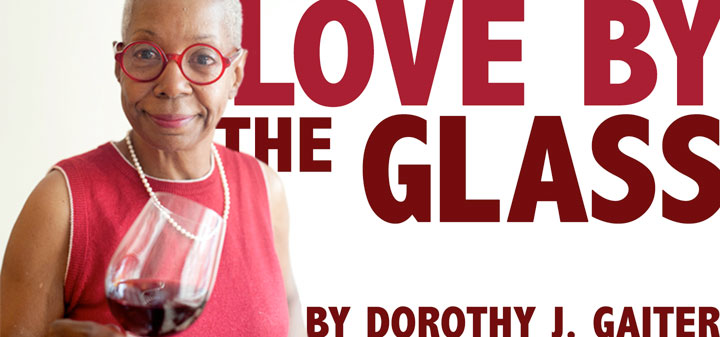 Michel Chapoutier, the leading wine producer in the Rhône Valley, is a man with a mission. As with any other entrepreneur, he has a product he wants you to buy. In his case, an amazing 91 different wines, all with labels printed also in Braille, the first wine company to do that. The wines, which he makes from his estates and those for which he acts as négociant or from partnerships, range from pleasant, everyday quaffers to stunning, expensive single-vineyard red and white collectibles, Sélections Parcellaires. And, he told me recently, his wines have earned more 100-point scores from Robert Parker than any other winemaking enterprise in the world.
A couple years ago, Wine Spectator crowned the now 51-year-old Chapoutier "King of the Hill," the hill being the granite-rich Hermitage in the Northern Rhône Valley, one of the most venerated mounds of vineyards in all of winedom. If "king" sounds highfalutin, consider that his company, M. Chapoutier based in Tain l'Hermitage, down from the hill, owns more than a quarter of that exquisite, tiny and precious real estate, where Syrah reigns. M. Chapoutier, which is the only company that makes wines in every appellation in the Rhône Valley, also makes wine in Alsace, Roussillon, Australia and Portugal (the last two are projects in which he has partners). His import company, an effort, he says, to fight French chauvinism, brings into France an Oregon Pinot Noir, Beaux Frères, one of whose partners is Robert Parker's brother-in-law.

Chapoutier's passion, though, what he's a missionary for, is the sanctity of vineyards, the terroir, and vintages. Where some winemakers might manipulate what Nature gives them, adding acid here, a little water there, a little sugar here, Chapoutier says he is a zealot in his fidelity to Nature. "After terroir, the winemaker is king," he says. Not the other way around. That's the idea he wants to sell you.
To him there are three, maybe four elements in terroir: climate, soil, humans and the vintage. "My goal is not to make the best possible wine," he says, "but to present the most faithful snapshot of the soil, to be loyal to the soil. We never correct the vintage. For me, the quality is done in the vineyard and the winemaking has to be extremely simple. " His vineyards are farmed certified biodynamically and organically. (One of his vineyards, the Monier de la Sizeranne vineyard, was founded by the Sizeranne family, which had a blind family member, Maurice de La Sizeranne , who developed an abbreviated version of Braille.)
The concept of being true to the terroir is so important to Chapoutier that he wrested control of the company from his father, Max, because, he has said, "The wines tasted like Chapoutier, not like the appellation." In the 1980s, he had studied winemaking in France, traveled to other winemaking regions, including California where he lived with Ann and Dick Grace at their winery in St. Helena, and had returned home to work with his father when he became increasingly unhappy with his father's methods. Max used chestnut barrels, not oak, and fined the wines, practices Michel abhorred. The company was losing customers and nearing bankruptcy, Michel says. (In fairness, the Chapoutier family was making fine wine long before Michel took over. It was a name we were told to look for early in our four-decades of wine drinking.)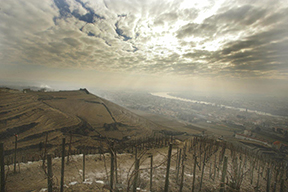 So in 1990, the 26-year old went to his grandfather Marc, who owned most of the company, and asked the older man to give him control of the company, skipping a generation, which his grandfather did. Relations with his dad were bad for a time but got better. Michel told me that it took him 10 years to pay for the controlling interest his grandfather sold him. He had some help. In 1989, Anthony Terlato, chairman and CEO of Terlato Wines International, visited young Michel in Tain on the advice of a friend. The website of Terlato contains this account:
"Although Terlato's schedule was overburdened, he agreed to make the trip because he remembered the quality of the M. Chapoutier wines he had tasted in the 1950s in his father's retail shop. For hours they talked, tasting wines from Michel's grandfather as well as some barrel samples from 1989 the first vintage vinified entirely by Michel.
"I met a winemaker who I think is an absolute genius," Terlato told his son by telephone. "He may revolutionize how vineyards are treated with something called biodynamic farming. He's brilliant and only 25 years old. We are going to be selling some great Rhône wines." Upon learning of the firm's tight financial situation, Terlato agreed to pay in advance for the 1989 vintage, permitting Michel to take full control over winemaking and providing him the capital needed to upgrade Michel's winemaking program." Terlato has represented M. Chapoutier ever since.
Parker loved the younger Chapoutier's 1989 Chapoutier Ermitage Le Pavillon, Hermitage, so much that he gave it a perfect score. He did the same for the 1990 and the 1991 and also the 2003, 2009, 2010, and 2011vintages. I had read somewhere that after the first perfect score, with excitement building worldwide for his wines, Michel convinced his importers in the U.S., Japan and Great Britain to destroy his father's wines that they had and he sent them his wines instead. Could that be true?
It was! (His wines at the time bore the name Chapoutier Junior, according to The Wines of Michel Chapoutier by Jean-Charles Chapuzet.) "It was because I didn't want to have the two wines on the market, the wine that my father made that I didn't like," Chapoutier told me. "To convince them I just said, 'I will pay for that. I don't yet have the money, but when you buy my wine for 100,000 Euro you will pay me only 80,000, so 20% by 20%, I will pay for the old stock."
And they did. Of course, he said, bankers had no clue what he was doing. If they had, he said, they would have forced him into bankruptcy. In 2000, Michel bought his brother's share of the company and became its sole owner. When he took control in 1990, M. Chapoutier made 550,000 bottles of wine. Today, it makes more than 500,000 cases a year.
The thriving business, which includes a wine school and guest houses, is not without its critics. Some say that some of the wines are inconsistent. Jamie Goode, the UK-based wine blogger, wrote of Chapoutier's estate and négociant ranges a few years ago on his site, the Wine Anorak:
"This is where you have to pick and choose a bit. While the Sélections Parcellaires, and in particular the whites, are remarkable world-class wines, the remainder of the range is maddeningly inconsistent. And these wines are expensive for what they are, too. To be perfectly blunt, some of these wines should be a lot better than they are given their prices, although there are some real highlights."
You want consistency? Buy nonvintage Champagne, Chapoutier says. "If you put a vintage on the bottle, you are giving information about the signature of the climate. For me, if you put the vintage on the bottle, that means that you are keeping the originality of the climate of this year," he told me.
"When you make Champagne from a blend, obviously you don't put the vintage on it because you try to have the same taste every year. If you put a vintage on the bottle, that means you are not looking for consistency."
All right then!
While seventh-generation winemaker Michel is grateful for the scores Parker awarded his wines, he's clear that he's making wines that he believes in, unlike some who, he says, chased Parker's approval. "People criticized some wine makers because they wanted to do the wine for Parker and not for themselves. But Parker, his taste was going to more and more elegant wine," Chapoutier says. "The people who sacrificed their wine for him, when didn'tget a good grade, they were upset. I think it was a good thing that they were punished by this attitude."
Chapoutier and his wife, Corinne—they met on Valentine's Day 1984 and have been married since 1986--have two adult offspring, a son Maxime who just graduated from college and a daughter, Mathilde, who lived in Beijing and speaks Mandarin. They continue the tradition of Chapoutiers giving their successors names that start with M.