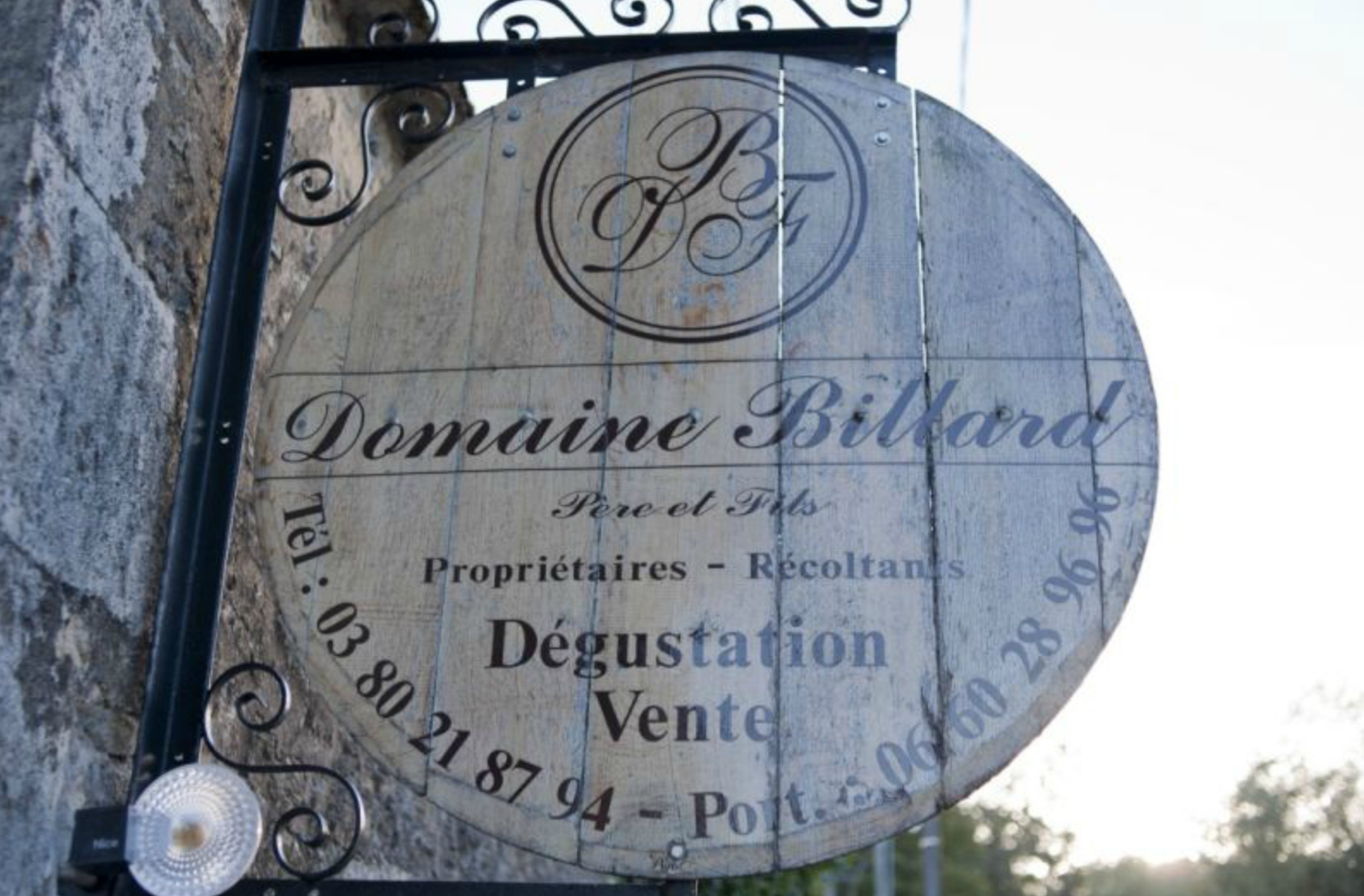 It has been tough being a Burgundy lover over the past decade as prices have climbed higher and higher. The weather often includes rain, frost and/or hail which limits production. Those small quantities coupled with the worldwide love of the unique qualities of Burgundies, particularly of Asian collectors, have driven prices to stratospheric levels. Imagine then the surprise and pleasure of tasting lovely white and red Burgundies from a tiny producer selling at reasonable prices – and organic to boot.
Domaine Billard Père et Fils is based in La Rochepot, a small village about 15 kilometers south of Beaune. The estate is three miles west of Montrachet, where perhaps the most highly regarded Chardonnay wine is made, and less than one mile west of Saint Aubin, another premier grand cru Burgundy area. Billard grows Chardonnay and Pinot Noir in multiple small vineyards aggregating 18.5 hectares in these areas.
In 1993, Jérôme Billard began working with his father who farmed five hectares and sold the grapes to a local cooperative. In 1999, Jérôme then took over managing the estate where he lives with his wife and three young children. He subsequently acquired additional vineyards nearby and has implemented key changes in all of the vineyards to farm organically. Billard also serves as the mayor of La Rochepot which presumably reflects the regard in which he is held by fellow local winemakers.
VINIFICATION
Billard's philosophy is "expressing the typicity of the terroir." He keeps yields low by extensive pruning and utilizing cover crops which results in ripe, concentrated grapes. Billard uses no pesticides or insecticides. The grapes are selected and harvested by hand and sorted on a vibrating table that enables isolation of unripe or rotten grapes. Because of the use of gravity, the grapes are less exposed to oxidation or mixing.
Billard believes in low intervention in the winemaking. The red wine grapes are pressed by foot to elicit the fruit aromas and finesse; the white wine grapes, with a pneumatic press to emphasize the purity of the fruit and balance. Billard uses only indigenous yeast for fermentation, ferments the wine in barrels and ages them sur lie in French oak before bottling at the estate.
As a consequence of these meticulous efforts, Billard offers high quality wines with layers of complexity and concentration at surprisingly low prices.
BILLARD BURGUNDIES
Billard makes wine in four regional appellations - Aligoté, Hautes Côtes de Beaune blanc and rouge, and Crémant de Bourgogne; five village appellations - Auxey Duresses rouge, Beune rouge, Pommard, and Saint Romain blanc and rouge; and three premier cru appellations - Saint Aubin 1er cru blanc and rouge and Beune 1er cru rouge. (The Aligoté, Crémant de Bourgogne and the Pommard are not imported to the US).
HAUTES COTES DE BEAUNE BLANC AND ROUGE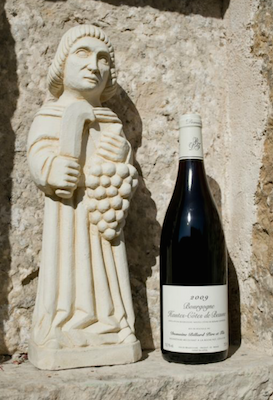 This region is quite old and includes approximately 20 villages many of which are largely woodland or farms. The three-hectare plot of chalky soil from which Billard grows Chardonnay for its Bourgogne Hautes Côtes de Beaune Blanc, "La Justice" ($20.99 at Grape Collective) is on a hill close to Saint Aubin offering good drainage and sun. The wine is made from 100% Chardonnay fermented in barrels and then aged for 10 months in French oak. The wine has a clean, mineral taste with citrus aromas and nice structure.
Billard grows Pinot Noir on a four-hectare plot of alluvial clay soil for the Bourgogne Hautes Côtes de Beaune Rouge ($21.99 at Grape Collective) comes from a plot of four hectares with alluvial clay soil. After pressing the grapes by foot, the wine is aged for 10 months in oak barrels. The result is well-balanced, light to medium bodied wine with bright red berry flavors, minerality and a slightly spicy finish.
SAINT AUBIN
Billard produces about 300 cases of a 1er Cru white Saint Aubin from the Vigne Moingeon vineyard and 100 cases of a 1er Cru red Saint Aubin from the Les Castets vineyard. The chalky soil, good elevation and southeastern exposure enhance the growth of Chardonnay and Pinot Noir. These are aged for 15 months. This white wine is well balanced with a creamy finish. The red wine is medium bodied with dark berry fruit and pepper notes.
SAINT ROMAIN
Billard owns 2.25 hectares in Saint Romain, a small appellation between Meursault and Monthelie Billard plants about half in the lieu dit, La Combe Bazin, about 200 feet above the best Meursault plots. The white wine is aged sur lie for 12 months in French oak. The white wine is full bodied with stone and tropical fruit flavors. The Saint Romain Rouge is produced from Pinot Noir grapes grown in this calcareous clay soil and aged for 15 months in barrels. The red wine has good minerality and bright pomegranate and cassis flavors.
AUXEY-DURESSES
Grapes from this region between Meursault and Haute Côtes de Beaune were often sold to negociants who blended them into Côtes de Beaune Villages wines. Billard has two plots with soil that has both clay and chalk. The Auxey Duresses Rouge is aged for 12 months in oak barrels. The wine is graceful with pretty black cherry and raspberry flavors.
BEAUNE
One of the largest communes in Burgundy, Beaune comprises 1er Cru vineyards and village vineyards. Billard owns .28 hectares of Les Bons Feuvres, a village parcel close to Pommard in the southwestern part of Beaune where he produces about 120 cases annually. The wine has fine tannins and beautiful cherry and blackberry fruit notes.
FOOD PAIRINGS
The white Burgundies are particularly well suited for seafood, fish or chicken or anything with cream or mushrooms as well as goat and blue cheeses.
The reds are best with grilled fish, poultry, game, mushroom dishes and strong cheese.