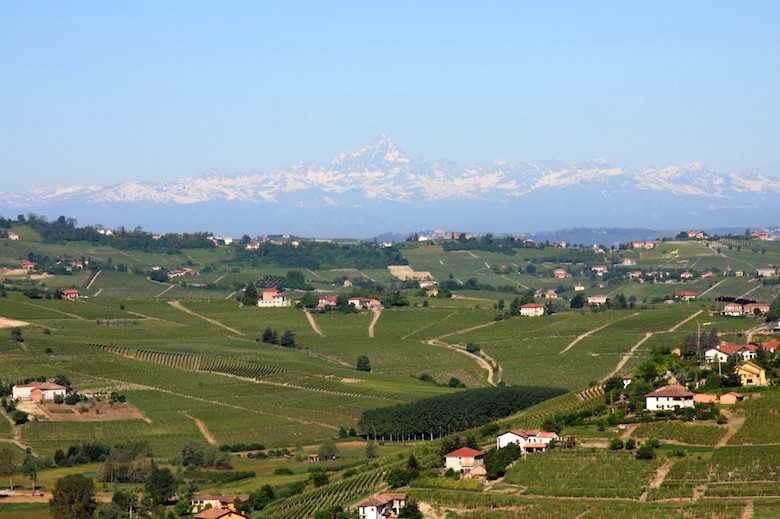 Between Turin and Milan lies the southern portion of the Alto Piemonte region. It extends north in the foothills of the Alps but well short of the Swiss border.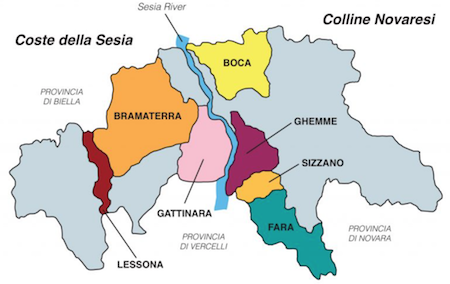 Hundreds of years ago, the Alto Piemonte wines were the most famous Northern Italian wines, far more so than Barolo and Barbaresco (which are made south of Turin). The phyloxerra infestation in the end of the 19th century and the region's economic weakness in the first half of the 20th century, however, devastated the region's wine production. Moreover, many fled the region for higher paying jobs in the post-war industrial boom. The region went from having approximately 40,000 hectares of vineyards to fewer than 600 hectares. Many of the former vineyards are now densely forested.
Increasing interest in revitalizing the region over the past several decades has resulted in terroir-driven wines of high quality at more affordable prices than their Piemontese cousins, Barolo and Barbaresco. Some efforts to return the region to its former glory have come from younger generations whose parents sold or abandoned their vineyards (Sperino, Mazzoni, Castaldi), some from the stalwarts who continued to make wine despite the economic hardship (Antoniolo, Travaglini, Vallana) and some from outsiders, notably from Germany (La Pianelle and Le Piane).
The Alto Piemonte red wines are highly aromatic, big, beautifully structured wines with good acidity which makes them very food-friendly and long-lived. The tannins tend to be smoother than in Barolos and thus, can be enjoyed young as well. The Alto Piemonte wines have the same or greater aging requirements as Barolo does but more than Barbaresco.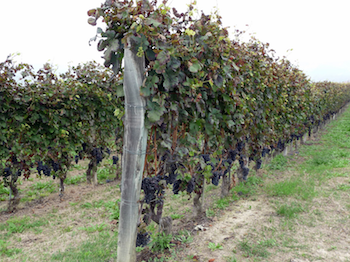 Like Barolo and Barbaresco, Alto Piemonte wines are made from Nebbiolo (whose name is derived from nebbia, a thick fog that blankets the area in October), or its clone, Spanna, but unlike them, Alto Piemonte wines are typically blended with other indigenous varietals such as Vespolina, Uva Rara, Croatina or sometimes, Barbera. Vespolina provides color and fruity and spicy notes; Uva Rara, body, aroma and bitterness; and Croatina, color, fruit and structure. The grapes benefit from southern sun exposure and the cool Alpine evening temperatures which help keep them fresh through the long-ripening period. The great variation between daytime and evening temperatures is due to the cold drafts from Monte Rosa (the second highest peak in the Alps) which result in more floral notes and suppleness.
The vines are typically trained in the centuries-old "quadretto" form with large leaves to maximize sun exposure. Given the elevation of the vineyards, the grapes must be hand harvested
The Denominations are:
Ten tiny designated regions (DOCs) - Coste delle Sesia, Lessona, Bramaterra, Gattinara, Colline Novaresi, Boca, Sizzano, Fara, Ghemme, and Carema – each with distinctive terroir. Alto Piemonte was named a UNESCO World Heritage site because, 300 million years ago, a huge volcano left unique marine and volcanic deposits. The iron-rich, acidic soil produces a more flowery, mineral, rich expression of Nebbiolo than the fruitier and fuller bodied Nebbiolo from the alkaline limestone and clay soils of Barolo and Barbaresco which are approximately 90 miles south.
Costa delle Sesia lies west of the Sesia River. In addition to Nebbiolo/Vespolina blends, winemakers there also make a white from a native grape, Erbaluce.
It has three commune/village/cru designations:
Lessona wines are made from predominantly Nebbiolo with less than 15% Vespolina and Uva Rara added grown on eight hectares of vines west of Gattinara. They are aged for a minimum of 22 months (12 in wood; riservas must be aged for 46 months, 30 in wood). The terroir is sandy with marine sediment.
Notable producers include Tenute Sella, the oldest winery (founded in the 17th century); Proprieta Sperino whose winemaker made Isole E Olena famous; Pietro Cassina, a new producer founded by an architect; and Massimo Clerico.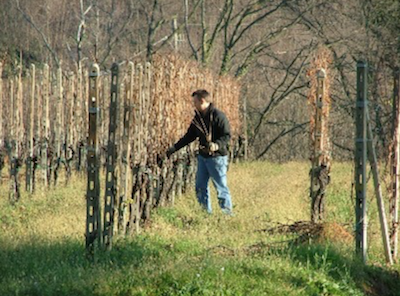 The Massimo Clerico Lessona is a selection of Nebbiolo from Clerico's finest vineyard sites, including the oldest vines of the estate (planted in 1970) in the "Vigna Gaja". Although Lessona can be produced with a minimum of 85% Nebbiolo, Clerico's Lessona is produced exclusively from Nebbiolo. Clerico's wines are aged at least 30 months (or more depending on the structure of the vintage but in any case, longer than the DOC requirement) in barrels of French oak origin before being bottled. It is an elegant but big wine with fresh fruit and notes of flowers, minerals and spice with balanced acidity and tannins. (2008 Lessona is $43.99 at Grape Collective)
Bramaterra wines are typically 50% Nebbiolo blended with Croatina, Uva Rara and Vespolina. They must also be aged for 22 months but 18 months in wood and the riservas for 34 months, 24 in wood. Bramaterra has the highest altitude (nearly 2000 feet) vineyards in the Piedmont.
Wineries include Tenute Sella, Antoniotti and Le Pianelle.
Gattinara is perhaps the oldest region with vineyards dating back to the Roman Empire. Its terroir is mostly granite. For millenia, its wines were the most famous Nebbiolo-based wines in the world. The blend is also fundamentally Nebbiolo (sometimes 100%) with up to 10% Uva Rara and 4% Vespolina and must be aged for at least 35 months, 24 in wood (riservas, for 47 months and 35 in wood). The wines are bigger and riper than some of the other Alto Piemonte wines because of its warmer climate. They show black fruit and flowery and spicy notes and are quite tannic.
Wineries include Travaglini, Antoniolo and Nervi.
Colline Novaresi is named for the hills of Novara and is east of the Sesia River. Erbaluce is also made there as well as reds from a minimum of 50% Nebbiolo and the balance, Vespolina, Uva Rara, Croatina and Barbera.
It has four commune/village/cru designations:
Boca vineyards are 450-500 meters above sea level with volcanic soil. Boca wines are a blend of at least 70% Nebbiolo and the balance, Vespolina and Uva Rara which is aged a minimum of 22 months, 18 in wood. Boca wines are typically the most earthy and mineral of the Alto Piemonte wines providing structure and lift to the cherry and spicy notes.
Notable producers include Le Piane and Conti.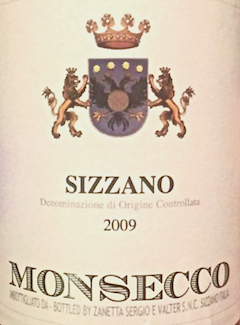 Sizzano comprises approximately 20 hectares of comparatively low elevation (between 200 and 350 meters) vineyards. Sizzano wines are a blend of 50–70% Nebbiolo, 30–50% Uva Rara and/or up to 10% Vespolina. The wine must be aged a minimum 22 months, including 16 months in barrel. The wines have fresh bright ruby red fruit with good tannins and acidity.
2009 Monsecco Sizzano ($26.99 at Grape Collective) is made from 40-year old vines. The blend is 60% Nebbiolo and 40% Vespolina and Uva Rara. It is macerated for 10 days and then fermented for six months in open tanks. It is then aged for 18 months in old botte and French barriques. The wine spends 18 months in a combination of old botte and second year French barriques. The classic Nebbiolo dark cherry and berry fruit is vinified by the indigenous grapes showing rose, violet and spice notes with nice acidity and tannins. It is fresh enough to be enjoyed now or aged for up to 20 years.
Fara is located at the base of Monte Rosa and comprises only 20 hectares. Fara wines are a blend of at least 50% Nebbiolo and the other half, Vespolina and Uva Rara which is aged a minimum of 22 months, 12 in wood.
The most respected Fara winemaker is Dessilani.
Ghemme wines are made from essentially the same blend as Gattinara ones but the clay soil is at lower altitude and is less volcanic and therefore, imparts less minerality and the climate, cooler, resulting in higher tannins. The wines must be aged for 24 months, 18 in wood and the riservas, 46 months with 24 in wood. The wines exhibit red berry fruit with violet and herbal flavors.
Notable producers include Antichi Vigneti di Cantalupo, Torraccia del Piantavigna and Rovellotti.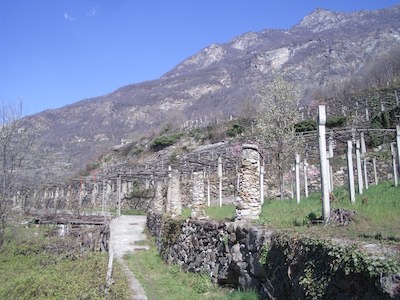 Carema borders Valle d'Aosta in the northwest part of Piedmont. Its vineyards are at high elevation within the mountains. It is actually in the valley of Monte Bianco in the Canavese area and thus, not Alto Piemonte. The vines are tied to pergolas to protect them from the damp soil and to maximize the sun exposure. Its wines are 100% Nebbiolo aged at least 24 months in wood and the riservas, 36 months with 12 in wood. They tend to be lighter in style than Gattinara.
Carema comprises only 16 hectares and 14 of them are controlled by Cantina dei Produttori Nebbiolo di Carema, a 78-member cooperative; Ferrando Vini makes Carema from the other two hectares.
Food Pairings: Northern Italy produces the majority of Italy's rice. Unsurprisingly, risotto is the most classic Piemontese dish. Other major products include mushrooms, potatoes and chestnuts. Alto Piemonte wines go particularly well with risotto, tomato or mushroom dishes, grilled or braised meats (like osso buco), potato dishes, salumi or other cured meats, and Gorgonzola and other Piemontese cheese.
*Map photo courtesy of Michael Skurnik Wines