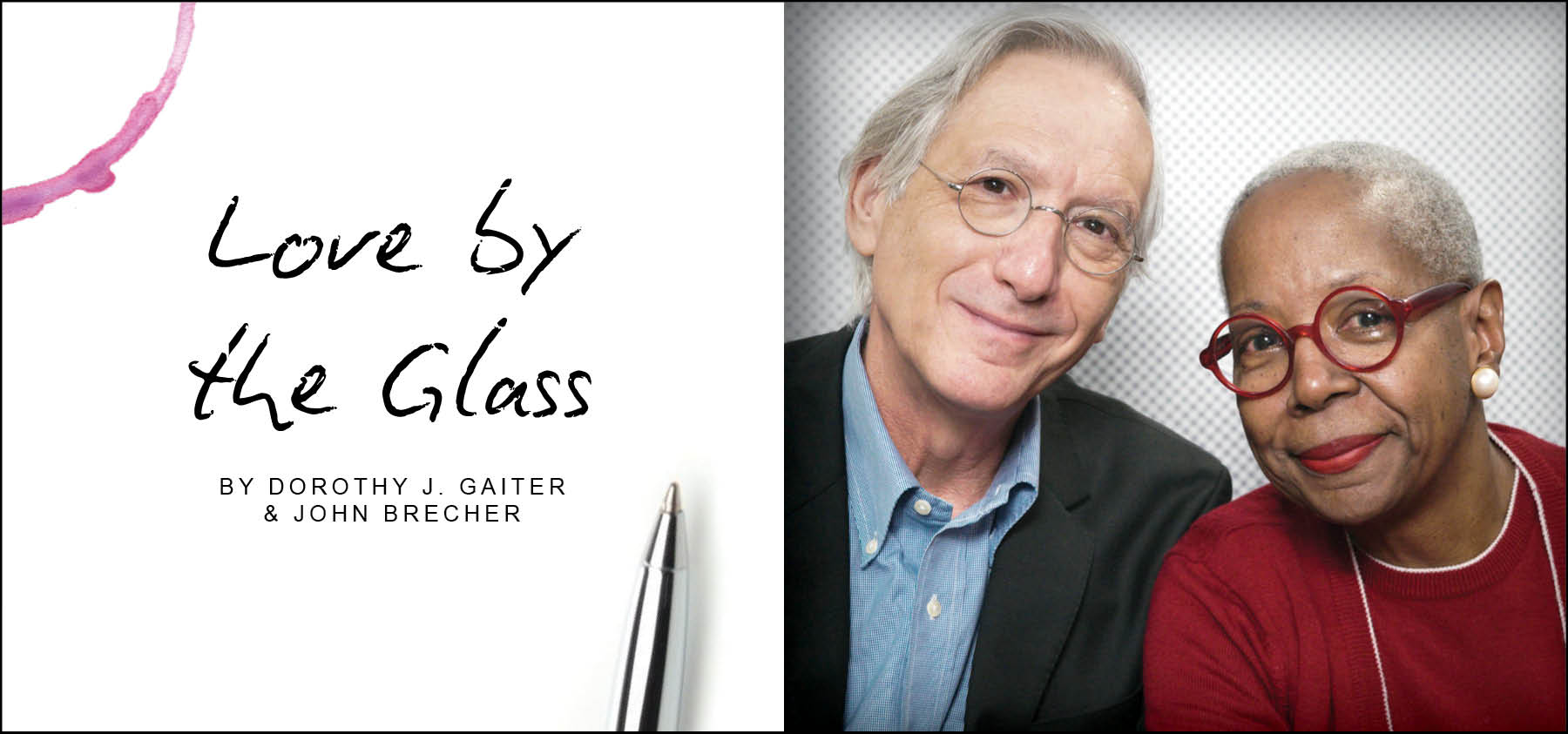 Thinking of @winecouple as every night is now #Open That Bottle Night." - Nicole Neroulias Gupte, Delhi, India, on Twitter
Like everyone else, we've been sheltered in place for the past couple of weeks and we're preparing for longer. Like everyone else, we're nervous and worried, especially about our families, but also the small, neighborhood business owners like restaurateurs, pharmacists, grocers, wine shop owners and their employees. And like a surprising number of people, our own prescription for getting through this involves calming down with a glass of wine – and, in this case, the good stuff.
It's not wine's alcohol that's so important. It's wine's soul, its depth, its ability to connect us with others during this time of social distancing. The New York Times's Tara Parker-Pope had an excellent story showing that lowering stress has been proven to strengthen the immune system. A nice glass of wine helps us with that. It slows our pace and gives us something to talk about other than distressing current events. Lingering at the windows of our cabin with a glass in hand also makes us appreciate, for more than a few fleeting seconds, the glorious signs of spring outside. It's not just us: We've heard from many others that they've decided their time in isolation is the right time to open a special bottle and celebrate life.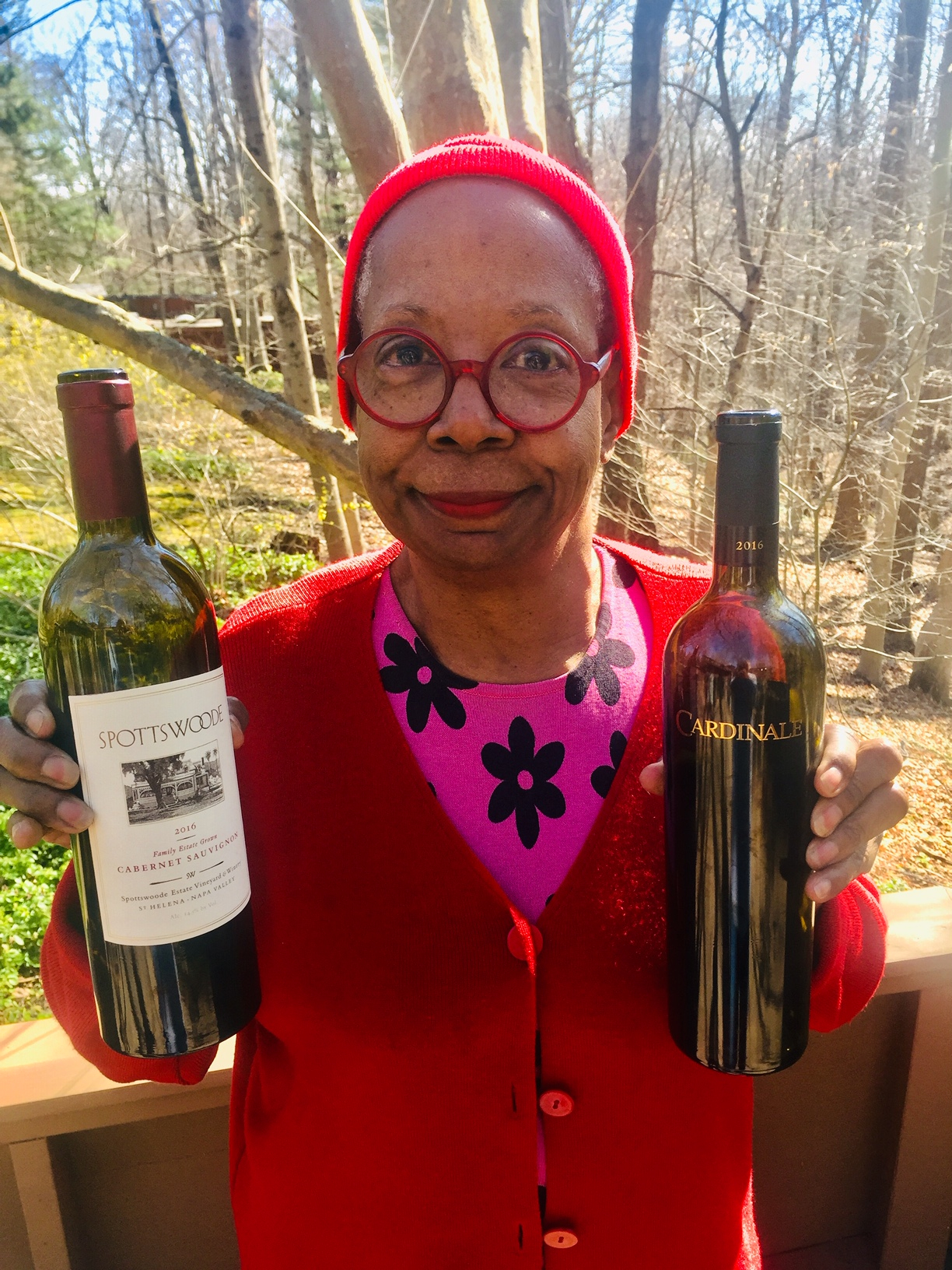 And, by the way, this is also a way to help people who really need your support right now.
In our case, we suddenly found ourselves in-place at our weekend house, which left us a bit adrift because our basic tools of life are generally in our apartment in New York City. It's just the two of us – the kids are in the city, which obviously worries us -- and we vowed to be super-careful since we're told we're part of the vulnerable elderly population, though we feel younger.
Fortunately, we keep many of our better wines at our house, including bottles we might someday have on Open That Bottle Night. In this case, someday arrived early. Two 2005 Dornfelders from Huber Cellars, which we visited in 2009 in Santa Barbara County, were the first to go. We had eyed them for years around OTBN. We also had quite a few high-end Napa Valley Cabernet Sauvignons from the 2015-2017 vintages that we had planned to have in a large tasting. They were all well-known names and all but one cost between $100 and $350 (the other was $52). All of them were samples sent by the wineries. Some were duplicates. In other cases, we had already written about the winery and we figured we could let the young wine age a bit.
John chose 10. We decided to have them night after night. We began drinking each one as the sun set. Then we had them with dinner. In most cases, we saved some to finish the next night. All were young and needed time and air. We ended up with two standouts that were very different yet equally delicious – and we are indebted to all 10 for enriching and making our time go a little more quickly and our stress level a little bit lower.
We did not know it at the time, but even winemakers themselves were essentially doing the same thing, celebrating a rolling Open That Bottle Night. Here's our article about that.
So which were the two standouts in our own little tasting? Cardinale Winery 2016 ($350) and Spottswoode Estate Vineyard & Winery "Family Estate Grown" 2016 ($225).
The Spottswoode sneaked up on us. It smelled and tasted more of blueberries than blackberries that we expect with noble Napa Cabernets. It was restrained. At first, we didn't know what to make of it. Then with each passing minute it opened, displaying a precision and elegance that you have to go to, because it will not come to you. We found it utterly fetching and felt that, unlike many Napa Cabernets, it would be willing to be part of the symphony of a great dinner and not a soloist. (It's 85 percent Cabernet Sauvignon, 9 percent Cabernet Franc and 6 percent Petit Verdot. We would have guessed we would have noticed such a relatively high percentage of Verdot, but we didn't. Seamless.)
The Cardinale was delicious from the first moment we saw it, smelled it and tasted it. It was opulent, with cedar, tobacco and rich, spicy black fruits. It's a powerful, majestic, sensuous wine with all sorts of layers of complexity. "We feel like we're drinking an adult beverage that is a product of the soil," we wrote, as though it commanded us to sit up straight and to contemplate big-picture things. John thought it might have some Merlot because of its smoothness, and indeed it's 11 percent.
We contacted Christopher Carpenter, who made the Cardinale, and Beth Novak Milliken, president of Spottswoode and daughter of the founder, pioneer Mary Weber Novak, asking how they were coping and what the public could do to help. We also wanted to know what made their wines so special.
Carpenter, reached in McLaren Vale, South Australia, where he's also winemaker for Jackson Family's Hickinbotham Clarendon Vineyard, wrote us that he and his team there "have been through a lot together: harvests, fires, earthquakes, recessions, floods." It is harvest season there now.
Being there means that he is not with his wife, Tina, and college and high school-aged daughters, back in California. "My daughters only want to see their friends (within the limits of seeing them outdoors) and Tina wants to keep them sequestered fully. As is true in many households nerves are fraying and conflict ensues. As Tina told me the other night, it would only be worse if I were there. I can't imagine why," he wrote, adding an amused emoji. "She does worry about any of us getting sick and how we would manage that. I do have to return at the end of this week though as United will not offer Aussie flights after 3/28."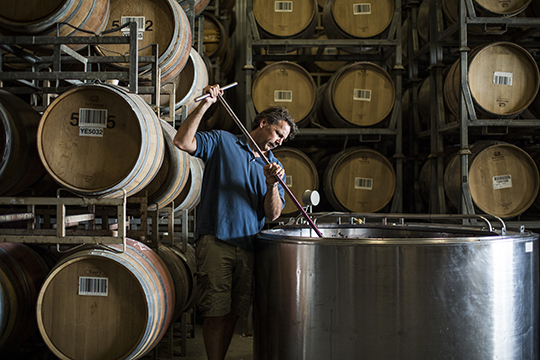 (Photo Winemaker Christopher Carpenter)
How can we, the public, help? "In the same way that we are all expected to. Follow the rules as set by the CDC, be aware of each other's mental state and be flexible to that end. And be patient," Carpenter wrote.
"As far as the business side of it goes, wineries can still ship wine to you at home and we are very happy to do that. Please don't forget our partners in the restaurant sector. Help them pay the rent by buying food from their takeout. And as someone who once made his living off of tips I would also ask you to donate to your favorite restaurant or watering hole's Go Fund Me sites that are supporting the staff that has been impacted by our cultural shift. When this thing is over, go out and let them do what they do best, assist you in the celebration of each other."
Dottie met Carpenter in 2017 when she was invited to a master class that he was giving with 10 vintages of Cardinale, another Jackson Family wine. Cardinale's mission is to make Cabernet Sauvignon by blending fruit from the best Napa Cabernet Sauvignon vineyards and it makes just one Cabernet Sauvignon per vintage. The notes on the 2016 list 11 mostly high-elevation vineyards and their contributions to the awesome blend. The 11 include the 1.5 percent of Cabernet Sauvignon fruit that came from Spring Mountain and contributed "fine tannins" and "floral and red fruit" notes and 4 percent Cabernet from Mt. Brave on Mount Veeder that contributed "blue fruit, length, backbone."
"2016 was an incredible vintage with great floral notes, lift and a teeming acidity across all of the components that make up Cardinale," Carpenter wrote us. "My job was to capture that in its fullest with the blend decisions I made and thankfully I made the right decisions to that end."
Spottswoode, in St. Helena, was founded in 1972 by Mary and Dr. Jack Novak on land that had been a vineyard since 1882. Dr. Novak died from a heart attack in 1977 at 44 and his wife saw their dream through, releasing her first vintage in 1982, exactly 100 years after the vineyard was established. In 1998, their daughter, Milliken, became not only the first woman president of the Napa Valley Vintners, but also its youngest president. She and her mother, who died in 2016, employed four female winemakers in a row before promoting current winemaker Aron Weinkauf to that position in 2011.
We asked Milliken, whose sister Lindy Novak is Spottswoode's brand ambassador, how they were coping.
"We are working remotely, gathering via teleconference, retaining our trademark collaboration and camaraderie, recognizing that the world has literally changed and that we need to be nimble and open minded. We are just at the start of this, we know, and we feel well positioned to weather this storm. We are realistic, knowing that this is the most difficult time we have faced in our lifetimes," Milliken wrote.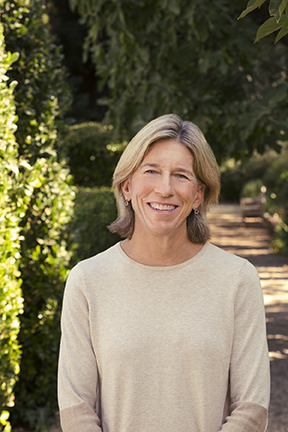 What can the public do to help? "Come together, show your best self to the world, take care of family, friends, neighbors and one's community. A shared purpose helps us all to face this as one society. May we find it within ourselves to be our kindest, most compassionate and caring selves," she added.
(Photo of Beth Novak Milliken by Bill Tucker)
What makes that wine so wonderful?
"Mother Nature smiled upon us here in Napa Valley in 2016, and at Spottswoode in particular. We believe that our estate vineyard's resilience through the fifth year of the last drought cycle and some later-season heat spikes can be attributed to the health of our site," Milliken wrote, adding that Spottswoode began farming organically in 1985, early in Napa Valley, is certified organic and also farms biodynamically.
"Our vines thus have the core strength and ability to offer us beautiful, pure fruit each year. For this, and for Aron Weinkauf's skill as vineyard manager and winemaker, we feel very fortunate."
Some wine organizations are pivoting to find ways to help their communities now. A few days ago, the Napa Valley Vintners announced the cancellation of this year's Auction Napa Valley and instead will donate money from its reserve fund to organizations that serve the medical and other needs of the community.
Your local store needs your support, too. Here's an idea: There's an excellent store near our house with a merchant we trust. We called him, gave him a budget and asked him to put together an interesting case. Then we drove over and he put it in the trunk. Every bottle looks great.
And don't forget that there are wineries in every state now and you can help them. Here are some great ideas of how to do that, plus an extensive list of wineries that are offering deals on shipping.

And here are some more ideas on how you can help this great industry from the ever-thoughtful Jason Haas, general manager and partner at Tablas Creek Vineyard in Paso Robles. It's titled "How to Help Your Favorite Wineries Survive the Coronavirus Pandemic." It's worth a read – and some action.
Meantime, be very careful. Don't let your guard down. Stay well.
Dorothy J. Gaiter and John Brecher conceived and wrote The Wall Street Journal's wine column, "Tastings," from 1998 to 2010. Dorothy and John have been tasting and studying wine since 1973. Dottie has had a distinguished career in journalism as a reporter, editor, columnist and editorial writer at The Miami Herald and The New York Times as well as at The Journal. John was Page One Editor of The Journal, City Editor of The Miami Herald and a senior editor at Bloomberg News. They are well-known from their books and many television appearances, especially on Martha Stewart's show, and as the creators of the annual, international "Open That Bottle Night" celebration of wine and friendship. The first bottle they shared was André Cold Duck. They have two daughters.
Read more from Dorothy J. Gaiter and John Brecher on Grape Collective.
Banner by Piers Parlett