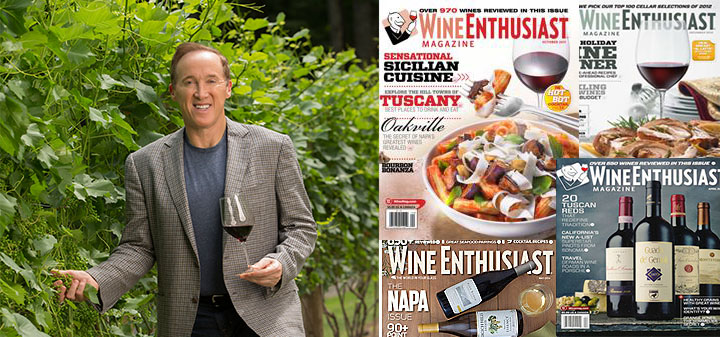 WHO
Adam Strum is founder and chairman of Wine Enthusiast Companies, the largest group of wine commerce and media companies in the world. He is also editor and publisher of Wine Enthusiast Magazine, a popular lifestyle magazine that has more than 800,000 readers and provides reviews and ratings of thousands of wines each year. Wine Enthusiast Companies also includes a wine accessories catalog called Wine Enthusiast, and the online wine shop, Wine Express. Through these endeavors Strum has helped influence and increase wine retail sales all over the world.
BACKSTORY
After graduating from Rollins College, Adam Strum entered into the same profession as his father and became a wine salesman. Strum says every so often he and his wife, Sybil, would look for a corkscrew and they were nowhere to be found. In the 1970s the wine industry wasn't what it is today, and wine accessories such as corkscrews, glassware, and wine storage, weren't commonplace and easy to find. With this, Strum identified a niche and in 1979 he and his wife placed a small ad in a gourmet magazine for a corkscrew. That was the beginning of Wine Enthusiast Companies. They soon realized the most affordable and effective way to market and reach potential consumers was through direct mail, and that is how the mail order catalog began. In 1988, Strum continued to grow his company by launching the magazine, Wine Enthusiast. It was his aim to provide important information about the wine industry as well as hundreds of wine reviews in each issue. The magazine is now one of the largest publications in the world devoted solely to wine and spirits.
OF NOTE
Wine Enthusiast seeks to demystify wine and make wine knowledge accessible and less intimidating to the average person through its user-friendly articles, ratings, and reviews. This concept is evident even in the company's Lord Winston mascot who Strum says is, "a little wimp. He's got his little cowlick. He has kind of a British look to him, not a lot of hair. We tried to make it approachable. That was sort of the idea."
DRAMA
In 1986 Strum was invited to lunch by a publisher of a leading wine magazine during which he was pumped for info and asked loads of questions regarding his catalog business. Wine Enthusiast catalog was one of the magazines biggest advertisers at the time, and Strum assumed this publisher was planning on writing about his catalog which would generate a lot of publicity for his business. Instead, a year later, the other publisher launched and exact knockoff of Strum's catalog. It was with this that Strum thought, "Well, screw you, I'm going to start a magazine." Strum admits, "Both of us were kind of foolish. They say never get in another guy's game. I was as dumb, as foolish, about starting a magazine as he was about starting a catalogue." Eventually Strum figured it out and has seen enormous success with his magazine. As for the other publisher, his catalog business failed.
NO JOKE
Since 1979 Wine Enthusiast Companies has distributed over 300 million wine-related publications in the United States and worldwide. In the first year of business Wine Enthusiast Companies had 100 orders…today orders exceed 750,000 annually. Wine Enthusiast Companies is a $100 million per year business.
VITAL STATS
FULL NAME: Adam Strum
NATIONALITY: American
OCCUPATION: Founder of Wine Enthusiast Companies, Editor and Publisher of Wine Enthusiast Magazine.
UNDERGRAD: Rollins College
RESIDENCE: New York