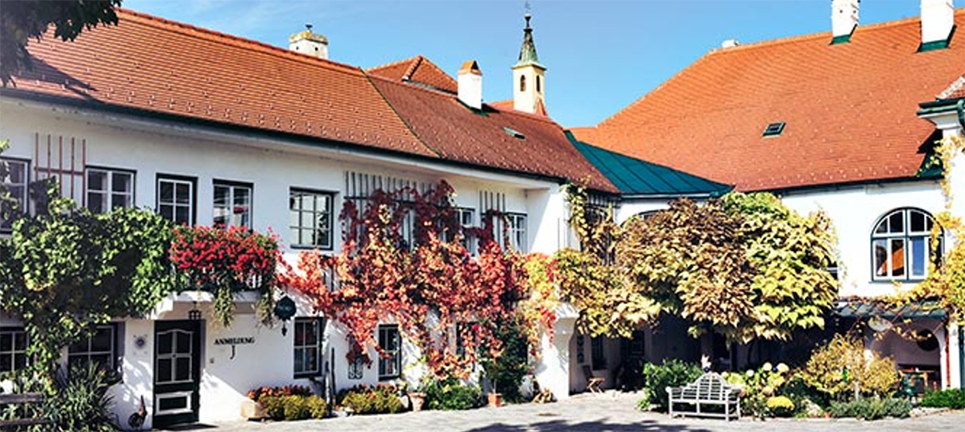 Dating back to the 1500s, Weingut Jurtschitsch is one of the oldest and most revered wineries in the Kamptal region of Austria. The family-owned estate was previously run by brothers Edwin, Karl and Paul Jurtschitsch but is now in the hands of fourth generation winemaker Alwin Jurtschitsch and his wife Stefanie Hasselbach. As strong proponents of natural winemaking, they strive to produce elegant, terroir-driven wines using certified organic viticulture.
Grape Collective talks to Alwin Jurtschitsch about terroir, climate change, organic winemaking and Austria's place in the wine world.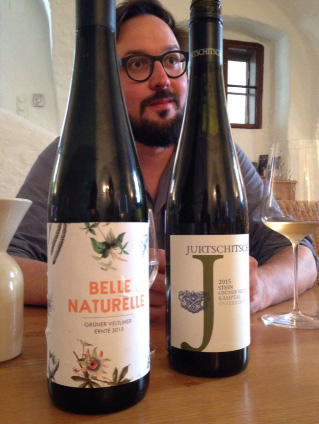 Christopher Barnes: Alwin, tell us a little bit about the history of your estate.
Alwin Jurtschitsch: The estate, the Orchard Estate, it's a very old family estate under a pretty young management. We just finished a change of generation, and after traveling around in the world, it was then time to come back home, and to rediscover my vineyards and my land. I have very tolerant parents who just let us do, because every young generation, you have to rediscover your terroir on your own. The terroir is something which is changing. Also I'm working on these same vineyards as my grandfather did. The climate changed, the soils are changing, you adopt organic methods. It's kind of a stomach feeling, you have to sort of become this sense of place, and this takes some time. The first two years coming back to the winery I spent out in the vineyards, to start at the base.
How many generations has the family been making wine?
I'm the fourth generation.
The fourth generation. What sort of changes have there been in terms of the culture and the winemaking over time?
There are changes. I think it's important that there are changes, and a change of generation is one of the most important periods in a family winery, because it's a situation where generations meet, where you try to rethink the things you did in the past when you were traveling around the world working with different wineries. You collect many ideas, and not everything you can just do one by one back home, but you are taking this decision of what is good for yourself, which style you like, what is possible in your region. You come, you sit down, and one thing does not work on a family winery is the revolution, it's not working with nature, and it's not working with the family. We started kind of diplomatic talks, and it's very good in the family wineries to have this really old knowledge. Those things you don't find in any books, you don't learn at any university, and having a family winery, you always have a good tradition, but it's always important not to get stuck in tradition.
If you get stuck in tradition then there's no developing, and every vineyard and every harvest is different. You always have to adapt. Climate is changing, and the biggest change now in our case is in terms of viticulture, and vineyards and cellar. It was the search of terroir, and you ask yourself what is terroir? Whatever you do with your soil, if you use chemicals, or chemical fertilizer, or whatever, this is all part of your terroir. The first part for sure is to change to organics, which was not a big step for us, because my parents did not use any chemical fertilizer, no herbicide either. This was not a big step actually, but it was just a way of how to get better, how to get better green cover. I want to have the most beautiful compost hills there have ever been.
When you talk about spontaneous fermentation, natural fermentation, this starts in the vineyard. You don't want to kill the yeasts, which are living on your leaves and berries in your vineyard, so you become very sensitive of what to do and what not to do. The same step happens in the cellar. In my first years I was still a believer of late harvest, the later the better, the kind of physiological ripeness. At the end it's all about the taste, it's about getting to know the taste of your berries. As a winemaker, it's not about only being good at tasting wines, you also have to be the best in tasting your fruit, and to know when it's going to be ripe. You have to go into the wines, and you have to understand your vineyards. You have just a very small corridor of harvest where the grapes are perfectly ripe before they become overripe. This is something I learned in France, and some warmer regions where it's really very important to get the right moment. Those changes happen in the style of the wines. I think our wines become more minimalistic, more true to our origin.
I don't want to make fat wines, that's very simple actually. I think we are still the winners of the climate change, which is definitely happening. In the '60s, maybe two out of 10 vineyards were really ripe like we want now, and the others were more unripe, because all the old guys had way too much yield on their wines, that's for sure. The change was to what is the count for us, and what can we get rid of we don't want to make any wines with aromatically, meaning not to polish away the edges and spikes of character, and so we want to make a cool-climate Riesling.
Tell us a little bit about the terroir at your estate.
The nice thing, the richness, you have so many different terroirs and microclimates. One hillside is different from the other. It's a place where geology, or climate, is meeting. It's a wine range on a kind of a climatic border. It's a region where it's a pretty cool playground for winemakers.
How do these different variances represent themselves in the wines?
When you're working in the cellar, by not making the wine different by using the cellar methods, like trying to sear or a bit of oak here. When you do everything the same, you will really see that the crystal clear structure, it's maybe our most cool climate. When you go to the more south-exposed vineyards, you have this deepness and ripeness, and yellowish aromas, without getting gold, it's definitely one of the most special vineyards. It's like power with so much control, which brings up very vertical wines. This is something we just love to play around with.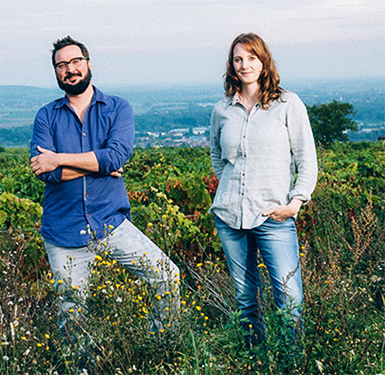 You talked a little bit about organics, and some of the challenges moving from one generation to the next. What is your philosophy of viticulture?
In viticulture you're the farmer, you're the scientist, go out and search. This is something we do every year by making trials to finding new solutions for the future. I don't want to be stuck in tradition, but we have to find solutions for the changing climate. We have less rain, we have extreme years. The hottest July, the wettest August, and so on. We need to bring balance to our vineyards. The magic thing is called humus. This is the life of the soil. If everything is cold air, then the grapes will go through a dry period, and then you have enough plants and organic things growing, then winter there is a lot of water there. The grapes don't suffer from too much water, and there is one rule that with organics, you always have to be precise with time.
It has nothing to do with this dramatic picture of winemakers with their straw hat in their vineyards, just watching and meditating. You have to be precise. Then you can be lazy in the cellar if you're good in the vineyards.
Were there specific influences on you that drove you to these conclusions?
This was from all my travels. The first time I learned how to turn compost was on a farm in Austria, where I was working on the farm side with agriculture. Then you come from the new wine world to the old wine world. I was studying in Germany, but every time we could get to France, we did the harvest in France. It was there that the two philosophies meet, and you grab the things which are cool for your terroir, to develop this sense of place. It's nice to be a winemaker right now. It was never so interesting, because you're connected around the world, but also to your roots, to your vineyard. The influence is to always be open-minded at your horizon, and travel, and drink, taste.
Amongst wine lovers, Austria is a very known region, but it's not one of the more popular worldwide. How does that change? How does Austria's profile raise itself?
One reason why this happens, is because Austrian people love very much their own wine. Pretty much all the wine that is produced in Austria, we drink in Austria. Only a small percentage of wine gets overseas.
You're keeping all the good stuff?
We bring samples for you also. Really, a lot of wines you just definitely find in Austria. Austria is a country of family wineries, so they're not big cooperatives, or big industries. It's a very small structured country. To bring it more around the world, we would need to produce more, maybe, which we're not going to do, because we want to stay a small niche country. It's always nice to work in a niche. To become more popular, we have to do more interviews and videos like we do right now. This would be cool. It's all about communication, and we always will be a niche for some certain freaks. We'll never be mainstream, which is good.
Alwin, what types of wines are you making at the moment?
Good wines. We try to make really elegant wines. Grüner Veltliner, it's the most important variety. Besides Grüner we have Riesling, all those wines are dry. We have very strong terroir-driven wines. We go from searching for minerality from all the wines we make under an idea or understatement. We don't want to make loud wines, we want to make wines which are working as a beautiful background music for a nice dinner, for nice dishes. It's all about balance, this is something which you can really achieve in the region.