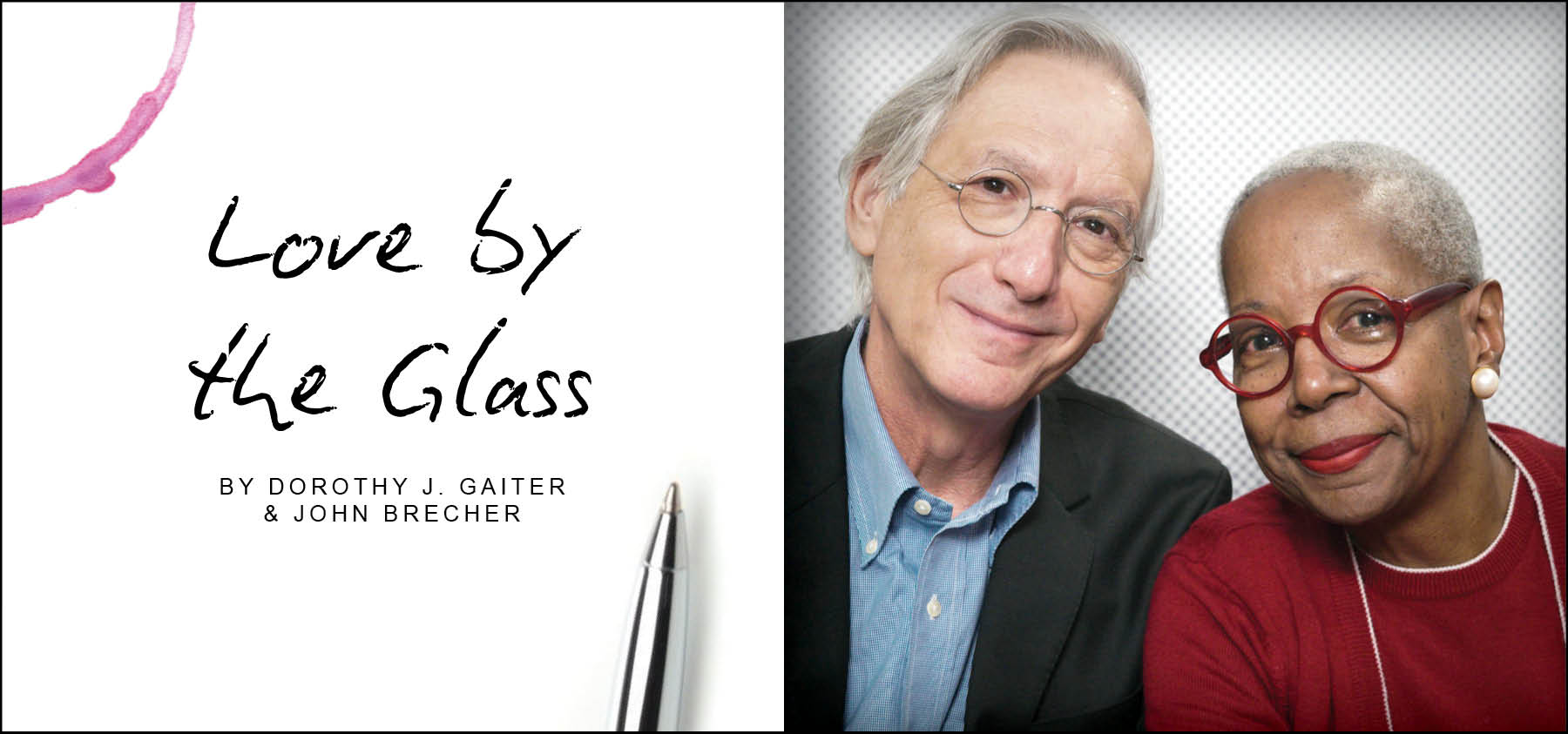 We know we're taking a risk serving Riesling at the rehearsal dinner for our daughter Media's wedding. If we had a dollar for every time someone told us they didn't like Riesling because it's sweet, paying for the wedding would be a piece of three-layer cake.
The Riesling we've selected to start the dinner isn't a breathtaking, thrilling wine as some Rieslings can be, a stunner that will cause a hush to descend upon La Colina, the site of the festivities. Instead, we've chosen what we think is a real crowd-pleaser, in the best sense of that term. It's The Daily August 2017 Rheingau Riesling Qualitätswein Dry from August Kesseler. It's delicious, with bright acidity, flinty minerals, and pitch-perfect rich fruit. Plus, it's only 11.5% alcohol, with a lightness that will be much appreciated, we hope, in August. We also like the name, a reminder to Media and José that wine – and life, and each other – should be enjoyed and celebrated every day.
And it happens to be a wine with family memories.
Over the years, many people have asked us how to choose wines for weddings. Truth is, it's often not an option because many venues don't allow families to pick the wines outside of the venue's short list or they charge an outrageous corkage fee. In some places, we've been told, it's not even legal to bring in alcohol from outside. But La Colina made an exception for our rehearsal dinner wines since we're wine geeks and they're providing all of the other libations.
If you can bring your own, we can at least tell you what we did. We tasted a number of wines – white, red and rosé – with Media and José. We tried to find wines that would generally be enjoyed, but also might be new and different to the guests. We gave an extra point for wines that had some history with our family. Price matters, of course, since people tend to drink heartily at weddings. And that's why we also paid some attention to alcohol content.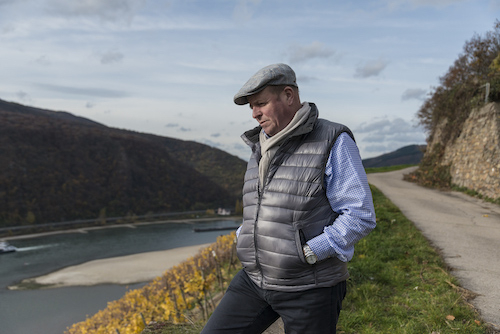 We hadn't originally considered a Riesling as the white, although, like just about every wine writer in the world, we love it and consider it underappreciated. Then we received The Daily August as a sample. Even before we tried it, we couldn't stop smiling because this wine is filled with sweet memories. In 2002, when Zoë was 11 and our now bride-to-be was 13, we visited Assmannshausen, Germany. We stayed at the historic Krone Hotel and we'd learned that a block away was an outstanding winemaker named August Kesseler who made stellar Spätburgunder (Pinot Noir). So we walked over and knocked at the door of his winery, unannounced and without mentioning that we were wine writers.
(Photo: August Kesseler)
A man stuck his head out the window and introduced himself as Kesseler. A mixed-race American family visiting off-season must have been quite unexpected, yet he invited us in, offered the girls juice and brought out several bottles of wine. "I have none to sell," he said, "but I'd like to leave you with a good impression."
Did he ever. Among the wines he poured was a 1999 Spätlese trocken Spätburgunder that rocked our world.
So when we tasted The Daily August, we were thrilled that it was so delicious. It took us a couple of days to work up the courage to tell each other that it might be a good wedding wine. But we were both already thinking it.
We wrote about August Kesseler after our visit in 2002, but we had not been in contact with him since then. We decided now was the time. We mentioned our visit and attached a current photo of our family.
"I remember," Kesseler wrote back. "And by the way, this wine [the 1999] was one of the very best which we ever had – fine, elegant, distinguished and perfectly balanced."
We had written in The Wall Street Journal that the 1999 "was a remarkable wine that, we'll bet, will be quite famous someday." It did become quite famous, as did the 2001 and 2002, winning for Kesseler and the region international note. When we visited, Kesseler exported only a small amount of wine to four states in the U.S. The year we wrote about him, he launched a quest to get his wines broader distribution in the U.S.
"In 2002 I took my bottles out and traveled all over the country, sampled my wines all day long and did a lot of wine dinners and advertisement for my brand. In 2006 I was distributed in 23 states," he wrote us. And in 2008, after his initial importer retired, he entered a relationship with Vineyard Brands, which sent us the bottle of the Riesling we liked so much that we purchased more than a case for Media's rehearsal dinner ($19.89 a bottle).
The Daily August wines – Riesling, Pinot Noir and Rosé -- are the winery's Gutswein, its basic estate wines, made from younger vines. They grow in choice locations, but not his Premier Cru (or Erste Lage) and Grand Cru (or Grosse Lage) vineyards, although some fruit from those sites has been added to the Daily's blends.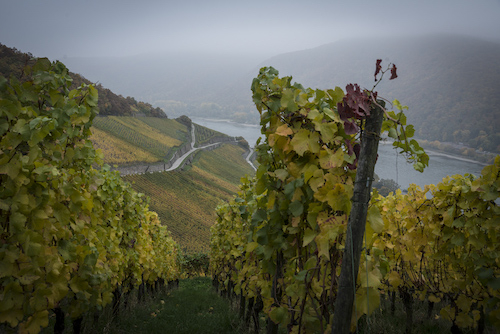 Kesseler, 60, is a member of the Verband Deutscher Prädikatsweingüter (VDP), an organization of prestigious winemakers who adhere to winemaking rules that are stricter than those imposed by German law. They believe, strongly, that wines should reflect their terroir. All of Kesseler's vineyards are VDP compliant. The Daily Riesling comes from grapes grown in the villages of Erbach, Hattenheim and Kiedrich. The juice from these sites is fermented separately in temperature-controlled stainless steel vats and blended just before bottling to preserve each site's distinct characteristics, Kesseler said. The 2017 is only the second vintage of this wine and Kesseler and his team are quite excited about it. They produce around 6,000 cases of the Daily Riesling. His weingut's total production is 25,000 cases, 60% Riesling and 40% Pinot Noir.
How did the wine come to be named The Daily August, we asked Kesseler.
"Everybody at the estate knows that I like to drink wine in an easy way. Around 5 p.m. in the afternoon I am getting thirsty for wine after a long day starting to work at 5 a.m. in the morning as an early bird! I am looking for the open bottles left from the daily tastings here and I always choose the wines that are easy to drink, something to quench my thirst. These are not the big ones but the wines that are mineral-driven and medium-bodied. So it was obvious to name this wine The Daily August."
Kesseler's winery was founded by his grandfather Josef, who in 1924 took over what had been a bulk-wine producing cooperative. August's mother died in 1975 when he was 17 and two years later, when he was 19, his father died, leaving him the winery and six acres of vineyards. He set out to raise the quality of wines being produced in the winery with its ancient caves on a slate edge of the famous Assmannshäuser Höllenberg vineyard. In the early 1980s, he bucked tradition by making dry -- not sweet -- reds and using barriques. He studied viticulture and enology at the famous Geisenheim University and interned around the world. He now owns around 80 low-yielding acres. Our friend Christian Schiller, a German-wine expert, wrote an excellent piece about Kesseler here.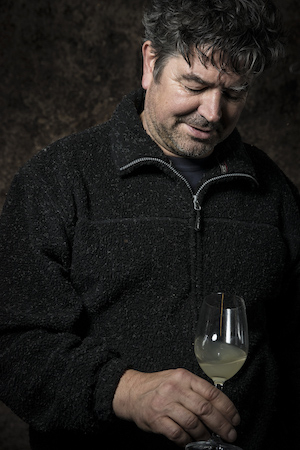 In 1989, the year Media was born, Kesseler hired winemaker Max Himstedt to help the winery reach new heights. In 1992, Kesseler married Beate, a vivacious blonde. Two years ago, he appointed two successors as managing directors of the winery, Simon Batarseh, a young winemaker who oversees production and export, and Daniel Steinle, who handles commercial responsibilities. Kesseler retains the titles "boss" and president of the company, he wrote us.
(Photo: Max Himstedt)
We put this question to him: If we were going to say to the people at the rehearsal dinner, "This is why the winemaker says you have to try this wine," what would you say? He had compelling answers.
"Because Riesling is the most delightful and versatile variety in the world, easy and enjoyable to drink, and you will find out the second bottle always tastes better than the first! Riesling keeps you thirsty and will never fill you up," he replied.
We described Media and José this way to Kesseler: They are smart, creative people who are sweet and generous with others. They have many friends who are traveling from many places, including Germany, to witness their wedding. Is there anything about our description of Media and José that resonates with you and this wine, we asked him.
"A glass of wine for me always makes the day. It makes me elated and I get my best ideas with it. It rounds my day and makes me happy and lucky. But I don't like to drink wine when I am alone. I need good company, friends and family to enjoy. I am getting creative after the first sip and start to cook, every night. My wife, my mother-in-law and I have dinner together. I am still traveling a lot. But wine is important to me wherever I am. At my second home in Chicago I also cook every night for my best friend, Helmut, of course with a bottle of The Daily August Riesling!"
Any advice for the young couple getting married the next day?
"Stand together in bad times!"
"Stand together" sounds like daily wisdom to us.
Dorothy J. Gaiter and John Brecher conceived and wrote The Wall Street Journal's wine column, "Tastings," from 1998 to 2010. Dorothy and John have been tasting and studying wine since 1973. Dottie has had a distinguished career in journalism as a reporter, editor, columnist and editorial writer at The Miami Herald and The New York Times as well as at The Journal. John was Page One Editor of The Journal, City Editor of The Miami Herald and a senior editor at Bloomberg News. They are well-known from their books and many television appearances, especially on Martha Stewart's show, and as the creators of the annual, international "Open That Bottle Night" celebration of wine and friendship. The first bottle they shared was André Cold Duck. They have two daughters.
Read more from Dorothy J. Gaiter and John Brecher on Grape Collective