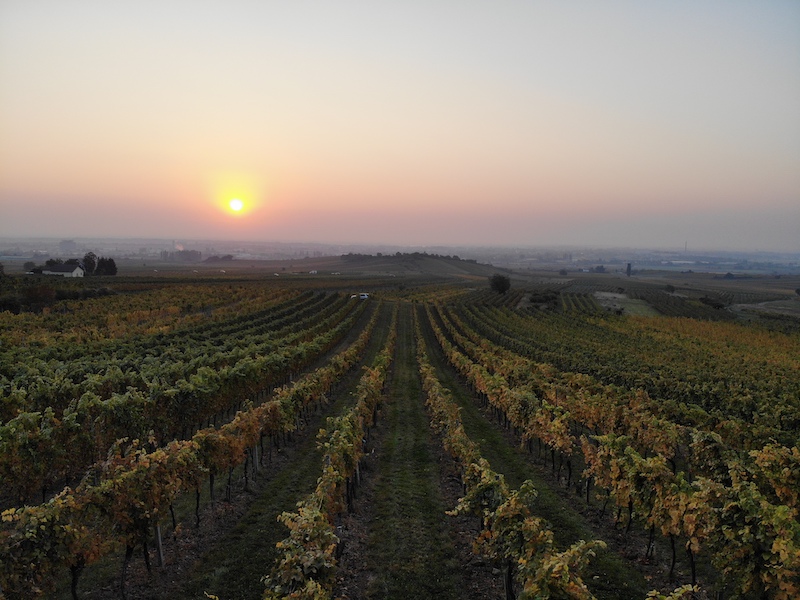 Why, in the past decade or so, have we felt so drawn to native grapes? Is it simply the inevitable urge to rip up the global wall-to-wall carpeting of international varieties? Or is there more zeitgeist at work? In an age of atomized identity, do native grapes fill our desire to tell the stories of precise, specific expressions of precise, specific places? Is this somehow our quest to understand the universe by puzzling out how it conspired to bring forth a single individual?
To the all things autochthonous movement, Austria offers much. Especially for such a tiny (population 8 million) country. But of course, as recently as a century ago, it was the vast and mighty Austro-Hungarian Empire, encompassing the lands, traditions, and native grapes from (present day) Czech Republic to northern Italy. Moreover, with its tradition of Gemischter Satz, or field blends, many more grapes have been preserved in the tiny country's vineyards than we may yet realize. And hidden behind the worthy flagship of Grüner Veltliner is a range of far more obscure native white varieties: Neuberger, Roter Veltliner, Fruehroter Veltliner, St. Georgen, Sylvaner, Rotgipfler, and Zierfandler. The Thermenregion, just south of Vienna, has been home to the last two rarities for centuries, with a tradition of planting them in top crus and according them a status that makes their continued obscurity in the outside world a puzzle.
Rotgipfler (ROHT-gipf-lur) and Zierfandler (SEER-fand-ler). Think of them, if it helps, as Austria's Marsanne and Roussanne, traditional blending partners, one rarely mentioned without the other. Or frame them in terms of Grüner Veltliner and Riesling: Rotgipfler playing Grüner's richer, spicier part and Zierfandler taking Rieslings's cooler, nervier role. In the vineyard, both varieties demand prime hillside sites, rely on long sunny days and cold nights, steady ventillation, and and thrive on a support of limestone bedrock and marl topsoils. In the glass, both are capable of giving wines of serious textural interest without ponderous weight, thanks to a balance of high levels of natural extract and vibrant acidity. As a pair, these varieties are reference points in our understanding of the Austrian landscape and the countries vinous history.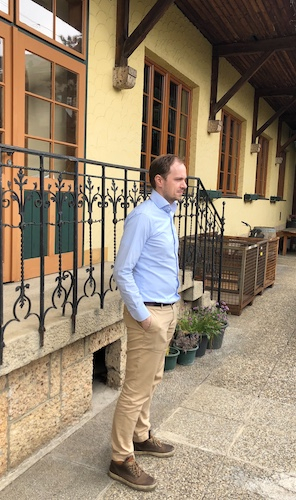 Bernhard Stadlmann, 37, is the eighth generation of his family to grow and vinify Rotgipfler and Zierfandler in Traiskirchen, the heart of the Thermenregion. It appears that by DNA and by training (Geisenheim, UC Davis, and, already, decades of hands-on work) he is one of the world's few true authorities on these rare varieties. He can break down the essential differences in a flash: "Rotgipfler likes water-retentive soils and loses acidity fast. Zierfandler is later ripening and does best on well-draining sites. Rotgipfler is inclined to high yields, Zierfandler's are naturally curbed. Rotgipfler is thicker skinned and more disease resistant. Zierfandler holds its Riesling-like acidity and can have a chalky, salty minerality. Rotgipfler tends to give wines of a broader, warmer character, with yellow fruit and stone notes."
The Stadlmann family have never wavered from their admirably traditional focus of Rotgipfler and Zierfandler. This is achieved through careful preservation and study of single vineyards, old vines, hand harvests, a practice of rather firm pressing to release some tannins to the must, native yeast fermentations, long lees aging in large oak cask -- increasingly from trees grown in the nearby Vienna Woods -- and an uncompromising emphasis on varietal expression and agability. Their only "innovation," that is, farming organically, can readily be read as a return to tradition as well.
The Thermenregion is the only place in Austria -- the world, in fact -- where Zierfandler and Rotgipfler hold pride of place in the region's best vineyards. And yet, as Master of Wine Anne Krebiehl notes, "the Thermenregion is frequently a region that is forgotten and falls between two stools." Neither the urban curiosity that is Vienna to its north nor the expansive trove that is Burgenland to its east, the Thermenregion has yet to grab global wine lovers' serious attention. Moreover, Rotgipfler and Zierfandler, even taken together, represent just 0.5% of Austria's total grape plantings. Yet these wines do find their way into wine shops and restaurants around the world. You need only know to look.
Forty-two wine villages comprise the Thermenregion. Zierfandler and Rotgipfler have especially deep roots in two: Traiskirchen and Pfaffstätten. The former is home to the legendary Mandel-Höh, a Ried, or single vineyard, planted exclusively to Zierfandler. This 3.2-hectare cru commands a privileged position near the hilltop, taking its name from the almond trees that were once widely planted there. The site's moderate elevation (250 masl), shallow, chalky loam soils, south/southeastern exposure, and the steady breezes that sweep up from the valley all converge to meet the demands of delicate, warmth-loving, late-ripening Zierfandler. Just below the Mandel-Höh, offering slightly different dynamics of temperature and soil depth, is Ried Igeln, also planted to Zierfandler. In the neighboring village of Pfaffstätten, Ried Tagelsteiner is Rotgipfler's domaine: Again, on a higher hillside slope, facing east for slower ripening to help the grapes hold their fragile acidity, soils of deep, rich Braunerde, clay soils with fine alluvium and little gravel content.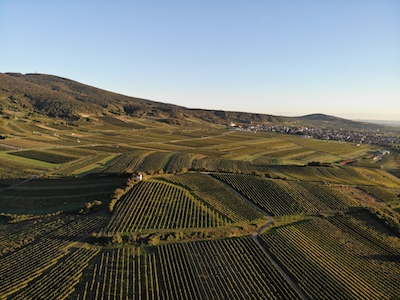 Archeological evidence suggests the Celts were cultivating vines in the Thermenregion long before the Christian era. Perhaps they were drawn to the thermal springs that give the region its name, as the spa-loving Romans later would be. Yet it would be the Cistercian monks, arriving from Burgundy in the Middle Ages, who would map and plant much of what we see in the Thermenregion today. The geologic and climatic similarities between the Cote d'Or and the Thermenregion make the connection understandable: marginal climates, long stretches of midheight hills sheltered by forests at their tops, prominent limestone bedrock. Over time, as Austrian wine expert Philipp Blom argues, "village identity and the intimate connection with the Cistercian order" helped establish the region's identity as Austria's Burgundy.
This flattering comparison notwithstanding, the Thermenregion's fortunes have waxed and waned considerabley over the past 150 years. Through it all, the presence of Rotgipfler and Zierfandler has remained a constant -- and in rare instances such as the Stadlmanns', these grapes were never ripped out in favor of fleetingly fashionable varieties. With favorable attention from Austro-Hungary's ruling Hapsburgs, Thermenregion wines graced Viennese tables and were laureled with international prizes. Then, in 1872, phylloxera eviscerated the region's vineyards, while new threats from oidium and peronospora compounded the viticultural disaster. The Thermenregion was well on its way to recovery in the 1930s, only to be devastated again by Allied aerial bombing in WWII and heavy-handed post-war Russian occupation.
This long trajectory of cultivation allowed growers to discern two distinct areas for viticulture within the roughly 2,180-hectare region: to the south, a warmer area best suited to Pinot Noir, the Cistercians' suitcase import, and the Austrian native red Sankt Laurent, to the north, a cooler section nearer the eastern edge of the Kalkalpen or Limestone Alps and the protection of the Vienna Woods, that was -- and is -- ideal for whites.
Administratively, the northern districts went under the name Gumpoldskirchen, the southern Vöslau. With the enactment of Austria's sweeping Wine Law in 1985, the two were folded into the present Thermenregion appellation. Since then, while 13 Austrian regions have been singled out for recognition in the so-called DAC system of protected origins, the Thermenregion remains outside this structure. Possible future inclusion could shift the region's fortunes once again.
Visitors to the region will find that where Vienna's excellent subway network ends, the Thermenregion begins. Exit the U1 line at the last stop, in Oberlaa, and it's an easy bus ride or extended walk to a wonderland of rolling, densely vineyarded slopes. These are crisscrossed by a network of footpaths and visitors can easily map out a sybaritic afternoon of going wine tavern to wine tavern, all on foot, before hopping on public transport back to Vienna -- all before dinner. It's the best way to come to grips with how geology and culture combined to create the conditions ideal for the grapes under consideration here.
Geology first. Some 19 million years ago, the present broad, low-lying area known as the Vienna Basin was filled by a large, epicontinental sea, the Paratethys. The abundant marine life that swarmed in, then deposited its remains on the seafloor over millions of years is the reason the Thermenregion today disposes of an enviable abundance of limestone bedrock. A fault line marks out where the Limestone Alps meet the basin. A chain of hills forms the region's spine, with the tallest, Mount Anninger, topping out at 675 masl. This is where many of the Thermenregion's choicest crus are found.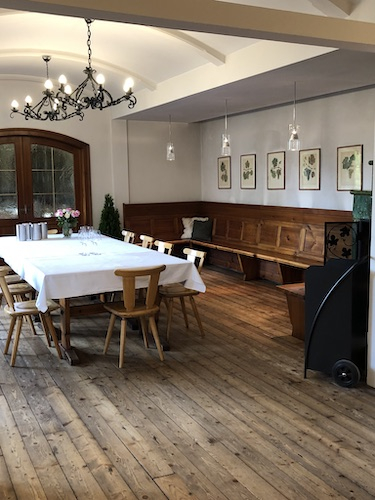 This is also where the Stadlmann family have cultivated Rotgipfler and Zierfandler for 170 years. The villa that houses their winery and home is a fitting bulwark for their loyalty to tradition. A stately structure, it faces a quiet village street and beyond that a modest, moated cloister. Visitors enter the villa through a massive wooden door arched in grey stone. A cool, shaded entry hall opens onto a broad courtyard, a functional space for a tractor and tools. Inside, a handsome central room, anchored on one end by the ur-traditional Austrian Kachelofen, once served as the Stadlmann's wine tavern, though they closed years ago when wine began to demand all of their attention.
Yet, as Bernhard Stadlmann explains, the building only dates to the 1950s. Traiskirchen bears little sign of its industrial past now, but in the 1940s, it was a target of sufficient strategic importance to merit Allied aerial bombing which included the wholesale destruction of the Stadlmann property. Russian occupation followed. "That is why the oldest bottle of our wine you find in our cellar is from 1956," explains Stadlmann.
Stadlmann, very thoughtful and soft spoken, brings a wealth of outside experience to the task, including a degree in sensory studies from Davis."For this, you try to establish a method where you can really work on the most objective characteristics and qualities of flavors. It's all based on very well thought out and established methods, with statistics to back it up. I got really fascinated." Given the distinctive sensory characteristics of Rotgipfler and Zierfandler, this expertise seems particularly apt. In general, Stadlmann brings both an academic rigor to viticulture that the old Cistercians would recognize and applaud as well as a serious commitment to the furthering the unbroken traditions of his family and his region.
"In our area, until maybe 100 years ago, we had field blends, where several grape varieties grew together in one vineyard and one wine was made from this collection of vines. There certainly would have been Zierfandler, a fair amount of Rotgipfler, and a little Riesling, too, since we have a long tradition of growing it here, and maybe some other grapes as well. But every region had its own of signature grapes -- the grapes that did really well there. Here, this was Zierfandler for sure, along with Rotgipfler, though if it was in the same amount I cannot tell really today."
Today, most of their Rotgipfler and Zierfandler plantings date to the 1950s and 1960s. At that time, Stadlmann notes, "it was thought Zierfandler wouldn't work on guyot, which is part of the reason so little of it was planted when growers switched over from single-stake trellising."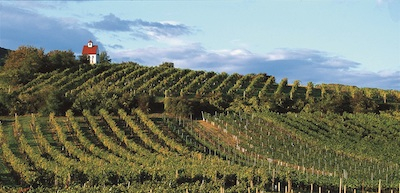 Researchers believe Rotgipfler to be a Thermenregion native. Today, just over 100 hectares are planted, nearly all within the region, as the vine has adapted particuarly well to the mid-weight calcareous-clay soils and warm climate here. The, grape first documented in 1837, is a natural crossing of Traminer and Roter Veltliner and takes its name from the reddish color of the leaf tips and reddish-bronze of the vine shoot tips. It's a relatively late ripener, typically ready for harvest in early to mid-October. What marks out the wines is their rich extract and acid structure. Rotgipfler's Traminer parentage is evident in the spicy, floral notes that sparkle in the upper register, while a mellow, rich yellow fruit and cleansing almond finish character play the bass line. Rotgipfler wines can easily reach potent alcohol levels and become overwhelmingly powerful, so the right match of soil and grape is key for retaining freshness and finesse.
Stadlmann points out that, unlike other areas of Austria such as the Wachau, the idea is "one vineyard, one wine." In other words: "When my family decides to make a single vineyard wine, we make no selections based on varying ripeness levels. We have found over decades and generations that, for example, in Ried Tagelsteiner, we can get a higher-ripening, richer style of wine without losing finesse, complexity, or structure. We start around 12-12.5% alcohol, and even though the alcohol is not that big, you already can sense some sort of concentration in there, which really comes from the ripeness of the fruit and the low yields this variety gives. Alcohol doesn't drive the body of these wines it's the extract. In my region, producing a rather strong wine is not such a big deal. Combining this with acidity and finesse, especially for Rotgipfler, is the challenge."
When we taste Rotgipfler Anning 2017, it offers an alluring nose of yellow apples and wet stones, with a lovely weight and freshness, long, lively with an appealing, slightly bitter finish that draws the wine to a satisfying close. The Ried Tagelsteiner Rotgipfler 2017 is warm and rich, but held back from plushness by excellent acid and spice. Notes of baked apple, excellent extract-rich texture and slight salinity on the finish make this an extremely engaging wine.
Zierfandler was once widely planted throughout the eastern and southern Austro-Hungarian Empire, testifying to the exceptional quality of this grape. Today, a miniscule 77 hectares are planted in Austria, nearly all in the Thermenregion. The grape's parentage is very similar to Rotgipfler's: a natural crossing of Roter Veltliner and a Traminer-like variety. To add to the confusion, its synonym is Spätrot, a reference to the late-ripening berries that redden when they are ready for harvest. Zierfandler is exacting: thin-skinned and therefore highly sensitive to frost and botrytis. "Zierfandler is very late ripening, usually the last variety we pick out of all the grapes we're growing. It needs a warm, dry, long autumn to fully ripen," notes Stadlmann.
"Our area is a little warmer than, say Burgenland, just to the east. But I think we have a good fresh character in our wines and this is maybe also because we are on the very eastern end of the Limestone Alps. All the vineyards are on hillsides, and in the evenings, we get a cold wind going through our vineyards. That helps to preserve freshness, and at the same time it's really important, especially for Zierfandler, for drying the humidity after rain or morning dew and keeping our grapes healthy," Stadlmann explains. "We have long, sunny, dry autumns, but less hot and dry than in Burgenland, where some of our grapes, especially Zierfandler, would shrivel due to their thin skins. This may also explain why Zierfandler and Rotgipfler, which are so delicate to grow, have remained in this area. The climate is just right for them."
"I would say over the past century, producers developed an understanding of Rotgipfler and Zierfandler that they demand different qualities and properties in the soil and climate. So it became more interesting to specialize and find vineyards only for Zierfandler or only Rotgipfler."
"Our area is all limestone, but similar to Burgundy, we differentiate our vineyards based on whether there is more or less clay in the topsoil." Indeed, what distinguishes the various sites and disposes them either to Rotgipfler or Zierfandler are the variations in top soil composition and depth. In Traiskirchen, Ried Mandel-Höh, the exclusive domain of Zierfandler, is composed of Pararendzina soils that are dry and highly porous, with little ability to hold water or nutrients.
Mandel-Höh has, rightly, been called Zierfandler's "ancestral and spiritual home." Stadlmann says "If you think about where almonds grow, these are also good sites to grow wine. Mandel-Höh has been important to my family for more than 170 years. We feel very comfotable growing Zierfandler there. We learned how to grow it on that site, and the vineyard allows us to produce a richer style of Zierfandler, with nice, lively focus and texture. All summing up to a complex wine with good aging potential."
Neighboring Pfaffstätten is home to Ried Tagelsteiner, with mid-depth to deep sandy loam. "What makes this vineyard special for Rotgipfler is that usually, on the lower part of the hillside, you have the richer, clay-heavy soils. But the Tagelsteiner is more on topside of the hill, and in this location we still have a high content of clay, so this allows us to produce a Rotgipfler that's richer, but since it's also a bit higher on the hill, and a bit more east-facing, it ripens a little more slowly, so we can control the acidity better. If it was grown lower on the slope, we would probably have to pick it earlier to preserve this kind of structure."
Structure is also achieved on the press pad and in the cellar, as Stadlmann explains. "We're not afraid to give the juice a little oxygen, because primary fruit is not essential for these varieties, or to press a little harder, because we're not afraid of tannins." The striking texture and grip of these wines testifies to this.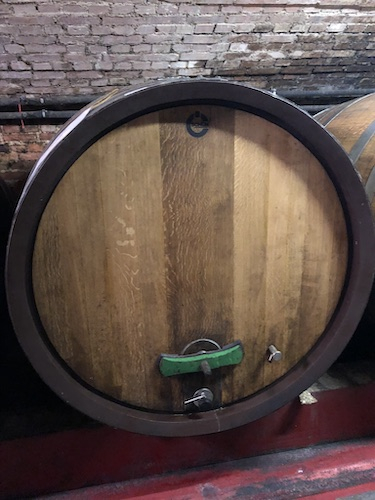 Stadlmann favors natural sedimentation in large wood tanks because "wood helps to clear in the wine and helps us to treat the wines more gently generally." All fermentations are spontaneous, with careful attention paid to temperature as "native yeasts behave differently above and below 20 degrees C." After alcoholic fermentation and lees settling, the wines get one racking, around Christmas.
"None of the spicy characteristics in the wines come from the barrel. Sometimes people think the spiciness of Rotgipfler comes from the wood, but it's not, it's just the grape. We mature the wines in large, neutral barrels. Now most of our new barrels are sourced from a nearby wood, but there is not enough oak that grows straight and dense there. So we work together with the forest authority to find some good oak trees. Traditionally, we also have oak from an old area around southern Austria, a little bit of Slovenia, a little bit of Croatia. We'll use the barrels for 30, 40 years, as long as they're in good shape." The cask volume is typically 1800L, a size traditional in and around Vienna.
Battonage is unnecessary, Stadlmann believes, "because we have enough power and structure from the grapes. We also don't want yeasty or oily textures, though we do like a little bit of reduction in the wines."
The Ried wines, destined for greater richness, textural complexity, and aging, stay almost a full year in cask. The lighter wines are bottled in April following harvest. Minimal amounts of SO2 are added at bottling. "Zierfandler is a bit fragile, it just needs a little longer after bottling. We're not afraid of a little bit of phenolics in the wine. I don't think you can sense any bitterness in there, it's just something that really makes the wine very stable. In fact, already 200, maybe even 300 years ago, these wines were very successfully sold to other places in Europe because transportation was pretty rough and the stability of these wines made them valuable."
Stadlmann says Zierfandler's phenolic concentration is "​not from any time on the skins. It's actually a variety that is very difficult to de-stem when the grapes are ripe. The skins are very thin and its hard to get them off the stem. Besides, you don't really get a lot out of the skins. Itt's whole cluster pressed, so we're not afraid to press a little harder to get the tannins from the skins in the wine. Yeah, it's just giving it a little bit more, it holds the wine together. When people talk about Zierfandler, ​some people come up with comparisons to Alsatian Rieslings -- not their flavor, but more their structure. Other people find some similarities with a Loire Chenin Blanc, but more in terms of flavors." Either way, Zierfandler is a gifted translator of the limestone bedrock and high lime content of the soils. In the glass, it unfolds into layers of fresh hay and meadow herbs, with an irresistibly salty, grippy finish.
Another plus point: "Zierfandler ages really well," per Stadlmann. "In the beginning, the acidity can be a little bit harsh. The extract and concentration are really good, but all these things need to integrate, especially after bottling, since we filter only once, before bottling. That's another reason we use the large wood barrels: the wine clears itself much better. If we were using stainless steel, we would have to filter at a very early stage. People always think you get the freshest, fruitiest wines from stainless. But that's only correct if it was filtered at an early stage, because it stays cloudy and very yeasty in stainless, so that's actually quite the opposite of what people think when you put it in the large wood barrel."
The best way to understand these wines and understand the history and tradition they represent? Find them, set aside a few for aging but pour one right away to revel in their singular, delicious expressions of time and place.
Sources:
Interviews with Bernhard Stadlmann conducted in New York City and Traiskirchen, Austria
Austrian Wine in Depth, Austrian Wine Marketing Board
Weinland Thermenregion, Dagmar Gross
The Wines of Austria, Philipp Blom
Images:
Author
Weingut Stadlmann, all rights reserved