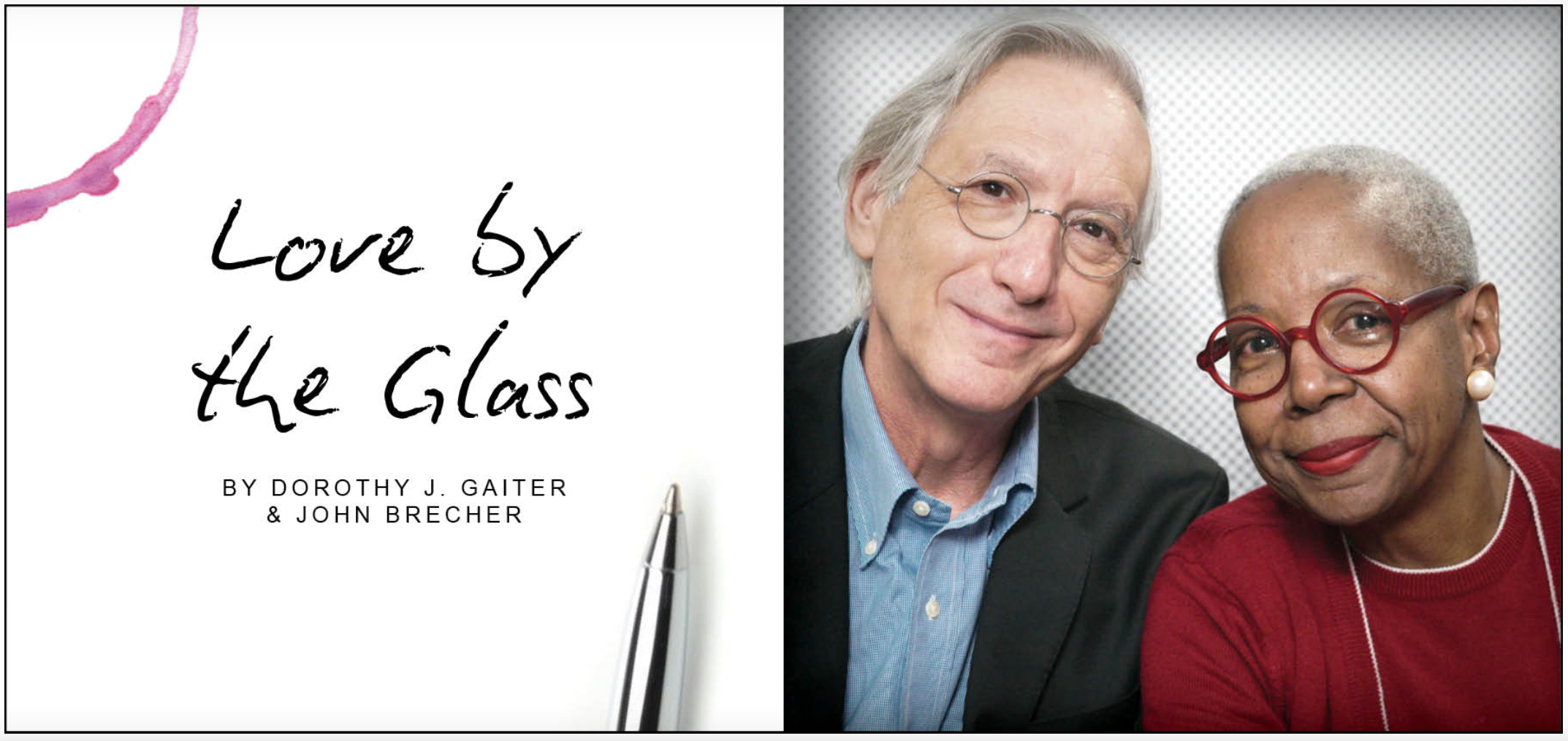 We tasted an excellent rosé the other day a bit by accident. We were at a dinner where Simon Family Estate in Napa showcased its excellent Cabernet Sauvignon. When we walked in, the patriarch of the family, Sam Simon, offered us a glass of rosé. He said they make it because his wife and co-owner, Nada, asked him and winemaker Maayan Koschitzky to create a light-bodied wine she could simply enjoy and they could not say no to her.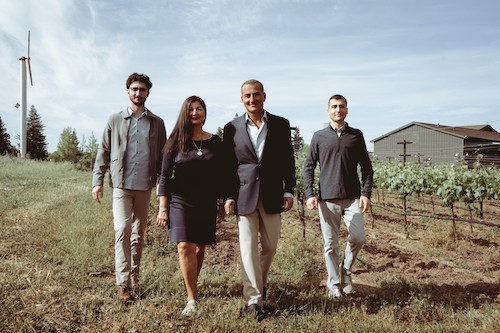 Bingo! The wine, a Napa Valley Grenache ($35 and small production), was cloud-like. While many rosés are described with various fruits, especially strawberries, this was more like we'd imagine tasting pink rose petals. After meeting Nada Simon, who approves the final blend, we didn't even have to ask how it got its name: Tigress.
(Sam and Nada Simon with twin sons, Michael (left) and Peter)
This was another reminder: All wines, whether first growth Bordeaux or informal rosés, are best when they are the result of passion, vision and purpose.
Over the years, we have tasted far too many rosés that are OK and don't seem to have any ambition beyond that. We've also had excellent rosés from all over the world. One of our go-to's for a long time has been Garofoli's rosé from the Marche region of Italy, made from Montepulciano d'Abruzzo and only about $14. When we think of white-tablecloth pinks, we tend to gravitate to rosé of Sancerre, from Pinot Noir. Many years ago, we first wrote about the rosé from Wölffer Estate on Long Island, N.Y., and we have been fans ever since.
As we talked about the Simon tasting, we realized we had more than two dozen rosés at home that wineries and their representatives had sent us. So we decided to do a broad blind tasting.
When was the last time you put two bottles of the same type up against each other, in paper bags? We really recommend it. Every thoughtfully made wine is a bit more interesting when tasted against its peer. There are nuances you might not pick up when you're just enjoying the wine. This one might have more acidity, that one might have more oakiness.
So into the brown bags they went and we're here with our report.
To begin with, we'd say almost all of them were perfectly fine. Our bar here was pretty low: If we had this bottle on the deck, by itself, would we enjoy it? And the answer was, overall, yes. (The ones that we did not like were too sweet, too heavy or tasted too manipulated, like a "wine product" instead of wine.) A few stood out and we had one big surprise: In two separate flights, our favorite was a rosé from Provence, the center of the rosé universe, called Miraval.
(Dottie with rosés)
After we unbagged the wines on the first night and saw the Miraval, we looked at each other and said, "Wait, isn't that…?"
Yes, it is. This is Brad Pitt's winery. According to this story from Decanter, Pitt and Angelina Jolie bought the winery in 2011, brought in Perrin to make the wine and Jolie sold her half to a subsidiary of Stoli Group after the divorce.
We are generally quite skeptical of what we call Paparazzi Wines because they are often just mass-produced wines with a celebrity endorser, though there are exceptions, of course. This was such a big trend back in 2006 that, when we wrote about them in the Wall Street Journal, we said: "There are labels for race-car drivers (Richard Childress, Randy Lewis, Jeff Gordon, Mario Andretti), golfers (Arnold Palmer, Greg Norman, Ernie Els) and stars of other sports (Joe Montana, Larry Bird). There are labels for live musicians (Bob Dylan, Vince Neil of Mötley Crüe), dead ones (Jerry Garcia, Frank Sinatra) and some who may or may not be dead (Elvis Presley)."
But the Miraval 2022 "Cotes de Provence" ($28) was a clear winner – clean and fresh, with nicely balanced delicate fruit and acidity.
In another flight, our favorite was Studio by Miraval 2022, which was exceptionally light in color, a subtle blush. "This tastes pale, in a good way," John said, and Dottie called it "a complete wine, round and balanced" and gave it a rare compliment: "This is a deft hand." At $16, this is a tremendous bargain.
Miraval also makes a very high-end rosé called Muse. It only comes in hand-etched, 1.5-liter bottles. We had the 2021, sent by a winery representative, with our family on Mother's Day, but it was not part of our blind tasting. We also liked it, but it costs more than $300 and for that kind of money, we'd rather have a case of the other two.
Among our other favorites, we had one eye-opener – and we mean that literally. When we first smelled this one, we both opened our eyes wide and wondered what was happening. You know generally how rosé smells, right? Well, this wasn't like that. It was kind of sharp, like it was biting our noses. There was some green grass. If this were a blind tasting of white grape varieties, we might have felt comfortable guessing it was Sauvignon Blanc. It was Masseria Li Veli from the Puglia region of Italy, made from the rare Susumaniello grape. Wine-Searcher says of the Susumaniello grape, "DNA profiling shows that the variety is a natural cross between a Puglian table grape and the white-wine grape Garganega." This is certainly one of the most distinctive rosés we have tasted and if you ever see it ($25), pick it up and be prepared for something different. It is best with food.
No surprise here, but we once again had a Sancerre among our favorites. This was Domaine Delaporte (Chavignol) 2021, which costs about $40. We enjoy the variety of shades of pink and note that color has nothing to do with quality, but this was the darkest among our favorites. With some gold highlights, we said it looked a bit like Cognac and had more mouthfeel than most. Unlike many rosés, this tended toward savory, with a touch of orange peel and some nice funk that added interest. This also would be best with food because of its richness, probably due to six months on its lees before bottling.
And, as we said, good rosé is coming from everywhere. We were charmed by the Baron de Ley "Rosado de Lágrima" 2022, made from Garnacha grapes in Rioja. "Pleasant and easy," we said – and just about $14. We found ourselves coming back to it again and again because it made us smile – and shouldn't a thoughtful rosé do that?
Dorothy J. Gaiter and John Brecher conceived and wrote The Wall Street Journal's wine column, "Tastings," from 1998 to 2010. Dorothy and John have been tasting and studying wine since 1973. In 2020, the University of California at Davis added their papers to the Warren Winiarski Wine Writers Collection in its library, which also includes the work of Hugh Johnson and Jancis Robinson. Dottie has had a distinguished career in journalism as a reporter, editor, columnist and editorial writer at The Miami Herald, The New York Times, and at The Journal. John was Page One Editor of The Journal, City Editor of The Miami Herald and a senior editor at Bloomberg News. They are well-known from their books and many television appearances, especially on Martha Stewart's show, and as the creators of the annual, international "Open That Bottle Night" celebration of wine and friendship. The first bottle they shared was André Cold Duck. They have two daughters.
Banner by Piers Parlett