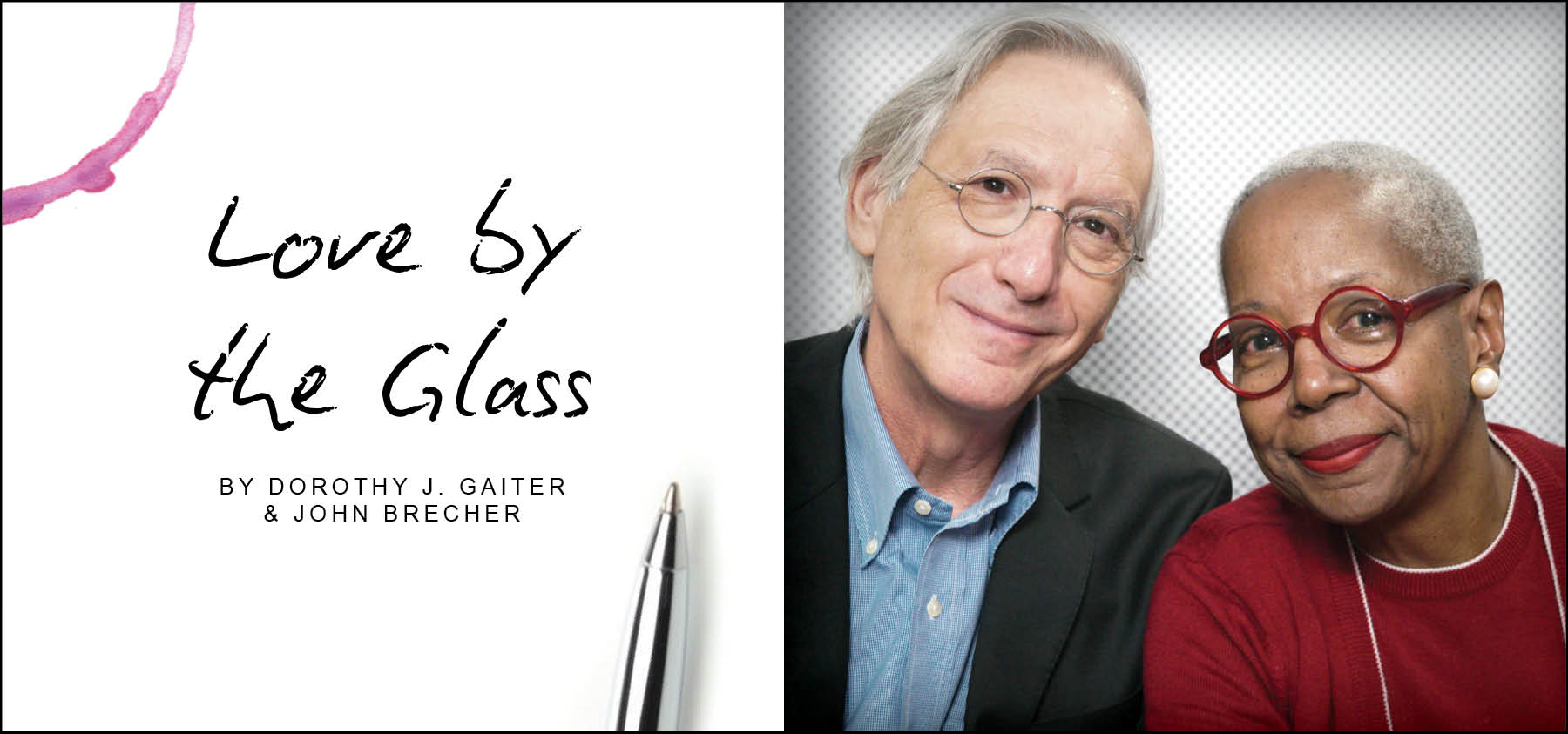 It's an old tradition: laying down wine from your child's birth year to open when that baby turns 21. And sometimes that actually works out. Jill and Jon Rubin of Deland, Fla., saved Dow's Port 1995 and celebrated their son's 21st with the wine, friends and chocolate cake.
There are occasionally small glitches. Rob Boyles' daughter was born in 1988, but that wasn't a great vintage, so he laid down Burgundies and Rhônes from 1989. "All aged very well, even bottles that had low fill or had leaked over time. Opened the last one last year and it was beautiful," Boyles, of Schererville, Ind., wrote to us. "Wife and I celebrated all. Daughter not interested."
It's impossible to know for sure what will be worthy of a celebration 20 years down the road. That's why Port, which is so long-lived, is a classic choice. Fine California Cabernet Sauvignon can be a good bet, too. Chris and Colleen Maranges of Boca Raton, Fla., saved 2015 Chappellet "Signature" Cabernet from Napa, which also happened to be the first wine Colleen tasted after the birth of their son. "We think its intensity will age beautifully until our son is ready to try it," Chris wrote.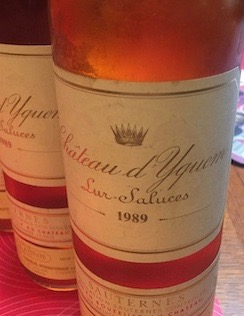 When our first daughter, Media, was born, we laid down a half-case of one of our favorite wines in the world: Château d'Yquem, the great Sauternes. Fortunately, Media was born in a fine vintage, 1989. (OK, we get it that any year that your child is born is a good vintage, but you know what we mean.)
Yquem is a sweet wine made in small quantities – and not every year – from grapes shriveled to their essence by botrytis, the "noble rot." It ages beautifully, getting more golden and delicious in its clear bottles. In 1999, we had a bottle of 1971 that we declared "perfect." We wrote: "It's majestic – truly the most majestic white wine we've ever tasted. It sort of dissolves into your flesh."
Media's bottles sat in our wine closet, undisturbed, all this time, beyond her 21st birthday. With her wedding coming up, John thought to ask Media and her fiancé, José, how they'd feel about opening a couple of bottles at the rehearsal dinner. They happily agreed. We are now back from the wedding with a full report.
We served other wines at the dinner, too, of course, and each had a story – and, in each case, we asked the winemaker if they had any words for the happy couple.
For the white, we served August Kesseler Riesling from Germany, a marvelous dry wine from a top winemaker whom our family first met in Assmannshausen when Media was 13 and Zoë 11. His advice to the couple was simple: "Stand together in bad times."
For the rosé, we chose Domaine de Cala from Coteaux Varois in Provence, owned by the well-known chef Joachim Splichal. For his advice, he quoted an old Bengali proverb: "A handful of love is better than an oven full of bread."
And for the red, we simply had to serve a Catena Malbec because Media and José love Argentine Malbec and Laura Catena is one of our very favorite wine people. When we asked for advice for them, she wrote a poem:
Media loves José
Malbec loves Argentina
We all are lovers
Malbec survived
Two thousand years in Europe
And then found true love
In Argentina
Where immigrants embraced it
For its soft tannins
Today sweet lovers
Vow to nourish each other
Through good and hard times
Like the grape Malbec
Always finding where to thrive
Vintage to Vintage
So how did the wines go over? All of them were thoroughly enjoyed, we're happy to say. The rehearsal dinner took place in an open barn on a sunny but mild day and our guests were especially enthusiastic over the rosé.
The depth of passion for the Riesling was impressive. We were nervous about that wine because too many people think Riesling is sweet and sappy, like many wedding speeches, but we really believed in it. Interestingly, guests who already liked Riesling really loved this one, and others who were willing to give it a try had wide eyes as they talked about it. One guest even took pictures of the label and said he was going to contact his wine merchant first thing Monday to buy a case. We were thrilled to have served it.
The Malbec started slowly, to our surprise. As the sun set, however, the celebrants began to gravitate toward it. Near the end of the evening, as they began to walk the grounds of the working farm in the cool night after dinner, that was the wine they chose to savor.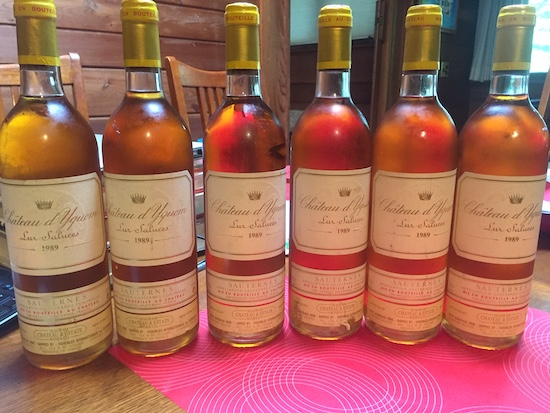 The Yquem was received with reverence, as we had hoped. Dottie told the gathering about its preeminent placement in the 1855 Classification of Bordeaux and that Thomas Jefferson had loved the wine and bought some for George Washington. We had chosen these two bottles carefully from the six. It was the first time we'd seen them all together, standing up. Each had a nice fill and each had turned amber, and the shades of gold were fascinating. One was fairly dark and one was fairly light and the others were in-between. It was more evidence that each bottle of fine wine has its own personality and ages its own way. We chose the lightest one and one in the middle.
John used a prong opener on the corks, which were both in excellent condition. We poured a small amount, maybe a quarter of a glass, into 32 stems. A little bit of Yquem is plenty because, to us, the smell alone is worth a full glass of any other wine. We toasted Media and José with the wine: "May your lives always be sweet." Then we smelled.
We've spent 20 years writing about wine – and more than 46 taking notes – and Yquem might be the only wine we find indescribable, though of course that never keeps us from trying. It smells sweet, like stewed peaches and oranges, with an undertone of rich, dark earth after a rainstorm. That impression continues with the taste, but the most amazing thing is that it doesn't seem to have any body. It's a cloud of taste that enters your body like Casper the Friendly Ghost. Even a small sip lasts and lasts, as does the inevitable smile on your face. The wine was so pretty that we held our glasses up to admire it against the sunlight.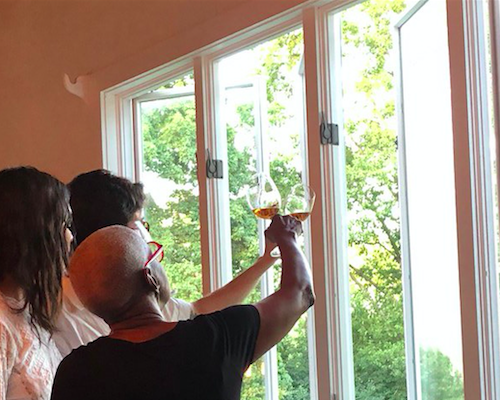 If you have never experienced Yquem, you should. It's like no other wine in the world. It is expensive, but it's generally available in half-bottles, which keeps the cost down (still, probably at least $200). Maybe you could ask Santa for one. Don't let your wine geek friends set the "It's not ready to drink" trap, which means you will save it for a special occasion that never comes. Yes, Yquem gets better with age -- an American collector paid $100,000 for a 1787 Château d'Yquem in 2006 -- but it's glorious young and it's glorious old. We would say our 1989 will be delicious for some time to come, but we don't think it could get better. We'd call it mature.
More broadly, we'd urge you to lay down some wine for a child, assuming you have a good place to store it. Even the greatest wine won't be worthy of a 21st birthday or a wedding if it's kept on top of the refrigerator. Some people, like Betsy Whitmore of Durham, N.C., lay down fine Bordeaux – in her case 1988 Château Margaux. "The last bottle is still in my wine refrig," she said.
Others, like David Povlak of San Francisco, put down a little of this and a little of that, as we did for our younger daughter, Zoë, born in 1990, another excellent vintage. "My son is 2015 and I laid down several things and continue to add to it," Povlak wrote. "Mostly California Cab, but will add Champagne, Sauternes, etc." He said he will also include some large-format bottles, which is a good idea because they tend to age more gracefully.
And sometimes observing this tradition doesn't work out. When we asked friends and readers to tell us their stories about laying down wines for children, or whether their parents had saved wines for them, we received this note from wine writer Meg Houston Maker (terroirreview.com), which read in its entirety:
"I was born in 1965, an utterly regrettable vintage globally. Which explains a lot."
Dorothy J. Gaiter and John Brecher conceived and wrote The Wall Street Journal's wine column, "Tastings," from 1998 to 2010. Dorothy and John have been tasting and studying wine since 1973. Dottie has had a distinguished career in journalism as a reporter, editor, columnist and editorial writer at The Miami Herald and The New York Times as well as at The Journal. John was Page One Editor of The Journal, City Editor of The Miami Herald and a senior editor at Bloomberg News. They are well-known from their books and many television appearances, especially on Martha Stewart's show, and as the creators of the annual, international "Open That Bottle Night" celebration of wine and friendship. The first bottle they shared was André Cold Duck. They have two daughters.
Read more from Dorothy J. Gaiter and John Brecher on Grape Collective