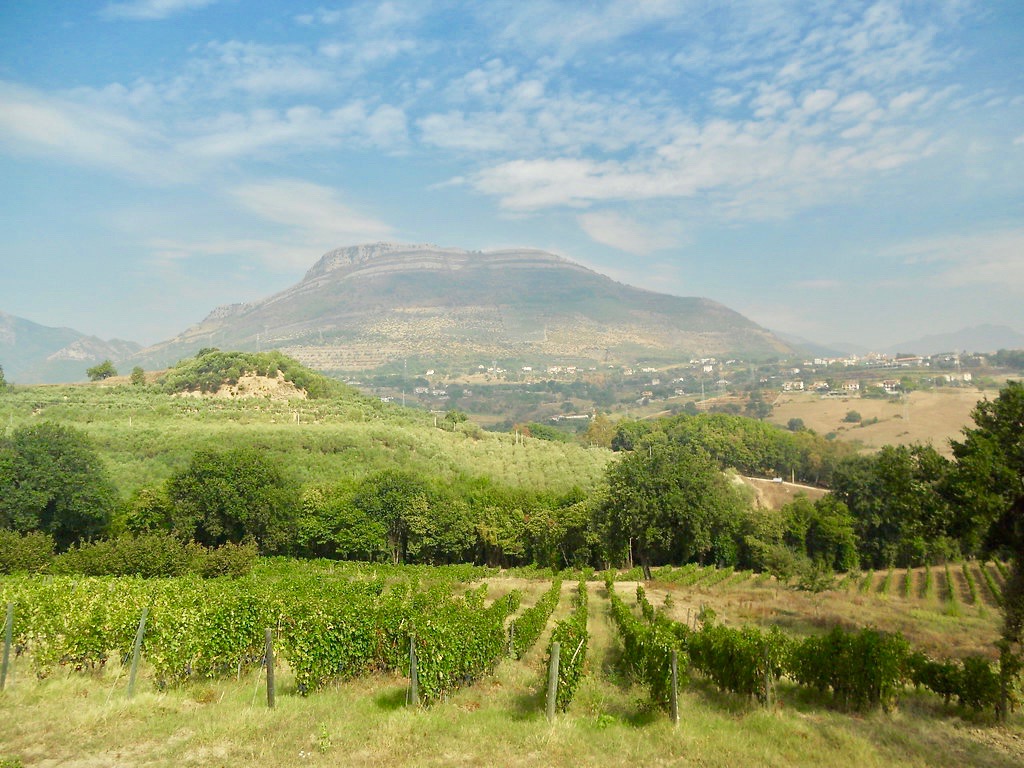 To live next to a volcano is to live next to the prospect of your own death. It requires conviction, daring, and a healthy nonchalance regarding the future—all qualities that are invigorated by a glass or three of wine. Is it any coincidence that volcanic soil produces some of the most distinctive and memorable wines from around the world? Literal hotbeds of minerality, nutrients, and flavor, volcanoes provide both the basis of many great wines and the occasion for their consumption.
Campania, located on the southwestern shore of Italy—and home to perhaps the most famous volcano in the world, Vesuvius—is no exception. The locals have been happily toasting their eventual destruction for millennia—just ask the residents of Pompei.
Campania's name comes from the Latin appellation, Campania felix, meaning roughly "happy country." And many of the region's white wines live up to that easygoing and friendly reputation. Perhaps the most famous of these is Greco di Tufo, from the mountainous province of Avellino. Tufo's high elevation and powerful sun lend its wine a bright and refreshing body, which settles into a distinctively crisp minerality on the finish.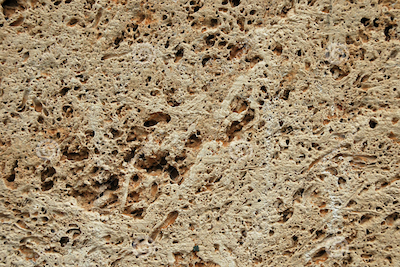 The minerality comes from the same place as the village's name—Tufo gets its name from its volcanic "tuff," soft and spongy rock that is ubiquitous in the region's soil, and that resembles the consistency of tartufo, if you use your imagination. The soil makes for wine that is mild-mannered and highly aromatic, and that pairs well with lighter, herbal dishes, or saltier seafood. For instance, spaghetti alla vongole, made with fresh and briny clams and topped with earthy parsley, would make an excellent accompaniment.
(Photo: Volcanic tuff)
Fiano, another distinguished grape and another specialty of the Avellino region, is generally more herbal and floral. So floral, in fact, that in Roman times the grape was known as vitis apiana, for its supposed tendency to attract bees. Fiano di Avellino is generally the clearest expression of this grape's best properties: its light and dewy texture, its piney aroma, its undertones of hazelnut, peat, and apple cider. The wine is best in its younger years, when it retains its fresh, acidic, palate-cleansing profile. The wine is delicious on its own, or with a light, herbal dish—do as the locals do, and have it with a fresh caprese salad.
Falanghina represents a nice middle ground between Campania's other major white varietals: less earthy than Fiano, less fruity than Greco. The name comes from the Latin word phalanga, meaning essentially "stick" or "stake." It refers to the pole that ancient winemakers used as scaffolding for the grape (though the name also gives us the words phalanges and phalanx). Falanghina has a distinguished history, as it is a descendent of Falernum, the most famous of ancient Roman wines. Their priorities, as far as wine was concerned, were a little different than ours, though not so different—they liked it for its sweetness and high alcohol content. Pliny the Elder notably wrote that it was the only wine that you could light on fire, if you were so inclined. Today, Falanghina is a mild and refreshing wine, enjoyable by itself on warmer days, or with seafood whenever.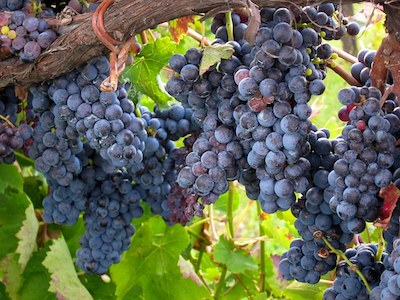 Campania's red wines are generally more aggressive and bolder than its whites. The region's reds come mainly from two grapes: Piedirosso and Aglianico. The former produces wines that are light but rugged—they tend to be brightly sour with a slightly spicy undertone, like wild berries dusted with cinnamon. More commonly, Piedirosso is blended with Aglianico to produce Taurasi reds. Taurasis come from Avellino, whose high elevation, volcanic deposits, and lime-rich soil give the wine a sharply tannic bite. This strong profile softens over years of barrel aging, though not that much—Taurasi is comparable to the heaviest reds, such as Barolo. Like those wines, Taurasi has a distinctive flavor and a big personality, with notes of leather, tea leaves, tobacco, and blackberry. Brooding and powerful, this wine can stand up to red meats and truffle, but also pairs nicely with a simple cheese plate. Even better, however, are the local delicacies of southern Italy: San Marzano tomatoes, fresh mozzarella, pitch-black olives, and even simple pasta dishes—especially those heavy on savory herbs, to match the earthiness of Campanian wine—all pair wonderfully.
(Photo: Aglianico grapes on the vine)
For more on Campania:
Lisa Denning's interview with Antonio Capaldo of Feudi di San Gregorio
Chrisopher Barnes' interview with Massimo Alois of Fattoria Alois
Megan J. Stocker Headley's article The Incomparable Whites of Campania