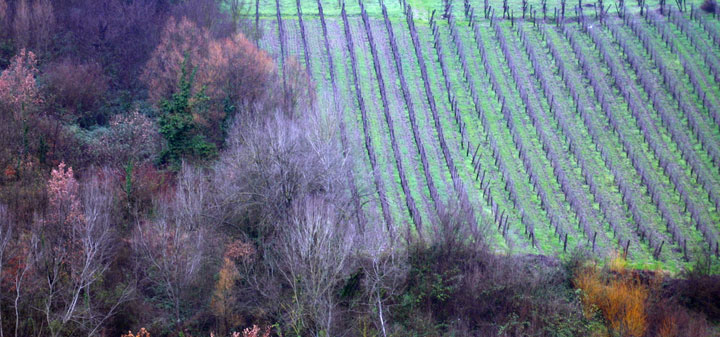 Falling in love with Italian wine is easy, yet even the most experienced oenophiles tend to cower at the country's dizzying array of 2,000-plus grape varieties. Those who rise to the challenge, of course, find themselves deliciously rewarded, particularly when seeking out indigenous grapes steeped in millennia of winemaking tradition.
Few regions in Italy grow as many native grapes as Campania, the front ankle of Italy's boot that's home to such tourist splendors as Naples, Pompeii, Capri and the Amalfi Coast. Nicknamed the "Garden of Eden," Campania is blessed with copious sunshine, marine breezes and soils so rich with volcanic ash (Mount Vesuvius's one benediction) that harvest comes four times a year. Along the coast, lemons with sweet flesh and fragrant rinds hang heavy from trees; in the shadow of Vesuvius, San Marzano tomatoes turn rosy and plump; and in the woodlands around Avellino, hazelnut and chestnut trees flourish.
Grapes thrive here, too—and have since antiquity—yet it's only been in the past 25 years that producers have returned their attention to the grapes unique to Campania. The reds made from Aglianico are juicy, jaunty, and even age-worthy (in the case of Taurasi), while the whites—Greco di Tufo, Fiano di Avellino, Lacryma Christi and Falanghina—are aromatic, food-finessing gratifiers.
The Greco grape that makes Greco di Tufo grows within the hilly, densely wooded region of Avellino (about 30 miles east of Naples), and makes wine that tastes like, well, green grapes. Bearing a distinct minerality from the porous limestone that lies beneath a mix of clay and sand, Greco di Tufo is otherwise restrained, and thus a harmonious partner for the delicately sweet seafood coming from the coast.
Sharing Avellino's inland terroir is the Fiano grape, which becomes Fiano di Avellino, arguably the most compelling wine of the brigade. Planted at elevations as high as 1,800 feet, Fiano di Avellino maintains an innervating acidity that's amplified by a piney herbaceousness tempered by a hazelnut-like sweetness—not surprising when you consider its forested environs.
Despite conflicting tales, the namesake for Lacryma Christi ("tears of Christ") all seem to speak to the divinity bestowed upon the vines that grow along the scarred slopes of Mount Vesuvius. The wine's main grapes, Verdeca and Coda di Volpe (the latter meaning "fox's tail" after the shape of its clusters), proudly showcase the fertile, mineral-laden earth. Lacryma Christi's searing acidity, while capable of inciting a human tear or two, means it quenches like lemonade on a sweltering day.
With a fragrance of citrus blossoms and a taste and texture reminiscent of lemon curd, Falanghina is nothing short of charming, especially when consumed with that holy trinity of Italian cuisine--the caprese salad--while overlooking some oneiric vista as it's done in Positano. Even in surroundings far more prosaic, these are all wines that make sunny days even sunnier.
Megan J. Stocker is a food and wine writer and editor based in Greenville, SC.