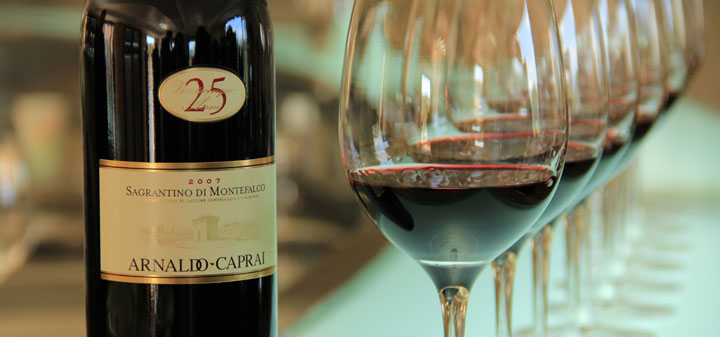 Just like in relationships, there are wines which bare their souls at first sip and others which make you earn their love. Sagrantino, a black grape grown only in and around the hilly, 12th-century Italian town of Montefalco, makes a mysterious, moody wine of the same name that, drunk too early, will leave you feeling like you've been slapped in the face. Give it time to come into its own, though, and you'll have yourself an elegant dinner date that captivates everyone at the table.
So much of Sagrantino's charm comes from its sacred origins. Though the first documentation of its cultivation was 1549, Franciscan monks likely grew it long before then, drinking a sweet, raisin-y version during religious rites. Vines still grow in some of Montefalco's ancient monasteries and not only is the grape arguably unrelated to any other known varietal, but it's also only grown on a total of about 400 acres.
The grape's composition is also unique. With thick, disease-resistant skins and the highest phenolic content of any grape, Sagrantino makes a wine with powerful tannins and an aging potential that ranges from huge to infinite. The wine's DOCG regulations mandate that it be aged for 33 months (12 of which must be in a barrel) prior to bottling and then another four months before release. From there, it takes at least another three years to mollify its beastly tannins into the slightly smoky, sappy flavors of black fruit, licorice, and underbrush.
As one of the more recently resurrected noble wines (the DOCG was only established in 1992), Sagrantino can still be had at a relative bargain. Even bottles from the most storied producers, like Paolo Bea, whose traditional, non-interventionist methods make him something of an iconoclast in our modern world, cost under $100, and are an absolute revelation.
For a taste of Sagrantino's intensity without the long courtship, Montefalco Rosso blends a small percentage of Sagrantino with that ambassador of Italian grapes, Sangiovese, for a rustic and adaptable wine priced for weeknight pasta.
Of course, if you have money and time to devote to unlocking Sagrantino's deepest, darkest secrets, take your cue from those monks of yore and enjoy it passito-style. The grapes, air-dried on trellises for two months and then fermented on their skins, create a vino di meditazione (or meditation wine) that's seductively sweet yet subtle--not unlike the love of your life.
Megan J. Stocker is a food and wine writer and editor based in Greenville, SC.