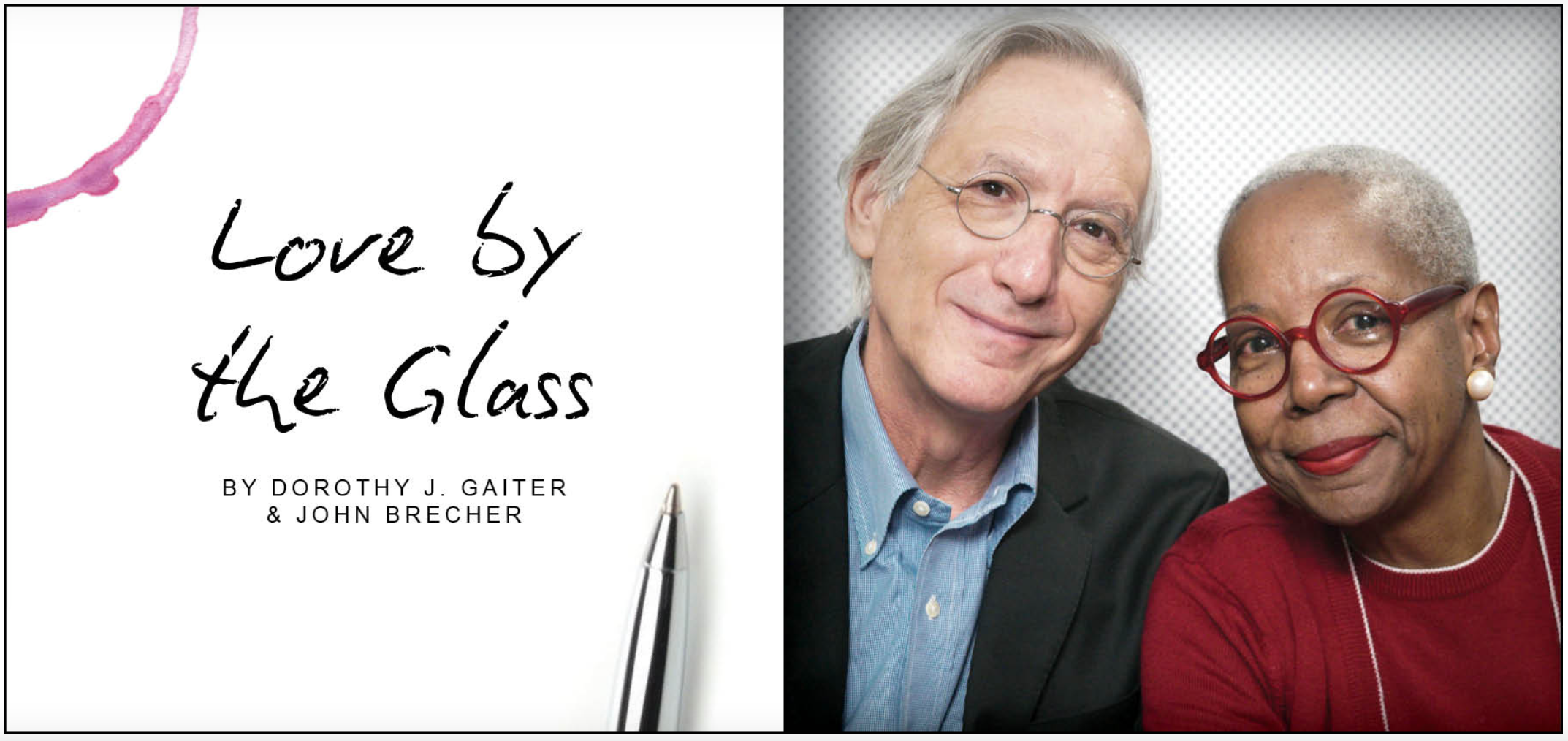 On a Wednesday morning in March, Rob McMillan, executive vice president and founder of Silicon Valley Bank's wine division, discussed his State of the Wine Industry report on the last day of the Wine Writers Symposium in Napa. We have been quoting McMillan for years. Two days later, while we were waiting for our plane home at San Francisco airport, the news broke: Silicon Valley Bank, a critical piece of the California wine industry, had collapsed.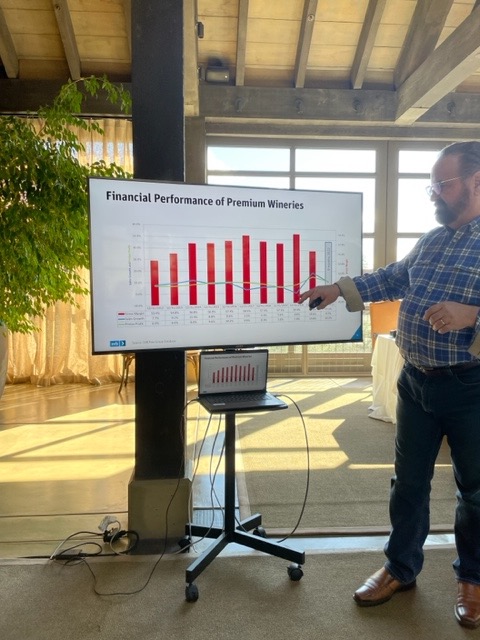 Because of the government rescue of SVB, the industry did not suffer a catastrophic failure, though McMillan has said his own future is unclear. In any event, this eruption was one more piece of evidence: As a business, the wine industry sucks. Fires, floods, droughts, local laws, distribution issues, insect infestations, changing consumer tastes – it's just all so awful.
(Photo: Rob McMillan, founder of Silicon Valley Bank's Wine Division, discussing his State of the Wine Industry report at the WWS two days before his bank collapsed)
Yet the industry endures and visionaries throughout the world insist on following their dreams of making their mark in wine as vintners, wine shop owners, importers and more. All for that bottle of wine we're going to pop open tonight. It's quite wondrous to us.
Equally wondrous, and wonderful, is how many people still want to write about wine. That's why we were in Napa. Dottie is on the board of the Wine Writers Symposium and we both spoke this year.
The WWS (formerly the Symposium for Professional Wine Writers) is almost 20 years old, but this was the first in-person gathering since 2019. It was the brainchild of William Harlan, of Meadowood Napa Valley and Harlan Estate, and the Napa Valley Vintners, and was made possible this year with additional support from vintners and SVB.
We learned so much during the three days, some important things and some things like this: Chuckles are a candy popular in some parts of the U.S. One fellow compared the taste of a wine to a Chuckles, which left half the room puzzled. We had never heard of it. We also learned, by the way, how important it is to use SEO words in headlines, like Chuckles, SVB and Harlan.
Here are some other lessons we learned: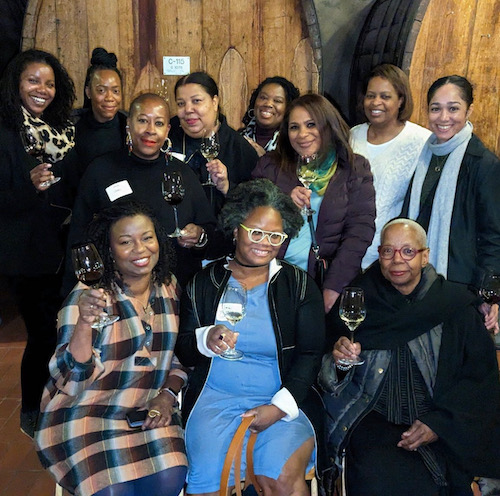 --If you still say you can't find a diverse group of wine writers or thinkers, you're not trying hard enough. This year, the symposium chose 24 fellows from 130 applicants. Of the 24 selected after a laborious process, 18 were women, seven of whom self-identified as BIPOC. Among the 24 writers from around the world were wine salespeople, a winemaker, a poet and a county employee who helps people move from welfare to work. What they had in common was a passion for wine, learning about it and communicating about it.
(Photo: What diversity can look like, photo credit Alisha Sommer)
-- In case you've been skeptical, the sustainability push is real, and this was evident before the recent "final warning" report from the United Nations Intergovernmental Panel on Climate Change. We spent time in the vineyards with winemakers and vineyard managers and it was extraordinary to see what they are doing – massive projects to replant vineyards and to use resources more carefully, with more regard for the health and welfare of laborers as well as the vines. Some efforts will not come to fruition for a long time – and it was interesting to hear some very geeky disagreements about the best way forward – but this is real. Also with far-reaching consequences: Over our last few visits to Napa and during this one, too, we've become quite concerned about the pace of the construction of non-agricultural developments and the pressures they will have on precious water resources.
--You have to read this piece of writing – and if you have read it, read it again. It's only 778 words long. This article by Elaine Chukan Brown is one of our favorites. John was on a panel with Elaine and asked her the genesis of the piece. Her answer left the entire room in tears, which you will understand a bit when you read or re-read it. The future of wine writing needs to look more like this.
--With enough time, money and effort, wine regions can do a better job of reducing the threat of fires.The beautiful Meadowood Napa Valley was damaged in the 2020 fires. Much of it is still open and spectacular, but much is also being rebuilt and reimagined. We asked William Harlan and his staff what it would take to help the resort withstand a similar fire and got a lesson in patience. The rebuilding will take years, but a significant key, we learned, was replanting the woodlands with trees – so many trees – using native species that are more fire-resistant. The full recovery of the woods, obviously, will take generations.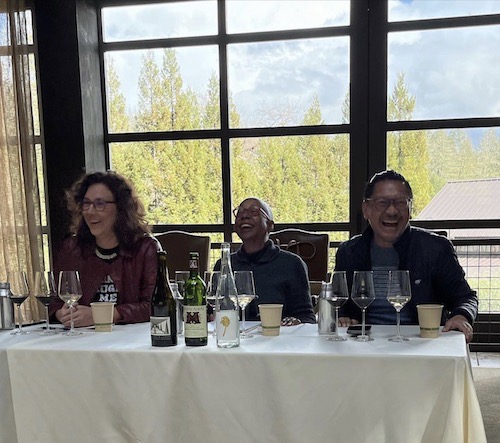 --Wine has humor! To read a lot of wine coverage and listen to so many wine experts, you'd think wine was all so very serious. But one of the great things about the WWS was the number of times the whole room exploded in laughter – not just chuckles (sorry about that), but real laughter. Wine can be fun.
(Photo: Laughter at WWS, photo credit Sydney Love)
--Books are not dead. This was actually kind of a nice surprise for us. The various sessions included quite a bit of great information about online wine coverage, from TikTok to Instagram. But no sessions garnered more excitement and interest than those on how to pitch a book idea and how to write a book. As authors of four books ourselves, we're gratified by this.
--But tasting notes may be dead. That's an overstatement, but folks feel strongly about those old-fashioned tasting notes, you know, like "Hints of brambles, with a soupçon of jazzed parsley." Dottie was on a panel that discussed how heavily laden with culture, especially Eurocentric culture, food references were in wine tasting notes. One panelist suggested describing wines instead by the way they make you feel, or as you would someone you had just met, or in terms of movement — is it graceful, clunky? Today's consumers want a story with their wine, but how can you tell a story in the space of a shelf-talker? This was a subject of intense discussion.
--Fear remains a factor in discussing issues of inclusion and diversity in the wine world and beyond. In a session about making wine a part of a bigger conversation, there was unease about who could tell which stories, and concern that writing or saying the "wrong thing" could hurt a writer's career. Dottie suggested that we all need to extend to each other some grace. If someone says something that offends you, she said, tell them as nicely and as firmly as you can. If they keep doing it, that calls for an entirely different discussion and reaction. But people of goodwill will make mistakes.
Dorothy J. Gaiter and John Brecher conceived and wrote The Wall Street Journal's wine column, "Tastings," from 1998 to 2010. Dorothy and John have been tasting and studying wine since 1973. In 2020, the University of California at Davis added their papers to the Warren Winiarski Wine Writers Collection in its library, which also includes the work of Hugh Johnson and Jancis Robinson. Dottie has had a distinguished career in journalism as a reporter, editor, columnist and editorial writer at The Miami Herald, The New York Times, and at The Journal. John was Page One Editor of The Journal, City Editor of The Miami Herald and a senior editor at Bloomberg News. They are well-known from their books and many television appearances, especially on Martha Stewart's show, and as the creators of the annual, international "Open That Bottle Night" celebration of wine and friendship. The first bottle they shared was André Cold Duck. They have two daughters.
Banner by Piers Parlett