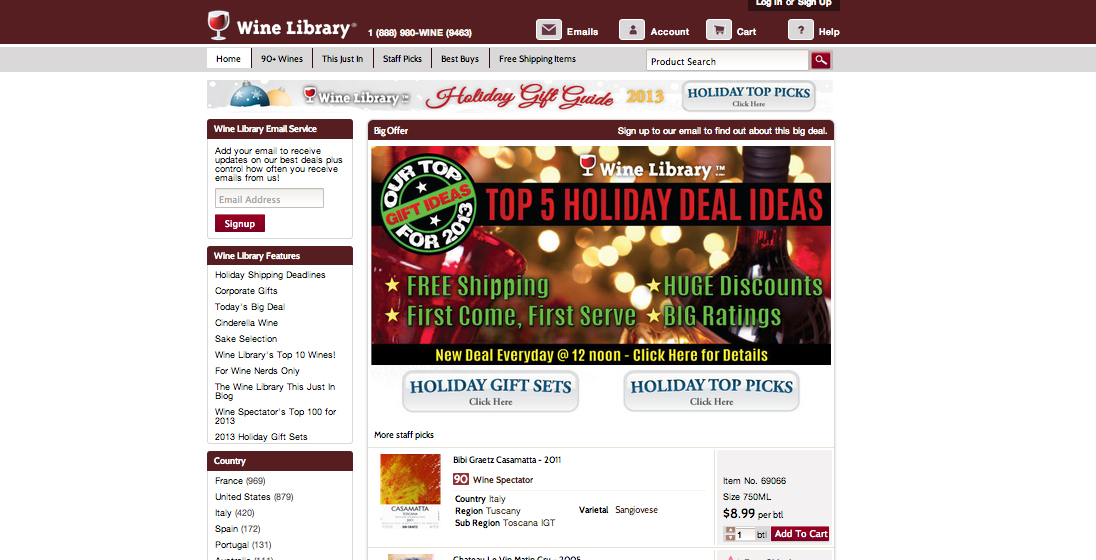 When it comes to the wine e-commerce business, Wine Library—Gary Vaynerchuck's New Jersey-based wine retail empire—is the pioneer. The store was selling wine online as early as 2005, and quickly grew its digital consumer base through the hugely popular 25-minute videos that Vaynerchuck posted each day. Soon, online sales accounted for as much as half of the company's total revenue.
This past August, the New York State Liquor Authority sent a cease and desist letter to the company, demanding that it stop selling and shipping wine to customers in New York, a practice that Wine Library had been doing for years.
Shipping wine from out of state is a ubiquitous legal quagmire. While many states made direct interstate shipments (those shipped from wineries/winemakers) legal in the wake of the 2005 Supreme Court ruling, retailers such as Wine Library occupy an undefined grey space, skirting around the law on a state-by-state basis. New York ruled direct shipments from out of state retailers illegal in 2009.
Despite New York's law, most online retailers continued to ship to the state, and the NYSLA looked the other way. Until August, that is.
The cease-and-desist letter sent a shockwave through the tri-state wine industry and put other retailers on high alert. Wine Spectator reported that another out-of-state retailer, Wine.Woot.com, changed its shipping policy within a week of the letter being published. Meanwhile, other retailers have up taken a don't-ask-don't-tell policy. On one large California retailer's shipping policies page, New York isn't listed as a state that the company ships to; instead, the page instructs New York customers to "call" for more information. When we called to inquire, the employee confirmed that New York customers can indeed place orders for purchase and shipment; the ambiguous phrasing on the website is "just to cover our backs."
Wine Library, though, was slower to scare. As of November, nearly two months after the letter was sent, the company was still fulfilling New York orders. But sometime around Thanksgiving, Wine Library changed its shipping policies, and no longer ships to its neighboring state. Wine Library didn't respond to requests for comment on its belated decision to comply with authorities.
The reasoning for the NYSLA's sudden enforcement of this law, however, and its targeting of Wine Library, is still enshrouded in mystery. On the surface, the action would seem to benefit in-state retailers, but David Posner, a New York wine retailer and president of the National Association of Wine Retailers, saw the move as less about geography and more about big business, telling Wine Spectator that "it's definitely a power-play of wholesalers and old-guard retailers of New York against the quote-unquote up-and-comers.
Indeed, large players in the wine retail space have been known to use law enforcement as a cutthroat tactic to wipe out competition. Last year, small and mid-level New York retailers and wholesalers were outraged at an amendment that went before the New York Senate which would require any wine sold in New York to clear a 48-hour "at rest" window within in state lines before being sold. For the many New York wine retailers that store their wines in warehouses in New Jersey, the amendment would have been catastrophic. Pulling the strings to bring the amendment to the floor: mega-wholesalers Southern Wine & Spirits and Empire Merchants, which have warehouses in New York. The amendment didn't pass, but was brought up again earlier this year, once again at the urging of Empire.
In a similar scheme, Wine.com took the law into its own hands back in 2008. The e-commerce company avoids legal shipping hassles by setting up fulfillment centers in each state in which it ships, so all sales are technically within state lines. But they attacked out-of-state businesses by conducting sting operations on retailers and submitting its findings to state authorities.
It's unclear whether Wine Library was the most recent target of such corporate finger-pointing. But one thing is certain: The real losers in this continued battle are the consumers.