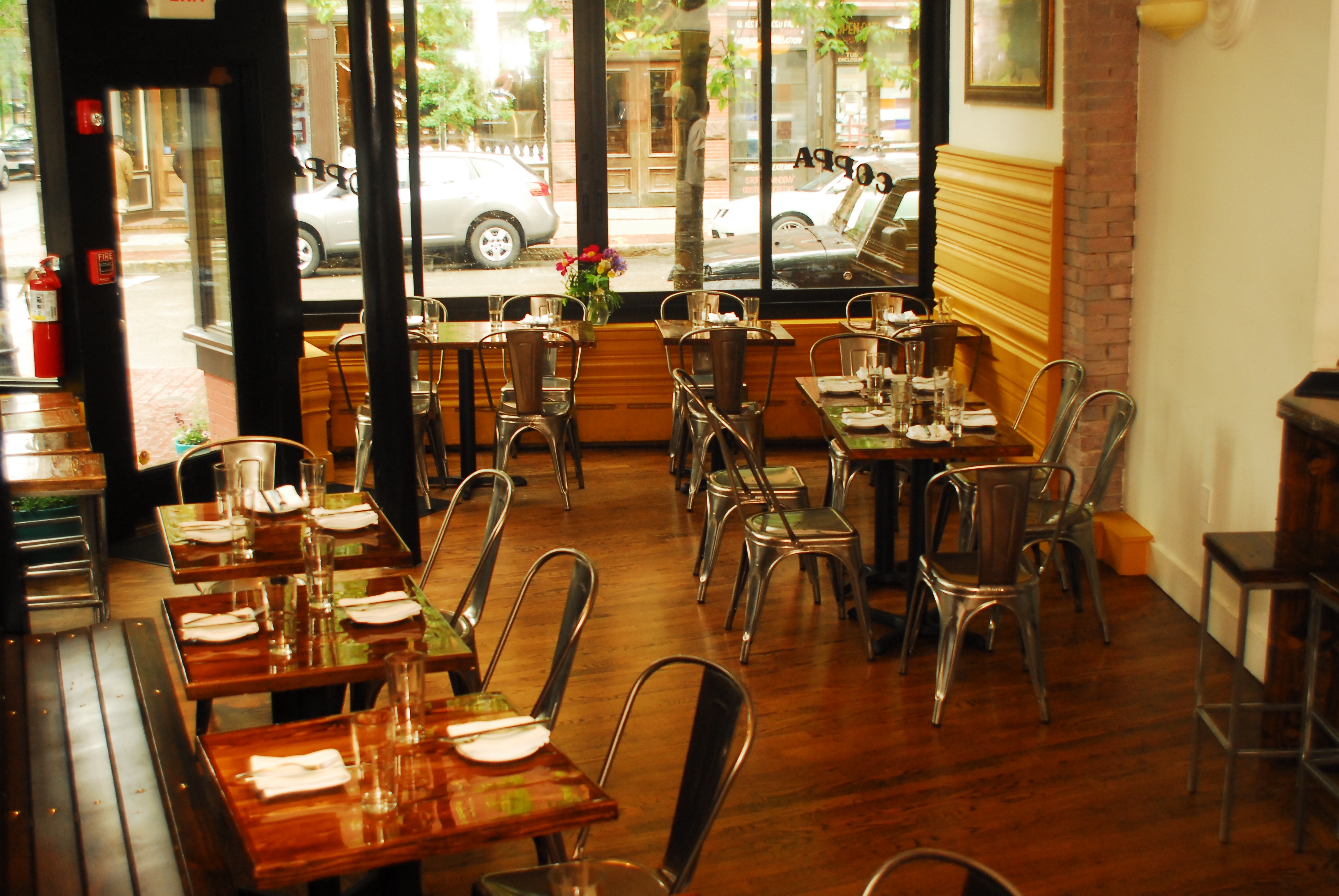 Coppa is the type of restaurant that everyone should have in their neighborhood. It's set on one of those leafy residential corners of Boston's South End that looks more like a movie set than a place where actual people live. Inside it's bare bones but funky, with a certain cozy charm, and a vibe just cool enough to lure hip singles, business professionals on the way home, young moms and dads (sometimes with strollers in tow) and even the occasional tourist (like me), who crowd the place nightly.
That Coppa was a seemingly instant hit when it opened back in 2009 comes as no surprise once you learn that the driving culinary force behind it is Beantown's veteran chef/restaurateur, Ken Oringer. He's had his share of successes with a tapas spot, Toro; Mexican restaurant, La Verdad; and steak house KO Prime, so he's learned to please many different audiences. It's a love affair that endures here at Coppa, too.
At this trattoria and wine bar, Oringer and long-time creative partner Jamie Bissonette have designed a wine-friendly menu (see sidebar) with dishes ably turned out by chef de cuisine Meghann Ward. My glass of Stefano Antonucci Rosso Piceno (a Sangiovese-Montepulciano blend) was ideal with perfect, and perfectly hot, fontina-stuffed arancini, and baccala-topped bruschetta. After that we carbo-loaded with two of the terrific housemade pastas, a rigatoni with pork ragù, and squid ink corzetti with octopus, black garlic, Castelvetrano olives and tomato. In a selection that speaks to what we're craving these days, there are pizzas from a wood-fired oven, lots of cured meats and cheeses, fabulous meatballs, and interesting seasonal specials that sometimes cross cultures, like beet spaetzle with sauerkraut and smoked potato, or pierogis filled with sweet potato and taleggio cheese, with Brussels sprouts and brown butter. There's even a grinder stuffed with salami, prosciutto, mortadella, and provolone if retro is more to your taste.
It's a smart menu that speaks to what people really want from a casual restaurant—good food, nice wines, fair prices, a place to kick back and not worry about things. You could easily eat there three or four nights a week and never get bored. I know I would. After all, I live in LA, so I'm used to movie sets.