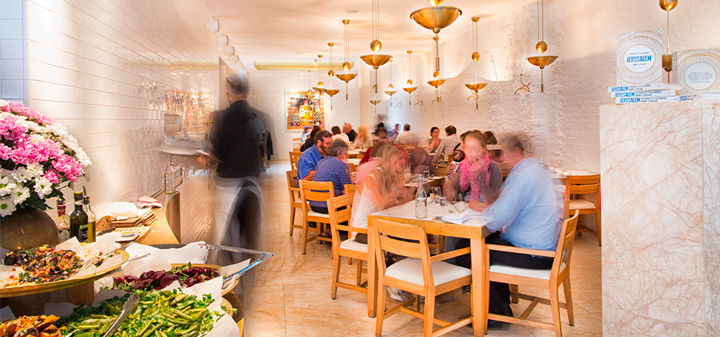 When I first heard the name Yotam Ottolenghi I thought: Great idea from Disney for their latest hero in their next animated movie. As it turns out, Ottolenghi is neither fictional nor a cartoon, although in a way he is a hero — one of the chefs who have boosted the quality and variety of food in Britain, transforming the culinary scene in London from a joke to a true destination. The success of his four open-all-day Ottolenghi spots, primarily takeaway shops with a few tables, is testimony to his skills as a chef and his ability to give a hungry public what they want, even though they may not know they want it — until they taste it, that is. Brimming with fresh pastries, colorful salads, soups, sandwiches, and so much more, the Ottolenghi "delis" are terrific places to grab a coffee, lunch, or dinner to go. About three years ago, Ottolenghi opened Nopi, or "North of Piccadilly", a more ambitious restaurant in Soho. That's where I was lucky enough to score a table recently — after reserving well ahead — with some local foodie friends. We were in the coveted street-level dining room, although there are first-come, first-served communal tables on the lower level where the kitchen is (nice for watching the action).
The signature color of all these places is a non-color: the all-white spaces (here at Nopi with very cool dangling golden light fixtures) are meant as backdrops to showcase the bright colors of the food. Lots of white tile, white butcher paper covering the tabletops, white cushions on the chairs. Don't spill, although you may not be able to help yourself as you make your way through a menu heavy on veg (the chef's trademark) and plates to share.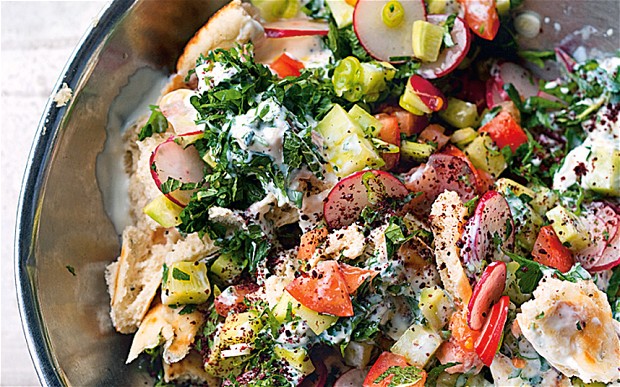 Right: Yotam Ottolenghi has long bene known for his colorful plates, such as this Jerusalem-inspired fattoush. (The Telgraph)
Flavors and ingredients of the Mediterranean wend their way through outstanding dishes like roasted sweet potatoes with burnt aubergine (eggplant) "yoghurt," basil, and maple-roasted seeds; Burrata and blood orange with coriander seeds and lavender oil; and grilled octopus with red quinoa and a puree of botija olives. Delicious mains included a Cumbrian sirloin with king oyster mushrooms and peppercorn relish, and a whole twice-cooked baby chicken with lemon myrtle salt and "chilli" sauce. The lemon sole with burnt butter, ginger, and nori was delicate and inspired. You could make an evening of the sides alone: Polenta chips with tomato chutney; broccoli and almonds with mustard vinaigrette; radishes with apple and chicory in a cider vinaigrette. You get the idea, and I haven't even mentioned yet the huge cocktail list (both alcoholic and non), as well as beer, ale, fresh juices, and — oh, right — a wine list that includes bottles from Crete and Slovenia. All the more reason to go back; and if I can't get a reservation, I can always get it to go.
Nopi, 21-22 Warwick Street, London W1, 020.7494.9584; www.ottoleghi.co.uk
Author's Note: Can't get to London? No problem. Ottolenghi in your kitchen… Yotam Ottolenghi has written four terrific cookbooks, including the award-winning Jerusalem, reflecting the food and culture of the chef's Israeli birthplace: It was one of the best and most highly regarded books of last year. Find it at bookstores nationwide or order it at Amazon.com. Also available are Ottolenghi: The Cookbook; Plenty; and Plenty More (a wonderful all-vegetable book).
With more than three decades at Bon Appetit Magazine — including over ten years as editor-in-chief — Barbara Fairchild is a nationally recognized expert in the areas of food, restaurants, and travel.