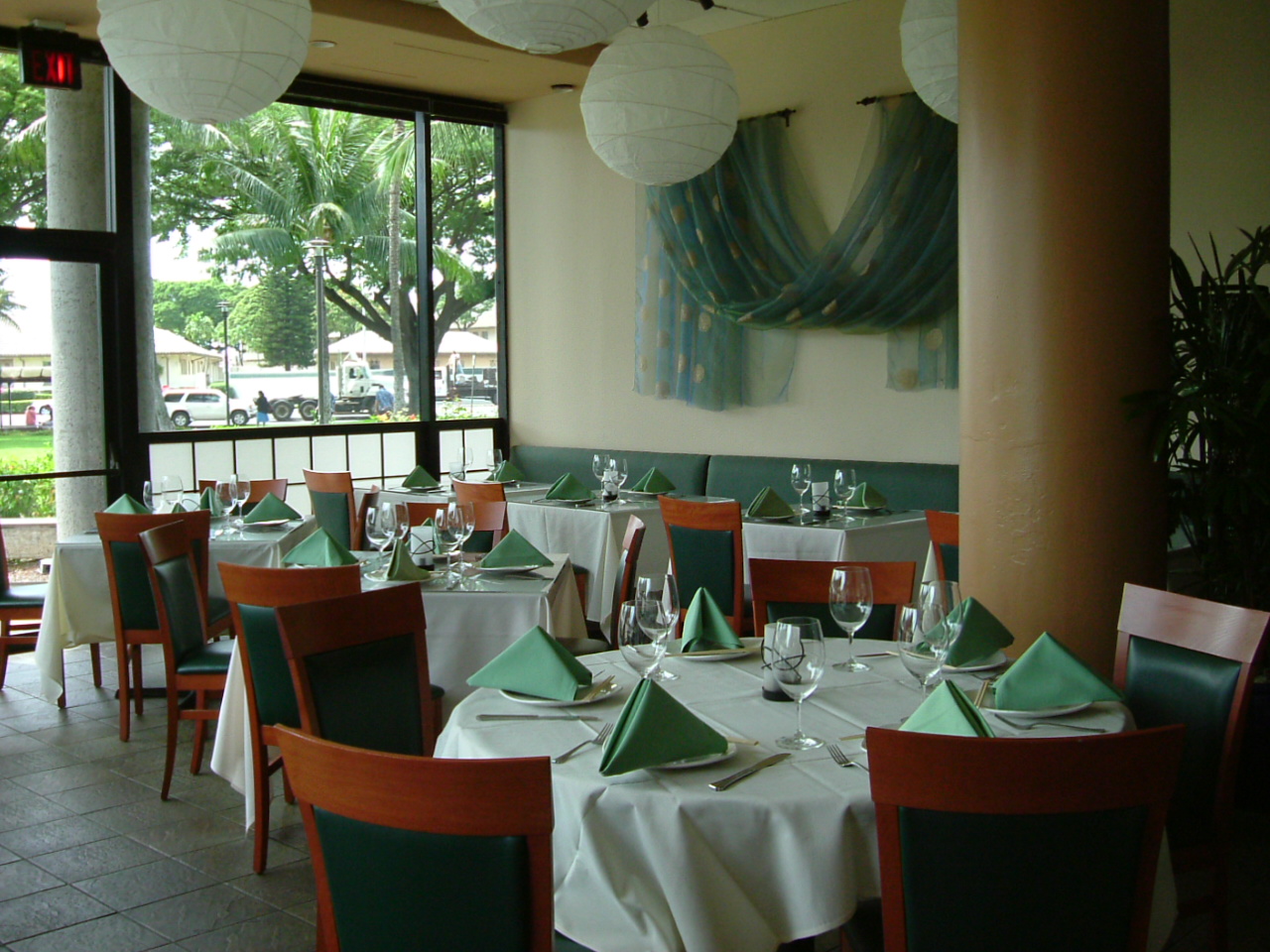 Chuck Furuya is a Master Sommelier in a land of Mai Tais and Piña Coladas. But despite that dichotomy, he does have an appreciative audience here in Honolulu, where it's a treat to find him and the superb chef D.K. Kodama partnered in two Waikiki ventures: The Italian-accented Vino, and Hiroshi, an Asian bistro right next door featuring "Eurasion" (their spelling, not mine) small plates made for sharing. Since I eat plenty of Italian food elsewhere, and—let's face it—the style at Hiroshi is more what I come to Hawaii for, it was a no-brainer to settle in on a recent Friday night.
The team has softened the office-building interior with tranquil lighting, nicely spaced tables, and a funky-chic bar. It's easy to talk, but there's still a nice, lively buzz in the room: Everyone is having a good time, and why not? Chuck is everywhere, suggesting, pouring small tastes, encouraging you to try something new. There are 16 wines by the glass, but the best way to experience the evening is to let Chuck—or one of the very knowledgeable waitstaff— select for you.
A glass of Patz & Hall Sonoma Coast Chardonnay was a lovely way to get started while we tried to decide what to order. Panko-crusted ahi with kimchee lemongrass sauce? Sure. Shinsato pork belly with brie, ginger, and shiso? Bring it on. Baby abalone from the Big Island came with roasted garlic brown butter, while the miso-yaki butterfish was on a bed of wilted tatsoi and baby bok choy.
You get the picture: We over-ordered, since those were just the appetizers. There are "large plates," too, so we shared a fabulous pan-roasted duck breast with some bacon-flecked orzo, all in a sweet soy reduction, and tender veal cheek in a cilantro pesto crust with Asian succotash and mashed potatoes. Those dishes were a great match for three reds we tried (we couldn't decide on those, either): A Molly Dooker "Blue Eyed Boy" Shiraz (described on the wine list as "lavish, opulent, decadent… an Australian fruit bomb in all its glory"); a light and delicious Gamay from France's Marcel Lapierre called "Raisins Gaulois," and a super fascinating Valdiguié (sometimes called Napa Gamay) from Paul Mathew's Turner Vineyard in Sonoma, "an absolutely delicious Beaujolais look-a-like produced from un-grafted 1980- and 1982-planted vines and three French winemaking consultants."
As you can tell, Furuya has compiled an impressive wine selection from around the world: No easy feat anywhere, let alone in Hawaii. It speaks to both his passion and his range of influence. Wine professionals everywhere know Chuck as the go-to guy in the Aloha State. There is a wonderful Reserve list to ponder at Hiroshi, and well-priced theme tastings all the time at Vino that bring in the appreciative crowds. It, too, was hopping the night we were there.
I learned a long time ago to "trust Chuck" here in Honolulu as well as at his and Kodama's other places, on Maui and the Big Island (they have eight in total). It's a party every night, and you're invited.