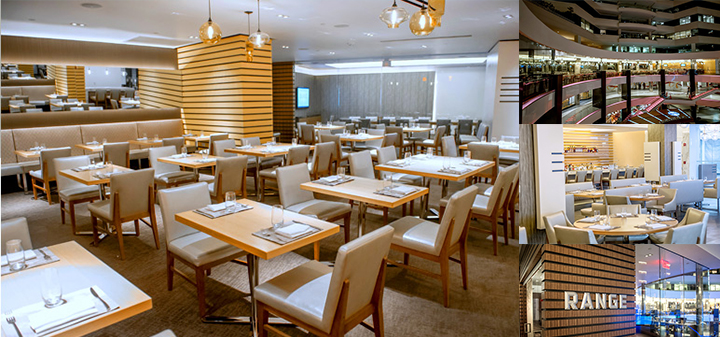 The Voltaggio boys have been busy. It was five years ago that they came to national attention via their appearance on season six of Top Chef: Michael took the prize; brother Bryan came in second. (No word on who bought whom a drink afterward. Or not.)
Here in LA we know Michael from his very successful Melrose Avenue restaurant, ink., and its sandwich spin-off nearby, ink.sac. Meanwhile, on the other side of the country, Bryan stuck with the brothers' Maryland roots and opened VOLT and Family Meal in their hometown of Frederick (in the former, Bryan won a James Beard Award for Best Chef Mid-Atlantic).
But the nation's capital is just an hour south and has a lure all its own, and so we have also Bryan Voltaggio's Range, a stunning space in the Chevy Chase Pavilion, where I recently passed a very chilly winter afternoon.
Forget the fact that the Pavilion is basically a shopping mall complete with an Embassy Suites and a CVS. I learned long ago that great restaurants can be anywhere and be anything. And Range is not so much a restaurant as it is an enterprise: It seems as if almost every facet of 21st Century "upscale casual" dining is here.
The dedicated foodie (and I am certainly one) will be like a kid in a candy store, mainly because, well, there is a candy store inside—along with a raw bar area with its own seating; a wood-oven area and rotisserie (pizzas, roasts, sandwiches, and more) with its own seating; a bakery, breads, and pastry area with… you get the idea. Might there also be a cocktail bar and huge display cases filled with wine? Need you ask? Oh, and did I mention the charcuterie yet? From the large and stylish central dining room (yes, there's that, too), watch the stream of staff and chefs as they serve you professionally and efficiently, and then notice a huge kitchen at the back of the place that buzzes with even more activity. This restaurant is one chef's answer to the Jobs Program.
That the look of Range can be this modern, chic, and welcoming and serve the terrific food that it does is a testament to Voltaggio's skill as a cook and his commitment to mentoring and teaching a new crop of chefs. John Miele is his excellent chef de cuisine. Everything we had was delicious. How could I resist cheddar-jalapeno biscuits with pepper jelly as an accompaniment to roasted baby carrots with hazelnut, honey, and goat cheese? I couldn't. (Although it was a tough choice since the iron skillet cornbread with bacon marmalade was staring at me from the next table.) Swordfish with parsnips, cannellini beans, and sage was grilled perfectly and had just the right amount of garlic. Tuna sliders with spicy aioli and the sirloin with smoked onions and faro verde were all amazing. I managed a few bites of pumpkin cheesecake in a gingersnap crust (topped with dates and bitter orange) before throwing in the towel— or, more appropriately, the napkin.
As for the wines, I don't even know where to start. It's best to ask Master Sommelier Keith Goldston, who created the program. Like everything else here, there is such a big, ahem, range. The list has an entire page of Rieslings, for goodness sake, and the selection of everything changes constantly. A girl can only drink so much, especially at lunch. Thank goodness there's direct access into the Chevy Chase Pavilion from the Friendship Heights Metro stop.
Word has it that Voltaggio will soon be opening a small, separate Italian concept within Range called Aggio, with a second one to follow shortly after in Baltimore. Then there is Lunchbox, coming to the street level of the mall this year, too. These days, when I think of Bryan Voltaggio, somehow the term runner up just doesn't come to mind.
With more than three decades at Bon Appetit Magazine—including over ten years as editor-in-chief—Barbara Fairchild is a nationally recognized expert in the areas of food, restaurants, and travel.