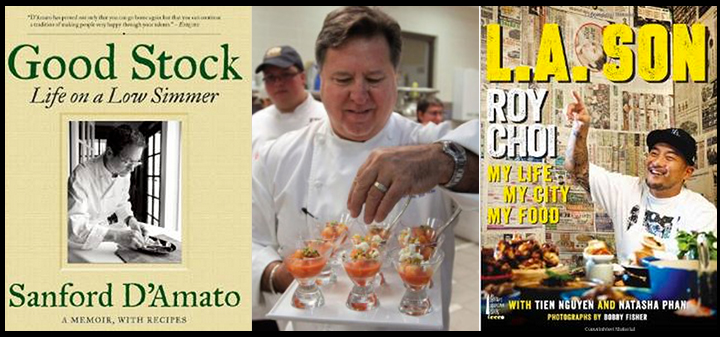 We can blame it on Anthony Bourdain. His landmark bestseller, "Kitchen Confidential," broke new ground in the lives of chefs everywhere. (It's difficult to believe that the book is almost 15 years old already.) For one thing, it was just that—the real story of what it's like to toil behind those blazing restaurant stoves day in, day out. No sugar coating, no fancy trappings, no excuses. Since everyone likes their behind-the-scenes gossip as juicy as their steaks, naturally, the book was a big hit.
Bourdain is credited with being the first in this genre, but he was not the last, and today we have an entire shelf full of "chefographies" that leave no sauté pan unscrubbed. It turns out, though, that many of these talented cooks are just as talented with words. If you're looking for something to devour on vacation this summer, one of these delicious reads may be just the thing.
Norman Van Aken is a contemporary of Bourdain's, but made his mark in Florida rather than Manhattan. His engaging memoir, No Experience Necessary,is fast-paced and at times laugh-out-loud funny. Acknowledged as the creator of "New World Cuisine," a blend of Floridian, Caribbean, and Latin flavors, Van Aken did not necessarily choose a food path early on—it seems to have chosen him. The book chronicles with wit and grit his many jobs, from factory worker to circus carny to hot-tar roofer (and more) that ultimately led by chance to his answering a classified ad that became the book's title—a short-order cook needed at a joint in the nowhere town of Libertyville, Illinois. From there it was not exactly a meteoric rise, but Van Aken had a focus at last and persevered. One of the delights of this book is that each chapter includes a recipe that reflects Van Aken's life and cooking style at the time. So the reader can go through the chef's culinary journey, too, from Carny Corn Dogs to Smothered Pork Chops Adobo, to Vietnamese spring rolls. The recipes are just as inviting and approachable as Van Aken's writing.
The title Good Stock is a play on words that encompasses both Midwestern chef Sanford D'Amato's dedication to fine cooking and his strong sense of family. The latter is most important, since his landmark restaurant in Milwaukee, Sanford, was in the building that housed his grandfather's and then his father's grocery store. In fact, one of the most poignant sections of this book is the chef re-connecting with his father on an emotional level as the two of them scrape and repaint the exterior of the place to refurbish it for Sanford. D'Amato traveled extensively to inform and enhance his menus, breaking far away from more traditional all-American Midwestern cooking. He and his wife Angie built Sanford's reputation as one of the most elegant establishments in the country and a must-stop in the Midwest. There are lots of recipes interspersed throughout the book, and predictably, they tend to the more sophisticated, although still do-able for the home cook. And it's refreshing and fun to come upon more down-home dishes like Dad-Style Tuna Salad, a Triple-Decker Burger with Sandy's Thousand Island dressing, and some terrific Bittersweet Chocolate Chip Pecan Cookies.
The recipes are great, groundbreaking, but almost beside the point in Roy Choi's L.A. Son. How can you not love a book that begins, "Hello. I'm Roy. Get in. We're going for a ride." And with that you may not put down this compelling story until you are done. Gang-banger, drug dealer, out-of-control gambler, Choi was all that and more before his parents sent him to the Culinary Institute in Hyde Park. It changed his life. Stints at Le Bernardin in New York, and the Beverly Hilton and RockSugar in LA followed. But then he couldn't land a job anywhere, and neither could a friend from the Beverly Hilton days, Mark Mangeura, who called him with a crazy idea. With very little cash but a lot of cooking talent, the two bought an old truck, converted it to a new kind of taco wagon, and dubbed it Kogi BBQ. The rest is not only history, but a revolution.
They parked the truck late at night at bars around town just as the places were closing, and the lines began to form. The food was beyond good—tacos and enchiladas with addictive sauces and components that mingled Latin and Korean flavors, with excellent quality ingredients and a pro's attention to detail. It was all absolutely amazing—it still is—and cheap. Due to their lack of cash, the duo also changed the restaurant business forever in another way: With no money for PR, they promoted Kogi on their website and Twitter only, and that's still the only way you can find where the trucks (there are now four) are parked on an ever-changing daily basis. Choi has since opened three brick-and-mortar restaurants in the LA area, and he recently teamed with a group of investors to re-think and remodel a big hotel in the heart of Koreatown, now called The Line. Choi is responsible for reinventing everything from room service to cocktails to the two restaurants on the property. L.A. Son is a whirlwind read, and it's no wonder Choi has you fasten your seat belt from the start. As another local chef, Eric Greenspan, recently told The New York Times, "[Roy] is in many ways equally a culinary phenomenon and a cultural phenomenon." Take that, Mr. Bourdain.
3 More for the Beach Bag
These books are not as recent as the ones above, but are definitely worth your time.
The Apprentice by Jacques Pepin: A veteran chef and teacher looks back on a career that spans more than four decades, from the World War II years of his Lyon childhood to 21st Century Manhattan. You hear Pepin's distinctive accent on every page. It still always amuses when Pepin recounts one of his first jobs as a chef in the U.S.—at Howard Johnson's.
Blood Bones & Butter by Gabrielle Hamilton: It's very good to get a view from a woman's perspective, and this book delivers. It's a raw and honest look from Hamilton, the chef/owner of Manhattan's Prune in the East Village. She talks candidly of her struggles with family, building and maintaining the business she is passionate about, and her own sexuality.
Scars of a Chef by Rick Tramonto: For a guy with 24 tattoos on his arms and who started his career slinging burgers at a Wendy's in Rochester, Rick Tramonto has not done too badly for himself by any measure. But behind his nationally recognized success, first at Tru in Chicago (with then-wife Gale Gand) and now at Revolution in New Orleans, is a tumultuous childhood and reckless choices later on. Tramonto is open and no-holds-barred about it all, acknowledging the role that religion ultimately played in his turnaround.