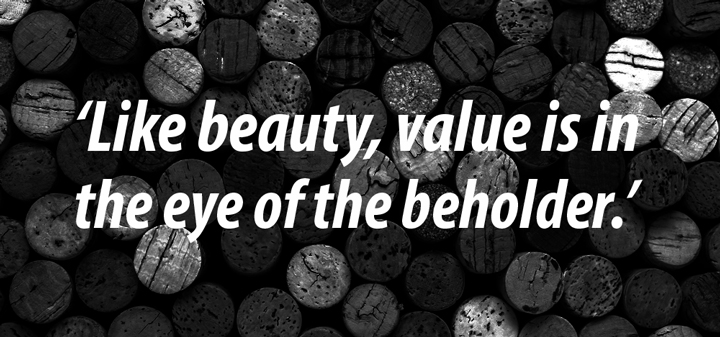 New York is widely known as the City that Never Sleeps because of its nightlife. For many, a big part of that nightlife is New York's amazing food scene. Standing at the top of any list of New York's best restaurants are Per Se ("PS") and Eleven Madison Park ("EMP") which, among other accolades, were awarded three Michelin stars for their luxurious, exquisitely prepared food and impeccable service.

As one might expect, these restaurants expend great thought and investment on their wine programs and have some of the finest wines in the world on hand. The lists overflow with treasures — including many wines that are very difficult to procure and often times, priced beyond the reach of all but a few.

Photos, Left to Right: Perse (Thomas Keller via Facebook); Eleven Madison Park (EMP via Facebook)
But the excitement surrounding Per Se and Eleven Madison Park leaves us asking: What do their wine programs mean to us, the patrons? How do the lists enhance our experiences? In the end, are the high-priced wine programs worth it?
An in-depth review of their wine lists revealed much about their respective philosophies.
Breadth and Depth
PS offers approximately 2000 choices and EMP, 3000.

Both offer an impressive variety of wines by the glass. PS offers a more extensive range of half bottles, concentrated on wines made primarily of chardonnay, cabernet sauvignon, or pinot noir.
The two restaurants focus primarily on Old World wines, 84% and 90% at PS and EMP, respectively. French wines constitute 64% and 72% of the PS and EMP lists.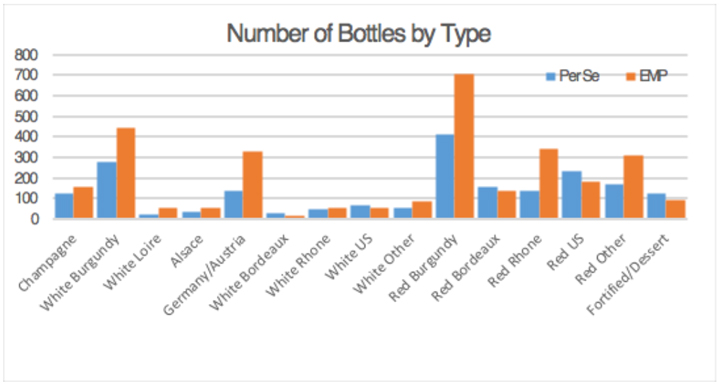 Champagnes, red and white Burgundies and Rieslings dominate both lists (47% at PS and 54% at EMP), presumably because they match well with many foods and hence, complement the respective cuisines. PS's head sommelier indicated that Burgundies are its top sellers. EMP is the champion of Rieslings with about 325 choices, more than twice as many as PS, and offers almost 70% more Burgundies than PS. PS puts a greater emphasis on dessert and fortified wines with 127 choices (6% of its list) than EMP, 90 (3%). As one might expect, given its French Laundry affiliation, PS has an extensive range of Californian wines (about 300, or 15% of its list). EMP offers comparatively fewer Californian wines (233, or 7%).
At both restaurants, one could have many, different vertical or horizontal tastings of DRC Burgundies, first growth Bordeaux, grower Champagnes, Rieslings, many Napa Valley Cabernet Sauvignons, Côte Rôties, and Hermitages, among others, (or just fantasize about doing so). About 40% of the wines are from recent vintages, 2010 to 2013, and about 75%, from 2000 to 2013.
Surprises
Both give relatively short shrift to the sorts of Spanish and Italian wines that would complement their cuisines. Instead, they offer a few spectacular Piemontese and Tuscan wines and Spanish ones, which while trophies, are not particularly good matches. EMP offers a few Italian wines that are better suited. Despite their food friendliness, both offer relatively few sauvignon blanc or chenin blanc-based wine or rosés.
Neither restaurant offers many comparatively edgier experiences – little from Argentina, Chile, Portugal, Sicily, Australia, New Zealand or South Africa. EMP goes off piste in offering more unusual choices from the New York State (sparkling, Riesling and some reds), Jura, Corsica, Friulia, Alto Adige, and Loire (Pineau d'Aunis). PS does this a bit with its Spanish and Italian whites and German reds.
Nit: Both lists inexcusably had multiple misspellings.
Markup Over Wholesale Cost
Wine service involves significant costs including the capital required to purchase wines and glassware and store both and to employ a staff of wine professionals to select wines for the cellar and serve customers. Also, restaurants incur loss of inventory resulting from spoilage, breakage or theft. And there is some variation in state taxes. To wit, New York State imposes a 10 to 20% "sin" tax.
Nevertheless, wine sales constitute a significant profit center for these restaurants as a result of the markups over wholesale cost. New York restaurant markups average 250 to 300% of wholesale cost with least expensive wines marked up 400 to 500% and most expensive, less than 100 to 200%. (This compares to typical retail markups of 150%, or about half of the typical restaurant markup). The markup on wines offered by the glass is usually 500 to 600% of wholesale cost which translates into the price of one glass' approximating the wholesale cost of one bottle.
PS's markup is 400 to 600% of wholesale cost on average, much higher than the New York norm, versus EMP's 300 to 400% (and less at the high end of the list). Wines by the glass at PS are marked up 4.6 times on average vs. 4.3 times at EMP, which is a lower markup than many other New York restaurants apply to their wines by the glass.
n.b., The markups were calculated conservatively based upon the wholesale prices of currently available wines. To the extent that PS or EMP benefits from any discounts, the markups would be higher than calculated here.
La Doloreuse
The prix fixe menu costs $310 per person at PS and $225 at EMP. PS's price includes service and thus, an equivalent EMP price with a 20% tip would be approximately $270. Such prices exclude any supplemental costs, which at PS can be extensive, tax or beverages.
The wine lists can be characterized as progressive insofar as they offer wines at many price points. As shown below, EMP offers far more choices (e.g., 400 bottles priced less than $100 and 650, less than $150) on the lower end of its list than PS (47 and 149, respectively). Only about one-third of PS's half bottles are priced less than $100.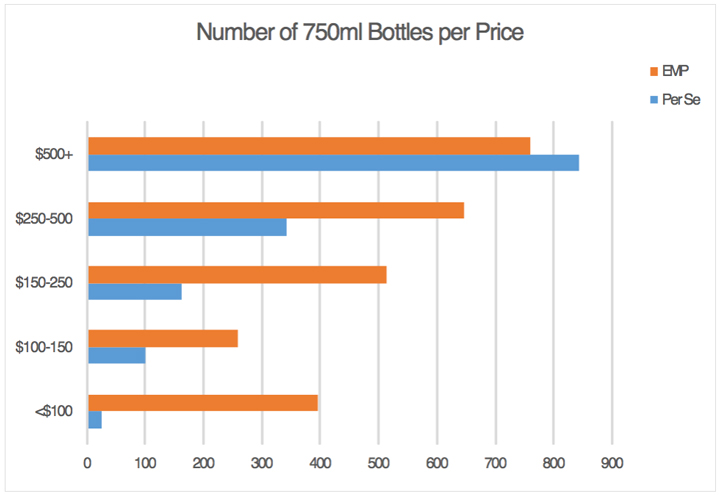 Their median prices of 750ml bottles are relatively close: $650 at PS and $595 at EMP. But their average prices diverge significantly: $1302 at PS and $752 at EMP. EMP's lower average is a consequence of having more than 50% of its offerings priced below $500 versus only 31% at PS.
Unsurprisingly, both lists include wines from many of the same wineries. There are only about 230 vintages of those wines, however, that appear on both lists. Because of its higher markup policy, PS charges significantly more for these wines, 39% on average.
But on high-priced wines, the difference between the PS and EMP prices sometimes exceeds 100% per 750ml bottle — and on ten wines, more than $1000 difference!. Stunning examples of this variance include:

That Chave Hermitage costs about $100 wholesale!
Value
Like beauty, value is in the eye of the beholder. A lesser priced wine is frequently not a better value. When wine professionals talk about value wines, they generally mean wines that "punch above their weight" but are not necessarily inexpensive. Even on a relative basis, there appear to be none on PS's list. EMP, on the other hand, offers some interesting examples including Les Héretiers du Comte Lafon Macon, Bruno Colin La Fussière Maranges, Les Pallières Gigondas, Robert Michel Cornas, Piedrasassi Syrah, any of the Eva Fricke Rieslings and its New York State offferings.
Both restaurants allow customers to bring their own wine and pay a corkage fee - EMP's fee is $65 and PS's, $150, the highest in New York. In light of the wine pricing, PS's high corkage fee nevertheless may be its greatest value offering and a tremendous incentive to BYOB!