Those crazy Corsicans! They're in the midst of wine revolution over there, ripping out the high-yielding vines that were planted in the early 1900s and going back to their roots, literally. It's a very exciting time in Corsican winemaking with a passionate new generation of vignerons making smaller amounts of high quality wines, full of depth and complexity.
Corsica, the "Isle of Beauty"
Known for the independent spirit of its people and for its dramatic, diverse scenery, Corsica has been ruled by many nations. The most famous Corsican, Napoleon Bonaparte (born in 1769) was French, but if he had been born just 3 months earlier he would have been Italian. Many Italian influences remain on this small French island just west of Italy and southeast of France, yet the proud islanders consider themselves Corsican first. Rimmed with bright turquoise waters, beautiful sandy beaches and charming coastal towns, the climate here is maritime but, heading Inland, it turns into a continental climate with dense, hilly forests and steep mountains. There are many different soil types: granite, sandstone, volcanic, limestone and clay. The combination of independent thinkers with the right grape-growing terroir sets the stage here for some very interesting winemaking.
Domaine D'Alzipratu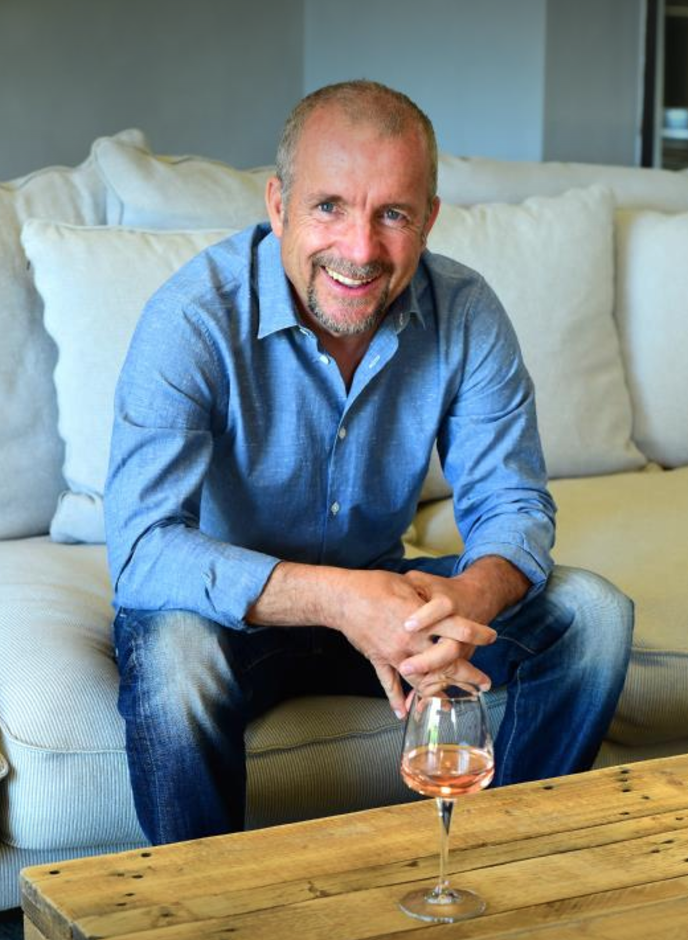 Take Pierre Acquaviva, owner and winemaker at Domaine d'Alzipratu. His father was a winegrower who sold his grapes to wine cooperatives around the island. The grapes were mostly the non-indigenous Southern French kind like Grenache and Syrah which can make beautiful wines in the right place with the right care, but tend to produce mediocre wines in Corsica. The cooperatives turned these grapes into bulk wine which satisfied the boatloads of summer tourists who came to this beautiful Mediterranean island to soak up the sun, hike the mountains, enjoy the Mediterranean cuisine and quaff lots of inexpensive, easy-drinking wine.

Pierre could have continued in this tradition, but instead he decided to vinify his own wine as well as cultivate the grapes. In the 1990s, he acquired 59 acres of vineyards in the Balagne region just south of Calvi in Northwest Corsica. He also took over 39 acres of vines his father had farmed near the Calvi airport. He then replanted them with indigenous grapevines with Corsican names like Nielluccio (Sangiovese in Italy), Sciaccarello (a red blending grape called Mammolo in Italy) and white Vermentinu (you guessed it, Vermentino). He's like a scientist in the cellar experimenting with longer fermentation times, letting the wine sit longer on its lees (dead yeast and other particles which settle as sediment after fermentation) and stirring them ("battonage") to get lots of complex flavors in the wines.

Grape Collective recently caught up with Pierre by email:
Lisa Denning: What is your philosophy on winemaking?
Pierre Acquaviva: We seek to produce wines that are as closely linked to their terroir and traditions as possible. We therefore use predominantly traditional Corsican varietals (red: Sciacarellu, Niellucciu, Aleatico and Minustellu). We use gentle methods of vinification. Our vineyards benefit from a unique setting just a few kilometres from the sea yet just beneath the foothills of the mountains which rise as high as 2000 metres above sea level. Our region's climate is dry and windy. All of these factors result in distinctive wines which are simultaneously powerful owing to the high amount of sunlight absorbed by the grapes, as well as soft and smooth [tannins] thanks to gentle extraction and careful aging.
Can you tell us what happens after the grapes are picked?
We finish the harvests around the end of September and the fermentations last up until the end of October. We then begin the aging process. Some of our wines are stirred (in order to increase contact with the lees). We taste our wines carefully in order to have an accurate perspective of the vintage. We take a break from work in the vineyards in order to leave the plants to rest.
When and why did you decide to make your own wines, rather than selling your grapes to cooperatives?
We have never considered selling our grapes. We want to cultivate our own vines and vinify our own wines. Understanding our terroirs and making the highest quality wines possible is what motivates us.
Tell me about the Corsican winemaking world today. What percentage of wines there are being made from the replanting of indigenous grapes? Are the cooperatives still making a lot of wine? Are you part of a DOC?
Wine production in Corsica is heavily based on traditional varietals. Corsican viticulture aims to export wines but also to respect the unique characters of our varietals and terroirs. The Corsican wine region is currently planted with 60% Corsican varietals. The cooperative cellars produce 65% of Corsican wines. They are all situated in the Eastern part of the island within the AOP Corse appellation and production is primarily for rosé wines. Domaine d'Alzipratu forms a part of the Corse-Calvi appellation which counts just 12 producers.
What kind of soils do your grapes grow in ? Do you grow organically?
Our soils are composed of granite. The Pumonte vines grow on south facing hillsides which form granitic arenas originating from decomposed rock. The Fiume Seccu vines are planted on colluvial [alluvial] slopes composed of soils originating from the erosion of the mountains. Our vineyards have been cultivated using organic methods since 2016.
How much wine do you produce and how much of it is consumed in Corsica vs exported? Which countries are your biggest export market?
We produce 150 to 200,000 bottles per year across 40 hectares of vines, 65% of which are sold on the island thanks to the local tourist market and the other 35% sold in France and on the export market. Canada is our biggest export market followed by the UK, the United States and Switzerland.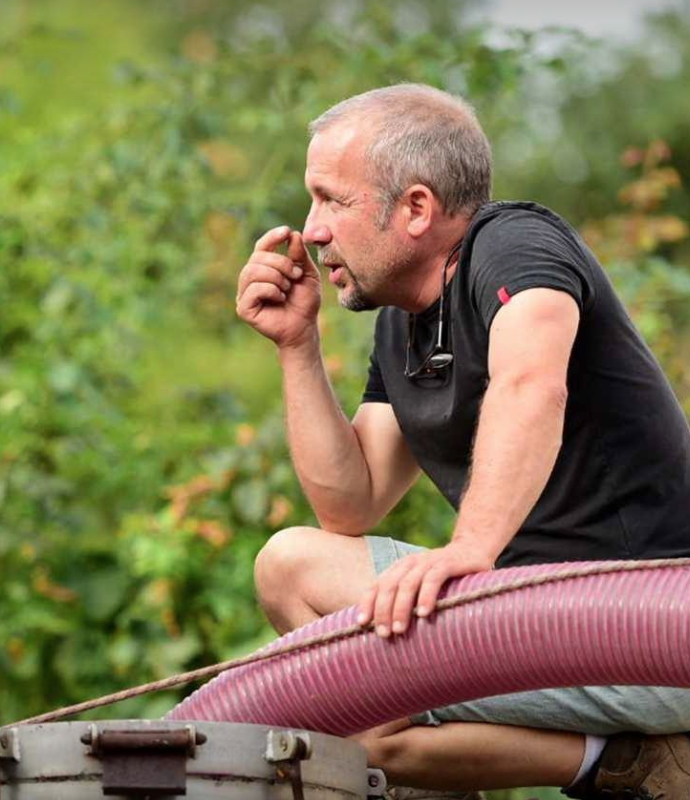 Are there other white varietals grown in Corsica other than vermentinu?
Corsican white wines are made primarily from Vermentinu although there are other varietals for which production levels are increasing such as Biancu Gentile, Brustianu, Carcughjolu Biancu, Cudivartu, Genovese and Riminese.
Do you use any non-indigenous grapes in any of your wines?
We use Grenache which is not an indigenous Corsican varietal but has been grown on the island for a very long time.
What do you drink when you're not drinking your own wines?
I am curious about all wines and love discovering new varietals and terroirs. I taste a wide variety of wines in order to broaden my knowledge and allow my own work to evolve. Corsica is a complicated wine region. Its proximity to the sea and the mountains results in wines with a very strong identity. We seek to produce distinctive wines that reflect their unique terroirs.
Domaine d'Alzipratu has evolved significantly over the last few years in order to reveal the very best of what our terroirs have to offer. We cultivate our wines with the utmost respect for the environment.

Try some of these suggested food pairings with the Domaine d'Alzipratu Fiumeseccu white and red wine.

Domaine d'Alzipratu Fiumesecco White: ($19.99) This wine made from 100% Vermentinu has aromas of citrus fruits like lemon and grapefruit, along with riper tropical fruits like peach and mango. On the palate, it is luscious and round. The fruit flavors hit your palate first and then there are undertones of stony minerality with a lip-smacking freshness. This delicious wine would pair with all kinds of fresh salads, seafood and even pork or chicken dishes.


Domaine d'Alzipratu Fiumesecco Red: ($19.99) This is a wine that you just cannot stop drinking! The power, structure and acidity come from the Nielluccio grape and the finesse and complexity from the Sciaccarelo grape which is known as the "Corsican Pinot Noir". The blend of these two red grapes makes a very savory, fresh wine with medium body and distinct herbal aromas reminiscent of the "maquis" scrub on the island. The floral aroma has undertones of black licorice, tobacco, thyme and tarragon which carries through to the palate, combining with ripe black fruit flavors, pepper, spice and balanced acidity. Enjoy this red wine with all kinds of cheeses, cold cuts, full-flavored fish (salmon, swordfish, bluefish), chicken and duck. It is a great pairing with a spiced Pork Loin.