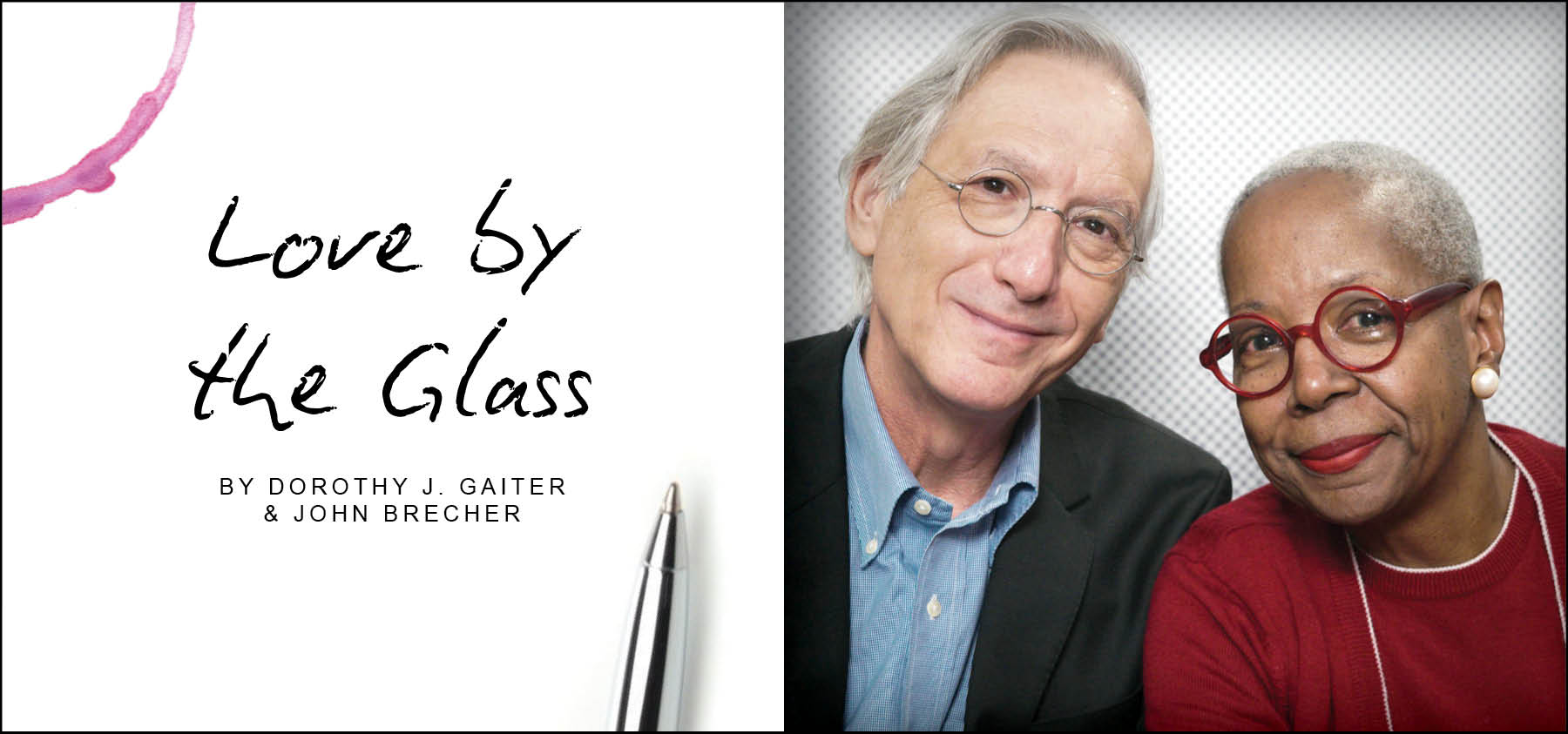 Here's an amazing coincidence involving an $8,400 boxed set of Champagne, scandalous lingerie and the importance of a caring guide on your lifetime wine journey.
When we were expecting our first daughter, we read that the French have a custom of touching Champagne to a newborn's lips. So, just before Media was born in Miami in 1989, we visited our wine merchant and mentor, Chip Cassidy, and explained why we were looking for a special bubbly. He said "wait here," and came back with a bottle of Champagne we'd never heard of: A. Salon le Mesnil 1979. Chip explained it was so rare that the entire state of Florida received one case and the large operation he managed was lucky to get two bottles. He handed it to us and said, "It's on me."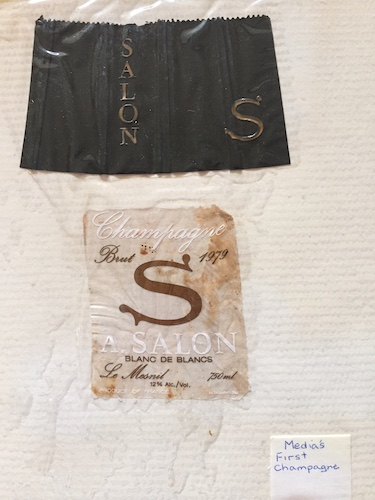 When Media was born, we dabbed her lips, saved the label and marked it "Media's first Champagne" – the first of many, we hoped.
(Photo: Media's Salon Label)
A few weeks ago, we received an invitation to a special tasting: Didier Depond, the president of Salon le Mesnil and Champagne Delamotte, was hosting an intimate lunch to present the 2008 Salon. The lunch, organized by importer Vineyard Brands, was on Monday. Five days later, we hosted a bridal shower for that now 30-year-old newborn.
How special is this wine? In the book "A Scent of Champagne," Richard Juhlin writes simply: "Salon is the connoisseurs' most sought after Champagne." And consider this: When Salon became available in the U.S., The New York Times wrote a news story about it. "A prestige Champagne that sells for $100 a bottle is arriving at carriage-trade stores across the nation," Howard Goldberg wrote. "It is the 1979 A. Salon Le Mesnil blanc de blancs, a white wine from white grapes. Its finesse rivals its price." Yep, that is Media's wine.
Aimé Salon created this wine, starting with the 1905 vintage, with the vision that it would always be made from Chardonnay from Le Mesnil-sur-Oger in the Côte des Blancs. It would be produced in small quantities, from grapes from a single year—no blending--and only in good vintages. There were only 37 vintages in the 20th century. Salon still buys its grand cru quality grapes from 19 family winegrowers whom Aimé Salon first worked with. Together with its own small property, Le Jardin Salon, that is just 27 acres.
Laurent-Perrier, which is owned by the de Nonancourt family, bought Salon in 1988 and merged its leadership with neighboring sister property Champagne Delamotte. Depond joined Laurent-Perrier when he was 22 and was named president of Salon and Delamotte in 1997 at age 33. Depond lives in the village and speaks to the 19 growers almost every day. "The human contact is very important," he told us.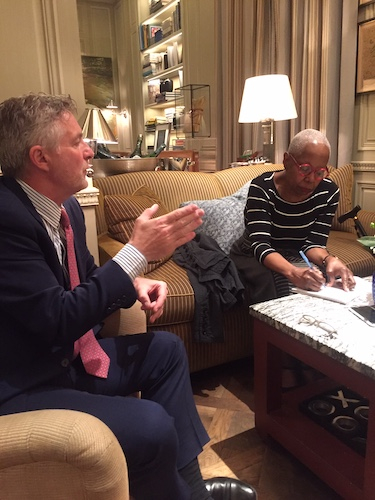 Depond said he owes the long-time president of Laurent-Perrier, the late Bernard de Nonancourt, for what sounds like one of the world's greatest jobs. "With Bernard it was so easy for me," he said. "Bernard said to me many times if you need time for quality for your wine, you have time. We will pay for the quality. It was absolutely comfortable for me because it was always about the quality, the quality, the quality." He said de Nonancourt, who died in 2010, was like a second father to him.
(Photo: Dottie interviewing Didier)
Today, Laurent-Perrier is the fourth largest Champagne brand in the world, Depond told us, and the Laurent-Perrier Group sells 14 million bottles of wine a year, including all of its global brands. Delamotte makes 800,000 bottles (and uses grapes from Salon in the years Salon doesn't make a Champagne). Salon averages 60,000 bottles a year, but 2008 was different. Depond told us the weather was challenging for much of the year, but turned excellent at the end. Still, grapes even on the same bunch varied in quality. Salon hand-sorted them over and over again, resulting in its smallest production in history, the equivalent of just 16,000 bottles.
Depond told us the 2008 is the best wine Salon has made since he has been there, comparing it to the 1982 and 1928. It was also the last wine Salon made until 2012, skipping three full years. Depond said there will also be a 2013 and a 2018 for sure – he said last year was a terrific vintage with a rare combination of quality and quantity -- but he wouldn't tell us about the intervening years' possible production.
Depond believes the very best bottle for any Champagne is a magnum. With so little of the '08, he decided to bottle all of it in magnum – that size is usually 15 percent of production -- and then took it a step further. Not only will the '08 be available, exclusively, in magnum, it will only be available as part of a collection that includes two bottles of the 2004, two bottles of the 2006 and two bottles of the 2007, four different wines in all. All of the wines were disgorged – when the sediment is popped out – early this year, at the same time. The price for each of these 8,000 sets: $8,400. For sale beginning in September, they were made by Laurent-Perrier's chef de cave, Michel Fauconnet.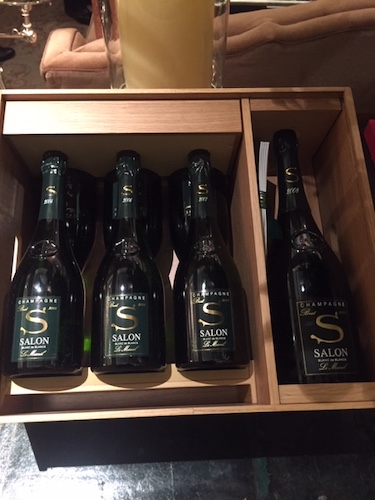 Depond said he travels the globe talking about Salon, even though he could sell all he could make without ever leaving Le Mesnil. He does this, he told us, because he wants merchants, sommeliers and journalists to "educate" consumers about Salon.
(Photo: Salon set)
"It is not an easy wine," he said. "Sometimes the first contact with Salon is a strong contact. My mother doesn't like to drink Salon and she can drink Salon every day if she wants. It's too much. She needs Champagne to be simpler, maybe with less acidity and power and intensity." Salon gets a very small amount of dosage – some sweetness added after disgorgement to make Champagne's acidity less aggressive. "Dosage for me is like the salt for recipes," he said. "It's just the final touch."
And Salon needs time. It is never released before 10 years and Depond says, in general, it's not really ready to drink for at least another five or six. It's famously long-lived. "The '88 was closed for 20 years," he said. "It was quite impossible to drink the '88 before 20 years."
We tasted each of the wines in the set at lunch. What they had in common was extraordinary focus and purity, with elegant little bubbles that were integral to the experience. The 2004 was intense and remarkably fresh for a 15-year-old wine; that freshness was the quality Aimé Salon sought with Chardonnay. The 2007 was rich and beautiful, with an endless mineral, citrus and brioche finish. The 2006 was lovely, and the lightest of the four; when we mentioned this to Depond, he said that was because the weather was cooler. And the 2008 was notable for its perfect balance – no taste overwhelmed another, giving it extraordinary complexity. Depond said it is "just like a beautiful woman -- the grace, the simplicity and the class. Like Audrey Hepburn. She was beautiful young, she was beautiful old."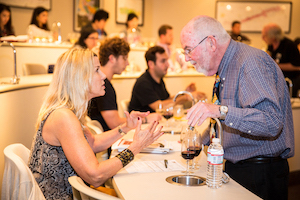 The wines were mind-blowing. And we owe it all to Chip Cassidy – not just for giving us a bottle to celebrate our daughter, but for guiding us into a lifelong love of wine for years before that. With the taste of the Salon still fresh in our mouths, we called Chip, whom we haven't seen in some time. He now is director of wine programs at the Chaplin School of Hospitality & Tourism Management at Florida International University in Miami. Chip has taught about wine there for more than three decades. He is so cherished by the industry that a scholarship fund has been endowed in his name in perpetuity.
(Photo: Chip with student)
"It's embedded in me to share, especially what I know about wine," Chip, 72, told us when we called, modest as usual. He added: "A man's worth is only what he gives away."
And, by the way, the bridal shower was great. Everyone laughed, played games and talked. Even John was allowed to be there for most of the time, to play bartender, until our daughter Zoë sent him to his room. That's when the presents came out. Heavens, have you seen some of the lingerie these days? And to think that, just yesterday, Media was a newborn in onesies.
At the luncheon, we showed Depond the label of the bottle we took into the delivery room and told him the story. He immediately knew it was the 1979 because, after that year, the clear label used for Media's wine was retired. How perfectly appropriate.
Dorothy J. Gaiter and John Brecher conceived and wrote The Wall Street Journal's wine column, "Tastings," from 1998 to 2010. Dorothy and John have been tasting and studying wine since 1973. Dottie has had a distinguished career in journalism as a reporter, editor, columnist and editorial writer at The Miami Herald and The New York Times as well as at The Journal. John was Page One Editor of The Journal, City Editor of The Miami Herald and a senior editor at Bloomberg News. They are well-known from their books and many television appearances, especially on Martha Stewart's show, and as the creators of the annual, international "Open That Bottle Night" celebration of wine and friendship. The first bottle they shared was André Cold Duck. They have two daughters.
Read more from Dorothy J. Gaiter and John Brecher on Grape Collective
Banner by Piers Parlett