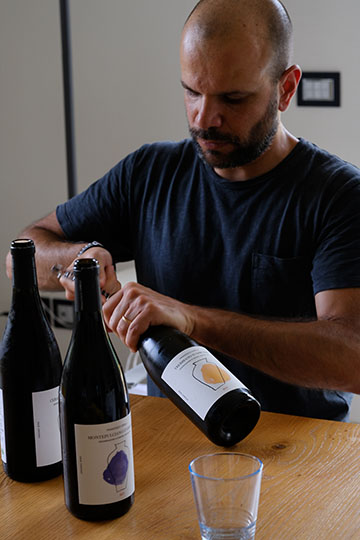 Francesco Cirelli acquired a property high up in the mountains of Abruzzo in 2003 and has been an enthusiastic practitioner of organic viticulture and non-interventionist winemaking with the ambition of respecting natural cycles. On Cirelli's small farm vines coexist with olive groves, fig trees, wheat, and barley. His multi-use farm produces artisanal olive oil, wine, vegetables, fruit and meats.
Cirelli is working with terracotta amphorae. His wines have a soulfulness that reflects the stunning natural reserve where his vines live. Cirelli's Montepulciano is on the lighter side and could be compared with cru Beaujolais, crisp with good acidity. His whites, Trebbiano and Pecorino, are lively and textured.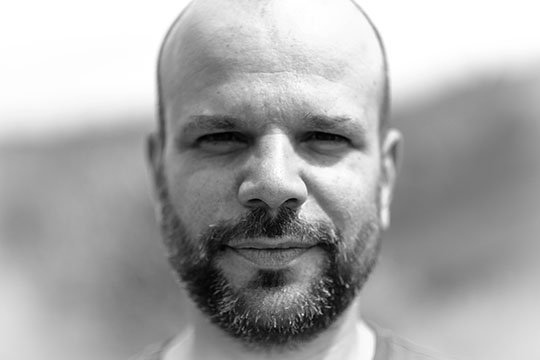 Christopher Barnes: Franceso, how did you become a winemaker?
Francesco Cirelli: Well actually everything began in 2003 when I earned my degree in business administration. At that time I had an existential need to become involved in agriculture. I really had a deep appreciation, an instinct, so to speak, of being tied to the land, and that's when I started to explore the Abruzzo area. I decided to purchase this land in 2003—it's now 15 years.
You make wine a little differently from the way most people make wine today. It's a very traditional method in many respects. How would you describe your winemaking?
Well it's nothing special and it's everything, very artisan and natural. We didn't invent anything. What I mean is that the amphora, fermenting and aging process, is something that had been developed about 7,000 years ago in Georgia. We just revamped this tradition here in Abruzzo, many more famous winemakers started earlier, so we're talking about especially the Colli area in Friuli, like generally winemakers like Gravner. I started in 2011, so I'm definitely one of the last in town.
Tell us about the amphora. What properties does the amphora give a wine?
The cool fact is that we're doing all this just because the amphora doesn't give anything to the wine. So in our philosophy, and from our point of view, the amphora is able to respect the integrity of the wine, it gives a better authenticity to the wine, because it doesn't give out any external flavors to the wine, like the barrique does.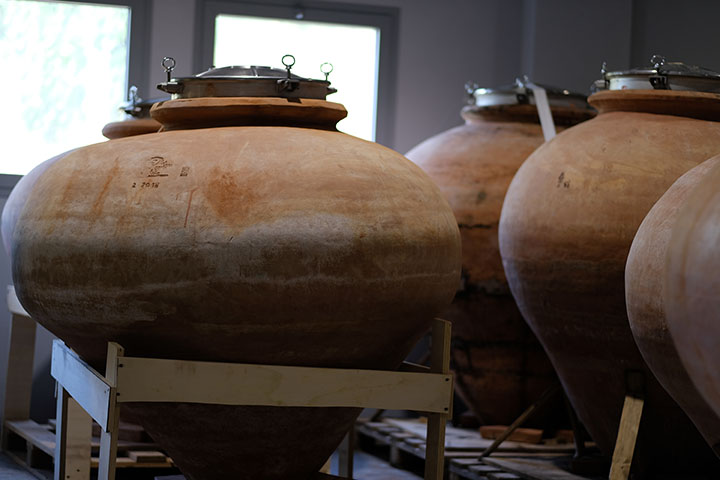 Any thoughts about the philosophy of natural winemaking? It's a complicated term.
That's the hardest question, yes. Actually, I'm not pretending to be a natural winemaker. I'm a winemaker making wine in a specific point in this beautiful region, which is Abruzzo, and my objective is trying to extract the real and true flavor, and the soul of my terroir. So I don't know if this is natural winemaking, but this is what I do.
Tell us about the Abruzzo. It's quite a big region with many different types of terroirs.
Which is I guess the real value of this region. Just consider that, in between 40 kilometers you go from the sand and the Adriatic Sea, to the southernmost glacier in Europe, which is the Calderone glacier, up into the Gran Sasso mountain. So in between you have the sea, the hills, the mountains, and the glacier. You really experience different climate conditions and different microclimates. If you are a respectful winemaker, and fortunately there are lots of them in Abruzzo, you can really and truly express all the different micro-terroirs which are found in this beautiful region.
Describe the terroir here at your winery.
Well, it is very particular. We are within a natural reserve called Terre d'calanque which is full of clay, very sandy poor clay with a crazy high percentage of calcar, which means a lot of acidity, a lot of flavors, and a lot of finesse and elegance.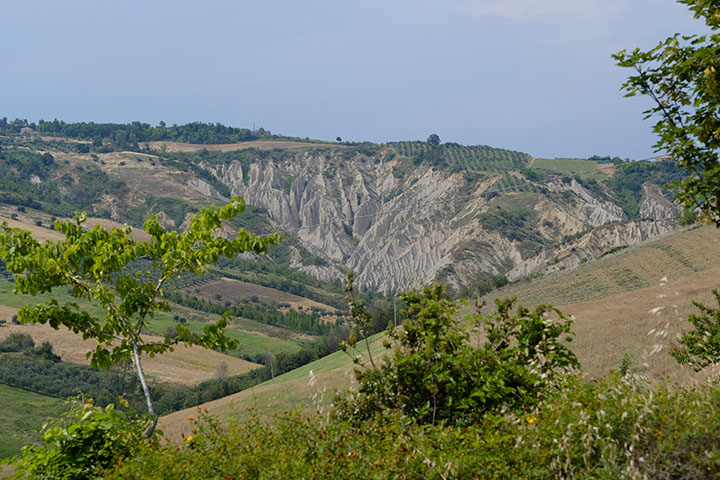 Describe the native grapes that you work with here.
Since 2003, we always wanted to focus on native varieties. In Abruzzo, the king and queen are Montepulciano and Trebbiano, so we have been cultivating these grapes for thousands of years. In the last few decades, we also started cultivating and experimenting with Pecorino, but my heart beats for Montepulciano and Trebbiano.
So if aliens arrived having never tasted Montepulciano and Trebbiano, how would you describe it to them?
It's extremely difficult to describe, because there are so many micro-terroirs and microclimates and so many different styles of Montepulciano. I can tell you the styles I like and dislike. I don't like the muscular masculine over-ripened, over-concentrated Montepulciano. I am sure you can definitely, how can I say it, if you are smooth and if you are delicate, you can definitely get delicate Montepulciano Abruzzo, which means elegance, finesse, with a fantastic feminine touch.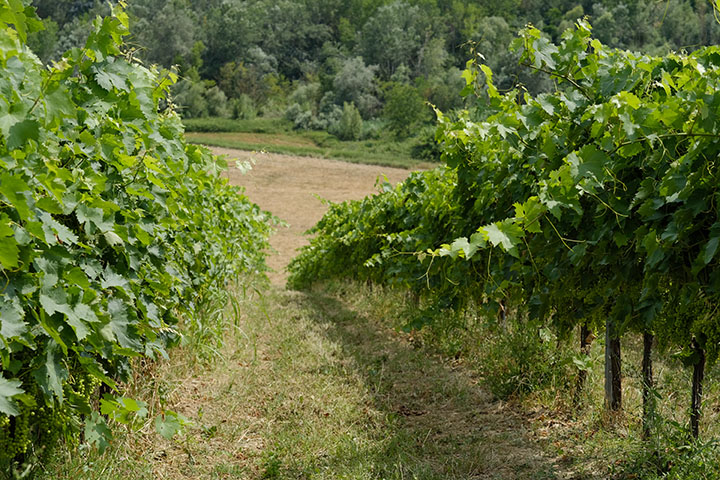 Francesco, talk a little bit about your philosophy of winemaking.
My mission is trying to express my terroir. I don't know if I'm natural or if I'm an artisan, or if I'm an industrial winemaker, I don't actually care, but the only thing I truly believe in is terroir wines. So this is what I try to do every day.
And in terms of your viticulture, what kind of processes do you employ?
Since the beginning, we immediately applied for the organic certification, so we are organic certified since 2006. But in the last three years, we are experimenting a lot with some biodynamics. So yes, we are pretty open to all different practices in the vineyards.
What type of soils have you here on the estate?
That's an interesting question, because we are right in the middle of a natural reserve. It's called Terre d'Calanque, it's predominantly clay, very sandy, very poor, with a high percentage of calcar, which means a lot of finesse, a lot of elegance, especially on the white varieties.
Francesco, you have created a farm here. It's not just wine, you have animals and grow other crops. Why did you decide to create this sort of multifaceted agricultural business?
Well actually since the beginning, we really wanted to be a really organic farm project. We didn't want to be only winemakers, or grain producers. We really wanted to revamp the tradition here, which was a small farm with animals, grains, fruit trees, vineyards and olive trees. So we did.
Take a 360-degree virtual reality tour of Francesco Cirelli's winery in Abruzzo, Italy. This experience only works in certain browsers including Google Chrome. You can also experience the VR tour directly on Youtube.
What are some of the local foods in Abruzzo that you're excited about, and that you would recommend to complement your wines?
Well I think that the most fascinating thing about Abruzzo is the fact that in such a small narrow region, you have mostly three different microclimates. We have the sea, the hills, and the mountains. As a result, you do have a different food culture. If you are close to the sea, you have the poor traditional scene. If you travel to the hills, then you have white meats. And if you go up to the mountains, you have red meats. In every one of these areas, you can definitely find the perfect combination, but I feel that the Cerasuolo Abruzzo is the one that matches, is the only one that can match all the three different main food areas in Abruzzo, because you can match Cerasuolo with the sea culture food, but also with white meat and red meat. So in my opinion, Cerasuolo is the most authentic wine, because it's the only one that can match the entire region food culture.
Videography and photography by Piers Parlett, video editing by Max High-Cuchet