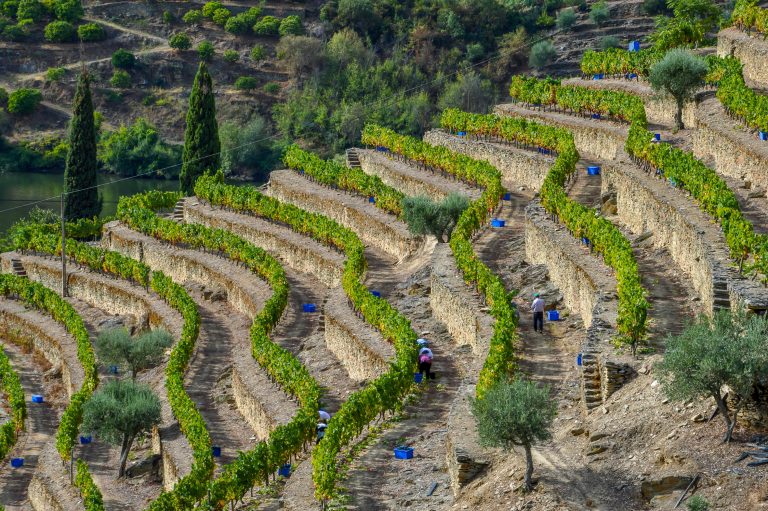 Portugal's Duoro Valley, famous for its Port wine, is a unique mountainside region with spectacular terraced vineyards carved into steep hillsides. The Symington Family, a renowned Port and red table wine producer with brands such as Dow's, Cockburn's, Graham's, and Warre's, can trace its history back 14 generations. Over the years, the company has acquired many of the finest quintas (estates) in the heart of the Duoro Valley where the combination of climate, soils, and grape varieties produce distinctive wines of great concentration.
Rupert Symington, one of seven family members who run Symington Family Estates, is convinced that the future of wine is in tourism. He believes that when people walk through a Duoro vineyard, seeing and feeling the soil and tasting the wine, they will have an unforgettable experience and connection to the brand.
Grape Collective sat down with Rupert to talk about keeping Port relevant in today's crowded marketplace.
Tell me about your own personal journey, did you always think you would be part of the family business?
I grew up going to the vineyard with my father and his customers and doing harvests. Our lives and our business were very much intertwined. My father asked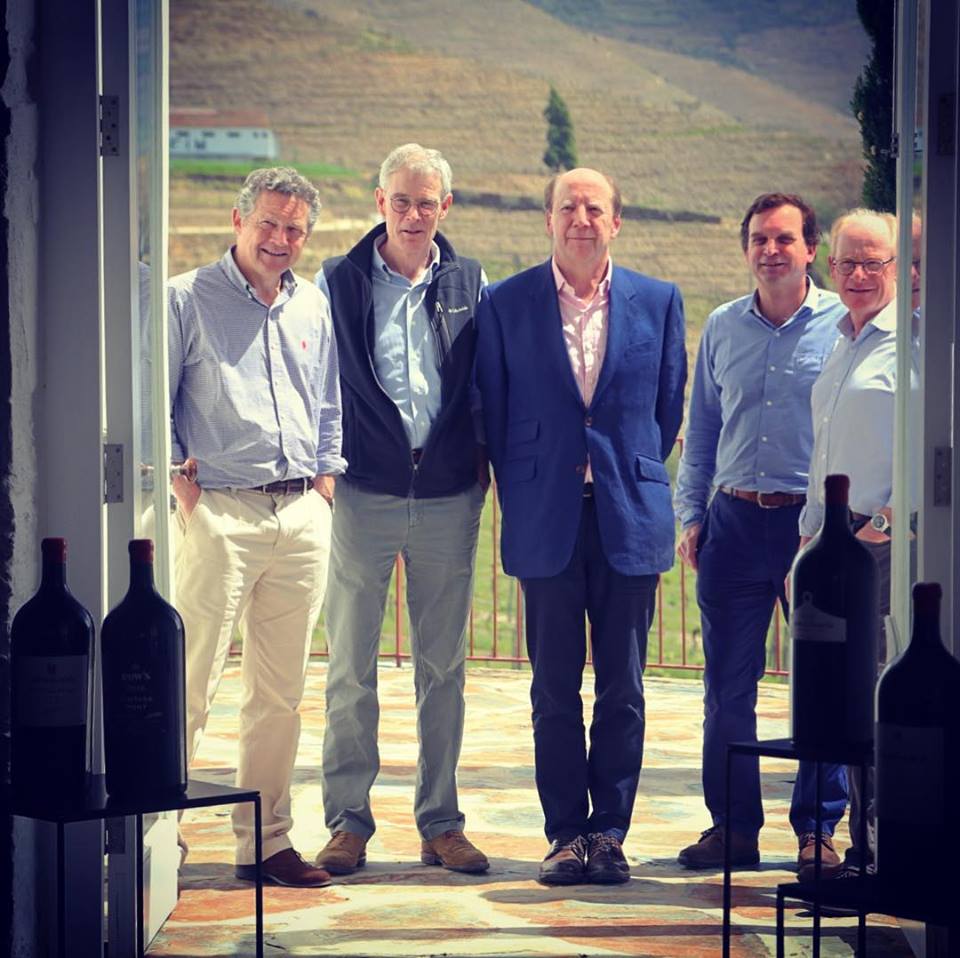 me when I was 18 if I was interested in being in the business, but I wanted to develop my own career first so I didn't come into the business until I was 27. I did a lot of other stuff first, but it was my decision to come back. I had gone into the financial world in London after college and it was very tempting, the money was very good and the life was quite fast but I think with a family business you have a sense of responsibility. Someone has to take it forward and not everybody can, although everybody wants to, but if everything falls into place that's 90% of the battle.
From left to right, Rupert, Paul, Johnny, Charles, Dominic
I would imagine it's a strong sense of pride for you as a part of your heritage.
Yes, my great grandfather came over from Scotland in 1882 and soon after got involved in the Port business. He was the one who bought Warres. The next generation bought Dow's and my father and his cousins bought Graham's and my cousins and I bought Cockburn's so each generation has added something to the business. We've acquired a lot of land in the Douro too. Today we have about 26 estates which we are very proud of, both owned by the company and owned personally with my cousins and Dad.
My life is very much intertwined with the business. I mean, if I were to come into some cash, I wouldn't go off and buy a boat. It's great and I wouldn't swap the life with anything else.
What is your exact role in the business?
I'm an owner and I'm a co-CEO. We set up a rather curious system where my grandfather and his two brothers took over from his father. Then three of their children ran it together so there's three branches of the family and I'm the representative of mine with my father. My two sisters weren't interested so my role is joint Managing Director. I'm also responsible for a number of areas: US sales, marketing, finance, etc. so it's quite nice to be here — somewhere else — I'm working but I'm not doing what I'm usually doing, which is just running the show!
Your properties are in some of the best vineyard areas of the Douro Valley. Tell us about the terroir and the grapes grown there.
The typical Douro soil consists of a layer of well drained schist, like a powdery slate lying on a bed of hard granite, which allows winter rainfall to collect in pools deep under the soil, allowing vines to survive the hot and dry summer by putting down deep roots. The granite is about 20 feet down and the schist can be up to 10-20 feet thick and the vines go through the schist and they hit the granite and that's where they feed.
Douro grapes are therefore characterized by their mineral quality and extreme concentration due to the minimal yields. One thing that's interesting about the Douro is how we can get so much fresh acidity in the finish for such a hot region you'd think the wines would be flabby but they're not. Our properties enjoy just enough rainfall for the vines to survive, while producing tiny quantities of highly flavored grapes. The various varieties that we grow in the Douro, such as Touriga Nacional and Touriga Franca, are thick-skinned hybrids that have evolved over hundreds of years to be able to thrive in these very dry conditions. They are fairly unique to Portugal.
Have you noticed changing weather patterns that have affected your winemaking?
I think it's just the randomness of the vegetation cycle. This year (2017) we're having a major drought and harvest started 3 weeks early which is completely bizarre. My cousin Charles came back from being on vacation and he had a week to get the wineries up and running and it was crazy. I don't think anyone living would remember ever having starting harvest on the 25th of August. And it was all over by the 20th of September.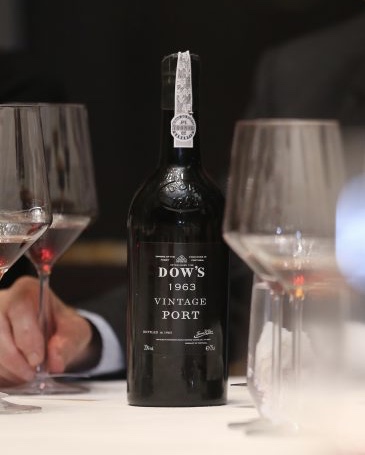 Symington Family Estates is renowned for its vintage Port which is only made in the best years. You recently declared 2016 a vintage year for all of your brands. The last one was the 2011. It must be very challenging for a wine region to go a whole five years without releasing its top wine. What is it about the 2016 vintage that led you to declare it?
When we have the right weather conditions we are able to produce truly extraordinary vintage Ports in very small quantities. Sadly these conditions do not happen very often. In 2016 we were lucky, as after a hot and dry summer, we had just enough rain to complete the ripening without diluting the grapes. The 2016's have an extraordinary freshness and balance which have been lacking in previous years.
Another popular type of Port is tawny, which become a lighter color from the oxygen it's exposed to during a long maturation in porous wooden casks. Tell us about your tawny ports.
We've blended our tawnies to be more food friendly. When I started working in the business, one bottle in ten was a tawny, now it's one in four. People associated port with a big, jammy, heavy red wine but now people realize the joys of a lighter style of port. We use varietals that give it more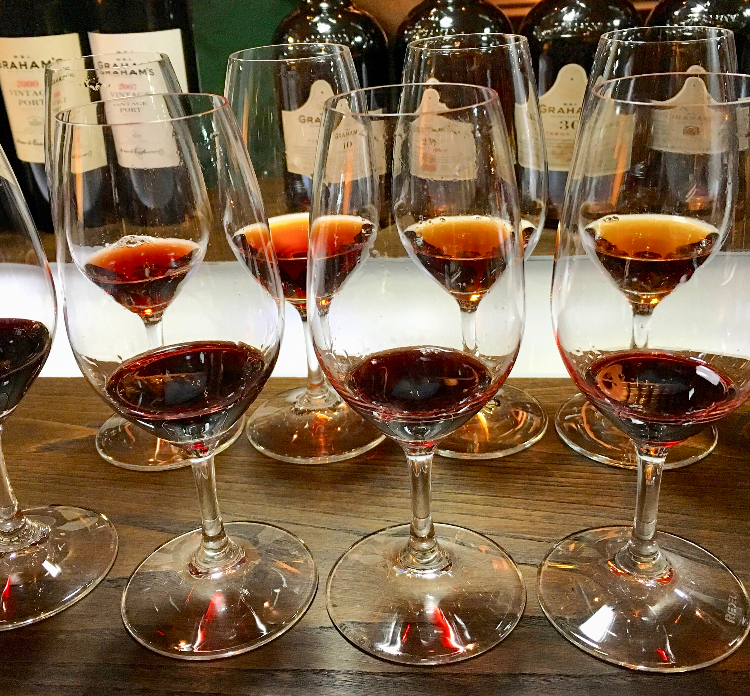 freshness on the palate. Everyone says wine goes with food but if a wine doesn't have enough acidity then forget it. The signature of Dow's tawny is the candied orange peel marmalade flavors. It finishes long but it's not cloying or overly sweet. Our current star, the Graham 20 has had the most unbelievable success in terms of the style, a lighter style of port.
You can buy this bottle for around $60 which is what you pay for second class California red. If you went around a store and looked at all the bottles priced at $60 very few of them would be 20 years old. The difficulty in making these wines is the putting it away, wondering how much will evaporate, how much we will have available to sell in 20 years time, there's a whole science behind it, so $60 isn't so bad.
Port is one of the few wines that genuinely goes with dessert, the tawny is lovely with chocolate, because it's not overly sweet and it has acidity.
It seems like these days the trend in wine drinking has moved away from sweet wines, they're not as fashionable as they may have been in other times. What do you think of that and how are you addressing that through your marketing?

I think that historically, making fortified and sweet wines was a way of preserving wine. Going back as recently as the 1950s, a lot of red wine was not stable. We hadn't discovered how to artificially preserve wine in a bottle for long aging so most of the world's famous fortified wines were fortified for one very good reason: to keep them. Port was probably one of the nicest wines you could drink reliably because it was fortified.
Habits and technology have changed and now we've got a hundred thousand different red wines from around the world and it's a very crowded marketplace. Fortified wines have retreated but we believe that our wine has a moment, it has a useability that other red wines don't have and white wines certainly don't have, this ability to stay open, the ability to give pleasure. I mean, sweetness is relative. The sweetness of Port is not added sweetness, it's natural grape sugar. I always describe Port as being half grape juice and half wine which is effectively what it is.
We have to fight to keep Port relevant because there's a lot of money chasing big whisky brands, big bourbon brands, which are hugely more profitable than our business. We're not looking for that, just a little bit of growth, 1 to 2% per year. Port is 8 and a half million cases worldwide and over half of that business is being consumed in Europe. As Port becomes more expensive — it has to because we've brought in health and safety laws from Europe and we're one of the most expensive places to grow grapes in the world — the volume end for Port has shrunk. But on the other hand, the premium end is growing in places like the UK, US, Scandinavia. Right now in Denmark Port is on fire. And it's not just the standard ruby port, it's the LBVs and the vintage ports. There are 3 port bars in Copenhagen.
We just have to appeal to people's good sense without a huge marketing budget. We're not asking for a lot, we just want to remain where we are.
I would think Millennials would be a good market for you. It seems like they like the sweetness of, say, Moscatos. Do you think that the image of port drinkers being older men, smoking cigars in a stuffy club is something that still needs to be dispelled?
We're working very hard at placing Port in the right places. Right now we're running a program with putting the port in large-sized bottles in all the best restaurants in London and New York — it's theater. If a Millennial sees that, they want to try it and the good thing about it is, when people try Port, there's no question that anyone won't like it. Port is very appealing.
Right, it tastes good but people might say, "I'm on a diet and it's sweet."
Yes and then you see people with their Coca Cola and bagels and it's a double standard really. The sweetness level in a glass of Port is not going to kill you.
How long can you keep a bottle of Port open in the refrigerator?
A great thing about many of these bottles is that you can keep them open for a month. The useability is excellent compared to most red wines which you have to drink within three days. This stuff is hard as nails. With the older vintage ports, you do need to drink them right away, if it's got age and hasn't seen oxygen it's going to change much faster, but not so much with the younger ones. And the tawnies have all been in wood for three to twenty years, so they've seen a lot of oxygen already and they're not going to change quickly when opened.
A bottle of Port may seem like a lot of money, but you can make that bottle last, except for the old vintage ports, you don't have to drink them in one sitting. Port is a sipping wine, it's not a chugging wine. You always use a big glass, a white wine glass, not those awful tiny little glasses that they give you in a restaurant.
Do people in Portugal drink a lot of Port or does most of it go to the export market?
A lot does go to the export market but premium port is now the third biggest market in Portugal and tourism has gone crazy. The demand for hotels has skyrocketed and tourists love to drink Port.
Do you welcome people to visit at the cellars in Porto and out at the vineyards in the Douro Valley?
Yes, we have visitor centers at Graham's and at Cockburn's. Two years ago we opened a tourist center in Douro at Quinta do Bomfim. So whereas the tours on the coast in Porto are about the maturation process and the history of Port, at the upriver properties it's about vineyards and winemaking.
What do you think of the current trend of people traveling to do wine trips?
It's the future of wine. I'm convinced that people will travel and get their experiences from seeing and tasting, walking through a Douro vineyard, seeing and feeling the soils and, obviously there's a shop at the end (laughter), but it's amazing how people get attached to a brand from having that sort of experience. I can still remember the tour I did when I was in my twenties and I'm still attached to those brands.
Do you have wine clubs?
We haven't started that yet but we need to, big time. It's very difficult because many of our customers live overseas.
Do you ever think that there are savory courses that can go with Port?
It can be done. I've had some venison and game dishes with a big red Port or maybe duck but I'm one to pick my fights and there's a very crowded market out there and Port to me, has a very specific place in it.
What's your opinion on the popular trend of making cocktails with Port?
I say that's it's the beginning of the end to move into a beverage alcohol corner. We're making fine wine. Just like you wouldn't put tonic water into your Jordan Cabernet, why would you put it into your Port? So I feel quite strongly about that. The occasion of Port is at the end of the day, after the meal or with the dessert, it's the relaxation wine. It's the wine to sip.
You also produce dry table wines and are in the middle of building a new winery for the production of high-end, red and white Douro D.O.C. wines. Why are you growing your portfolio of dry table wines?
We are limited by regulations as to the amount of Port grapes that we can produce from our vineyards. We have therefore sought to find a way to bring to market some of the high quality grape production that cannot be made into Port.
This has meant developing a range of dry table wines alongside our Port brands, bearing in mind that we have some of the most expensive grapes on the planet and that we cannot therefore compete on price with many of the traditional regions of the old and new world. Our aim is therefore to make dry table wines that sell at premium prices and hence the investment in the new winery.
What do you like to drink when you're not drinking your own wines?
I'm a total Rhône nut. It used to be the Northern Rhône but now I'm getting a bit more into more into the Southern Rhône. I was in Minneapolis a few days ago and went into a wine store and it was quite extraordinary. There were two guys working in the store, and I said, 'Can I see your Rhône section?' and neither of them had a clue what Rhône was. The idea of working in a wine shop and not knowing what Rhône is! It's my go-to. I think there's a lot of of similarities between the dry reds we make and those reds.
Other than that, I've never really understood Burgundy, but I've worked in Australia and I like the new world wines. I drink more and more red than white. That's my only failing. South America I'm learning more about. I think there's so much temptation in areas like Mendoza and Chile to over produce and just belt out volume but if you go and have the real thing, it's amazing.
What are some of your favorite restaurants in NYC?
I've been to very few but I do like Aldea, the Portuguese restaurant. I love the Fatty Crab. My wife and I went there six or seven years ago. I won't go into all the sketchy Chinese restaurants I've been to. I was invited to Daniel once and enjoyed it. I like Lupolo, the Portuguese place. But as my wife says, when I go to America, please don't give me Portuguese food! When I'm on my own and near Grand Central, I like to go to this Japanese pub called Riki. It's really good, they do a whole squid that's grilled and very healthy. You can go in there and have a healthy meal and a beer and walk out and it's $25. It's really good and I should have gone there last night instead of sketchy Chinese!
In New Jersey there's a big Portuguese community called Ironbound, right by Newark, with little Portuguese bars and restaurants and the food is excellent.
Where do you like to go on vacation?
My wife is from California so we do spend two weeks there every summer at Lake Tahoe. I also like to do the odd trip. We went to Istanbul a few years back, I went to Uzbekistan, which was great fun. Last year I did a trip from La Paz Bolivia with a friend who was driving a jeep from Alaska to Santiago. I jumped in his car in La Paz and we drove down the Andes all the way to Santiago, Chile and then Mendoza. I love driving and there's a lot of really good wine all over Argentina, much better than just in Mendoza to be honest with you. And I do like the beach holidays in the tropics too.
One last question: I have a Dow's 2011 in my cellar. When do you suggest I drink it?
I would drink it in about 2030.
I hope I can wait that long!
For more on Port wine, check out our "Call Of Port."
Read more from Lisa Denning on Grape Collective and The Wine Chef.