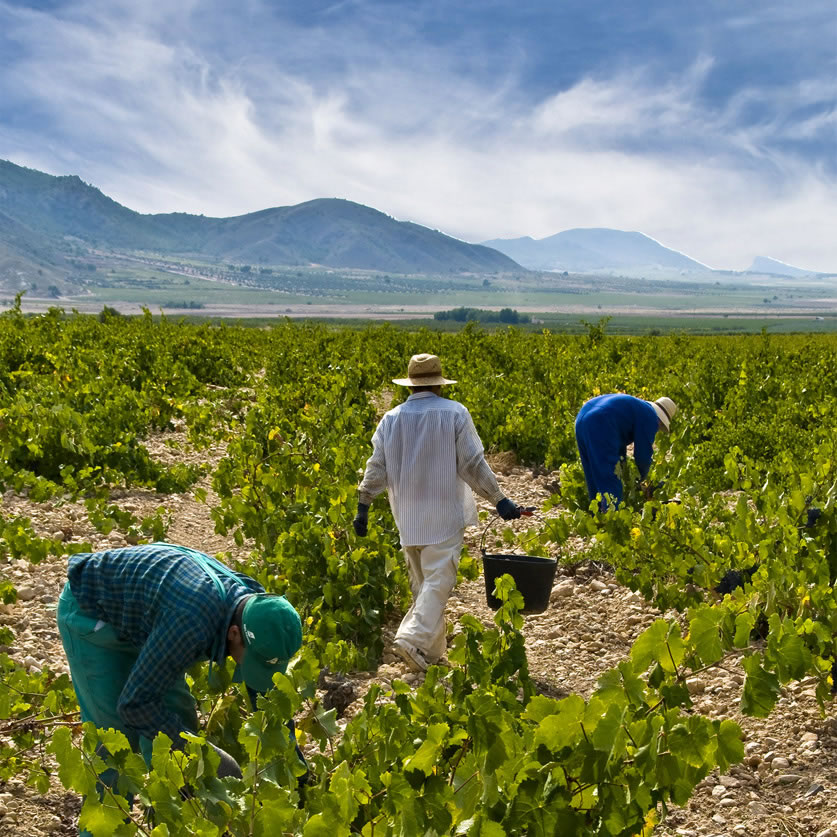 Juan Gil Jiménez built the Juan Gil winery in 1916 in the Jumilla region in Southeastern Spain. The fourth generation is currently running the winery and has expanded its production through acquisition of wineries in neighboring regions. They follow traditional winemaking philosophies while utilizing technology as needed in order to improve quality. Juan Gil is known for making wines with an amazing quality-to-price relationship.
The vineyards at the main Jumilla winery are located between 700 and 850 meters (2,700 feet) above sea level, on a sandy and limestone soil, stony on the surface and very poor in nutrients. Monastrell (Mourvèdre) is the typical variety of the region.
Grape Collective talks with Frank Gonzalez, Juan Gil's winemaker at their Ateca winery in Zaragoza.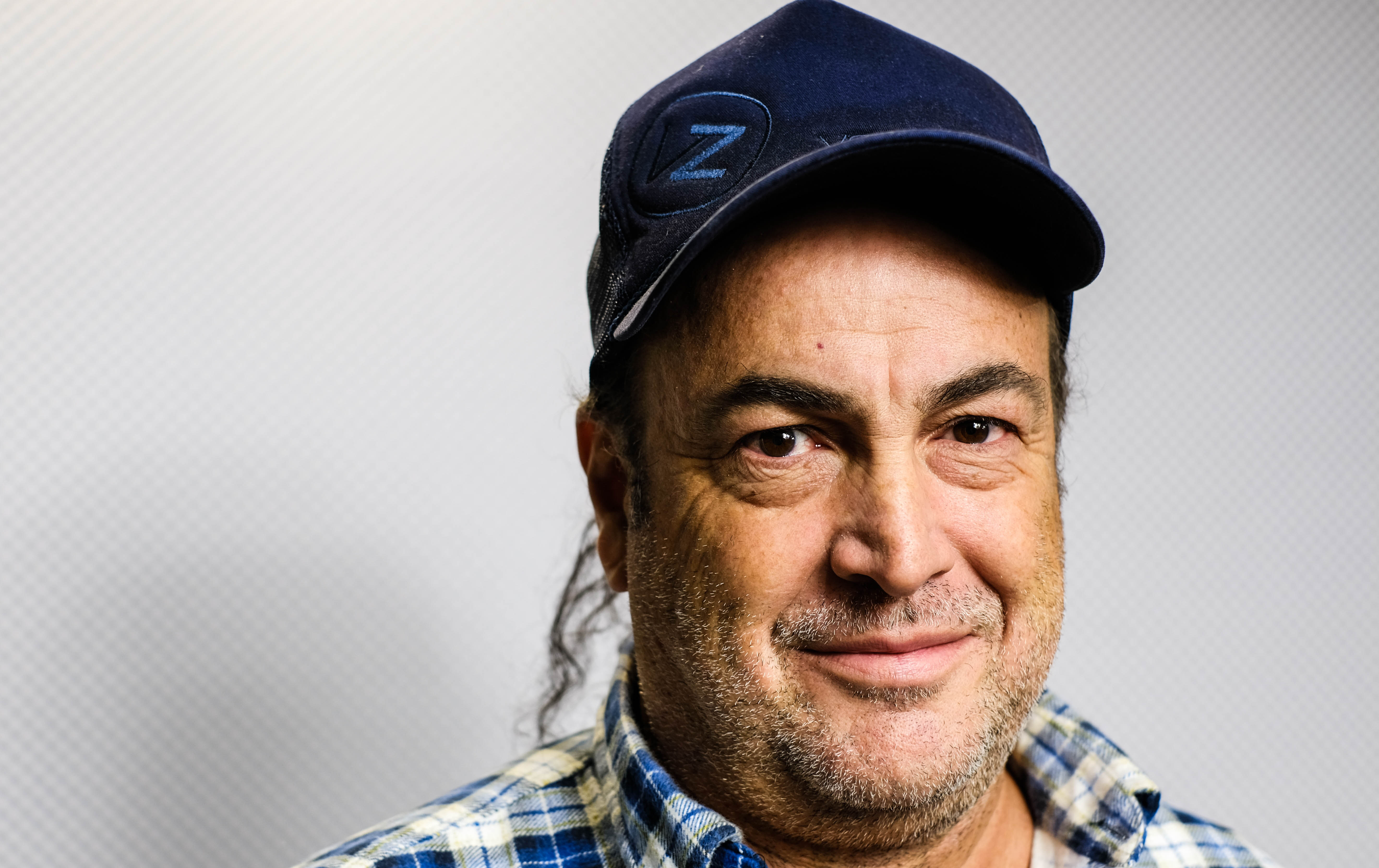 Christopher Barnes: So Frank, how did you get into wine?
Frank Gonzalez:I got into wine at an early age, I started to read a lot of books. My father, being of Spanish descent, had vineyards in Navarre so he introduced me at a young age, about 14 or 15 years old, to his little Muscatel or sherry or something like that. And then after that I started to read a lot of books and travel and visit vineyards all over the world and just spent time reading lots of books and tasting, most of all, and buying a lot of wine.
And how did you go from being interested in wine to becoming a winemaker?
By accident. Not really by accident, but a friend of mine, Chris Ringland, who is a mentor as well, he started a project in Spain in 2002 for Jorge Ordóñez. He asked me to come along to help him set up the wineries and translate and that sort of thing. So I stayed at Alto Moncayo up north for seven, eight years. Then I moved with the Gil family since 2009.
Talk a little bit about the Gil estates. How old is the estate?
We just turned 100 years old. Grandfather of the Gils now, in the little state of Jumilla, and the name Juan Gil has been going for over a hundred years, since 1916. We had our anniversary the year before last.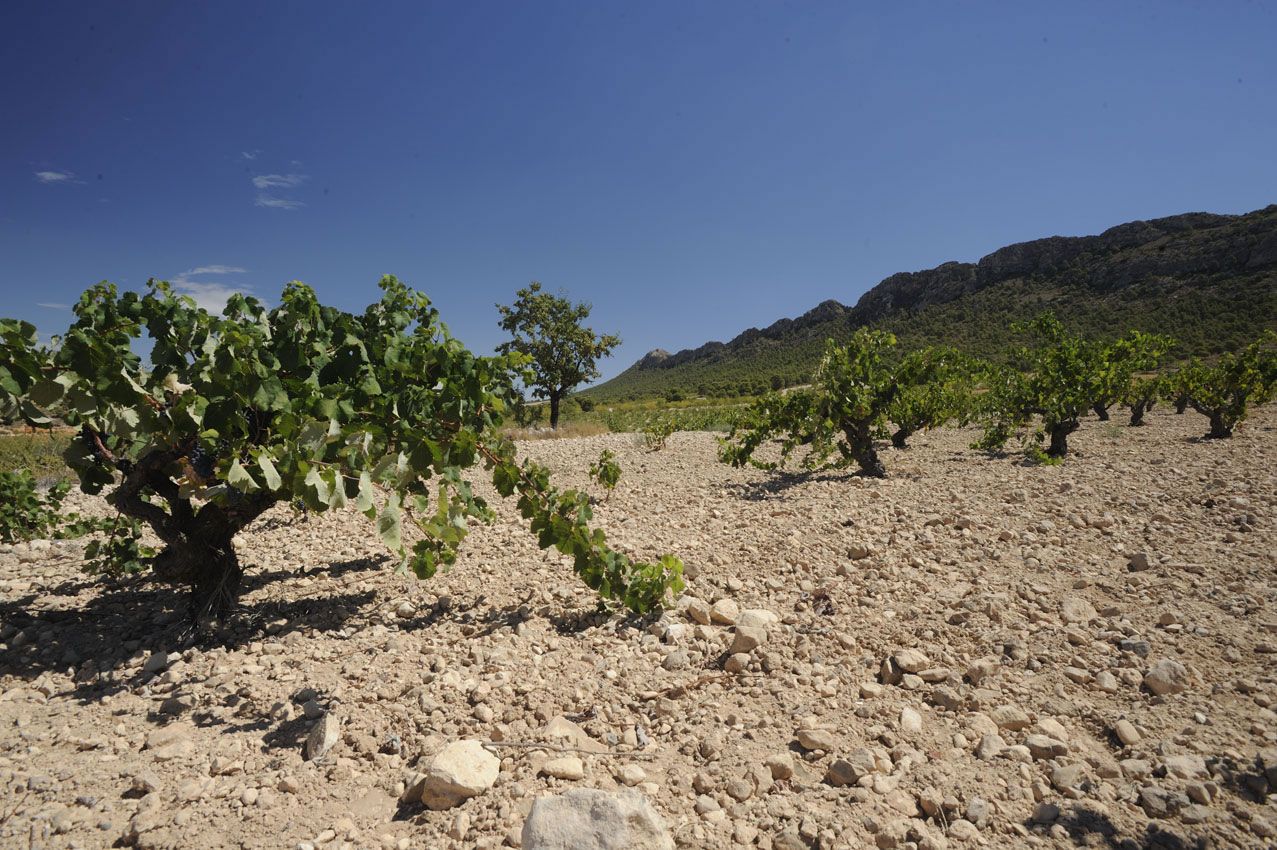 And talk about Jumilla. Where is that exactly in Spain?
Jumilla's southeast, so it's a Mediterranean climate, and much like some of the wines we're going to try today, that I look after, a little bit further north. So, it's a fairly warm climate, continental climate. The great thing about that area is the soils are predominantly all sandy soils. The sandier the soils, the more primary fruit you're gonna get. And the Monastrell, (also called Mataró or Mourvèdre), which is the main variety in the area. And no one comes close to the style or the quality. The quality has always been the focus on the wines of Juan Gil. With the blended or the single varietal.
So, it started as and still is a family business, but it's quite big now. They've managed to become very successful. How did they do that?
Well, Juan Gil was successful. It's the flagship, it's the biggest winery we have. And then, in 2002, when I came along, we started to expand in different styles, different areas. And from there on it's just... Successful and it looked further in other areas, but the focus has always been on unknown DO's, smaller DO's, with different grape varieties, funky grape varieties, with potential to make some really good wine. So, from having one winery back in 2001, to now 10 wineries today, and we're looking at another two, possibly, in the future.
That's a lot of wine.
That is a lot of wine, yes. Well, the thing is, they're not big wineries, either. We're never going to be huge, and we don't really want to. It spoils the quality and the consistency. So, you know, apart from the Juan Gil, some of the other wineries are maybe, like, 500 tons or maybe less. This one here, we started up north is probably gonna be 200 ton, 200,000 kilo. That's still a lot. So, you can work on that scale and make the best wine possible.
What is the culture like in Jumilla?
The south of Spain is always a bit more casual than the north. It's a really warm climate and they have a really long hot summer. It's very rural, pretty much like all of Spain, there's still a big co-op mentality. When I say co-op it means that before all these wineries started to pop up, we had essentially growers. So all the growers would take their fruit to one major co-op, which is a big winery. And they would just sell them the grapes, they'd take a little bit of wine for themselves and then they'd get cashed up.
And that's been going on for years, the mentality is still the same in every single area in Spain and certainly in the south and some of the newer areas in that you can't get rid of that. We always find it difficult because the co-ops control a lot of the growers. Although we have a lot of estate for it sometimes we buy for it and it gets hard because they're under contract.
The mentality is still the same because they, the growers don't really care about quality. What they want to do is just pick it when it's ready. When they think it's ready and off they go and get cashed up.
And it frustrates me because I like things to be exactly ripe. It has to be perfect. I want to make a great wine. But these guys just won't listen. To them it's just a job. It's just get rid of it before the rains or the hail come and off they go.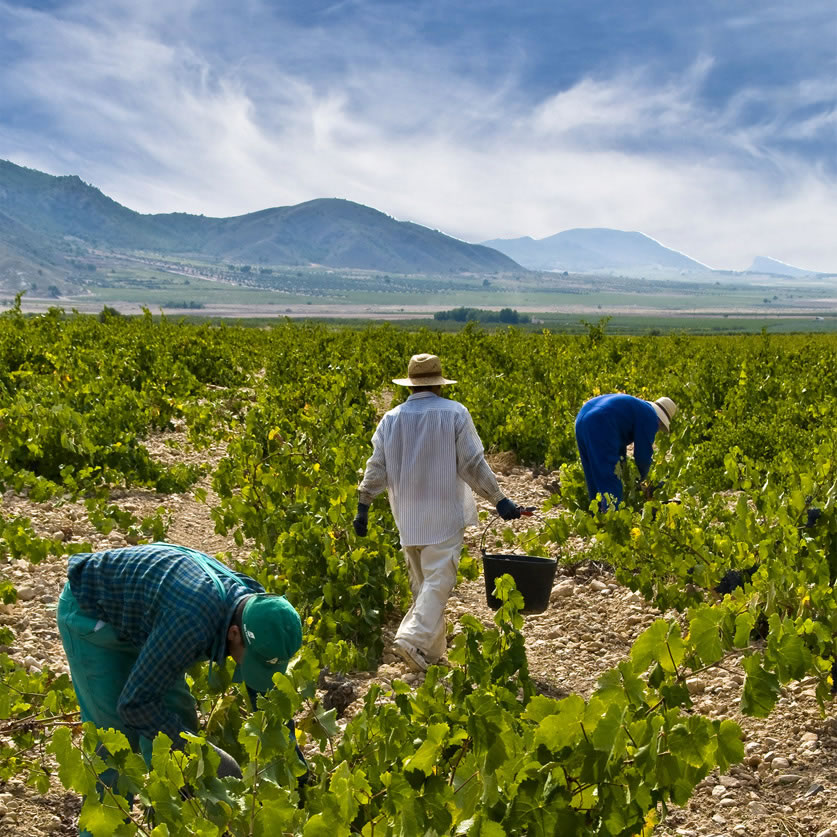 Talk a little bit about the soil and the climate in Jumilla.
Unlike these other areas, like some of the cooler climate areas, it's predominantly a sandy clay. It's very, very hot. The thing is too they don't really need to irrigate. The clay and certainly a little bit of gravel maintain a lot of the moisture. That's something throughout pretty much all of Spain; the quality it has it just seems to maintain the moisture. Although last year, they've just come off of a pretty big drought where they suffered quite a bit and they started to get dehydrated.
But in Jumilla itself and in Almansa, where we make this wine here, they're all predominantly sandy soils and gravel and a little bit of rock, but not much because it's a fairly flat area. A few valleys in there, but not cool climate.
What kind of grapes work best there?
Anything really. You won't get the structure you do of some grapes like for instance Garnacha up north, in cooler climates. The Cabernet works well here. Syrah doesn't seem too only because the clones aren't that great in Spain. Cabernet works well. Of course Monastrell is the king or Mataro or Mourvèdre or whatever they call it. That's the number one grape varietal. That seems to work really well with warmer climates. They seem to really thrive under hot climates.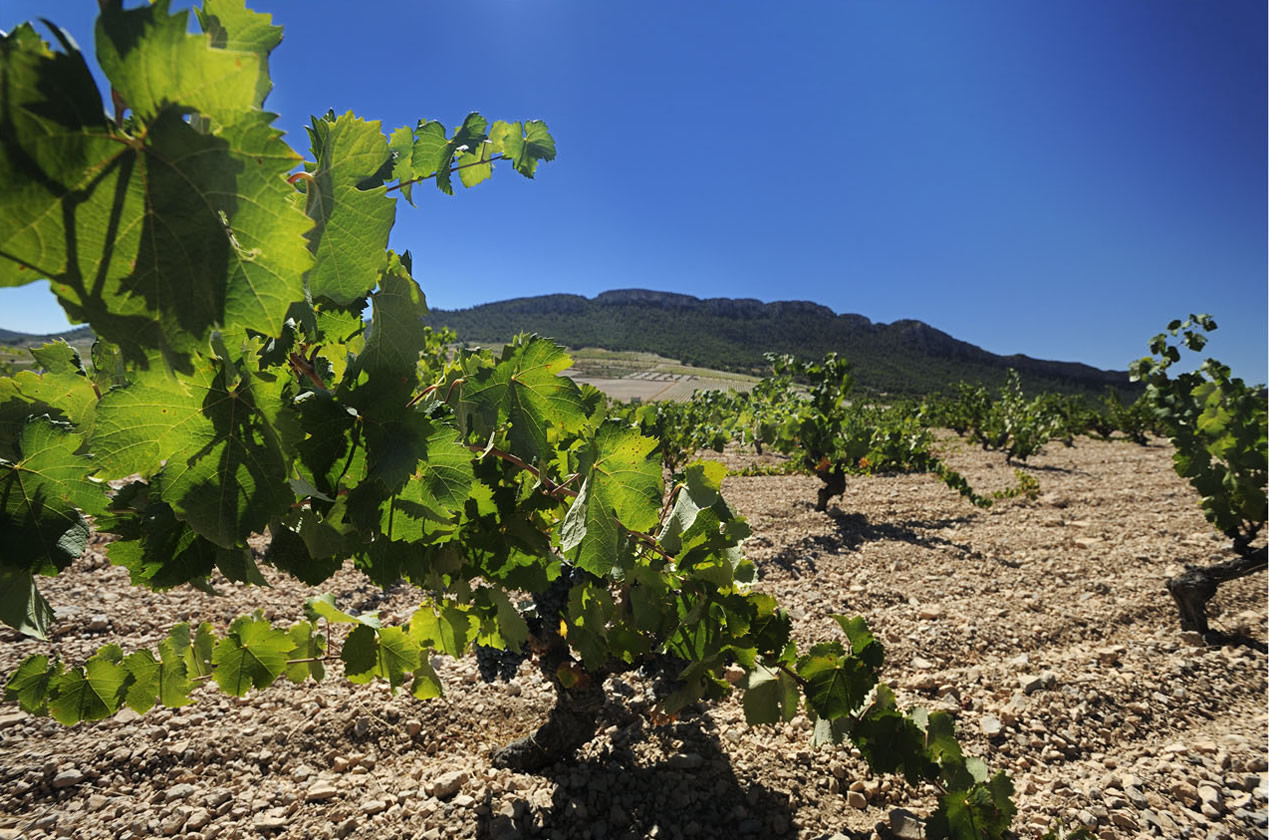 Why does Mourvèdre or Monastrell do so well in that climate?
It would do well in any climate, but I think Monastrell has always been to me a blending grape although a lot of people make varietals like we do. The winemaker at Juan Gil makes wonderful 100% Monastrell. I think essentially that sort of climate gives you the most fruit and Mataro needs to have that primary fruit, that sweetness of fruit.
So planting it there is a lot better than say planting it in Priorato because you're never gonna get that fruit. You'll probably just get some linear green characters if that makes any sense.
So the warm climate grapes like Shiraz, although that's a workhorse that goes anywhere, you know Cabernet grows anywhere as well depending what style you want.
South of France has a lot of Mourvèdre.
And in an area like Bandol, the Mourvèdre is getting very, very high prices. What's amazing is you're getting extremely good wine and the prices are very reasonable. How do you do that?
Fruit prices. I mean Bandol is a great example because that area, although there is quite a bit of Mourvèdre, there's not as much as there would be down in Jumilla.
I have some in Atalaya, one of our newest wineries. But the clone is a bit different, the root structure is different to the one down in Jumilla.
Look, I guess, it's just the price of fruit. You know the more popular a wine gets and an area gets like Napa for instance, the higher prices, the growers they want to dictate to people the price of that fruit.
So, I guess in an area like Bandol or that area it's just because they're popular. And the growers, if they buy fruit, which they would, they'll ask higher prices because the know what prices the bottles are going for. The growers over there have always maintained the same price.
And, you know, it's because of the co-ops; they set the prices. They're never gonna go high because they're making wines of three or four, five dollars. So we're lucky in that respect.
I mean we pay a lot of money for good Monastrell, we have our own, which we really, really nurture and cut down the yields and stuff like that. So the secret to Spanish wine is in general is the fruit is a good price and good quality. Like nowhere else in world. Well, the Riverland in Australia probably is the cheapest, but ...

Frank, talk a little bit about the organic wine that you're making at the moment.
The organic wine really started out as, to be truthful with you it started off as a bit of a marketing thing. The demand was there and we can pretty much make anything you want. The next one will be a vegan wine, you watch. Everyone will want a vegan wine, so we're gonna have to, we won't filter with egg whites. Anything to do with anything poultry or meat or anything won't be involved in it. But you know everyone asks me that and we really make our wines very organic across the board.
I use such minimal sulfur. I don't really need to put sulfur in it, but I do it just so that it controls the yeast more than anything else. I think it's a trend that's going to go away really quickly, to be honest with you. I'm not a great fan of the wines. I think they lack a bit of structure.
We rarely use any treatments in the vineyards. We don't really need to. We don't have a bird problem or a bee problem. The climate down south in particular, if it rains the winds will dry it up so we don't need to use any sulfur or anything for botrytis or mold. So really it just came around as a marketing thing.
I think it's a lovely wine, but as soon as it stops selling, we'll pull the pin on it.
You're a fan of organic wines, I can tell. For you what's the difference between an organic wine taste-wise?
So firstly a wine has to taste good, that's the primarily objective. If you have an organic wine or a conventional wine and it doesn't taste good, it doesn't matter what you're doing, it's bad wine period.
And there's plenty of bad organic wine and there's plenty of bad conventional wine, but I generally feel that spraying pesticides, spraying herbicides with all of the problems that we have with food in the world right now and rates of cancer going up and all of this stuff, you just don't know what some of these things do, right?
Yes, sure.
So, if you can not use them and there's certain parts of the world where farming organically is very difficult because of things like mildew, but then, I personally would prefer not to have them involved in the products that I consume. But, again, I think for me the most important thing is that you're making a great wine primarily.
Yes, no, I totally agree with you. Like I said before earlier, I rarely spray. I don't use a lot of chemicals and stuff like that. In fact, we don't in the whole 10 wineries, but we're not certified as such and we probably never will be because we don't sort of care about it.
I agree with you. I think they should really focus more on the orchards of the world and some of these other things. They really spray a lot. I mean the companies, the oranges and all the citrus fruits and that is a huge, but anyway that's another story.
So, anyway I look at, we did 100% one, it's 100% Monastrell.

So Frank, talk a little bit about Almansa.
Almansa, I wasn't familiar with Almansa in 2009 when Miguel spoke to me about coming over and helping him with his particular winery. I'd never heard of Garnacha Tintorera, the main grape variety. I talked a bit before about a co-op mentality, all of the Garnacha Tintorera apart from maybe two or three wines that are in the marketplace in the whole of the tiny DO of Almansa that made into table wine. The rest of it went to the co-ops and they just made their little wines and off they went.
But the big thing about how it survived so long especially the old vines is a lot of the Italians were coming down back in the day from Piedmonte and Tuscany and buying Tintorera to blend with Nebbiolo or Sangiovese. The thing is about Tintorera, which is Alicante Bouschet is English, has the darkest pulp out of any single grape. So you open up a Ccabernet or a Shiraz and that's sort of white with a tinge of pink, this is like blood orange, blood plum, sorry. So that's the whole history behind it.
Oh, and I didn't like many of the wines. I thought they were pretty simple and ordinary and I started doing something a little bit different and making it quite ripe and picking it by hand. And fermenting it very, very fast so it doesn't get lots of phenolics and lots of nasty phenolics and it's been really successful. It's been great.
How would you describe those wines?
New World in style with a sort of Châteauneuf-du-Pape edge. I'm a big fan of the Grenaches from down there. Although our wines are not as oxidative as they are. I love American Cabernet and Napa Cabernet and I love the Zins you used to make over there. Stylistically, not only that, but I had to make it that style to make it interesting so I pick it ripe, I pick it about 30% raisined fruit so lots of fructose. Some people say it's sweet, but it's actually just fruit sweetness. I don't add sugar and stuff like that and then I just blend it with a couple of things to make it interesting like Monastrell with Shiraz, Cabernet or Merlot or something like that, but predominantly La Tintorera gives you an incredible nose and a flavor like nothing else. A lot of black olives and balsamic. They're quite rich wines. Although the babies I've made have quite a bit of finesse and are drinkable food wines and really, really inexpensive.
And how old are some of the vines you're working with?
In that particular area the oldest is probably about 65, 70 years old. Age really doesn't really matter with Tintorera. A lot of them now are pulling it off because this co-op mentality that I was talking about, the volume is more. They'd rather get paid more for kilos than quality. But we've pinpointed a lot of the vineyards we've got our own too we look after to keep the yields down to raise the quality.
And Frank do you have a philosophy of winemaking?
I like so many wines. I have to taste the fruit I think more than anything. As far as winemaking goes, but then again too I'm a little bit of a, I'll make styles to fit the marketplace as well, so I know what people like to drink and so I'll make those styles. I don't really have a philosophy.
I spend a lot of time in the vineyards. If anything, I spend the majority of the time in the vineyards. The rest of it is easy as most of your winemakers would have told you. So I spend a lot of time looking after the vines. Making sure all the guys look after them and the soils and the pruning and this and that.
So, I think the fruit to me is the most important thing and tasting the fruit. The rest of it doesn't really matter that much. It does, but it doesn't.
And I've seen some photos. Some of the photos of the estate, you have like these old gnarly bush vines. It's a pretty spectacular physical place.
It is, yes. It's extraordinary. There's some fruit out of the Tempranillo winery we've got over there that we think is probably older than 140 years old, but is staggering about this particular vineyard and like you said all the other ones are quite virile. This thing's got massive trunks taller than me. Year in year out we have to prune it twice to keep the yields down because it just grows; it's extraordinary. Some of it's dying, some areas. Some of the old vines don't last very long, but yes. You know majority, I think probably about 90% of all the grapes that we use are old vine. That's pretty impressive.
And so we're trying to maintain that because a lot of people are like, I'll make Prieto Picudo out of this area in Castillo Leon, a great variety where there's people are starting to recognize there that they love and I love it too. It's almost Pinot-esque, you know loose clusters, tiny. The government now of that area is giving the growers money to rip out the old vines and put in trellised Merlot and god-knows-what because it's all volume. This is what we're up against every single year.
And you know the poor guys want to make money, I guess. So we're paying more for better fruit, keeping them happy and maintaining the old vines, which is important.
And what wines do you personally enjoy drinking other than your own wines?
No, I don't like drinking my own wines. I'm sick of it. No, I do (laughing).
I love French Champagne, I do. I can't afford it half the time, but in the younger days I did. I mean I never bought a house until I was older, but I spent a lot of money on older Krugs and Salons and I'm big fan of the Jacques Selosse when I can get my hands on it. I love white Burgundy, I mean who doesn't, you know. Coche-Dury '03 Corton Charlemagne, greatest white wine I've ever had. I can't afford it now at $900 a bottle. I love all wines really if they're made properly.
You know, I love Napa Cabs. To me the best Cabernet in the world comes out of Napa.To all due respect to Bordeaux.
Yeah, but French Champagne and white, now at my old age, white Burg.
And what kind of foods do you recommend to pair with the wines that you're making?
I think all our wines benefit from food. Monastrell is one of those wines too that is so soft, the acidity and the tannins are so integrated and soft that you can have it by itself. But some of the other wines here because of the structure and the tannins in particular, they really are better with food. And the thing is too, we're in a culture where everyone drinks with food. Especially, Spain. I mean you can't have a glass of wine without having some tapas or something.
So, I think all of them benefit from food, really They certainly taste better with food. But the Atalaya wines, especially the entry level ones, they're all soft and light enough to drink just by themselves.