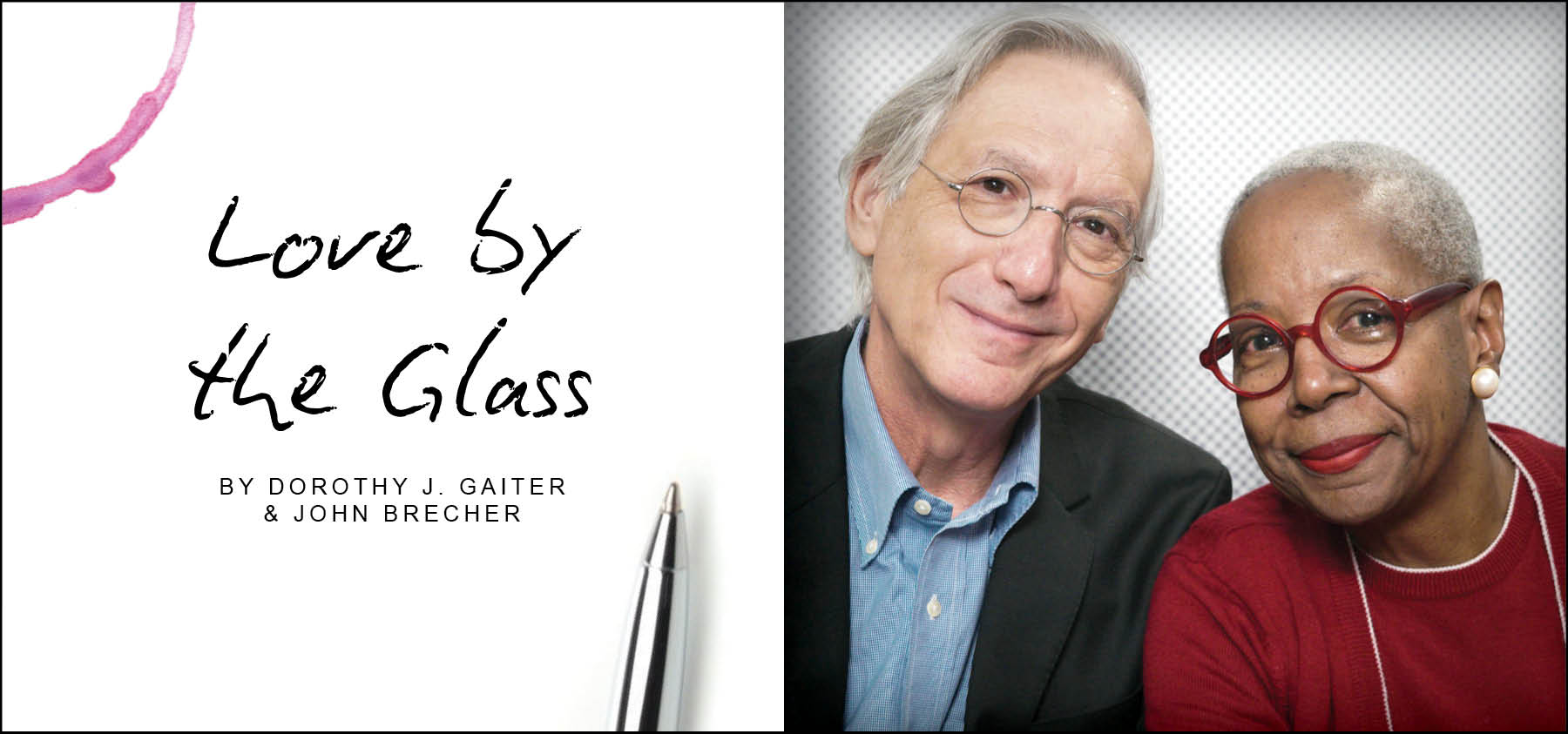 We had another column planned for this week, but just a few days ago we tasted a wine so impressive that Dottie said, "We have to write about this right now!" We have had a long and happy marriage. John said, "I agree!"
This will be our 45th Thanksgiving together. Thanksgiving is a time to celebrate America and American bounty, so we believe a born-in-the-USA wine is right for the occasion. For years, we recommended Cabernet Sauvignon with some age on it and we would still drink to that. To us, Cabernet has the kind of stature and complexity to stand up to a substantial and often contradictory meal (white meat, dark meat, candied sweet potatoes, corn pudding…)
But this year we have a curveball. How about an American Merlot? Really.
We were never big fans of American Merlot. We found it sweet and simple. As always with wine, there were exceptions. Way back in 2001, our best-of-tasting among higher-priced Merlots was a then-unknown wine called Paloma that almost made us weep with joy, and Duckhorn has been a reliable name. But even most of the better Merlots lacked the layers of taste and interest that keep us talking throughout a bottle. And this was long before "Sideways" made Merlot a joke.
In the past couple of years, things have changed. We've tasted several Merlots that impressed us. You could have knocked us over with a cork. So this year, amaze your taste buds and your friends by rediscovering thoughtful American Merlot. Here are four we've liked at several price points (and, before you ask, if you want to serve a white, too, try a dry Riesling, perhaps from New York, Michigan, Oregon or Washington).
Napa Valley Winemakers: Janet Trefethen from Christopher Barnes on Vimeo.
--Toad Hollow Vineyards from Sonoma County. This is not a "serious" wine – the frog on the label is a strong hint of that – but it's charming and friendly, with what we called "plain-spoken fruit and unabashed earthiness." (It's light enough that it can benefit from a slight chill.) This is the kind of wine that your guests might be skeptical about, and then drink lustily. One of the challenges of Thanksgiving dinner is finding a wine that will please most people; this will. It only costs about $15, and who wouldn't be thankful about that?
--Steele Stymie from Lake County. This is made by the famous winemaker Jed Steele, who has an amazing ability to put value into a bottle. We wrote of this: "Classy. Fine structure. The wine was even better with lamb, with a velvety texture, enhancing tannins and elegant, minerally and acidic fruit that complemented the food. It's a wine we'd proudly serve to company." It's about $35.
--Trefethen Family Vineyards from Oak Knoll District of Napa Valley. This is a wine of beautiful balance from a historic Napa property. It's rich, but avoids the excesses of some California Merlots. In an interview with Dottie, John Trefethen said of Merlot: "It's been a long struggle to rebuild the name and we're there now because not only are some of the finest wines in the world made from Merlot but the people who are making it now are very serious about it." We especially liked the 2014, but the 2103 is also very good. This is about $35.
--Mt. Brave from Mt. Veeder in Napa Valley. Yowee! The Mt. Brave is the wine that got Dottie (and, OK, John, too) so excited. We had the 2015, which is very young (it needs decanting), but already gorgeous. The first three words we used were "classy, structured and impressive." But the word we kept coming back to was "spicy." We guessed it had some Cabernet because of the structure, some Petit Verdot because of its nice weight and maybe even a touch of Malbec because of the spice. Nope, it's 100 percent Merlot. This is the kind of wine that truly shows what the U.S. can do with Merlot – it was not only delicious but endlessly fascinating to us -- and therefore would pair perfectly with this great American dinner. It costs about $80.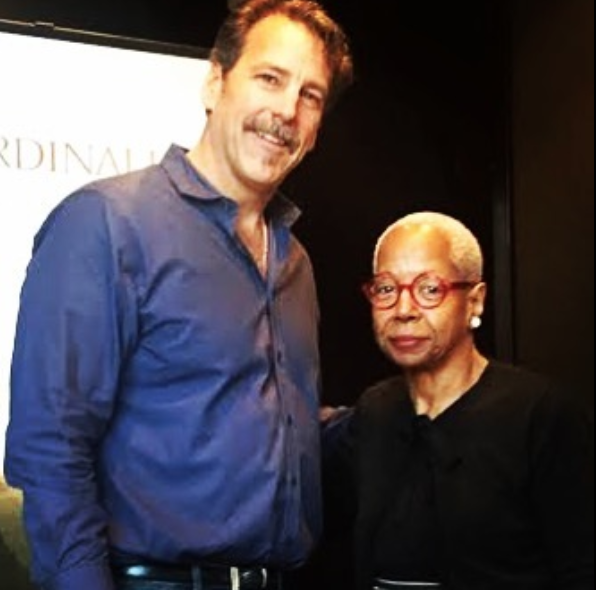 We also liked La Jota, from Howell Mountain ($85). This and the Mt. Brave are both properties of Jackson Family Wines, which sent us the bottles for tasting. Both were made by Christopher Carpenter (photo left with Dorothy J. Gaiter), whom Dottie spoke to earlier this year about his stunning, mountain-grown Cardinale Cabernet Sauvignon. When we talked with him a few days ago about the wines, he told us he had been speaking a lot lately about Merlot in anticipation of Merlot Month, which was October.
"What I think is happening is that the places where some of the weaker Merlots were being grown are gone and what's left are these jewels, these sweet spots around Napa Valley for Merlot and we happen to have a couple of them," he said.
The grapes from Mt. Brave Vineyard were grown at seriously high elevations, from 1,400 to 1,800 feet, in the northern portion of the Mt. Veeder AVA, a legendarily sweet spot. In 2007, Jackson Family Wines purchased the land, which had been Chateau Potelle. Mt. Veeder's history with wine runs deep. Wine has been made from Mt. Veeder grapes since the 1860s by hard-headed people who refused to believe the location was too rugged and extreme to support grapes. We have read that the Mt. Brave name refers to them and to the Native Americans who lived there long ago. We visited Chateau Potelle Winery a few years before it was sold and had a picnic under the watchful eye of Opus, the Dalmatian owned by the winery's then-owners, Marketta and Jean-Noel Fourmeaux.
Carpenter, 52, told us, "I didn't go through a replant plan right away. I wanted to see how the varieties did in balance with the desires of our marketing and sales efforts and such and the Merlot just turned out to be this incredibly distinctive, powerful wine that spoke to everything that is Mt. Veeder but with a different variety that I hadn't at that point played around with on Mt. Veeder.
"I presented that wine to our owner at the time, Jess Jackson, who has since passed. I said, 'Hey, Jess. I think we have a really good wine here and it just happens to be a Merlot. What do you think?' And he said, 'Well, how much of it did you make?' I told him we made only 200 cases. Then he said, 'OK, let's give it a shot, it's not too much."' They make only about 300 cases today.
That spice that we tasted -- where did that come from? The location, Carpenter said, adding, "I would be remiss to say that none of it is from the barrel. I use spicier barrels with that but a lot of it is just to enhance the spice that's already there." The wine undergoes native malolactic fermentation in barrels and not stainless steel, which Carpenter says is key. It's aged for 22 months in French oak that's 95 percent new.
The La Jota is made from fruit from two historic, neighboring Howell Mountain vineyards: W.S. Keyes vineyards, the first vineyard planted (1888) on Howell Mountain, and La Jota, planted 10 years later by Keyes's neighbor, Frederick Hess. Carpenter made the first vintage of La Jota Merlot in 2005, a year after "Sideways." Did he or Jackson, a consummate entrepreneur and visionary, have any second thoughts about launching a new Merlot label then?
"Not in the least," said Carpenter, who was named winemaker for La Jota that same year. "Keyes vineyard was the wellspring for Duckhorn's Howell Mountain Merlot back in the '90s," he said. "I had been working with that Merlot for a while because the Merlot portion of Cardinale is from that exact block."
He added: "Jess wanted to create a wine that was new to La Jota and that was our contribution to the history of La Jota."
The first year, Carpenter made 200 cases and now he's up to a little over 1,000. Unlike the Mt. Brave, the La Jota is 10 percent Petit Verdot, which he says adds structural tannins, black pepper and spiciness.
"That wine has become very popular as people have discovered it and have understood that this is a wine that has its own character, its own distinction and speaks to what can be done with Merlot on a place like Howell Mountain," Carpenter said.
What does he think of our idea of having one for Thanksgiving? "That's fantastic," he said. "Why not have both?"
Hmmm….
Dorothy J. Gaiter and John Brecher conceived and wrote The Wall Street Journal's wine column, "Tastings," from 1998 to 2010. Dorothy and John have been tasting and studying wine since 1973. Dottie has had a distinguished career in journalism as a reporter, editor, columnist and editorial writer at The Miami Herald and The New York Times as well as at The Journal. John was Page One Editor of The Journal, City Editor of The Miami Herald and a senior editor at Bloomberg News. They are well-known from their books and many television appearances, especially on Martha Stewart's show, and as the creators of the annual, international "Open That Bottle Night" celebration of wine and friendship. The first bottle they shared was André Cold Duck. They have two daughters.
Read more from Dorothy J. Gaiter and John Brecher on Grape Collective
Banner by Piers Parlett