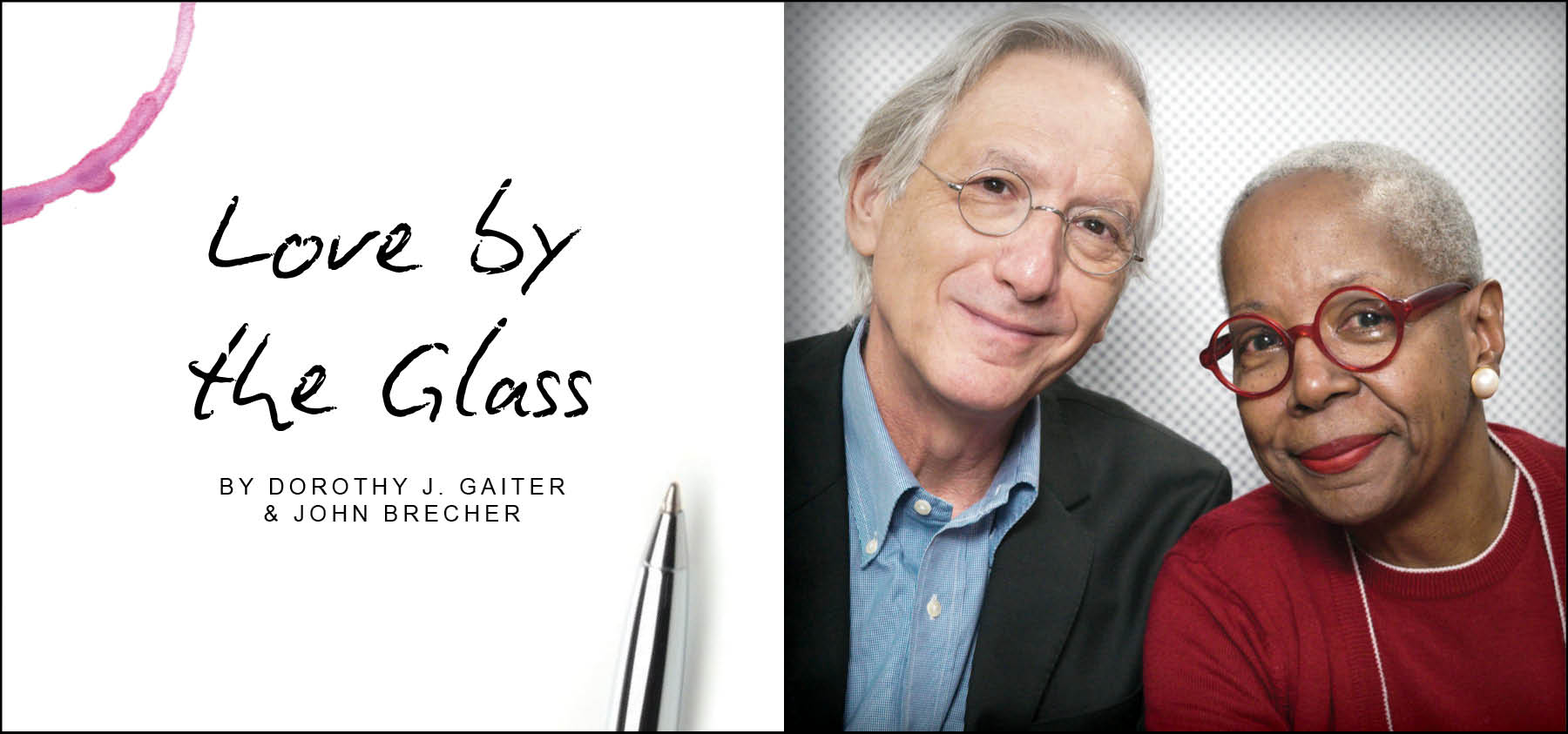 The holidays make us think of old wines and it's not just because we believe an American Cabernet Sauvignon with some age on it is lovely with Thanksgiving dinner.
The Thanksgiving part is fairly easy to explain. Rituals of giving thanks are found around the world, but our version is not only a feast day but it also buffs America's origin story. The elegant tastes of an older American Cabernet mesh well with the meal without feeling like yet another dish, as some heavier wines could.
Holidays are about history, tradition. It's when we use special dishes and glasses. It's when we share our reasons to be thankful. Sometimes we trot out older stories. At Christmas, we talk about the history of every ornament as we put it on the tree. And, of course, when we light the candles of the menorah, the story we tell binds us with the past.
So, we have always seen this as time for older wines, wines with history. Although we usually open a Cabernet, some people believe Riesling goes well with Thanksgiving dinner. They age beautifully, too, as do fine bubblies.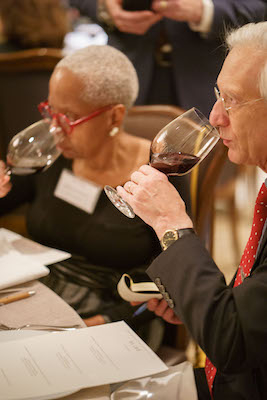 We were musing on this recently when we attended a dinner to celebrate the 40th anniversary of Newton Vineyard in Napa Valley at which we were able to taste older and younger Cabernets side-by-side. It was quite an experience.
You're probably familiar with Newton, but when was the last time you bought one? That's pretty much why the Newton folks organized this dinner at New York's famous Per Se restaurant. Here's the story:
Peter Newton was an Englishman who built Sterling Vineyards, accessible by aerial trams, near Calistoga in 1964, when the modern Napa wine industry was young. A serious lover of French wines, he was said to have had one of the best private cellars in London. Newton founded Sterling with business partners in an earlier venture, a San Francisco company that specialized in marketing tissue and pulp paper. Published accounts say he had convinced his employer in London, the Financial Times, to send him to San Francisco in 1950 because Anne St. Aubyn, an American woman he'd met in London, lived there. He married Anne in 1951 and they had three children. She died in 1970, at 40. In 1976, Coca-Cola bought Sterling Vineyards. For those who don't remember, Coke thought wine and soda somehow fit together corporately, which is probably in a business book somewhere about bad ideas along with Exxon Office Products.
Deciding in 1977 to build another winery, Newton chose a forbidding place: Spring Mountain. You hear a lot about wine made from mountain fruit these days and Spring Mountain is a famous part of Napa now. However, back then, it was just a crazy place to try to create a winery, with steep, challenging hillside vineyards and even a terrifying ride to the winery. The estate is west of St. Helena. In 1979, Newton married Dr. Su Hua, who is Chinese, and the winery released its first wine. Newton's estate, with its environmentally progressive practices and its many formal gardens, reflects both their cultures.
We remember when Newton's wines first hit. They were a sensation. They had a combination of ripe California fruit and French-like structure and elegance. The wine world was abuzz. Newton's unfiltered Cabernet and Chardonnay became justly famous. First released in 1990, the Unfiltered Chardonnay was the first Napa Valley wine to put that method on the label, according to the winery's notes.
Newton's first winemaker was Ric Forman, who had been his first at Sterling, and became famous in his own right. He's credited with having made the first vintage-dated Merlot, while at Sterling. Soon after hiring him there, Newton sent Forman, then 25, to France to study winemaking.
Other well-known winemakers also worked at Newton including John Kongsgaard, credited with introducing unfiltered Chardonnay in Napa. Kongsgaard's assistants included Aaron Pott, Pott Wine; Andy Erickson and his wife, Annie Favia, Favia. Erickson also worked at Harlan, Staglin and Screaming Eagle; Nick Peay, Peay Vineyards; Lupe and his son Hugo Maldonado, Maldonado Vineyards. Others who worked there include Jean Hoefliger, a managing partner and winemaker of Alpha & Omega; and Stephen Carrier, a Bordeaux specialist.
Newton's vineyards spread across 170 acres on four distinct sites, all becoming certified organic: Spring Mountain, site of the original one-square mile vineyard, and home to Bordeaux varieties; Mt. Veeder, Cabernet and Chardonnay; Yountville for Cabernet; and coastal Carneros, for Chardonnay.
Of the 560-acre Spring Mountain estate, only 73 acres are vineyards and they are in 70 blocks that are picked by hand and vinified separately so that Newton's team might learn what each expresses. The other vineyards get the same labor-intensive, thus expensive, treatment.
In 2001, the luxury-goods company LVMH Moët Hennessy Louis Vuitton, which owns Château d'Yquem, Krug, Moët & Chandon, Hennessy, and Cloudy Bay among others, bought a majority share in Newton Vineyard. The Newtons stayed on to run it for a few years, sometimes with Michel Rolland consulting. Before too long, the buzz seemed to disappear. There were other wineries on Spring Mountain now. Napa wines became bigger, jammier. It wasn't clear where Newton fit in. To us – and many wine lovers – it kind of fell off the map.
Then, in 2005, the company did something that the current managers refer to simply as "the mistake." It created a "red label" line, less-expensive wines intended to be "entry level."
"It created a lot of confusion. It had the name of Newton but it wasn't made by Newton," said Jean-Baptiste Rivail, Newton's general manager. "Different sourcing, different AVA, different winemaker, different facility – and also different consumer."
So to "protect the identity of Newton," he said, the company spun the red label off. It is now a stand-alone part of LVMH with the name Skyside. That happened last July.
The creation of lower-tier offerings was common then: Robert Mondavi created Woodbridge. Beaulieu created BV Coastal. These inexpensive wines can be cash cows, but they can also dilute the brand.
Jim Caudill, communications director for Treasury Wine Estates, which owns Beaulieu, sent pictures of the 2017 Coastal Estates Cabernet Sauvignon in response to us asking if the line was being discontinued.
"That's not quite right," he wrote. "As you can see, the BV Logo has been moved off the label, but it is still 'vinted and bottled by Beaulieu Vineyard' on the back label.'"
"For wineries that offer several tiers of wines at varying price points, consumer confusion can arise," he explained. "It's not so much that a lower tier is diluting a brand, it's just that the various tiers are sold in totally different channels, with different expectations and needs for both those tasked with selling the wines and the consumers searching for their favorite."
Peter Newton and Su Hua were divorced in 2005 and she now lives in Switzerland. Newton died in 2008 at 81.The family retains 10% of the company, a spokeswoman said. (Newton's son Nigel is the genius who founded Bloomsbury Publishing Co., which took a flier on a much-rejected book about a boy wizard, Harry Potter.)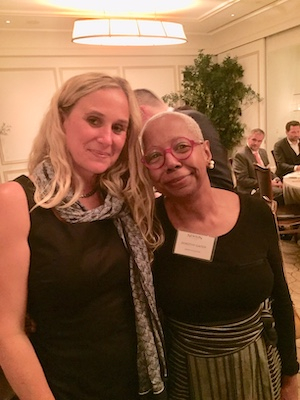 Meanwhile, Newton Vineyard's profile continued slipping. We found them disappointing. LVMH decided it needed a reboot. It authorized a generous budget and in 2014 brought in Rob Mann, a Cabernet specialist who had been named Australia's Winemaker of the Year and was from a wine dynasty there. He had made the 2007 Newton Cabernet during a break from his regular job, according to a Jancis Robinson column.
In 2017, LVMH brought in Rivail, the general manager, whose family has been wine merchants since the 1790s in the French Alps, and also run restaurants and hotels for generations; and Mayacamas Olds, head of viticulture, whose father was the winemaker at Mayacamas when she was born, thus the name. Alberto Bianchi from Milan, who had worked at wineries around the world, including Newton in 2014, was named head winemaker in 2016. Mann returned to Australia in 2017. Philippe Melka, of Bordeaux, is consulting winemaker at Newton and other wineries.
(Mayacamas Olds with Dottie)
So we were at Per Se to hear the Newton folks talk about how they are recommitted to elegant wines that express a sense of place. They talked passionately about preserving the past while moving forward, in concert with nature, as the Newtons had stressed. They talked about the remarkable diversity of sites they own and farm and how they want to find a way to make the most of them, separately or together. They expressed pride in the newer single-vineyard wines for their ability to "express their place."
The first wine they served was a stunner. It was a single-vineyard 2017 Chardonnay from Beckstoffer Carneros Lake Vineyard. Served at a perfect temperature, it was beautiful: restrained, elegant and exquisitely balanced.
Later, Bianchi told us that the fruit from this vineyard has been used in Newton's Chardonnay for years. But in 2017, he had picked it at a different time and from different blocks and when he tasted it, he thought it deserved to be showcased. This was the first vintage and they made only 300 cases. Beginning in January it will be sold only from the winery, $120, and through the wine club.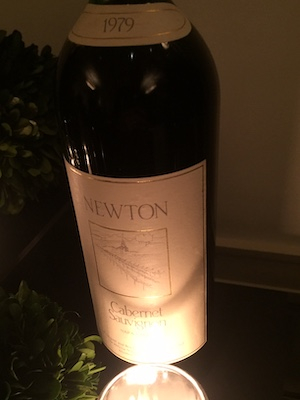 As the night progressed, we tasted Cabernets from 1999, 2016, and 1979, the very first vintage, as well as a 2007 Bordeaux blend called The Puzzle. And we thought of Thanksgiving. The Unfiltered 1999 was still beautiful, with plenty of fruit and good acidity. The Unfiltered 1979 was remarkable. It was 40 years old, but still quite lively at first, with an earthiness that was attractive, great fruit still, and nice pings of acidity. The younger wines were lovely but seemed, well, really young, in comparison. We imagine they will age beautifully, too. The 2016 will be released in March at around $210.
The point here wasn't really the tasting notes per se (as it were). It was the sense of the wines. There is simply nothing in the world like a well-aged wine. It has a kind of wisdom that can't be replicated. As Bianchi said, "It's sort of like knowing someone. They have a soul and 20 years later, it's going to be different but hopefully he's going to be himself still, but with the baggage of knowledge," complexity.
The new Newton team found validation for its efforts in the winery's first release, the 1979 Cabernet. "It has been the wine that most pushed us to love the property because it's the wine that has been telling us that this property can make great wines and wines that last through time," Bianchi said. "It really is proof of something that is in existence there. We just have to make it, we just have to express it."
When the grapes for that 1979 were harvested, we were newlyweds in Miami, and had been just contacted about a job in New York. In 1999, Media and Zoë were nine and 10. Now Media is a blissed-out newlywed and Zoë, our rock drummer, just had one of the best shows of her life with Samantha Urbani at Webster Hall.
Isn't this what holidays are about, reveling in family, past, present, with hopes for the future? So, if you have a cellar, break out some of the older stuff and celebrate the memories. If you don't, find a reputable merchant and buy an aged bottle or two. These don't have to be expensive. While you'll certainly pay big bucks for a famous old Napa Cabernet, there are so many older wines that most people don't know can age – Muscadet, Gewürztraminer, less-famous Bordeaux in a good year – and a good merchant can help you find one.
Celebrate history, family and the winemakers themselves with those bottles. Happy holidays.
Dorothy J. Gaiter and John Brecher conceived and wrote The Wall Street Journal's wine column, "Tastings," from 1998 to 2010. Dorothy and John have been tasting and studying wine since 1973. Dottie has had a distinguished career in journalism as a reporter, editor, columnist and editorial writer at The Miami Herald and The New York Times as well as at The Journal. John was Page One Editor of The Journal, City Editor of The Miami Herald and a senior editor at Bloomberg News. They are well-known from their books and many television appearances, especially on Martha Stewart's show, and as the creators of the annual, international "Open That Bottle Night" celebration of wine and friendship. The first bottle they shared was André Cold Duck. They have two daughters.
Read more from Dorothy J. Gaiter and John Brecher on Grape Collective.
Banner by Piers Parlett