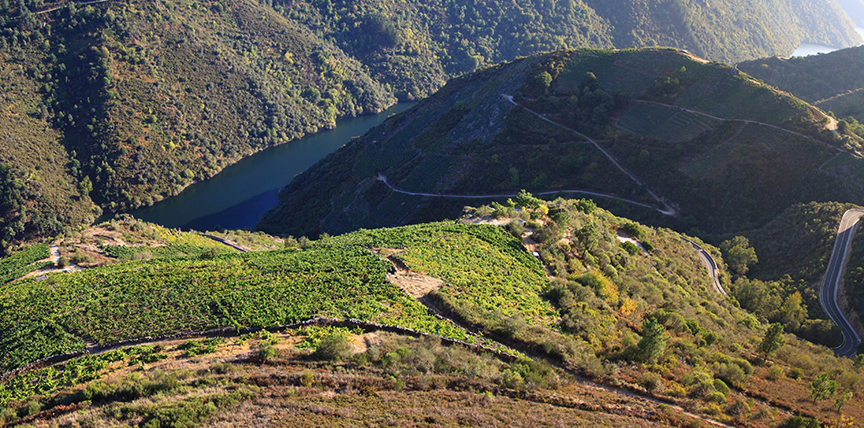 These days the buzz word in Spanish wine, is Godello. It seems to be on everyone's lips and palate. If you're familiar with Spanish wines, you'll have heard of, or tried, this recently revived white wine.
The Godello is a beautifully malleable grape that is likened to Chardonnay. Some makers produce a wine that is light and lively, refreshing; some go in the other direction and create something oaky and creamy, bringing us back to the Chardonnay comparison. Eric Asimov describes it as, "versatile and somewhat neutral, greatly reflecting in its aromas and flavors the methods of the winemaker," in his May, 2012, New York Times article.
Originally from the town of Godella, in Valencia, where it was planted in the 1800s by a local baron. Later, it was transported to the northwestern region of Galicia, where it was grown successfully, but then almost eradicated for the more productive Palomino grape.
The grape's recent revival centers largely in Valdeorras, in eastern Galicia; but it is being grown in other areas as well. The Valdeorras, or valley of gold, has a long tradition of wine making, going all the way back to the ancient Romans. It's fertile soil, and continental climate, make for good growing conditions.
At Castelo do Papa, where they produce an estate bottled wine that is organically grown, they go the way of aging in stainless steel tanks, making for bright acidity and freshness. Aromas and tastes of orchard fruits prevail, coupled with citrus notes. It has a lively finish with nice minerality.
Valdesil winery, owned by the Prada family, also produces Godello wines. They have been making wine here since 1885, so they know the grape well. Their Valdesil wine is aged on its lees, in order to bring out all the grape has to offer in terms of complexity and depth. There is nice minerality and acidity with this wine, along with full round flavor.
These are two great examples of what's being produced from the grape. And while there are still many opinions about Godello, and its versatility, it is gaining ground slowly but surely. Give it a try, and add your voice to the growing number of admirers.
For more on Godello check out Eric Asimov's New York Times Wine School