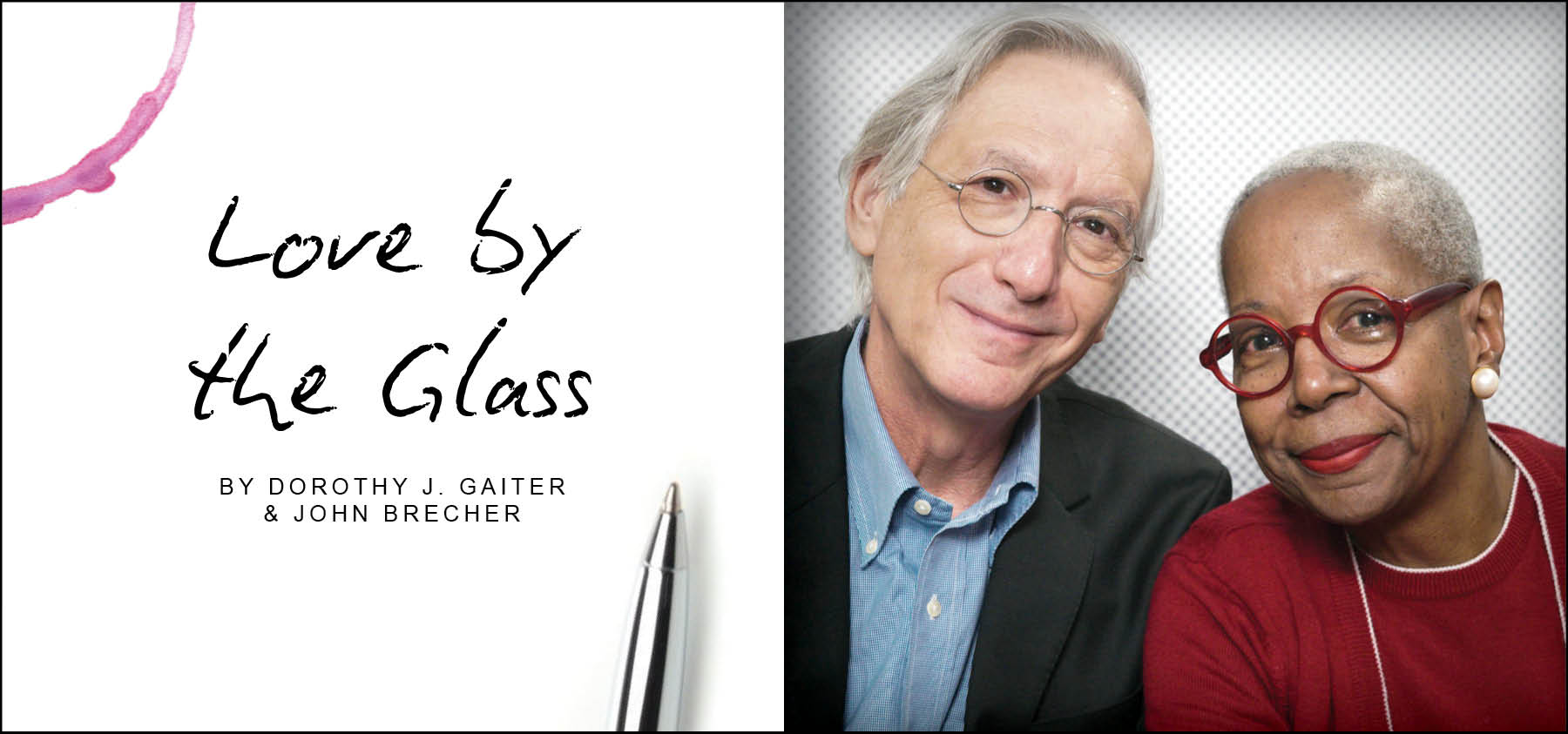 We celebrated Open That Bottle Night this year with Warren Winiarski. Two days before that, we had an early OTBN with Bill Harlan.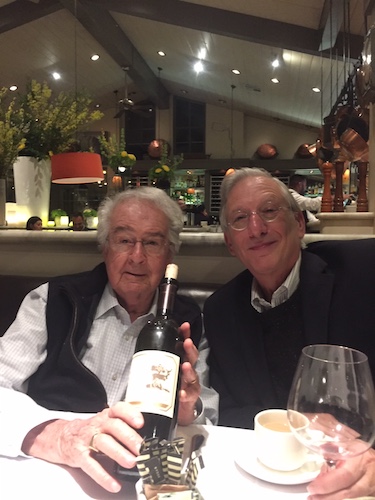 Now, seriously, if we were reading that, we'd think, "Oh, they're telling us that they had a wine from Stag's Leap Wine Cellars, the winery Winiarski founded, and a Harlan Estate." But, no, really, we celebrated with Warren Winiarski and Bill Harlan themselves. We didn't plan this and how it happened has left us more than a little star-struck.
(Photo: Warren Winiarski and John Brecher)
That's one of the great things about OTBN. It's not just about celebrating old memories, but creating new ones. And so many memories were popped open, along with wines, all over the world this year.
We invented OTBN in 1999 because it seems like everybody has that one bottle of wine that's too special to open. So we said, fine, on the last Saturday of February, let's all corkscrew up our courage and do it together. And, man oh man, did people do it this year.
In Dayton, Ohio, Jim Thacker had a Max Ferd. Richter 1991 Riesling from Germany that he bought years ago when ninth-generation Dirk Richter made a stop in Dayton. "I would have guessed this wine was no more than 10 years old," Jim wrote. "Great acid, sweet apple mid-palate, and a lengthy and dry finish. It never faded. Deviled and slow-roasted pork loin with a touch of heat in the mustard was a wonderful match."
In a cabin in northwest Wisconsin, Jayne Lock Larson celebrated with friends and a 2003 Hess Collection Mount Veeder Napa Valley Cabernet Sauvignon. "We chose this wine as we went to the Hess Winery in 2001 with these same friends," she wrote. They paired it with moose stroganoff. Moose? Yes, she replied – her husband, Gregg, and some friends hunted for moose in Sweden and, with all appropriate Customs clearances, brought back some meat.
In Hingham, Mass., Roy and Eileen Harris opened a 2012 Jordan Cabernet Sauvignon. We know from other participants that Jordan has been an OTBN favorite for years. "Eileen and I had been looking forward to our first OTBN," wrote Roy, a former Wall Street Journal colleague. "And, boy, did the Jordan deliver! Elegantly smooth," he wrote. "With the rare filet mignons this wine was perfect
(Photo: 2012 Jordan Cabernet Sauvignon)
Trish Barry, founder of New South Wales, Australia-based Mastermind Consulting, which represents restaurants and wineries, continued her longtime not-for-profit advocacy of OTBN with social media downloads and a how-to guide. Judia Black, founder of enJoie, a New York City-based wine and food lifestyle media company, opened a 2001 Barolo Sorì Ginestra from Conterno Fantino that she had been cellaring for more than a decade and pronounced it youthful.
And in St. Paul, Minn., Jeremy and Sara Stimpson were amazed by a 1989 Nalle Zinfandel, from one of our own favorite producers in the Dry Creek Valley of Sonoma. "This is a gorgeously mature wine," wrote Jeremy. "I feel like it's similar to when you have someone close to you that you know is getting older and you need to go one on last hurrah trip because they will never be better than they are in this moment."
Which bring us to our own, very unusual OTBN – or, we guess, OTBNs. Here's how they happened.
Months ago, the Symposium for Professional Wine Writers at Meadowood Napa Valley, a terrific program that helps wine and food writers learn and network, asked us to keynote this year's gathering. And they suggested that since the four-day event took place close to Open That Bottle Night, maybe we could host an OTBN party on closing night. We were thrilled.
So on Thursday night, surrounded on a beautiful Napa night by the splendor of Meadowood, a founder of the symposium, we gathered for a very special OTBN. Because most of us speakers couldn't bring our own wines, the organizers worked with the Napa Valley Vintners, another founder of the program as is the Culinary Institute of America, to find wines that would bring back special memories for us. And they sure did. Ellen Fort, editor of Eater SF, introduced a 2014 Larkmead "Solari" Cabernet Sauvignon with this story:
"I was engaged at this winery in 2012. My husband and I were headed back to San Francisco. He wanted to stop and have some wine and I was like, sure. The winery is so beautiful and so welcoming, just a lovely space. At the end of our tasting, he wanted to take a walk in the vineyard. We get out there and all of a sudden I'm like, sh*t, it's happening. Suddenly we were both full of nerves; he actually forgot to get down on one knee. I said yes, of course. The ring was a little too small, but I jammed it on there.
"We bought a few bottles. We saved those wines and we said we'd drink one bottle on our fifth anniversary and one on our 10th anniversary and we completely forgot. The good news: Now we're ready for Open That Bottle Night in the very near future."
We asked our hosts if there was any chance they could get a 1974 Robert Mondavi Cabernet Sauvignon for us to present. As John explained in his keynote address (fyi, Dottie got a standing ovation for her keynote; John didn't – just sayin'), the '74 Mondavi was one of our formative wines, so special to us that we opened a bottle every year on our anniversary well into this century.
The Mondavi wasn't available, but they did us one better: Robert Mondavi winery donated the 2001 "To Kalon" Reserve Cabernet and Charles Krug Winery donated 1974 Cabernet – two memories in one from one family! The 2001 was mind-blowing: rich with fruit, with tremendous elegance and real presence. This wine, from one of Napa's most storied vineyards, has many years ahead of it. But here's the thing: At the dinner, John, to his surprise, was seated next to Bill Harlan and Dottie was seated across from him.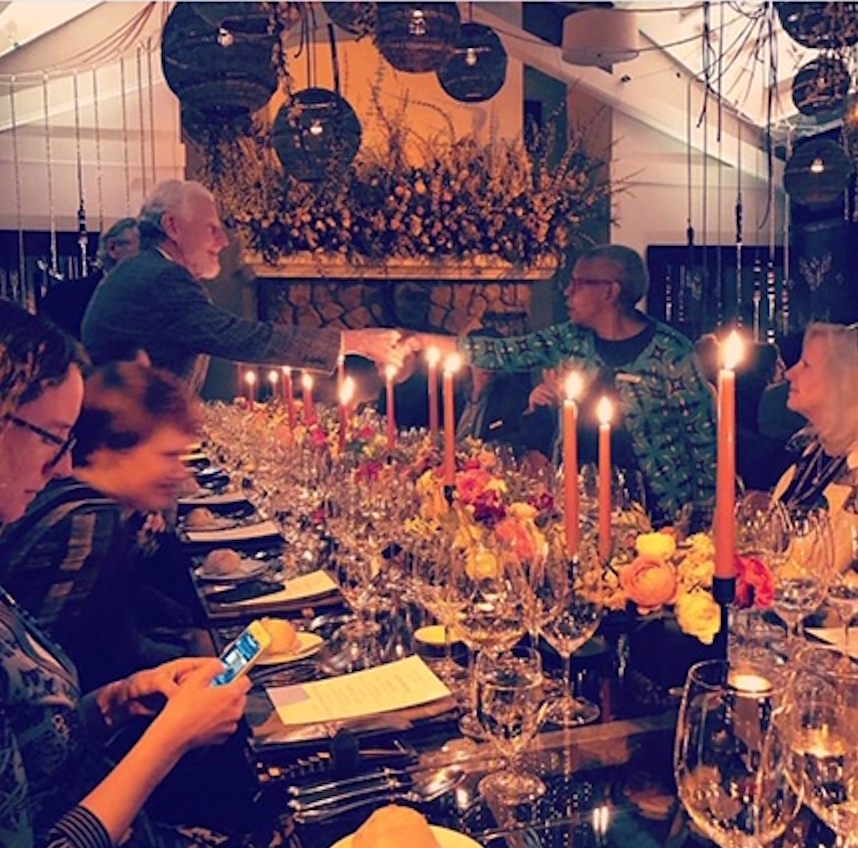 Harlan is the founder of Harlan Estate, the rare and spectacular cult wine, and founding partner of Meadowood. As we drank that Mondavi, Harlan told John the story of the first time Robert Mondavi asked him to lunch. This is the kind of experience that wine lovers like us can only dream about – and it's all thanks to OTBN. But, wait, there's more.
(Photo: Bill Harlan shaking hands with Dorothy Gaiter)
We were apprehensive about the '74 Krug. After all, it was older than almost everyone in the room. We discussed this with the Meadowood staff and decided not to decant the wine, but to open it just before it was poured. It might have just a peekaboo of fruit left, and we didn't want it to dissipate before everyone could taste it. We also figured the wine would change quickly and we really wanted the fellows to taste what that's like.
The wine was poured and … it was beautiful! At first, it still showed a great deal of sweet fruit – old, very relaxed fruit, but fruit nonetheless. In about 15 minutes, it became black-peppery, with a tad less fruit. In about a half-hour, it began to show some cola, and it lingered there a bit. But then, at the very end, it held a surprise: the lovely, ripe fruit taste became more ephemeral, and the aroma of dried roses intensified. It is a gorgeous wine, even now. We took an unfinished bottle back to our room and lit a fire -- in the fireplace.
We are happy to say that some of the fellows were so moved by our OTBN that they went home and had their own on Saturday night. Michelle Ball, the Lompoc, Calif.,-based features editor of Somm Journal, opened with her husband, Jeremy, a 1995 Longoria Cabernet Franc, which she bought when she worked at that Santa Barbara winery.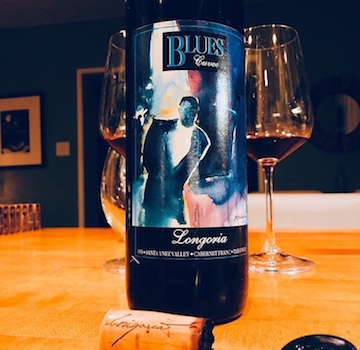 "I've actually been dragging it around to a few dinner parties where it hid in my purse, but never found the 'right time' to open it," she wrote us later. "When I learned about Open That Bottle Night (I'm embarrassed to say that was my first time!), I thought this would be the perfect occasion.
(Photo: 1995 Longoria Cabernet Franc)
"We picked up lamb chops and sous vide them with shallots, garlic and rosemary, pearl pasta and sautéed kale, green onions and a dash of guajillo chili. I waited until we were about to plate before opening the bottle thinking the wine might only have a few breaths left (and stood ready with a backup bottle).
"I carefully dipped my corkscrew in expecting it to fall apart. It was surprisingly intact. The first whiff was shocking: black cherry and menthol—I could not believe how much fruit it still had! When we tasted it, the tannins gripped our tongues and we considered decanting. I'm glad we didn't. The wine softened throughout the meal and quickly evolved. The flavors reminded me of a redwood forest after the rain, mingled with cherry, tobacco and even hints of chipotle. The lamb didn't have a sauce so the wine was really the star, yet the aromas from the lamb elevated the savory notes in the wine so I really didn't know where the food ended and the wine began. It blew away every expectation."
Which brings us to Warren Winiarski, who became famous when his Stag's Leap Cabernet beat the French reds in the Judgment of Paris in 1976. Dottie interviewed Winiarski, now 90, three years ago and they have kept in touch. When he learned we'd be in Napa, he said he'd like to see us. We had declined all other invitations, but Warren is an icon. We arranged dinner on our last night in Napa, Open That Bottle Night.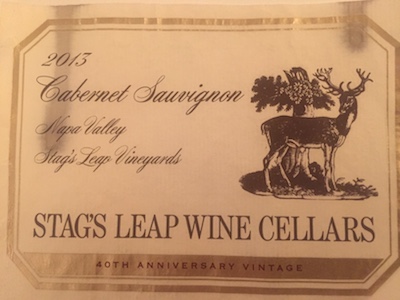 We met Warren and his wife of 60 years, Barbara, at Bistro Don Giovanni. They brought a 2013 Stag's Leap that, for the winery's 40th anniversary, has a throwback label that looks like the very first. Warren and Barbara told us how the label's design was influenced by Japanese art and culture, the notion of balance, and how they had found the centuries-old wood engraving of the stag.
(Photo: 2013 Stag's Leap 40th Anniversary label)
The Winiarskis sold the winery, but they still live on the grounds and Warren had a large hand in designing the new facility.
Warren is a philosopher. So on OTBN, we asked him a question that we're often asked and which seemed particularly appropriate for that night: How do you know when a wine will be at its best? He smiled, his eyes glistened and he said simply: "It's always losing something. It's always gaining something."
It was a beautiful moment. And we hope you had some beautiful moments on OTBN and will in the future. Don't take our word for it. Listen to Bret Baker and Marsha Cole of Grove, Okla., who have celebrated OTBN with friends – mostly the same friends – for years. Here's how they described some of the wines the three couples had this year: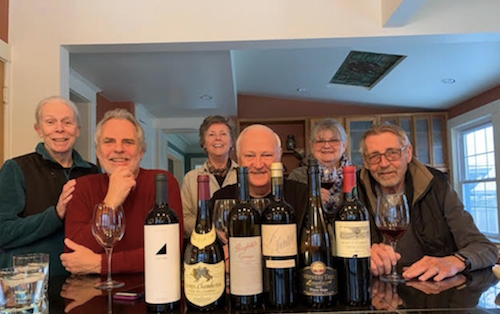 "The 2001 Grange was a (very nice) hostess gift to one of the couples from a friend many years ago. We need to invite her to dinner again soon.
(Photo: Bret Baker and friends)
"The 2008 Philippe Leclerc was purchased when the six of us were sharing a wonderful hotel barge trip on the Canal de Bourgogne a few years ago.
"The 2005 Witness Tree was from an earlier wine trip that four of us were on. We stayed in a floating house on the river. But what sticks in our mind from that winery visit was a little wiener dog that was running down the hill so fast trying to keep up with its owner on a bicycle that its back legs were nearly passing its front legs."
They added: "We love OTBN. We just don't understand why even more people don't embrace it."
Indeed. But if you think you missed OTBN this year, well, you didn't. Any night can be Open That Bottle Night. Make a special meal, turn off the phones and uncork the memories. You'll probably create some new ones, too.
Dorothy J. Gaiter and John Brecher conceived and wrote The Wall Street Journal's wine column, "Tastings," from 1998 to 2010. Dorothy and John have been tasting and studying wine since 1973. Dottie has had a distinguished career in journalism as a reporter, editor, columnist and editorial writer at The Miami Herald and The New York Times as well as at The Journal. John was Page One Editor of The Journal, City Editor of The Miami Herald and a senior editor at Bloomberg News. They are well-known from their books and many television appearances, especially on Martha Stewart's show, and as the creators of the annual, international "Open That Bottle Night" celebration of wine and friendship. The first bottle they shared was André Cold Duck. They have two daughters.
Read more from Dorothy J. Gaiter and John Brecher on Grape Collective