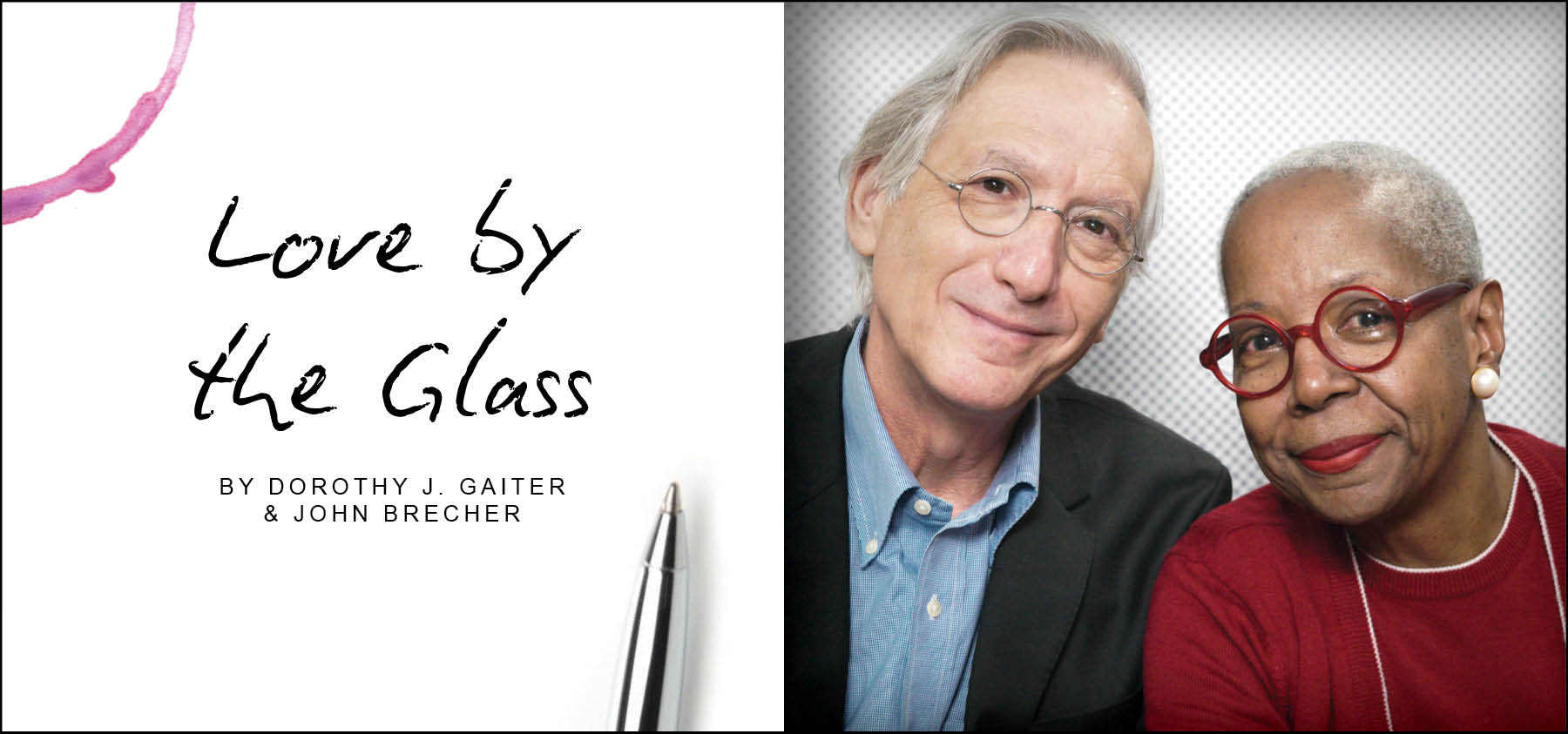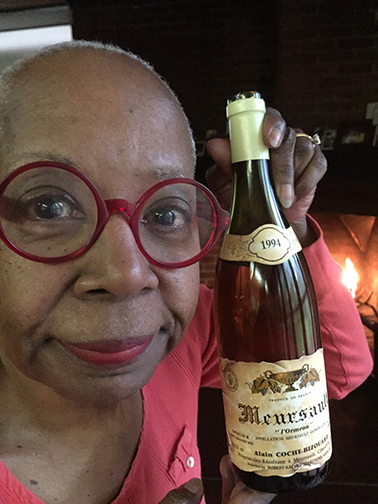 When we bought our country cabin 20 years ago, someone told us about a magical place nearby called Crabtree's Kittle House Restaurant & Inn, where the vibe was elegant yet relaxed, the food was delicious and the wine list was awesome. This was not fake news. The stunning thing about the wine list wasn't just that it was massive, but that it included all sorts of well-tended old treasures at very reasonable prices. We once had a 1993 Savennières there for $28, the kind of experience with an old white Loire that we never could have imagined. It was spectacular.
Now, because of the pandemic, Kittle House, in Chappaqua, N.Y., is one of many fine restaurants across the country selling its wines curbside along with food. If you live in an area where this is legal, for now, we'd urge you to check this out, as we did – and it isn't just the 1994 Meursault talking.
You might be saying to yourself, hey, why would I want to go to a restaurant and pay an outrageous markup when I can get the same wines at a retail store for less? For sure, we'd urge you to continue to support your local wine store, which needs and deserves your business right now. It's also true that far too many restaurants everywhere offer a tired selection of the same old-same old at inflated prices.
But here's the deal, and we do mean the deal: A number of restaurants around the U.S. have extensive collections of older wines they have kept well for a long time and have not marked up aggressively as the years have gone on. They have wines, some of them quirky, that you would likely not find anywhere and probably not at these prices. And even if you could find them, you wouldn't necessarily know where they've been and how they've been kept.
We trust John Crabtree and his fabulous list, which over the years has been pared down to what is now: 5,000 selections for a total of 45,000 bottles. For two decades, his place has been our go-to for special occasions. Its sister restaurant, RiverMarket Bar & Kitchen in Tarrytown, is owned and managed by Glenn Vogt, whom we first met at Windows on the World. Vogt is also wine director at Kittle House. We started taking the girls to Kittle House in 2000, when they were nine and 10, and the restaurant could not have been more welcoming. When one of Dottie's big birthdays coincided with a pig roast at Kittle House, we went and were introduced to Captain Lawrence beers, part of Crabtree's support of local products. When Media turned 16, we threw her a dinner party there and its banquet manager helped us with a special menu.
"There are incredible values on the list," Crabtree told us, adding that the day before our call he had spent 10 hours inventorying the entire cellar, calling it "a monumental feat" that he hadn't had the time to do for years before the pandemic.
The 14 rooms at the inn have gone nearly empty, he said, and the banquets part of the business, a huge part, has also taken a hit. "We're doing what we can with the drive-up service, but you can only do so much. It's almost like building a new business from scratch, creating a new business model," he said.
Many restaurants have their entire wine list online, so you can spend all the time you like deciding if there is some hidden gold there for you. In many cases, we find that, even with a discount, the wines are too expensive for us. Some lists are overweighed with famous bottles, from Lafite to Screaming Eagle, at the expense of the interesting and sometimes obscure bottles that attract us.
But take a look at the wine list at Capo in Santa Monica, Calif. Heavens, it makes us want to move cross-country. For instance, we have a special affinity for older Gewürztraminer, which is difficult to find. Among theirs (and, of course, some wines might have been sold): 2002 Stony Hill, for $30; 2002 Navarro ($50); and 2000 Rene Mure "Vorbourg" Grand Cru from Alsace ($70).
And there's this: 2002 Londer, from the Anderson Valley of California. This winery had just one acre of Gewürz and the winery went out of business in 2013. This, its second release, is a piece of history, extremely rare, and it's $40. There's even a 20% discount on some wines.
Kittle House does not have its entire list online. Instead, it offers a limited selection along with a to-go food list (under New York's emergency law, restaurants can sell wine out the door but only with food; state and local laws differ). We called, anonymously, and asked if John could come by and look through the entire wine list when he came to pick up our food. They said they'd find a safe space for him and he could choose several bottles.
So, on a Thursday afternoon, covered in protective gear, John showed up at the door at Kittle House, where he was led by a masked manager to a room and then handed the 155-page wine list. Much of it is far out of our price range (but if we were looking for a vertical of Romanée-Conti for tens of thousands of dollars, there it is). And John wanted to do this as quickly as possible, so he looked for older, possibly unusual wines that we could afford. He bought five that he wiped down at home: Gilbert Picq & ses Fils Chablis "Dessus La Carrière" 2013 ($55); Alain Coche-Bizouard Meursault "l'Ormeau" 1994 ($85); Domaine Tempier Bandol "Cuvée Speciale" 1995 ($100); Pira Barolo Serralunga 2000 ($95); and Lingenfelder Spätburgunder Trocken 1996 ($35).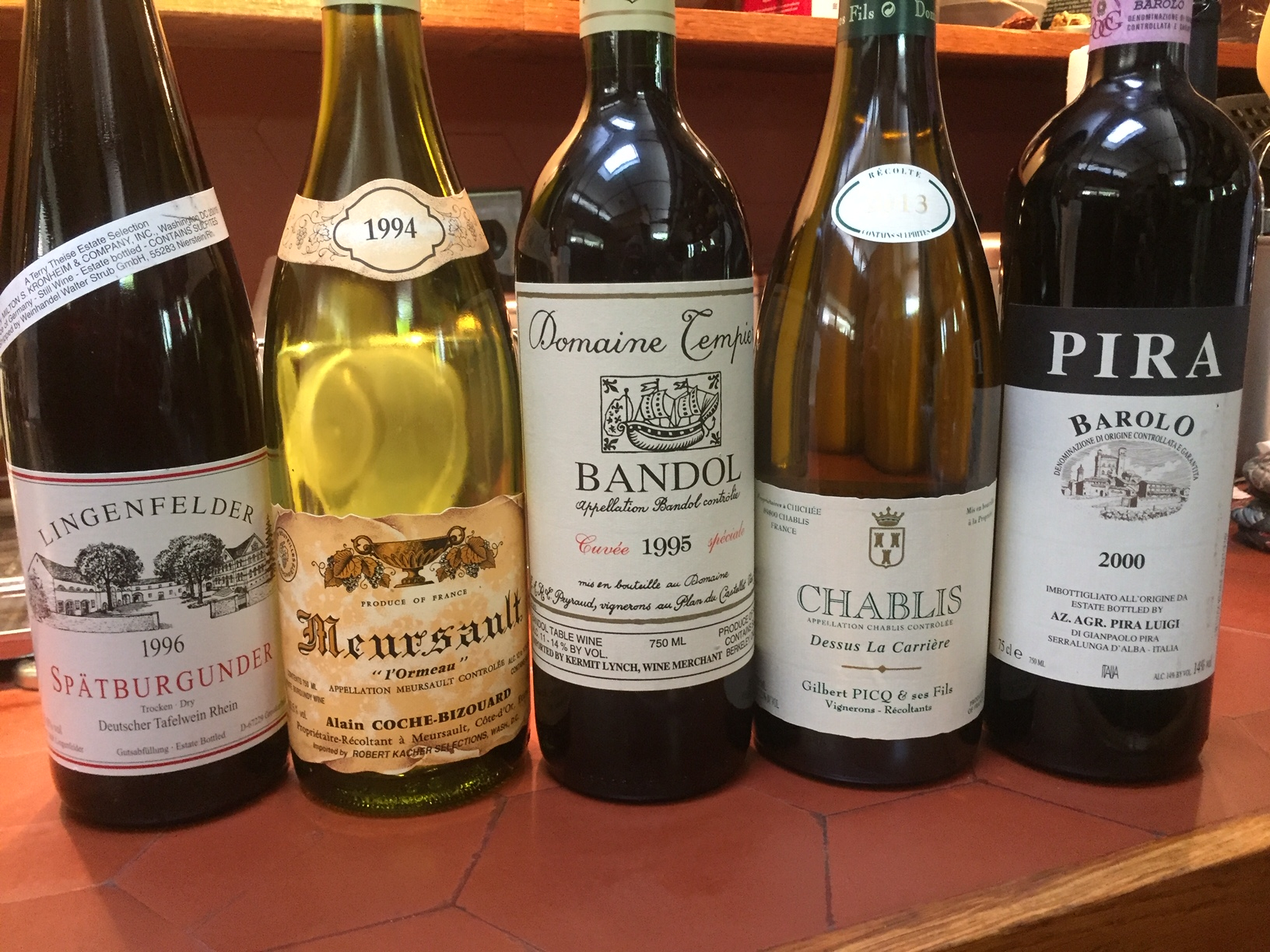 Each had an excellent fill and appeared to be in fine shape, as we'd expect of Kittle House-stored wines. Still, some could be risky because of their age and none more so than the Spätburgunder. This is what Pinot Noir is called in Germany and we've always been fond of it because of its earthy yet ephemeral tastes. They can be so hard to find in the U.S. that we once traveled to Assmannshausen, on the Rhine, to taste them at the source. We would not recommend anyone rush out and buy a 24-year-old Spätburgunder, but $35 certainly seemed like a small price to pay to see how this wine had developed.
Crabtree said he hasn't put the whole list online because it changes so frequently. "Because they've been there on the list for 15 or 20 years, sometimes we're down to the last one or two bottles and if someone has his heart set on it, we may have to say we're sorry, we just sold the last one. That happens a bunch. So I like to let the full list out on an individual basis. If someone asks for it, I'll email it to them," he told us, emphasizing that caveat.
People have sometimes told us they'd like to be a fly on the wall when we talk between ourselves about wine. No, they wouldn't. We have 46 years of tasting together, which means we have shortcuts and references and wine-geek vocabulary that no one would understand or want to understand, like a language used by twins. In the case of these wines, we had one per night over five nights while the sun set and then with dinner. We drank each for two to three hours as they went through the lifecycle that we love so much about older wines.
Our tasting notes are endless, but we loved each wine in its own way. What was most extraordinary was how much each wine changed and changed again. It was tremendously entertaining. We described the Meursault as "like a Broadway play in a glass" and we called the Spätburgunder "performance art." We wished the whole world could taste the Chablis, which seemed to vibrate with concentrated tastes. It was heavenly with our food from Kittle House: John's Organic Potato Gnocchi with snap peas, shiitake mushrooms and brown butter and Dottie's Mac 'n Cheese with four cheeses, both entrée sizes enough for meals the next day.
Crabtree was pleased when we told him how much we had enjoyed the wines, especially the Spätburgunder. "People like you know what to look for," he told us.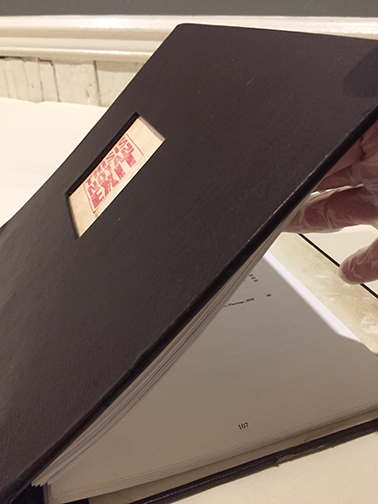 John said that as he left Kittle House, cars were lined up to pick up curbside orders. "It was like that scene in 'Field of Dreams' with the cars winding their way to the lit-up baseball diamond," we told Crabtree, who laughed at the image.
"A lot of our customers have been doing it almost just to support us," he said, including some famous neighbors. "The Clintons have been great, too, ordering a lot of family stuff and doing kids' meals. It's almost like a community spirit kind of thing. Our longtime customers are supporting us and we're giving them an abundance of food."
Like us, Crabtree noted, "a lot of people are also saying they want the big list and some are picking some really esoteric stuff. Others are telling me, 'You select the wines for me.' One guy asked me to select $1,500 worth of Pinot Noirs. So we pulled some from Oregon, Sonoma and Burgundy, some from New Zealand. Selections from all over the place."
We never could have enjoyed these wines as much at the restaurant because, at home, we had more time and we could talk endlessly in our secret language.
So do yourself and your local restaurant with a great list a favor. Support the people and institutions whose continued labor makes all of this possible. In a Zoom discussion last week, "The Future of Restaurants Post COVID," hosted by Dan Petroski, winemaker at Larkmead and owner-winemaker at Massican, hospitality industry figures made a plea for government and consumer support to help the industry, citing the loss of millions of jobs in the food supply and delivery chain, from those working in restaurants to farmers and packers on down to people who deliver food to customers' homes.
To do your part, pick up a wine with some wisdom, buy or plan a meal to have with it and celebrate tasting something at home that you probably never otherwise could have experienced.
Dorothy J. Gaiter and John Brecher conceived and wrote The Wall Street Journal's wine column, "Tastings," from 1998 to 2010. Dorothy and John have been tasting and studying wine since 1973. Dottie has had a distinguished career in journalism as a reporter, editor, columnist and editorial writer at The Miami Herald and The New York Times as well as at The Journal. John was Page One Editor of The Journal, City Editor of The Miami Herald and a senior editor at Bloomberg News. They are well-known from their books and many television appearances, especially on Martha Stewart's show, and as the creators of the annual, international "Open That Bottle Night" celebration of wine and friendship. The first bottle they shared was André Cold Duck. They have two daughters.
Read more from Dorothy J. Gaiter and John Brecher on Grape Collective.
Banner by Piers Parlett