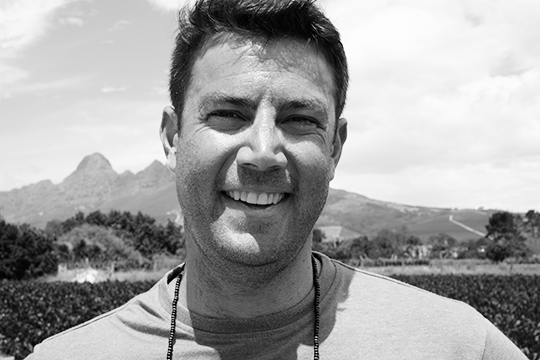 Radford Dale was established in 1998 to focus on site-specific wines from multiple areas in South Africa rather than regional blends (which have historically been a common feature of South African wine). The winery is based in the Helderberg which is part of the greater Stellenbosch wine region located about 30 minutes from Cape Town. Radford Dale also owns the brand Winery of Good Hope which shares the same philosophy and management team. While not certified organic the team eshews chemical products in the vineyards in favor of using natural practices to increase the organic compositions of soils including promoting specific insects, composting and encouraging beneficial fungus.

Grape Collective talks with winemaker Jacques de Klerk about the evolution of winemaking in South Africa and the benefits of crafting site specific wines.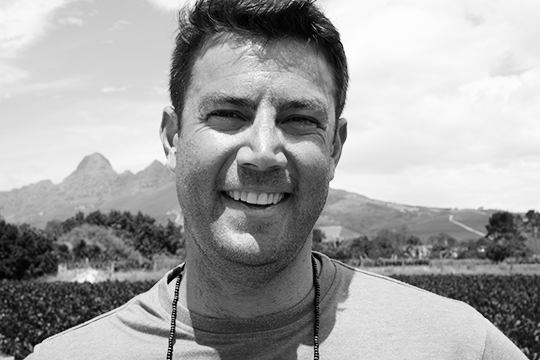 Jacques, talk a little bit about the history of Radford Dale.

Jacques de Klerk: Radford Dale was started by two guys, Ben Radford and Alex Dale when they were both employed at a winery, very close to where we are now called Longridge. That was in 1998 and it didn't take long for them to realize that they were onto something with their little side project and soon after they quit their jobs and developed this Radford Dale brand into a business. And then in 2003, we moved onto this property where we are now and we've spent the last 20 years really refining the ethos that they intended it for. And that is site-specific, single-terroir, single-vineyard in some cases, wines of character and immense drinkability.

What is different about wines that have a site-specific profile?

South Africa is a very diverse place in terms of the terroir that we have here. We've got high mountains, we've got maritime influence, we've got continental climate. And so in many cases, even wines at the sort of the mid-tier range would be multi-regional blends. And so that would mean fruit from various different terroirs would be blended together. And that wouldn't really reflect a time and a place set in the same way as a single-site, single-vineyard wine could. And that's really always been our goal, searching for special parcels that reflect and express a unique sense of time and place.

Tell us a little bit about the terroir, the climate, the soils that you get in Stellenbosch.

We are situated right now in the Helderberg, which it's an area that forms part of the larger Stellenbosch and we're only about six kilometers from the sea. And that means that we get quite a nice maritime influence here. The prevailing wind around here is the southeaster in the summer and we're perfectly situated here to take advantage of what we call the Helderberg air conditioner. It's basically the southeaster that brings all the cool air from over False Bay straight into these vines. So that's a big part of what makes this place special. Another is the unique kind of soil type that we have here. It's quite rare in this part of Stellenbosch to see this very rocky, very gravely kind of soil top called coffee clip. And so it's quite a poor soil and that makes it perfect for growing grapes that are intended for premium wines. There's an inherent struggle in the vines that creates a lot of character in the wines eventually.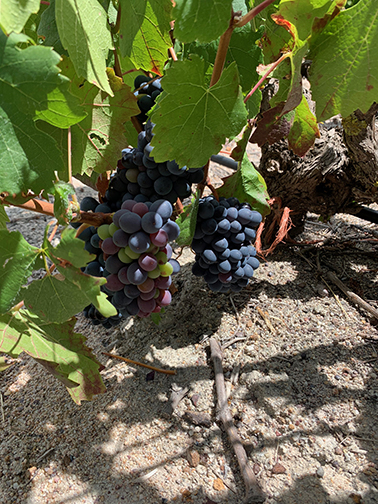 Jacques, tell us a little bit about your philosophy of winemaking and your philosophy of viticulture.
We take a holistic view. In so many cases in the New World, but specifically South Africa as well, there's a large distinction between viticulture and oenology and in many places you'll see that there's a viticulturist hired and a winemaker and the two positions don't really overlap. We don't believe in that. We take the classic view that it's a whole, so viticulture and oenology and winemaking, it's all intertwined. So that's one part of it. We also believe that less is more in terms of input. Our winemaking philosophy is very much based on a low and in some cases no intervention philosophy. And that really is important if you want to capture a moment and a place, the character of that, for you to not interfere too much. Because each little manipulation that you do kind of erodes that snapshot of a time and a place.

How do you work farming your vines?

We believe that good farming is good farming, whether you call it organic or you call it biodynamic, or whatever the certification there is. We believe very much in working with the soil. It's not just a growth construct for us. We believe that it's a living breathing thing and so for many years now we've not used any chemical fertilizers. We mulch a lot. We use cover crops and then we use very little tilling in our soils and this is all to try and increase the organic material in it and improve the structure of the soil, which then improves the diversity of microorganisms, yeast, bacteria, saprophyte, all these kinds of things which then benefit the plants in the sense that it provides a wider range of nutrients. And so that is the basis of it.

And when you have a healthy soil, generally the plants tend to be healthier as well. And that means you are less dependent on broad-based fungicides and this kind of thing. Also, we believe that a vineyard can have its own sort of immune soil system in that you can have a balance between good fungus and bad fungus. And in many cases you can develop that to a point where the good bacteria and the good microorganisms can actually control and suppress a lot of the bad microorganisms. As opposed to a lot of chemical farming where you would come through with a broad-based fungicide and just kill everything. And in this vacuum that you've now created, the bad organisms will always dominate first, which then leads you to the situation where you have to maintain that vacuum all the time. And so, you're spraying every two weeks with some really nasty fungicides and things like that.

So we're trying to develop in the vineyard, this kind of natural balance and that has worked very well. I mean, we're less dependent now on all of these chemical inputs than we were even 10 years ago.


Talk a little bit about Pinotage. It's a grape that is famous in South Africa. In other parts of the world you don't see Pinotage. How would you describe it to somebody that's not tasted Pinotage?

Well Pinotage, as many grapes in South African history, has a bit of a checkered past. I'll take the Chenin Blanc example. For a long time, it was considered a very unnoble variety and that it was only good to make large volumes of some pretty nasty bulk wine. And of course distilled for brandy and that kind of thing. Pinotage has had a similar story. It's a very, very misunderstood grape. It's parentage reflects the kind of grape that it is, its mother is Pinot Noir. Its father is Cinsault and yet in some circles it's being made to do Cabernet work and that is a bit of a square peg round hole situation for me. Our influence when we started working with Pinotage was always sort of based around our understanding of how to work with Pinot Noir and subsequently our style is a lot lighter and more refreshing with the difference that Pinotage is a very generous variety in terms of its color, its aroma and its flavors as well as its texture.

So this sort of very light approach really benefits it because you don't have to beat this grape up for it to come out of its shell. In fact, the lighter you treat it, the better the result.

Talk a bit about the benefits of working with bush vines.

Well, there are many, but I think specifically for Pinotage, it's a great situation in which you have the fruit that is carried sort of within the bush of the vine and so it's less exposed to direct sunlight as you might find on a trellis vine. So what you get is much less infrared light because the light that makes it onto the bunches is reflected and refracted and sort of filtered light, which then really gives you an opportunity to extend the ripening period a little bit instead of a very rushed kind of phenolic ripening. You've got a long drawn out, very deep ripening and that gives us the opportunity to ripen the tannins to a much bigger degree than you would have had in a trellis vine.
Take a 360-degree virtual reality tour of South African wine regions. This experience only works in certain browsers including Google Chrome. You can also experience the VR tour directly via the Youtube app.

Can you describe the history of winemaking in Stellenbosch.
Vines have been around in Stellenbosch since the late 1600s. Stellenbosch is the second oldest town in South Africa. And as long as there have been Western settlers here, there have been vines but Stellenbosch was for many years, much more of a sort of a mixed farming, mixed agriculture region. And for a long time, especially sort of in the '60s and '70s, the big cash crop around here was actually tobacco. And that is why a lot of the big tobacco companies are still based here in Stellenbosch. But it became cheaper for that commodity to be imported from the neighboring states. And so the bottom end of that market fell out, which then in the late '70s, I would say probably early '80s led to this proliferation of vines and then 1994 came, democracy came, and the world was interested in South Africa, and wine was one of the things that people wanted to know.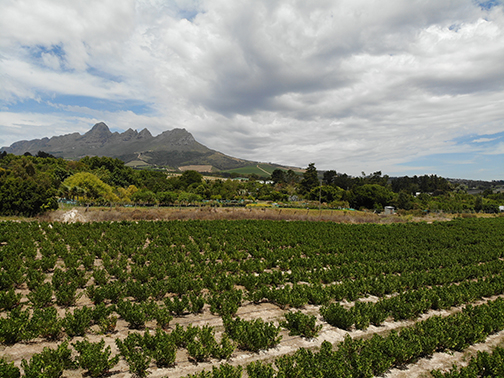 And then there was a boom and viticulture in Stellenbosch got a lot more sophisticated, there were a lot more estates established then and also the amount of growers grew very quickly. Stellenbosch has a reputation of being the premier region in South Africa. And there are very good reasons for that. I mean, I've already touched on this proximity to the sea. We've got great soils for it and the fact that we have winter rainfall and we have relatively cold wet winters and long and dry summers lends itself to a Mediterranean climate and that is very good for making the kind of wines that Stellenbosch produces.

Jacques, with South Africa's apartheid past, how does the wine industry deal with issues of diversity?

Well, it's an interesting question. Of course, it's also a very complex question, but there are various initiatives in place at the moment such as the Cape Winemakers Guild Protégé Programme, which identifies young wine winemakers from previously disadvantaged backgrounds and develops them and gives them a leg up into the wine industry. There are also various education programs aimed at specifically at the wine industry to try and diversify the workforce in the wine business. One such a project is one that Radford Dale is involved and called Land of Hope.

And Land of Hope is in fact a wine brand that is owned by a trust. It's an educational trust and the proceeds from this one only pays for the education of the children of our previously disadvantaged staff. And this is to create the dynamic by which you could in one generation, go from a family who never had a university graduate into its first tertiary educated family member. So it's a way to completely change the future for a family in one generation.
Videography and photography by Piers Parlett