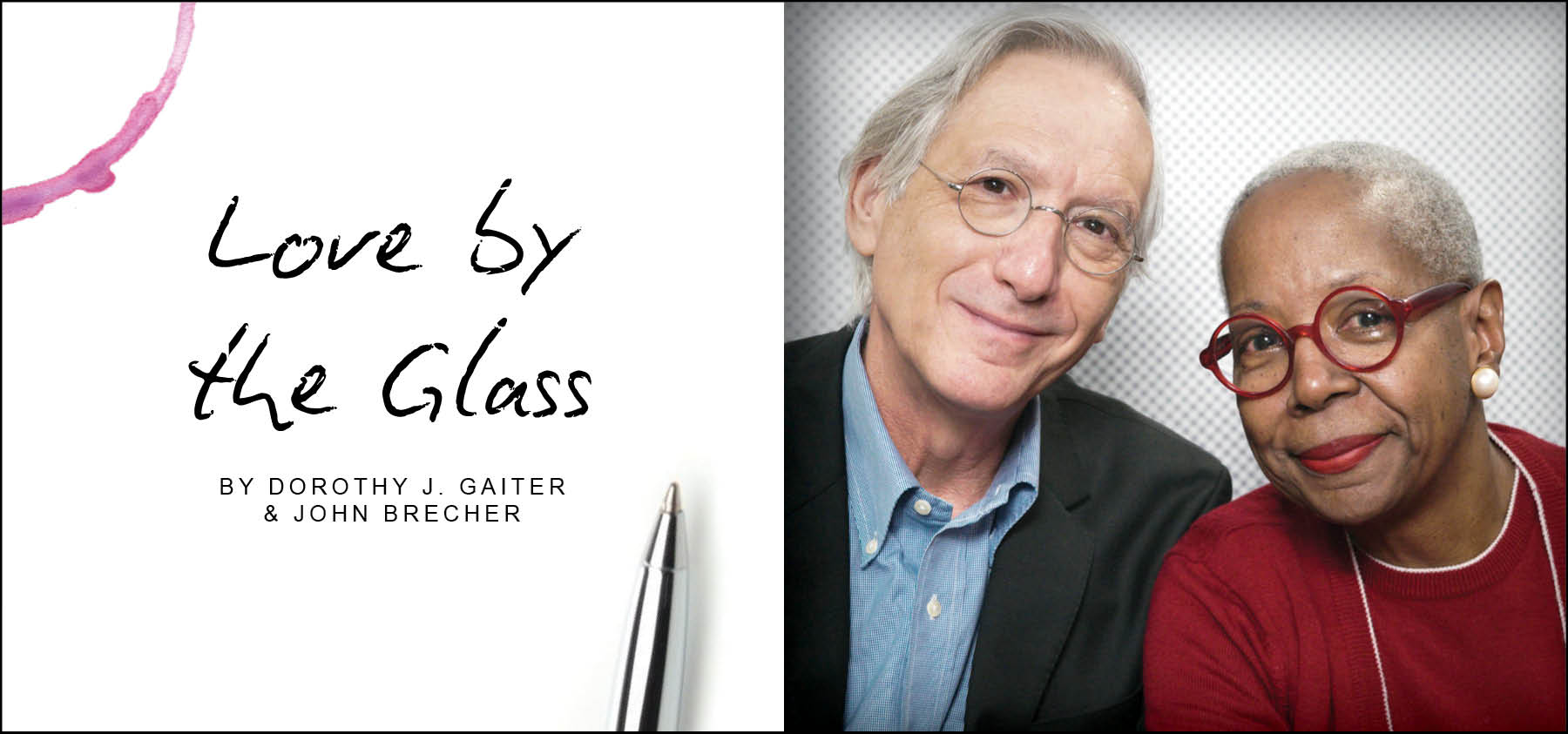 Napa is pretty much closed to visitors, and so is much of the rest of the world. But thinking about Napa gives us and millions of others warm feelings because many of us have had some of the best times of our lives there. Just because we can't go to Paris right now doesn't mean we can't look at pictures of the Eiffel Tower and dream about the day we can.
The industry is already discussing how wine tourism will differ when things stir to life again. Rob McMillan, who writes about the business of wine on his excellent blog, svbwine.blogspot.com, offered this advice to wineries recently – and the emphasis is his: "PLEASE INCLUDE THE CONCEPT OF FUN WHEN YOU REOPEN! Everyone, old and young, wants some fun after this experience so that has to be what you sell first."
In that spirit, here's a column about Napa that we hope will give you a smile and maybe even make your thoughts float there for a bit of a break from isolation. We were lucky: We were in California in late February, just before the lockdowns, to celebrate the donation of our papers to the University of California at Davis's Warren Winiarski Wine Writers Collection. We spent several days in Napa after the festivities to drive around and drop in on some wineries, anonymously and unannounced. We ended up having an experience we never could have imagined – and we also came up with a new list of tips to keep in mind when you can go again. (Tasting rooms in California were ordered closed on March 15. However, many wineries and restaurants are doing curbside pickup and numerous wineries are offering free or discounted shipping and video tasting experiences now.)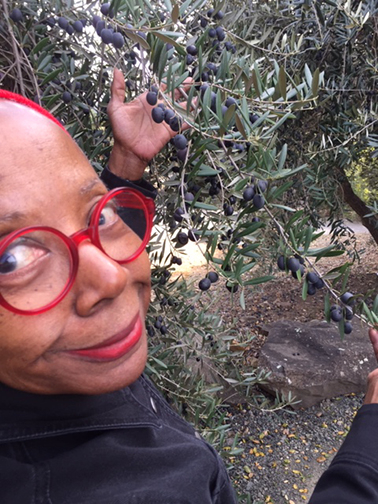 We first visited Napa in 1975, honeymooned there in 1979 and have returned many times. It has changed a great deal, but much has not changed: the beauty of the land, the promise of the vines, the stunning tastes of the straight-from-the-cellar wines. (Oh, wait: You're already closing your eyes and remembering. Wait 'til you finish!)
(Dottie with olive trees at Piña Winery on the Silverado Trail)
The tasting-room experience is certainly different, in many cases. When we first visited, and for some years later, the winemaker was often behind the counter talking passionately about the wines. Tasting fees were rare. Now the people behind too many counters appear to be more interested in pushing "experiences" and wine-club memberships. And tasting fees are often quite high.
As pretty much everyone knows, the main road through Napa, and home to many of the big (and sometimes impersonal) wineries, is Highway 29. The Silverado Trail parallels 29 and is a little less crowded. The roads between them are also home to some renowned wineries.
For our first outing, we went up the Vaca Mountains to visit Nichelini Family Winery in the Chiles Valley District of Napa Valley. Long-time readers may recall that, during our honeymoon, we visited Nichelini and found Dorothy Nichelini alone in the backyard, surrounded by hummingbirds. Her husband, Jim, the winemaker, was in the hospital for open-heart surgery and we spent a long time with her, tasting wine and talking about life.
We had not visited the historic winery since – just never found the time. But the Nichelini name keeps coming up among wine geeks: This was made from Nichelini fruit, or grown from the Nichelini clone. We'd heard that the Nichelinis were deeply supportive of Brown Estate, still Napa's only black-owned estate winery. We also read they had a charming tasting room, which we hadn't seen when we visited with Dorothy. So we drove up Sage Canyon Road until we finally found it.
Here's our first tip: Always check Google to see when wineries are open! After that twisty drive, we discovered that Nichelini was only open Friday-Sunday without an appointment, and we never make appointments, in the conventional sense, because they can be constricting. We like spontaneity. We also never identify ourselves as wine writers because we want our experiences to be authentic. Unfortunately, we went to Nichelini on Monday, which is usually a good day for winery visits. (Second tip: If at all possible, avoid weekends.)
Oh, well. Since we were so high up, we figured we'd keep driving up, so we climbed Chiles Pope Valley Road. We were just about to turn around – and we would have, if there had been anyplace to do so – when an oasis appeared before us. It was an incredibly fancy, modern, new winery. What? The sign said it was Maxville Winery and it was open by appointment. And then it listed the phone number.
Aha. Years ago, someone at a winery told us there's a way around the appointment-only rules put in place to regulate traffic to wineries. Some wineries post a sign that says "by appointment only" and their phone number. That way you can call from the entrance and ask, "Can we make an appointment for now?" We have tried this and have always been welcomed. That's our third tip.
And so it was at Maxville, where we were the only people in a massive tasting room – the largest in Napa, they told us – with a spectacular view. The two men there explained that it was owned by a Chinese billionaire – we can believe that, serious money – and that much of their small production is exported to China or sold direct-to-consumer in the U.S. They seemed happy to see us and could have talked all day, but John kept thinking about the winding drive back. If you visit Napa and have the time, Tip No. 4 is to visit Maxville (and Nichelini, of course). The scenery is magnificent. Just make sure you have a designated driver.
On the way back, along the Silverado Trail, we saw a little winery called AuburnJames. We'd never heard of it. The sign said "By Appointment Only" and listed a telephone number and – you know the rest. Before we knew it, we were seated in a cute little tasting room with a very enthusiastic man named Eric who looked like a shorter Adam Driver (not that he was short, but who isn't shorter than Adam Driver?). He explained that just five people, including himself, did all of the work at the small winery. The wines were terrific, especially the Artist Series Bordeaux blend and….
(Photo: Dottie at Maxville Winery)
Here's our fifth tip. If you see something unusual on the tasting list, try it. Maybe you will like it; maybe not. But it's likely something made in such small quantities that you would otherwise never see it and it's likely made with passion because otherwise it probably wouldn't exist. We weren't sure where to have lunch one day and fell into a place called Brasswood Bar + Kitchen in St. Helena, which was quite good and which we'd recommend as Tip No. 6, assuming, as we hope, that it survives the pandemic. We didn't really plan to have any wine with lunch, but the restaurant was also a winery and it served its own Petit Verdot.
We are Petit Verdot fans. It's a dark, aggressively tannic grape that's used in some red blends in very small quantities because it's so powerful that it can overwhelm just about anything and also has some herbal notes that can be off-putting if not kept in check. Brasswood had a Petit Verdot by the glass on the list, which said it was "Barrel to Tap." It was delicious – beautifully made by a sure and restrained hand. After lunch, we walked next door to the tasting room to buy some, but they didn't sell it by the bottle. It was, indeed, only "barrel to tap."
AuburnJames had one, too, and it was also outstanding. They make a tiny amount and sell it for $50. Tip No. 7: Go to AuburnJames – and try the Petit Verdot. More broadly, Tip No. 8: Wherever you go, be enthusiastic and curious. You'll be surprised how often the person behind the bar will pull out for you something that's not on the list.
We generally don't much like the whites at tasting rooms in red-wine-centric Napa, though we try them and keep an open mind. More than one winemaker has told us that he or she has to make a white because people expect one when they visit a tasting room. ("What do you mean you don't have a Chardonnay?") Not that Napa can't make fine whites, of course, but we haven't had many in tasting rooms in some time.
That changed at Foley Johnson Winery, right there on Highway 29 and open to the public without an appointment. This used to be Sawyer Cellars and we'd never visited Foley Johnson, so we dropped in. It's part of the burgeoning empire of Bill Foley, who also owns Chalone, Firestone, Sebastiani and many other wineries. Of the wines we tasted there, our favorite was the Sauvignon Blanc, which had nice mouthfeel, good minerality and real brightness about it.
Our second favorite wine there? Guess what: their very small-production Petit Verdot. (Tip No. 9: Go there.)
We were on our way back for the night when we passed a winery on 29 we were sure we'd never seen before. It was called Pestoni Family. Wineries change hands and change names, but we don't often run across one we can't ever remember seeing. We were past it before we realized all of this. John stopped quickly and turned around. (Tip No. 10: Drive very carefully in Napa because sometimes people do drive erratically, and sometimes unconscionably drink too much and drive.)
We drove into the parking lot where – uh oh, there was a fancy black van with a license plate that read "WINE." Bachelor or bachelorette party. Tip No. 11: Don't stop when you see this. The van people might be having a blast, but you won't. John figured he'd at least look inside to make sure the place was overrun with wedding revelers. Actually, there was no one in the tasting room (they were apparently in a tent out back) and a woman saw him peeking in the window and waved him inside. John went back to the car to get Dottie.
This place was open to the public. How could we not have visited in the past? After the first taste of wine, we asked the young woman: "Did some other winery used to be here?
She smiled at us as if she knew what she was about to say would rock our world a bit and said, "This was the Skodas' winery."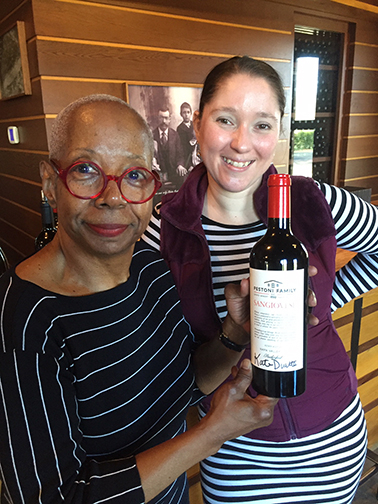 "Oh my goodness," Dottie said. "Bernard and Evelyn Skoda? Oh my goodness."
On our honeymoon, in 1979, we visited Rutherford Cellars. Bernard and Evelyn Skoda poured us some of their wine and we got to talking. They were the most charming couple. And then, when the tasting was over, Bernard brought out something special. It was his Muscat of Alexandria. He poured it for both of us, but he stared at Dottie when she tasted it.
(Photo: Dottie with Kate Duarte)
It was so delicious – with cloud-like texture and light, fruity sweetness – that Dottie's entire face lit up. And then so did Bernard Skoda's. No matter how much we loved wine before that moment, we loved it more from that time on because we understood, truly understood, what wine meant to a thoughtful winemaker. After we got into our car, Evelyn ran out and pressed into Dottie's hand a corkscrew with the winery's name on it, "A wedding present from us," she said. We have it to this day, although the gold lettering has been worn off from use (That's it pictured in the banner on the homepage.)
The woman behind the counter told us that after Bernard died in 1993, the winery was sold to the Pestonis, who have been making wine in Napa for more than a hundred years. Evelyn died in 2001. The tasting room pourer said that people at the winery believe Evelyn is still there – she said she is always a gentle presence – but Bernard has not yet appeared.
But wait.
We told the woman behind the counter our story about the Skodas and, with that same glint in her eye, she asked us if we'd visited any other wineries that day and added: "Have you gone to Nichelini?"
We said we'd tried, but it was closed and we were sorry to have missed the experience, at which point she said:
"I'm a Nichelini."
We had truly come full circle. At this point, we told her who we were and recounted the story of our time with Dorothy Nichelini. "She was so lovely," we said. After Jim Nichelini's death in 1985 at the age of 54, Dorothy remarried. She died in 2005, we learned when we returned home.
It turns out that the woman behind the counter, Kate Duarte, is part of the very large, extended Nichelini family. She told us she was getting married at Nichelini later this year with 400 attendees, although we'd guess the plans may have changed.
Kate got a bottle of Sangiovese for us to taste. The Pestonis make a small amount from vines in front of the tasting room – the vines and the wine an homage to their heritage. We bought a bottle and asked Kate to sign it. We drank it that night as we watched the sun set and we toasted the Skodas and the Nichelinis. Tip No. 12: No matter what you are doing, make sure you are outside or by a window, with a bottle of wine, to see the sun set over the mountains overlooking Napa Valley. No tasting room experience can match that.
OK, now you can close your eyes and imagine being in Napa Valley. We hope you enjoy the trip.
Dorothy J. Gaiter and John Brecher conceived and wrote The Wall Street Journal's wine column, "Tastings," from 1998 to 2010. Dorothy and John have been tasting and studying wine since 1973. Dottie has had a distinguished career in journalism as a reporter, editor, columnist and editorial writer at The Miami Herald and The New York Times as well as at The Journal. John was Page One Editor of The Journal, City Editor of The Miami Herald and a senior editor at Bloomberg News. They are well-known from their books and many television appearances, especially on Martha Stewart's show, and as the creators of the annual, international "Open That Bottle Night" celebration of wine and friendship. The first bottle they shared was André Cold Duck. They have two daughters.
Read more from Dorothy J. Gaiter and John Brecher on Grape Collective.
Banner by Piers Parlett