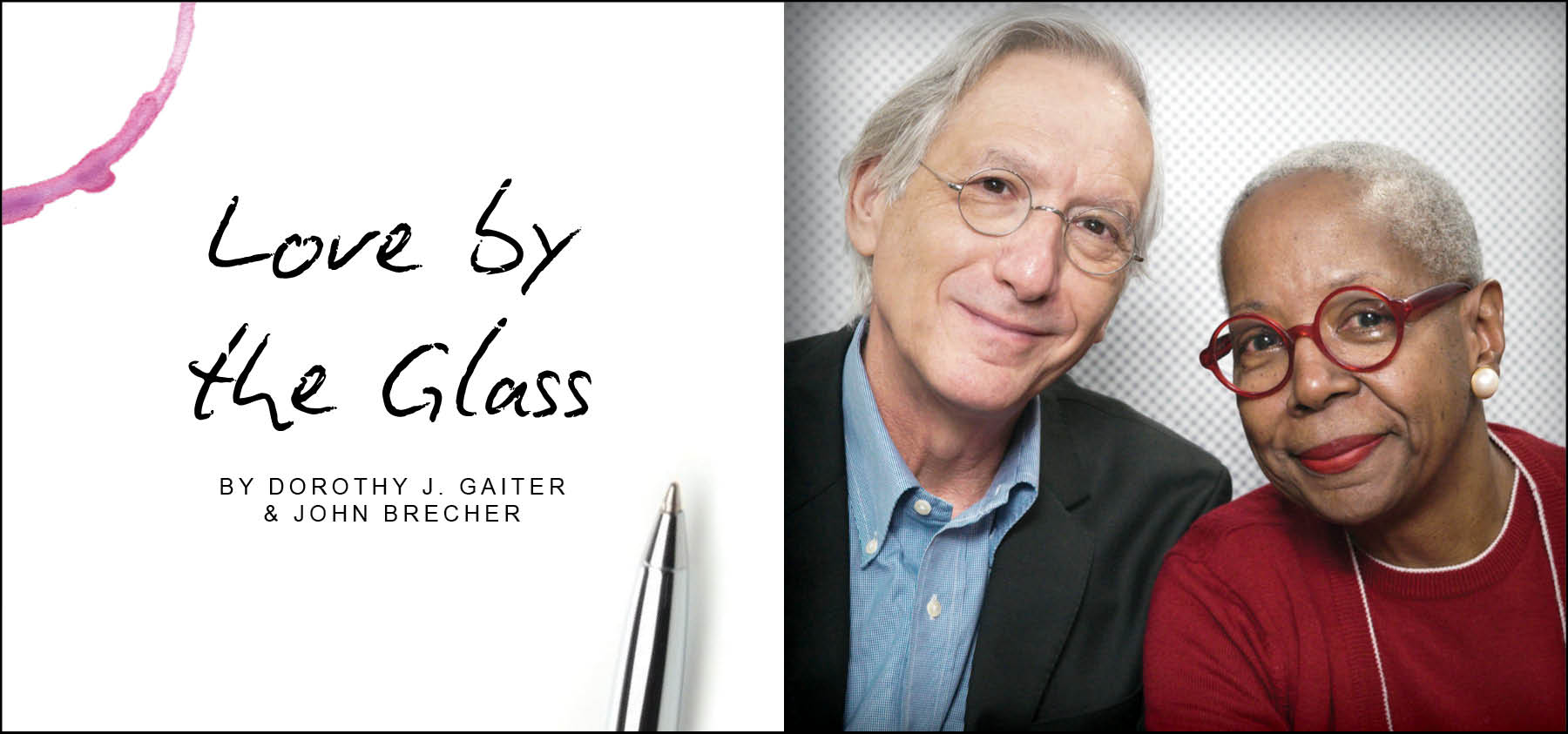 If Kyle Krause is having a midlife crisis, we'd like to rewind the clock, have a lot of dough, and do it his way.
Seven years ago, when he was in Italy to celebrate his 50th birthday, he decided it was high time he made good on a long-held dream to own a winery there. Today he owns two in Piedmont: Vietti, in Castiglione Falletto in Cuneo; and Enrico Serafino, in Canale d'Alba in Roero. And while he was at it, in 2017, he bought a hotel property there that he's remaking. It's scheduled to open next year.
Krause is chairman and CEO of Krause Group, which includes his family's pioneering convenience store and gas station chain, Kum & Go, with more than 400 locations in 11 states, most of them in its home state of Iowa. Last year, it had revenue of $2.6 billion, according to Forbes. It's the 24th largest convenience store chain in the United States, Convenience Store News reports. See what we mean about dough?
We've been long-time fans of the wines of Vietti, which was founded in 1873. We've especially liked its Arneis, a dry white that the father of the current winemaker, Luca Currado Vietti, helped make famous, and, over the years, some of its Barolos. Lately, though, some of the wines seem to have lost a few steps. Krause's purchase in 2016, with its infusion of money, should make it easier to secure the fruit that fifth-generation Luca Currado Vietti and his wife, Elena Penna Currado, a tireless advocate for the brand, have said they have long needed.
We were not really familiar with Serafino until a couple of years ago, and have been impressed by its quality. Sometimes there are fears that wealth can ruin a good thing, especially outside money. From what Kyle Krause told us, the opposite should happen at Serafino, which Krause Group purchased in 2015. At that point, the historic winery had gone through a pretty rough patch. Now, good things seem to be happening. We wanted to know more about this Kyle Krause and his vision there.
"My mom's family is Italian and so I always grew up with a passion for the Italy side of my heritage," he told us when we called him recently in Des Moines to talk about the Enrico Serafino wines. "My last name is German, as you see it. When I was dating, my wife asked what nationality I was and I said Italian. And she said, well, your last name is Krause. So I said at least it ends in a vowel, I have that much going for me.
"It's just a side that I've always gravitated toward," he said. "My wife and I got engaged in Sicily, where my mom's family is from. We got married in Italy in the Amalfi Coast. I just always had a passion and a desire. I always wanted to own a winery there."
We're glad he does. Krause told us he loves wine to the extent that his wife, Sharon, calls herself a "wine-cellar widow" because he can spend hours in their cellar at home. They have five kids.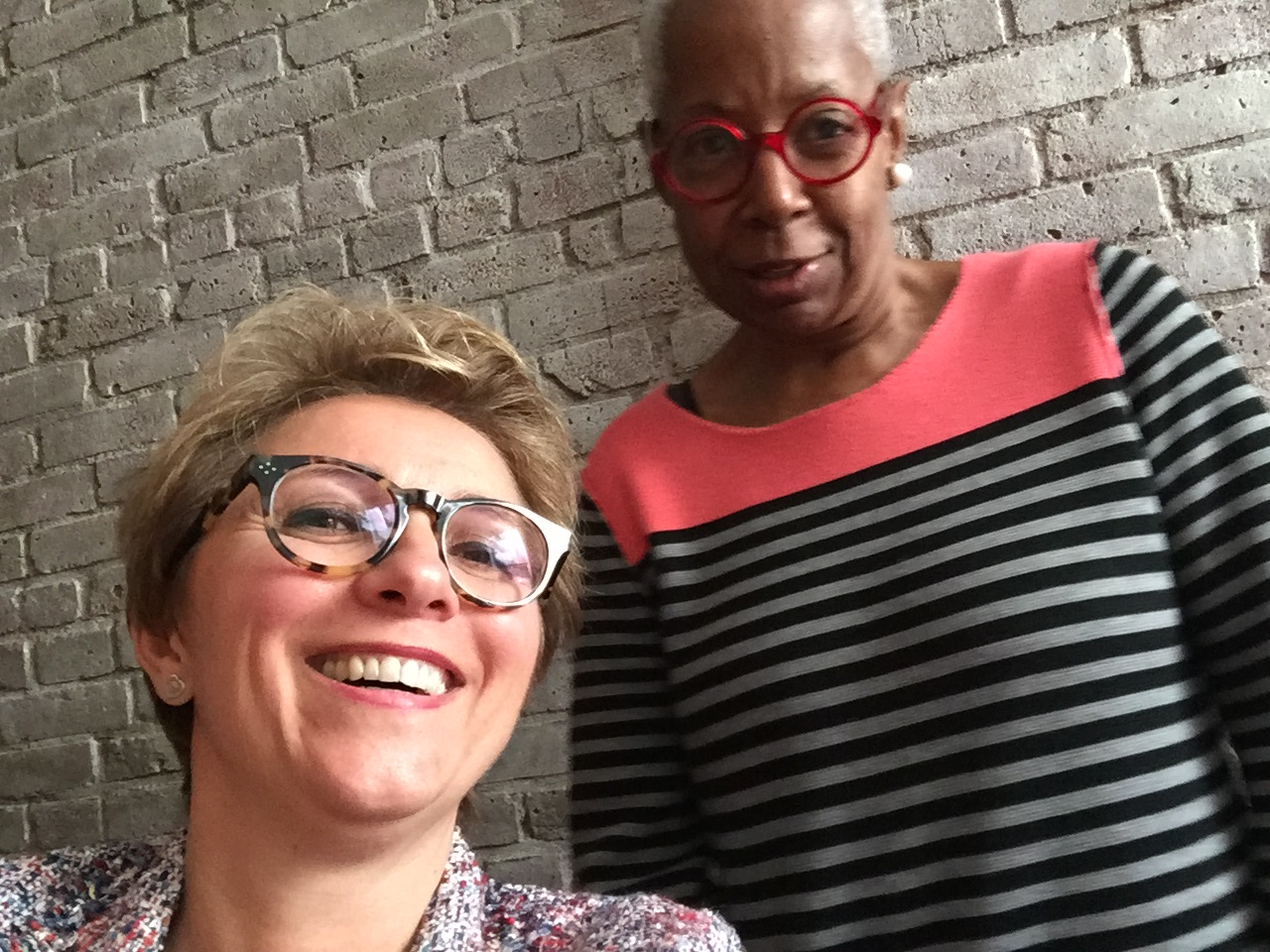 So while in Italy celebrating his birthday, Krause looked hard at his life. "I said, OK, you're always going to be busy so you'd better start figuring this thing out soon because it's a long-cycle business. A winery business is not like retail where you show up every day and put something on a shelf and you sell it. It's got a much longer cycle than that," he said.
(Elena Penna Currado showing Dottie how to take a selfie)
So back home in Des Moines, he started looking for wineries. "I'm sitting there in the middle of Iowa. How do you find a winery in Italy? With kind of friends of friends' help, just people I'd never met before helping me," he told us.
The search led to the Barolo region, where he found opportunities to buy vineyards and wineries, numerous opportunities, which frankly surprised us. "We knocked on a lot of doors of wineries for sale and it was passed on to us that Serafino was for sale by Campari. And I guess we went and looked at it and bought it, to make it simple," Krause said. (Campari, in its press release, said the purchase price was $6.9 million.)
"The reason for Enrico Serafino specifically? It's got great history, 140-plus years of actually making, bottling and selling wine for that long. You had this great brand and a beautiful cantina. And it was making a fantastic sparkler, the Alta Langa." Serafino, now certified sustainable, is located in an area that is a UNESCO World Heritage site.
We told Krause that it is concerning to us that sometimes someone with a big check comes along, buys a heritage property, pumps up production and ruins the brand. He seemed, at least for now, to be doing the opposite at Serafino, which was founded in 1878. The task facing his family, as he explained it, is this: "How do you take a brand and take the opportunity to kind of dust it off and get it back to its glory days that it hadn't seen consistently in recent times as it had different ownership?
"So maybe we were in the right place at the right time. It was there and it had all of that history and you look at other wineries that were for sale there and they're maybe making wine for a shorter period of time and had this kind of nouveau architecture building stuff.
"And it's not all about the building, but the combination of the bones for us to say we can put our family into this brand and give it the love and attention it deserves. The family piece is important when you end up coming from a corporate commercial ownership," Krause said.
Campari's announcement said it wanted to shed products that it didn't consider core, unlike its "high-margin spirits."
"Campari is a fantastic company, especially viewed from a brand standpoint, but Serafino was never a core part of what they did. This, it was a win-win," Krause said.
We also suggested to Krause that another benefit of the Serafino purchase is that Enrico Serafino began making Barolo at Canale, outside the now-approved Barolo boundaries, long before regulations that require wines labeled Barolo to be made entirely within the Barolo region. Serafino, thus, is an exception to that rule.
"We're grandfathered in to be able to make Barolo and Barbaresco," he said. "So that's nice and then for us having the chance to add vineyards is good, too. They didn't have a lot of vineyards when we bought it." Krause's first purchase of property for Serafino was a Barolo vineyard in Serralunga.
(L to R: Elliott Krause, Ryan Krause, Emily Reiman, Tanner Krause, Oliver Krause, Sharon Krause, Kyle Krause)
Taking risks and defying expectations seems to run in the Krause family. Kyle Krause's father, William, and William's father-in-law, Anthony Gentle, founded what became Krause Gentle Corporation, now Krause Group, when Gentle purchased a single gas station in Hampton, Iowa, in 1959. An article about William Krause in Convenience Store News (CSN) says Gentle purchased the gasoline station to keep his only child, Nancy, near home because William Krause, a rising star at Conoco Gasoline, wanted to marry her and move to Wyoming. We'd say Gentle's plan worked really well. Kum & Go gets its name from the first initials of the two men's last names. In Italy, for corporate and not consumer-facing purposes, Kyle Krause said, the company is known as Podere Gentile, a nod to what his mother's last name was in Italy before "it was Americanized" as Gentle.
And, for the record, it's unlikely he's having a midlife crisis. Reams of newspaper articles paint him as a bright, deliberative, community-minded entrepreneur who took his family's business to new heights and has now turned over the title president of Kum & Go to his son Tanner. Krause requires all of his children to work elsewhere before joining Kum & Go. So after earning his bachelor's degree, Tanner worked in sales with E. & J. Gallo, according to CSN. That certainly stood Tanner in good stead when his father asked him to suspend his work toward a master's and move to Italy and put him in charge of Serafino for the first six months of the family's ownership. Krause named Nico Conta, a veteran Italian winery professional, president and CEO of Serafino. Paolo Giacosa, whose family founded Fratelli Giacosa winery near Alba in 1895, remains winemaker at Serafino.
One of the first things Krause did after the purchase was shed 15 of Serafino's labels that weren't up to his standards. "We slimmed the portfolio fairly dramatically in the desire to produce quality out of every SKU that we own. Now, we're adding SKUs back in at the high end, at the quality side of things, not something to throw on the supermarket shelf." Serafino has released its first single-vineyard Roero wines and is focusing more attention on its sparkling wines. Serafino's previous owners bought a lot of its fruit and Krause would like to own the fruit's source and forge or continue long-time contracts with winegrowers who meet his specifications.
The winery is clearly on the right track, as we discovered in our tastings of the wines the company sent to us.
Every third week of January, John begins harvesting stems from the large forsythia bush in the front yard of our country cabin. Dottie puts the stems in water and about a week later, we have Spring inside the house. It's magical. The bush itself won't have flowers for months so this extends our enjoyment of them. This year, we celebrated the first flowering inside with Serafino's 2018 Gavi di Gavi "Grifo del Quartaro." "Fresh and lively, with some grapefruit acidity and tart flavor, and nuttiness, but also a rich fullness. A lot of wine for $17," we wrote in our notes.
The 2015 Barolo "Monclivio" DOCG was impressive, earthy, so soulful and real. It was a great deal for around $45. Too many Barolos these days go for an almost American-like power over the kind of stature we like in Barolo, but this let the earth and grapes do the talking.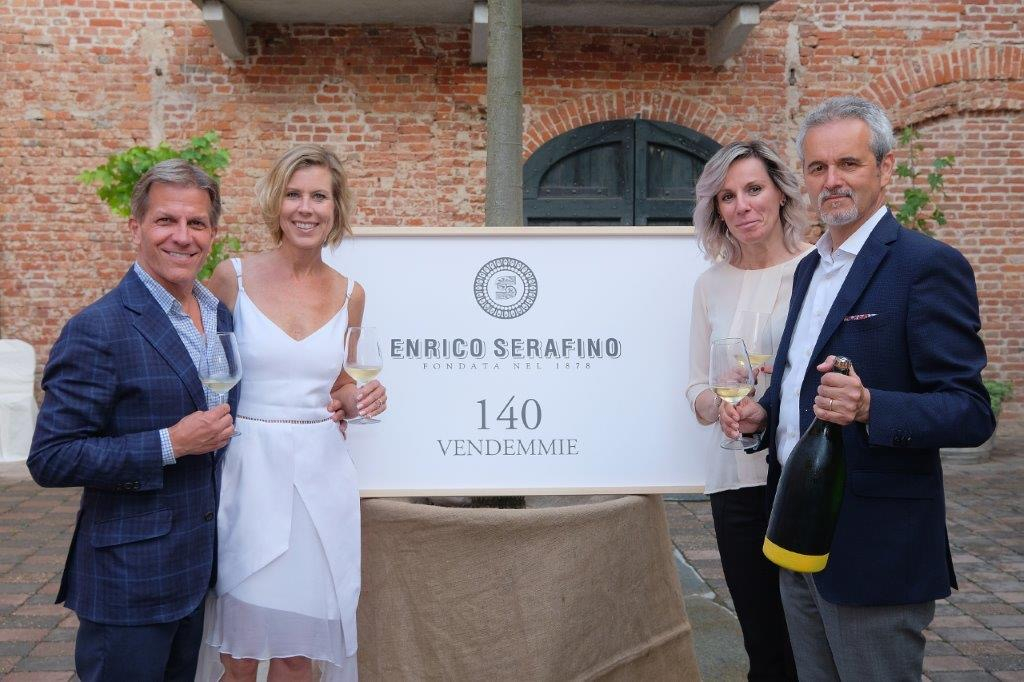 (Kyle and Sharon Krause, with Nico Conta, Enrico Serafino's president and ceo, and his wife Lorenza)
Two years ago, we wrote about Serafino's sparkling wine from the Alta Langa region of Piedmont, a fairly new classification. The winemakers at Serafino landed on a winning strategy of using Pinot Nero (Noir) and Chardonnay, and making the sparklers in the classic way. The Alta Langa appellation is small, with total production around 50,000 cases a year from a handful of wineries. The sparklers are only made in good years, always vintage, and stay on their lees for a minimum of 30 months before disgorgement and release. We called Serafino's 2014 rosé, $27, "a food sparkler, with Red Delicious apple-juiciness, lemon and chalk. Great acidity and surprisingly muscular." We also liked its 2013 Brut ($25), which we called "a serious wine showing a lot of skill. Excellent."
Though son Tanner is now president of Kum & Go, Kyle Krause remains chief executive of Krause Group and its subsidiaries: Kum & Go, Solar Transport, the Des Moines Menace soccer team, the wineries and other real estate properties. Sharon Krause, Kyle Krause's wife, who has a degree in engineering, owns an organic sheep farm that provides meat to retailers. The pair sit on numerous civic minded boards and following William Krause's practice, donates at least 10% of the company's profits annually to charities and organizations like the United Way and Habitat for Humanity. They pride themselves on being good citizens.
In 2004, a White man sued the company alleging that it discriminated against Black customers. Two courts decided against him, ruling that he lacked standing, among other reasons. "As in 2004, we vehemently deny the allegations of discrimination," a spokesman for the company emailed us.
We interviewed Kyle Krause soon after a peaceful demonstration in Des Moines in protest of the murder of George Floyd. One of Krause's sons was there with a couple of his closest friends. Tanner, his wife and their 19-month-old daughter were there, too, Kyle said, adding, as a protective grandfather would, "standing at a safe distance." Another son was en route to Des Moines to be a legal observer, where needed, as the demonstrations continued.
On June I, Kyle Krause tweeted "a letter to our associates and our communities." It read in part, "Across the country, we are seeing the dividends sown by generations of systemic racism. Today it is incumbent upon us all to make changes that will create a better country, and a better tomorrow. I stand with our Black Associates, Customers and Communities. I kneel alongside them too. However, acknowledging that Black Lives Matter is only the beginning."
Krause goes on to announce a $25,000 donation to the Center for Constitutional Rights, "an organization committed to addressing the structural and system nature of racism in our society."
"We also need to do more listening. Our stores and businesses serve hundreds of thousands of customers each day. Are we doing all we can to make sure our Black Associates and Customers feel safe? Feel welcome? We will do more."
Some people and companies are releasing tepid statements they hope will fly in this time of hyper-scrutiny in race relations. It made our day to read this straightforward statement of conviction, backed by decades of generosity and outreach, from a wine lover in Des Moines who owns wineries in Piedmont. Salute.
Dorothy J. Gaiter and John Brecher conceived and wrote The Wall Street Journal's wine column, "Tastings," from 1998 to 2010. Dorothy and John have been tasting and studying wine since 1973. In 2020, the University of California at Davis added their papers to the Warren Winiarski Wine Writers Collection in its library, which also includes the work of Hugh Johnson and Jancis Robinson. Dottie has had a distinguished career in journalism as a reporter, editor, columnist and editorial writer at The Miami Herald, The New York Times, and at The Journal. John was Page One Editor of The Journal, City Editor of The Miami Herald and a senior editor at Bloomberg News. They are well-known from their books and many television appearances, especially on Martha Stewart's show, and as the creators of the annual, international "Open That Bottle Night" celebration of wine and friendship. The first bottle they shared was André Cold Duck. They have two daughters.
Read our interview with Luca Currado Vietti.
Banner art by Piers Parlett