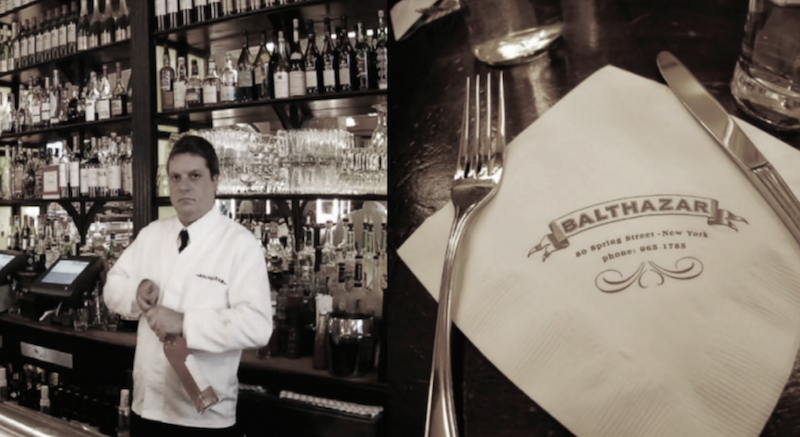 In our bone broth, $12 chia pudding, $38 hamburger, "have you dined with us before?", Museum of Ice Cream, two-block-line for a cronut and two-hour wait for Mission Chinese, rainbow bagel, 1200-calorie milkshake and juice cleanse world, it can be hard to remember that not so long ago, New York's restaurant scene wasn't remotely about the food.
Sure, there have been (and always will be!) temples to haute cuisine like Per Se and Le Bernadin—the rich need to eat—and unparalleled delicacies in Manhattan and Flushing's Chinatown neighborhoods, and foods like Katz's pastrami and Papaya King hot dogs that are as intrinsic to New York's character as the Empire State Building. But for over two decades, the coolest way to eat in New York meant actually eating was almost an afterthought, with all due thanks to one premium UK import: Keith McNally.
A McNally restaurant—the Odeon and Café Luxembourg (both started with and now owned by his ex-wife, Lynn Wagenknecht), Lucky Strike, Balthazar, Pastis (R.I.P.!), Schiller's (ugh: also R.I.P.!), Morandi, Minetta Tavern, Cherche Midi—has a few signatures.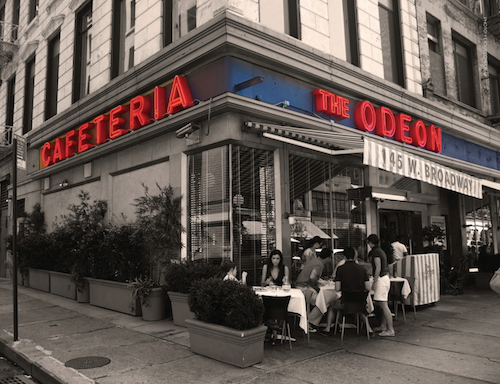 The food: above-average, French-influenced cuisine ("The one thing about Keith McNally restaurants is, the food was always better than it had to be. People were going to eat at Odeon or Pastis regardless," former New York Times restaurant critic William Grimes told New York as Pastis prepared to close). The look: the fairytale glow of the New York you thought you were moving when you packed all your stuff in a U-haul–perhaps there's white tile, perhaps there are distressed mirrors, maybe there are banquettes that force you to wedge in too tightly to your date, adding insta-romance. And most importantly of all, the scene: studded with celebrities and people who just looked like them, slurping oysters from pricey seafood towers and champagne from respectable wine cellars. The scene meant every visit to a McNally restaurant was a mini-adventure, an anecdote worth retelling at every party for the next three weeks: your writer-hero slurping onion soup and reading Us Weekly alone at the bar; lunch with a colleague that turns into an all-afternoon-three-bottles-of-Sancerre bash; Julian Schnabel and Jean-Michel Basquiat throwing toilet paper balls at Mary Boone's birthday party. McNally had a monopoly over the culture of New York restaurants: it wasn't that people wanted to eat his food; it was that people wanted his version of how to eat.
But in a classic New York narrative, that was then, and this is now. Pastis and Schiller's closed, and the obsession with seeing and being seen at the remaining McNally restaurants has faded. His most recent establishment, Augustine, feels like a never-ending Parisian Christmas Eve fable nestled near the World Trade Center, and is therefore reliably filled with Condé Nast editors during weekday lunch, but a certain mood lingers over it, as if high school footballers are recalling their glory days at a bar that just looks retro.
In some ways, of course, this is a sign of culinary progress, or at least evolution: New Yorkers have become highly conscientious diners, as curious about their food's background as they are about their next Tinder date's. The era of wine with lunch, plunked on the company AmEx, is long over; in its place is a class of yuppie youngsters who compensate for the necessity of taking their midday meal at their desks with a carefully curated bowl of vegetables with a narrative righteous enough to rival a SoulCycle& instructor.
In some ways, this is one of the few shifts worth celebrating in the complex history of New York businesses opening and closing. The reigning palate of the past decade has championed cuisine not only from around the world but that is also more reflective of the city's diversity. A list of essential New York restaurants now includes multiple varieties of Middle Eastern food, otherworldly sushi and izakayas, vegetarian, vegan, Thai, casual Mexican and super upscale Mexican, Chinese, and Korean—and brought to diners by chefs who grew up eating and experimenting with that food.
Still, one can't help but mourn what's been lost—this is New York, after all, where even the closure of a local shoe repair store warrants a mourning period and a small protest. Sex and the City heroine Carrie Bradshaw once referred to Pastis as "the only restaurant that seemed to exist" (Samantha's then-boyfriend, the Absolut Hunk Smith Jarrod, was seated at "the star table"); it was also a place where you could be a regular, and feel like one on just your first visit. That duality was the secret to each McNally restaurant in its golden age. Can people still be regulars at neighborhood joints? Are there even neighborhood joints anymore, or just destination restaurants many subway stops away?
One also has to wonder, too, about the boom of delivery services like UberEats and Caviar, which have made it possible to eat exquisite food at any location but the restaurant that created it. Many such dishes, frankly, are not intended to be packaged and zoomed off to a West Elm sofa near you, let alone the mass ennui that proceeds from eating beautiful food in an unexceptional environment. (Sorry if I hurt your futon's feelings.)
That New York restaurant culture no longer has a kind of mayor is not precisely the point. Between Danny Meyer, David Chang, Enrique Olvera, and Dominique Crenn, to name only a few, there is no shortage of talented chefs poised to shape the new era of restaurant culture. Their food is more progressive, more exciting, more alive and open to change than McNally's, perhaps, but in a certain way, it has to be. A New York cliché has emerged concurrent with the rise of truly good food: the couple or group of friends out for a meal at a must-visit restaurant, where they'll pay a not inconsiderable amount of money after waiting a not inconsiderable amount of time—and they're glued to their phones. An unusual meal, a surprising dish, or an appetizer that arrives with much explanation and a slew of inventively-combined ingredients gives you a reason to look up, something to say to your date whom you barely know. Tasting the same thing and agreeing that it's good can be a way of connecting with others. It's surface-level, though, just as the gruesome habit of photographing food has nothing to do with seeing chefs as artists or cultural arbiters. It wasn't that you didn't want to brag about going to a McNally restaurant. But the food was the last thing you'd want to photograph.