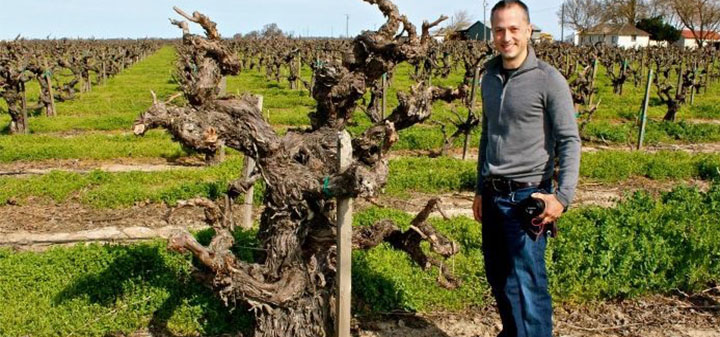 WHO
Joe Roberts is the creator of 1WineDude.com, a wine blog that has gained tremendous popularity and was started as a blog to provide "edu-tainment" for the "intermediate" wine lover. In addition to writing his one-man blog, Roberts is a wine consultant, a member of the U.S. based Society of Wine Educators, and authors a freelance wine column for playboy.com. His casual, insightful, and often humorous approach towards wine puts him in high demand as a speaker and educator.
BACKSTORY
Roberts worked in IT for a long time and was employed by MARS Inc. for almost 15 years. In 2007, his love and passion for wine led him to team up with a friend and create a website called 2WineDudes.com. With his realization that there were no wine websites already out there catering to what he describes as the "intermediate" wine consumer, the blog featured info on wine and offered consultation services for those who were not newbies, yet also not experts on wine. At the same time, Roberts created 1WineDude as an adjunct to his other site. His friend eventually moved away and Robert's focus turned to 1WineDude, which was starting to take off and gain popularity.
OF NOTE
Roberts was a winner of the Wine Blog Awards for best wine blog, and Wine Enthusiast ranked 1WineDude.com as one of the top three wine blogs.
DRAMA
Roberts will tell you that today's wine world has a big problem. He explains, "Most of the wine world is trying to tell you that in order to appreciate wine, you need to spend a ton of money, memorize wine rating scores from people that you don't know, and learn names that you can't even spell let alone pronounce – in other words, there's a "proper" way to do wine, and if you don't follow it you will look like an uncultured idiot. The problem is that they're wrong. There is no "right" way. You don't need to do any of those things to appreciate wine."
PERSONAL
Joe Roberts lives in the greater Philadelphia area with his wife and daughter and in his spare time plays bass in a band. His music is influenced by Rush and The Who, but he's also a huge fan of Miles Davis. When comparing music with wine, he says, "A really, really amazing wine, to me, can be a lot like a piece of music that's transcendent. Both just take you out of the world completely, or I should say they take you so far into the world at that moment that it's blissful."
NO JOKE
In Joe's words, he "used to be a total wine dunce." He now holds the Level 2 (Intermediate, with Distinction) and Level 3 (Advanced, with Merit) Certificates in Wine & Spirits from the Wine & Spirit Education Trust (WSET) in England. He's a member of the U.S.-based Society of Wine Educators, holding their Certified Specialist of Wine (CSW) qualification. He also holds the Wine Location Specialist (WLS) qualification from the Comité Interprofessionnel du Vin de Champagne (CIVC) and the Instituto dos Vinhos do Douro e Porto (IVDP), and is a member of the Wine Century Club.
VITAL STATS
FULL NAME: Joe Roberts
NATIONALITY: American
OCCUPATION: Wine Consultant and Founder of 1WineDude.com
RESIDENCE: Philadelphia, Pennsylvania