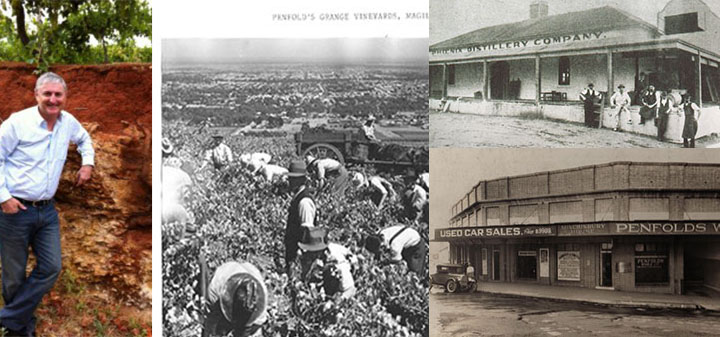 Kym Tolley is decended from two of Australia's pioneer wine families – the Penfolds and the Tolleys. In 1973, Kym joined Penfolds under the tutorage of another famous Penfold, Jeffrey Hyland, and Grange creator, Max Schubert. He went on to work at Penfolds for 17 years before leaving to start his own winery Penley Estate.
We caught up with Kym to talk about his ancestry, going out on his own, and the magic of Coonawarra Cabernet.
Christopher Barnes: Could you give us a little bit of background on you and your family's involvement in the wine industry?
Kym Tolley: I'm a fifth-generation winemaker. My mother's family arrived in Australia in the 1840s; my great-great-great grandfather, Dr. Penfold, set up a wine business really to make medicine for his patients and now has developed into one of the most famous wine companies in Australia. My father's family arrived in Australia around the 1860s as wine sellers, wholesalers. Then they got into the business; they bought an existing company in Adelaide. Not more than five kilometers from here is the old winery we used to call the Phoenix Winemaking Distilling Company and became known as TST, Tolley Scott and Tolley Brandy.
Mom's family, Penfolds, is famous for red wine, and my dad's family, by and large, is famous for making brandy — that's how I got involved in the business 42 vintages ago.
Did you know from the very beginning that you were always going to be in wine, or where there times when you wanted to become a lawyer or a politician or something?
In my mid-teens, I had no intention to be in the wine business at all. One of the great things that we've got here at Penley is that we are five generations. My daughters now are working for six generations. We're very passionate about what we do. We have that long family history.
When you're a 16-year-old and your father is a winemaker, and his father is a winemaker, and his father is a winemaker, and then your mother's father is a winemaker, it's something you don't really want to do. But at the age of 18, I started working for mom's company, Penfolds, up here at Magill, Grange Vineyard; I started working with Max Schubert. I ended up working for Penfolds for 17 years, three of them only when it was owned by the family and then the 14 when it was owned by various corporations.
As I explain to a lot of people, this is where I learned my trade as a winemaker. Is this where I got my passion? Not necessarily. I enjoyed the business — it was great training, it was a great job, great people. It's a wonderful industry, but it really wasn't until 1988 when I started Penley that I really discovered the creativity and the passion about winemaking.
That comes about through the experience I gained at Penfolds, but also when you make it yourself. You're responsible, and th he buck stops with you — you find out a whole lot of stuff about you.
The other thing is that the years before the age of 16, I was actually learning stuff that I didn't even know I was learning. I spent time at my mom and dad's wineries when I was kid. And I used to work at dad's winery during the holidays. You start to build up information you don't even know is there until you actually start to need it.
We'll start with the question about the influence of Penfolds. Working on an iconic wine like the Grange, how does that influence you?
As I said, when I started working at Penfolds, when I started at the Penfolds Grange vineyard, Max Schubert, one of the most famous winemakers in Australia, was still the chief winemaker. I moved into a winery that I had grown up in, but then I came into this winery as a worker to work in the laboratory first involved with the winemakers, particularly Max Schubert.
What I saw in the vineyard in my first four or five years was a real mixture of a modern way of doing things, because we're talking now about 1973, but also we saw a lot of the ways that wine was made in the past, particularly red wine. Max Schubert had worked from 1953 on red wine production as opposed to what Penfolds were actually known for: port. They started working on red wine production in terms of a different way of doing things, and I saw that. That was really getting your hands dirty, seeing it from the source, and that was an amazing sense of experience.
I also got involved in a whole lot of other things as I went through the business, and I was there for 17 years. I got to learn about making sparkling wine, I got to learn about making port and making cheap white wine, expensive white wine, cheap red wine — so you are gaining a whole lot of spread, but for me, the most important was that gaining experience from some of the old-timers.
Max Schubert was 10 years off retirement, but even more important, in the winery here at Magill, there were wine guys in the cellar who had been there for 40, 50 years, and these guys had stories to tell. There were a lot of stories to be told about why they were there. They used to talk about my family. They said, "Kim, I went to the Second World War and your grandfather told me if I came back, I had a lifetime job, and I did." That experience of personal things, personal experiences, but also seeing how it was done in a very hands-on way, which Magill still was in 1973.
Were there other specific things that stuck with you from a winemaking standpoint that you feel were unique to that experience that you carry with you right now?
Absolutely. Red wine, red winemaking — and that's what Penfolds were always very famous for. Max Schubert had brought back some experiences from Bordeaux when he traveled there in the early '50s, but he had to modify it to the Australian conditions; we have a lot more sun. You'll see on the Penley Estate logo: we have a sun. That is a part of the characteristics which is Australia. Because we have a lot more sun, he had to modify that sort of thing.
Also, the few little tricks of the trade that he taught us. Maybe he didn't teach it, but you see it. This is what a lot of winemakers probably don't see. They want to question, they want to read the books and answer. Sometimes I'll say, "Just watch. Just see what's going on." And you can either use that information or not.
For most of my years at Penfolds, I just used them as I went along in doing this job or doing that job. As soon as I got to Penley, I said, "Well, look, I can use some of these techniques, but I'm from a different region." Penley is from Coonawarra, which is about five hours drive south of here, so it's much cooler conditions. Penfolds' style of wine are more in the Barossa, more warmer condition, so the winemaking cannot be a mirror image.
Penley cannot be a mirror image of the way winemaking is made at Penfolds, but you combine some of those. Now I've had 42 years of experience and I've learned from the big companies and the small companies and we combine into some of the wines that I make.
Tell us a little bit about becoming an entrepreneur. You work for a big company and payrolls get met, and you do what you do and other people do what they do. Then, when you start your own business, there's a lot of moving pieces that you may not have dealt with before. How was that experience?
Absolutely. From my situation, I worked for Penfolds for such a long time as a winemaker. That was my trade. I wasn't generally inspired by it. I really enjoyed it, I knew a lot of stuff I had grown up with, but I wasn't inspired.
During my time at Penfolds, I went to business school; I did that seven years at night school. I've got a Business degree and I majored in Accounting. That gave me some experience to actually run my own business, because starting that course in particular, I realized that I wanted to be in the wine business, and it wasn't a really difficult step to go from working for someone else to starting my own business.
About seven years into Penley, things changed, because the first seven years was all about growing grapes and making wine. Then you had to learn about selling and marketing and getting out in the road. That's been the most difficult. Running the office, the accounting, the payroll, that hasn't been a big deal, but actually getting out in the road and actually promoting not just Penley wines but also myself and the family and the region, all of this is very, very important to it.
Yes, it was difficult, not in the management but to actually get out in the road, but I feel much more comfortable with it now.
Tell us a little bit about the region and how you ended up in there and why you picked it and why it's special for the wines that you make.
My dad and I loved Cabernet. My dad grew up just like the Penfolds family, but my dad's family, the Tolleys, were always Shiraz makers, because the reason there's so much Shiraz made in this country is because that was the best variety to make port.
In the early 1970s, 70% of what was drunk in this country was fortified wines, and 70% of that was port, and it came from Shiraz. Most of us grew up making and drinking Shiraz. As your palate starts to develop and you start to develop what you like, the taste that you like, Cabernet was always something very much featured on mine, and it was something that I didn't know that my dad, until I actually discussed these sort of issues before I left Penfolds.
Also, when I was working at Penfolds in the Barossa Valley, we used to bring grapes from all over South Australia, and one of the places it came from was Coonawarra. I remember smelling the ferment from meters away. You could smell the gas coming off the ferment. The smell of Coonawarra Cabernet was so unique, so strong, so distinct. That was just something that struck me and I said, "This smells so much better than a Shiraz sitting there."
Not that I said, "Wow, I'm going to go and make Cabernet," but once I decided to start my own business, that's what I wanted to do. Coonawarra, it doesn't matter what anyone says, is a very unique part of the world. It produces unique wines for unique reasons.