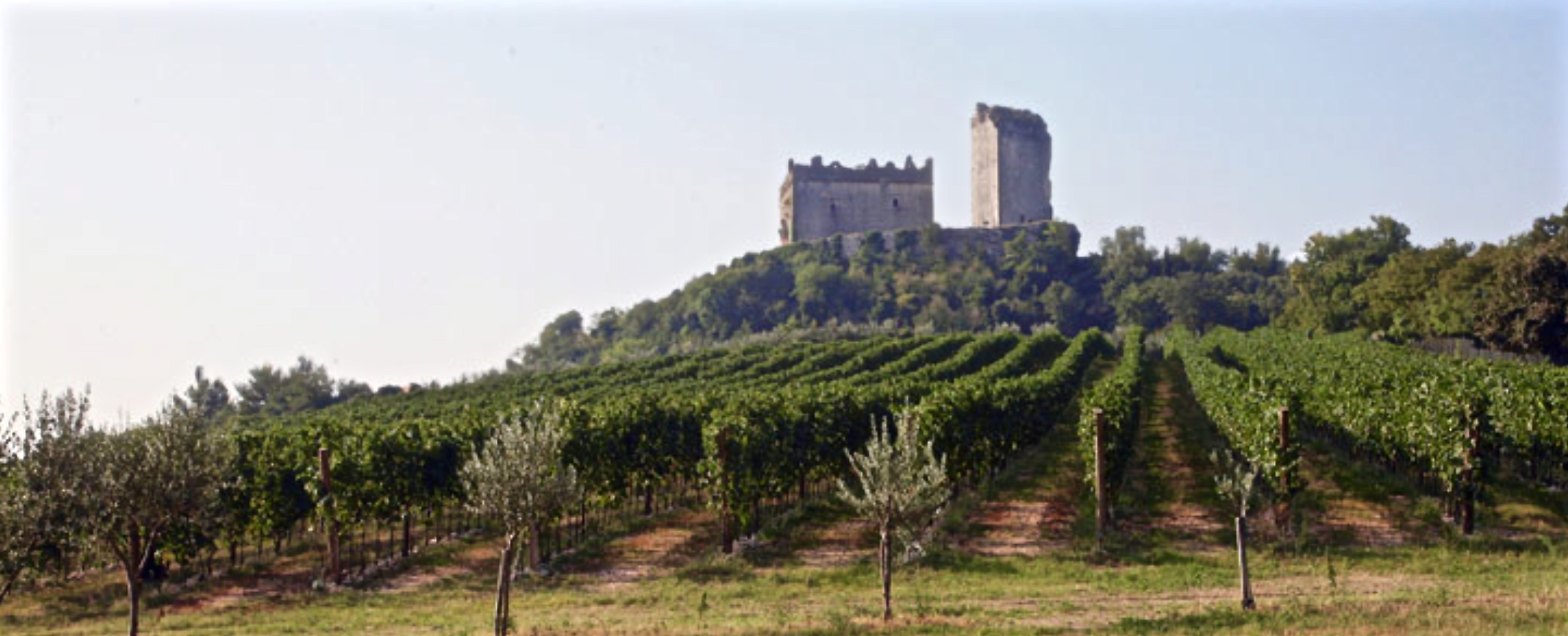 Although most famous as the home of star-crossed lovers, the province of Verona has been a center of winemaking for over 2000 years since the Romans planted vines in the valleys of Valpolicella while en route to conquer the northern regions. Pliny the Elder and Virgil lauded Valpolicella wines. Over time, however, simple wines were produced in large quantities and their reputation foundered. Some large industrial producers still make these low-end Valpolicellas but, over the past 50 years, certain vintners have emphasized more traditional winemaking and produced more complex and higher quality wines.
LATIUM

From the 1960s to 2000, the Morini family harvested grapes at their farm in the Veneto region in northeastern Italy that were made into wine by a community cooperative. Since 2000, the farm has been run by seven cousins (the seven-point flower logo on the wine label represents the cousins) who bottle wine under the Latium label. The name derives not from Latium, the central west region of Italy where Rome was founded, but rather from the Latin name of Illasi, the town near Verona where the winery is located.



Latium comprises 40 hectares split between Soave and Valpolicella. The vineyards are spread over three areas in the valleys of Illasi and Mezzane, each with different microclimates and soils. The climate is temperate and rainfall, about 40" per year. The rich mineral soils date to Jurassic and Cretaceous eras.


Latium produces nine fruity, rich and elegant wines each with different D.O.C. designations - two Soaves (only one is imported to the US), a Valpolicella, a Valpolicella Ripasso, a Valpolicella Superiore, an Amarone della Valpolicella (first released in 2007), an Amarone della Valpolicella Riserva (not imported), and two dessert wines, a Passito and Recioto della Valpolicella (neither is imported). Additionally, Latium produces olive oil.

Latium makes Soave predominantly from Garganega grapes blended with some Trebbiano di Soave from 30-year-old vines. The grapes are destemmed and crushed after harvesting. The Soave is pale yellow in color and is fresh and slightly aromatic with bright notes of apple and peach and crisp minerality from the chalky soil. Its alcohol level is 12.5%.

The Valpolicella (Val polis cellae means "the valley of many cellars") is predominately Corvina and Corvinone with about 20% Rondinella. It is aged in stainless steel. The wine has a ruby, purplish color, a medium body with good balance and tastes of raspberries, strawberries and cherries with hints of cocoa. 13% alcohol. (

$13.99 at Grape Collective

).

The Valpolicella Ripasso Campo dei Ciliegi is made from Corvina (70%), Rondinella, Molinara, Croatina and Oseleta. In its second fermentation, the wine is added (ripasso or "repassed") to a cask with the lees and skins of Amarone which impart more color, flavor, texture and alcohol to the Valpolicella. It is aged in French and American oak for 12 months. The Ripasso has the vibrant fruit of Valpolicella and some of the richness and complexity of Amarone. 14.5% alcohol.

The Valpolicella Superiore Campo Prognai is a single vineyard Valpolicella that is full-bodied with well-ripened black cherry and blackberry fruit with some spice notes. Corvina constitutes 70% Rondinella 20% and others, 10%. About 40% of the grapes are raisinated like Amarone for about a month. The wine is garnet/violet in color and is complex and but fresh with a long finish. Its tannin and acidity balance the fruit beautifully yielding an elegant wine. It is aged for 15 months in Slavonian oak tonneaux. 15% alcohol (

$23.99 at Grape Collective

).
The Amarone della Valpolicella and Amarone della Valpolicella Riserva are robust with fleshy raisin and other dried fruit flavors mixed with pepper, cedar and other spice notes and good minerality. This wine is made from more than 20 pounds of fruit per bottle vs. about 2 pounds for Valpolicella which results in a wine of great concentation.

Amarone (from the same root as Amaro) means "the great bitter" to distinguish it from Recioto (see below) which is sweet. Amarone is made predominantly from Corvina with Rondinella, Croatina and Oselata making up the balance. After harvesting the grapes by hand in late October, the grapes are dried for four months on trellises to raisinate them and then destemmed and crushed. The wine is then aged in 350-liter oak tonneaux for 30-40 months and 10-12 months in bottles. Like Port, Amarones are long lived and require years of cellaring before they reach their peak. 16-16.5% alcohol.

(2010 Campo Leon Amorone della Valpolicella $53.99 at Grape Collective)



The Passito Sette Dame is made from 100% Garganega grapes that are dried to concentrate their sweetness for four to five months. The Passito then is aged in small oak barrels for 24 months. This sweet wine is golden colored with aroma of ripe fruit and dried fruit and caramel. 12.5% alcohol.

The Recioto Septemviri is a classic sweet wine from the Veneto made like Amarone from Corvina and Rondinella blended with a little Croatina/Oseleta. The name recioto is thought to derive from orrechie, meaning ear and in local dialect, recie. The top corners or the "ears" of the grape clusters get the most sun and therefore, are the ripest and most mature. The grapes are hand selected and then dried for three months before vinification in stainless steel. The vinification of Recioto follows the same process as Amarone until its fermentation is stopped to prevent the yeast from eating up all of the sugar. The Recioto is ruby red and tastes of sweet, ripe cherries and other black fruit. 13.5% alcohol.

FOOD PAIRINGS
Soave - sole or another white fish, grilled chicken, pasta or mild cheese
Valpolicella - antipasti, salami and other cured meats, pizza, pasta, light meats, vegetables, Asian and Latin American cuisine
Valpolicella Ripassa - antipasti, pasta, rice and country soups, grilled or roasted meat or poultry, hard and semi-hard cheese
Valpolicella Superiore - roast lamb or veal, lasagna, aged cheese, mushrooms, grilled fish and vegetables, grilled or braised meat or poultry, risotto, fatty fishes and Middle Eastern dishes
Amarone - steak, grilled chops, game, risotto, dishes with truffles, strongly flavored or aged cheeses such as Parmigiano Reggiano, Cimbro, Monte Veronese Ubriaco, Pecorino Vecchio, Gouda, and blue cheeses such as Gorgonzola, Stilton, Roquefort or Danish blue

Passito - strong flavored cheese, fruit desserts, custards, nut cakes or cookies
Recioto – dark chocolate, nut cakes or cookies, pâtè, foie gras, blue cheese or other strong cheeses