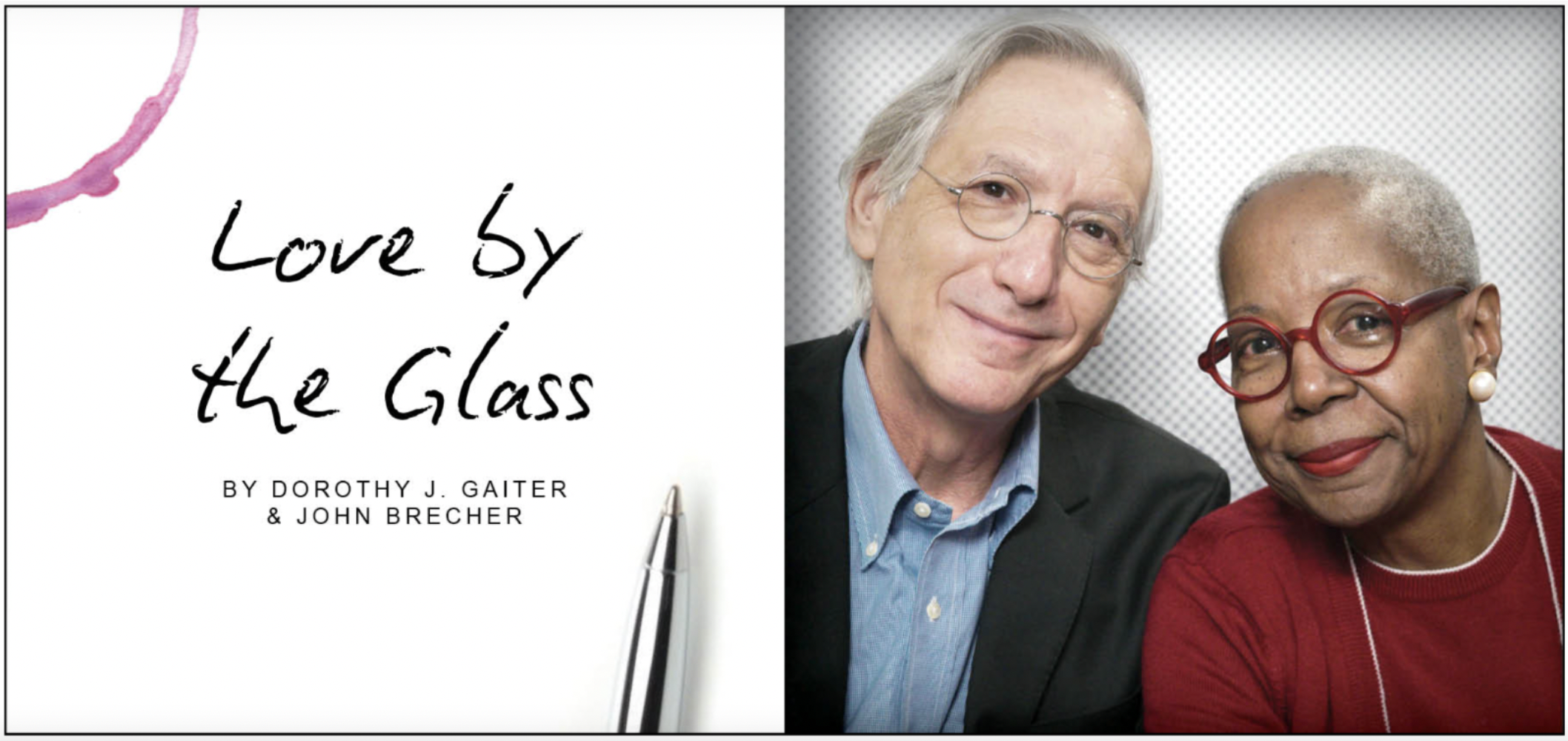 We were at a small wine shop, looking for a nice end-of-summer white. We spotted the bottle at the same time and both said, "Awwww." It was Menetou-Salon, a Sauvignon Blanc from the Loire Valley of France, which we don't see that often. When we do, we think of Windows on the World in New York's World Trade Center, where we first tasted it decades before terrorists brought down the twin towers on Sept. 11, 2001, killing almost 3,000 people. We recalled that first bottle when we had another Menetou-Salon at a French restaurant in St. Maarten during a cruise in 2006 and toasted our dear wine-loving friend Cathy, who we lost in that devastating attack 21 years ago.
Wine has staggering powers to make connections.
The bottle on the shelf was 2021 "Moulin des Vrillères" from Kevin et Karine Lauverjat, which we'd never tried before. We saw on the back label that it was imported by David Bowler Wine, a name we have come to trust. It was $27. We picked it up, of course, and chilled it to drink that night on the deck while the sun set.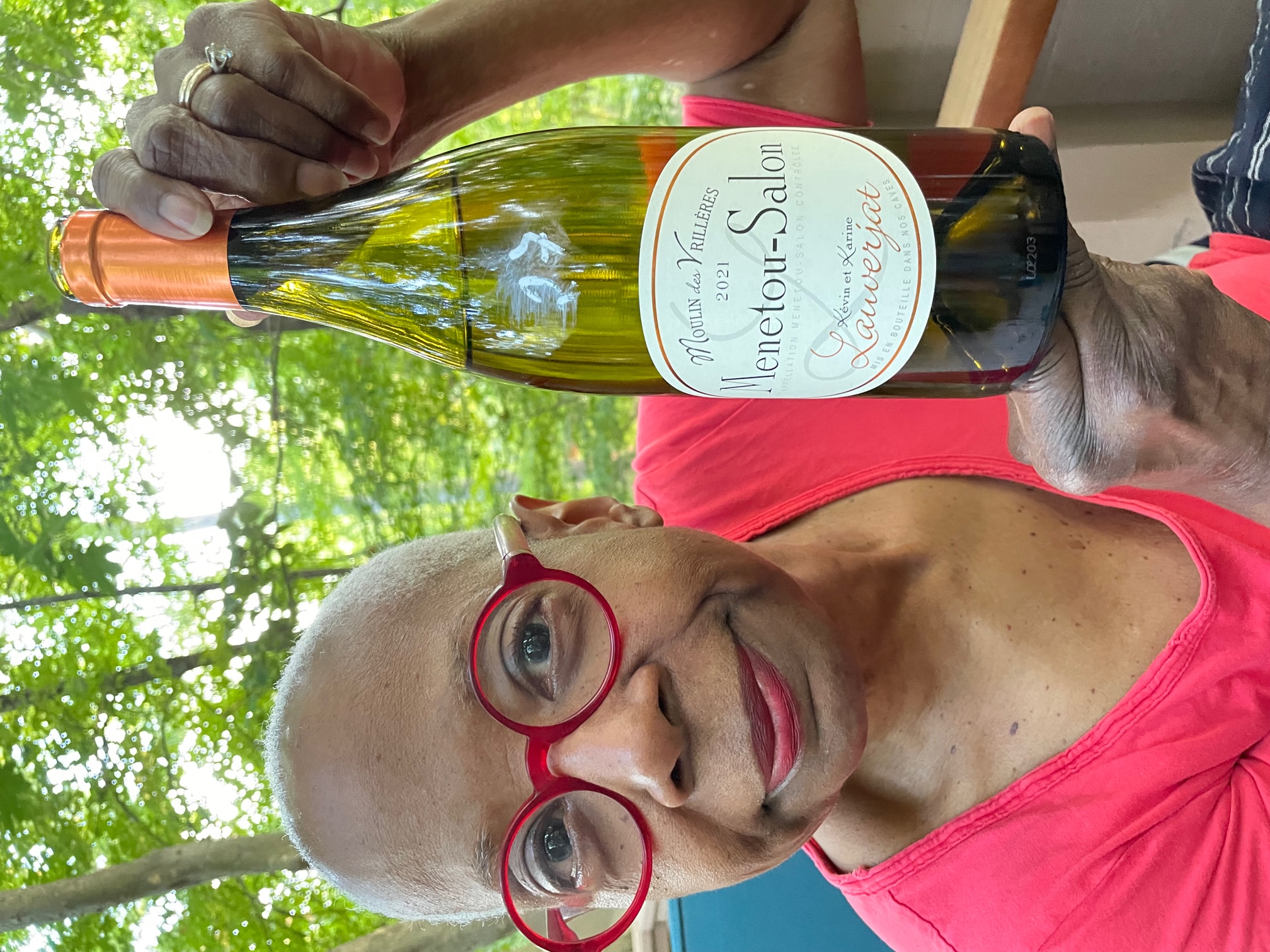 We generally find wines from Loire to be good values, especially the whites – from Muscadet to Vouvray – and some reds, too, like Chinon. (There's a fine interactive map of the region here.) Sancerre, which is also made from Sauvignon Blanc, has become ever-more-popular over the years, which means that, overall, the prices tend to be a bit high for us, especially at restaurants. The hot market combined with terrible weather in 2021 and supply chain issues has some people warning of a Sancerre shortage. We tend to be skeptical of shortages – there is supposedly a Champagne shortage every holiday season, until there isn't – but maybe the current talk of a Sancerre shortage will open the door a crack for consumers to try some other Loire wines, like Menetou-Salon, which can be red and rosé, from Pinot Noir, as well as white.
Because of our history with the white, our expectations were high for our bottle – and this wine exceeded them. We knew from the nose that it offered something special because we sensed a focused energy, with plenty of minerals, a hint of herbs and tropical fruit. When we sipped the wine, those tastes pretty much exploded in our mouths. And then the finish lasted forever, so dry and filled with minerals that we simply had to take another sip.
As we drank the wine, it changed, becoming a bit deeper. Dottie even sensed some walnuts. With even more air and warmth, the wine became fuller, with more weight. Bottom line: Yes, we drank the whole bottle, and we never stopped talking about it, which is the highest praise we could offer.
We knew two things right away: 1) This wine would age beautifully for some years because of its perfectly balanced acidity and 2) We needed to buy more. We did that the very next day. The second bottle was fabulous with herbed tilapia.
In the meantime, we did a bit of research on Lauverjat, which is located in Central Loire. We learned that the first names on the label have changed over the years. Now it's Kevin and Karine – son and mother – and that made us smile. In a world of wines made by giant corporations and billionaires, it's easy to forget that many winemakers today are still small farmers, families, and that winemaking is often a story of ordinary people struggling against overwhelming natural forces to create their art. Among other wine regions, California's have struggled mightily this year, first with frost and now with withering hot temperatures.
On Bowler's website, we found that Lauverjat makes a range of sustainably-farmed wines centered on Sancerre, both red and white, and they make about 400 cases of Menetou-Salon. In an average year, the winery makes about 17,000 cases of wine, of which around 70 percent is sold in the U.S. The whites are made in temperature-controlled tanks. The website adds: "The Lauverjat family has been farming in Sancerre for generations in the tiny village of Sury-en-Vaux. For many years, the family had a mill on a tiny river called La Belaine that is next to the winery and they used to mill their own wheat; the winery is still known by some as the 'Moulin des Vrillères.' They have 110 hectares of grains, including wheat, hops, and rapeseed and 13 hectares of vines in Sury-en-Vaux and Sainte-Gemme-en-Sancerrois, two small villages within the Sancerre appellation. Karine's son, Kevin, joined Karine's husband, Christian, at the winery after finishing his studies in Beaune. Their daughter, Suzie, helps Karine run their wine and gift shop in the center of Sancerre." Kevin and his wife, Cindy, are the parents of Louis, who is not quite four months old.
We also read that the family uses seaweed in the vineyard to help nourish the soil and keep down plant diseases and harmful insects.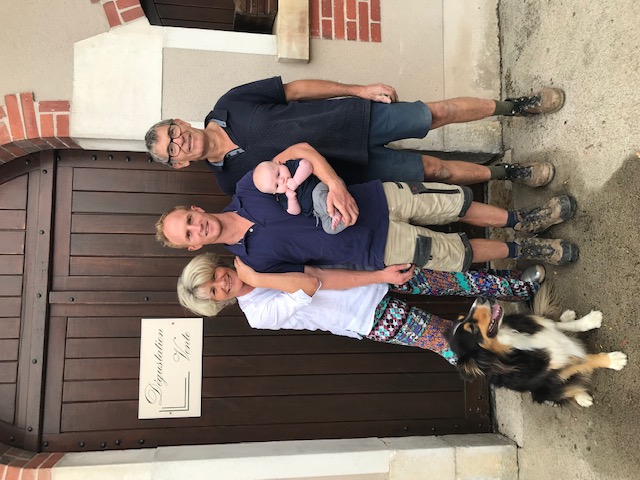 All in all, we were eager to get in touch with the family and we did just that, emailing with Karine Lauverjat with the help of Michele Peters, Bowler's import portfolio manager for France and Austria. We asked how the vintage looks, why the names on the label have changed and why they use seaweed. Be prepared: Some of what you are about to read is not happy news.
(Photo: The Lauverjats: Karine, Kevin and his baby, Louis, Christian, and their dog, Myrtille.)
Grape Collective: How old are you and what is everyone's role?
Karine Lauverjat: I've seen 55 springs. My husband, Christian Lauverjat (66 years old), is a retired winegrower, but still just as much present as before at our winery. Kevin Lauverjat (31 years old), our son, is also a winegrower and took over the winery four years ago. Together with his father, they make the decisions and the knowledge is passed down gradually over time. It's the reason that we are slowly beginning to change the names on our labels.
For my part, I've studied oenology and I help when necessary for different tasks and I always help with blending because all three of us have different palates. My main job is selling the wines as well as all of the legislation.
There are now four generations of Lauverjats working in viticulture and agriculture, since we also have grains and also a bed and breakfast.
It's a fascinating line of work that is different each year. Unfortunately, like all jobs with the outdoors, we are subject to the weather. We no longer have seasons. The threat of frost, storms, hail, too much heat, oblige us to watch over our vineyards night and day. It's forbidden to water. It's so complicated and disheartening to see your vines suffer from heat and not have the right to water them.
This is one benefit of using the seaweed treatment. The seaweed comes from Norway, from cold water. We are actually the first to use this treatment, which has now been for the last 20 years, and this seaweed gives us better photosynthesis, brings nutrients and helps to fight against disease and other problems due to weather, improves the root development, and it's allowed us to reduce our phytosanitary treatments by 30%. Very few winegrowers use this type of treatment in Sancerre, maybe because of a lack of communication on the subject, and also the cost is quite significant.
Grape Collective: We heard 2021 was a challenging vintage. How about this year?
Last year our yields were down by 60% because of the spring frost and for this new 2022 vintage, we are not quite sure how it will be because we haven't started to harvest yet [on Sept. 1]. The young vines suffered a lot because of the drought and on the oldest vines, some berries are ripe, the others don't have total ripeness yet.
In fact, the harvests are more and more precocious because in my father-in-law's time harvest would start around October 15. This year, some winegrowers have already started in Sancerre, but we prefer to wait a few more days because it could be a huge benefit if we get just a bit more rain.
Sancerre is so famous and popular. Menetou-Salon is less well-known. You make both. If you had to explain to someone how they are different, what would you say?
The vineyards of Sancerre are world-renowned because the winegrowers that came before us knew how to make themselves known and especially to go to Paris to introduce their wines, truly pioneering with plenty of pizazz, whereas in other winegrowing areas, nothing was done. Because of the shortage of Sancerre for climate reasons and also its growth in popularity, some Menetou-Salon have prices that match certain Sancerre.
For my taste, Menetou-Salon is a very mineral wine with a distinctive terroir expression compared to Sancerre that is more fruity with a longer finish because our vines mostly grow in a clay limestone soil. Everything depends on terroir, the winegrower, the moment, the time that it's served over the course of a meal, and our mood!
Dorothy J. Gaiter and John Brecher conceived and wrote The Wall Street Journal's wine column, "Tastings," from 1998 to 2010. Dorothy and John have been tasting and studying wine since 1973. In 2020, the University of California at Davis added their papers to the Warren Winiarski Wine Writers Collection in its library, which also includes the work of Hugh Johnson and Jancis Robinson. Dottie has had a distinguished career in journalism as a reporter, editor, columnist and editorial writer at The Miami Herald, The New York Times, and at The Journal. John was Page One Editor of The Journal, City Editor of The Miami Herald and a senior editor at Bloomberg News. They are well-known from their books and many television appearances, especially on Martha Stewart's show, and as the creators of the annual, international "Open That Bottle Night" celebration of wine and friendship. The first bottle they shared was André Cold Duck. They have two daughters.
Banner by Piers Parlett