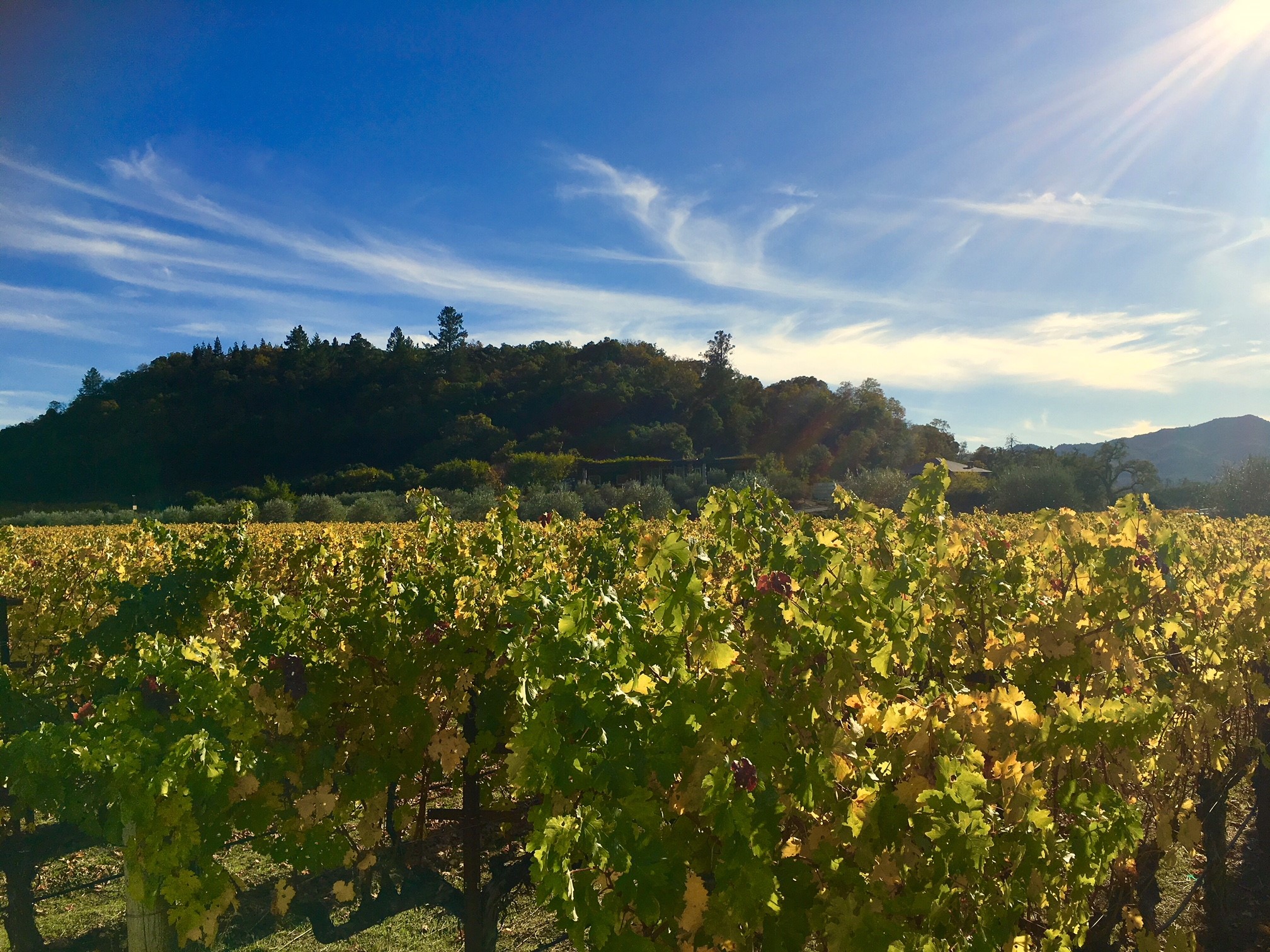 What do 'Light My Fire', 'Hey Jude' and 'Born to Run' have in common? If you answered that they're names of iconic rock songs from the 60s and 70s, you are correct! But did you know they're also the names of vineyards in Napa Valley? At Cliff Lede Vineyards there are 46 different blocks of plantings, known as "Rock Blocks," each one named for a famous rock song or album.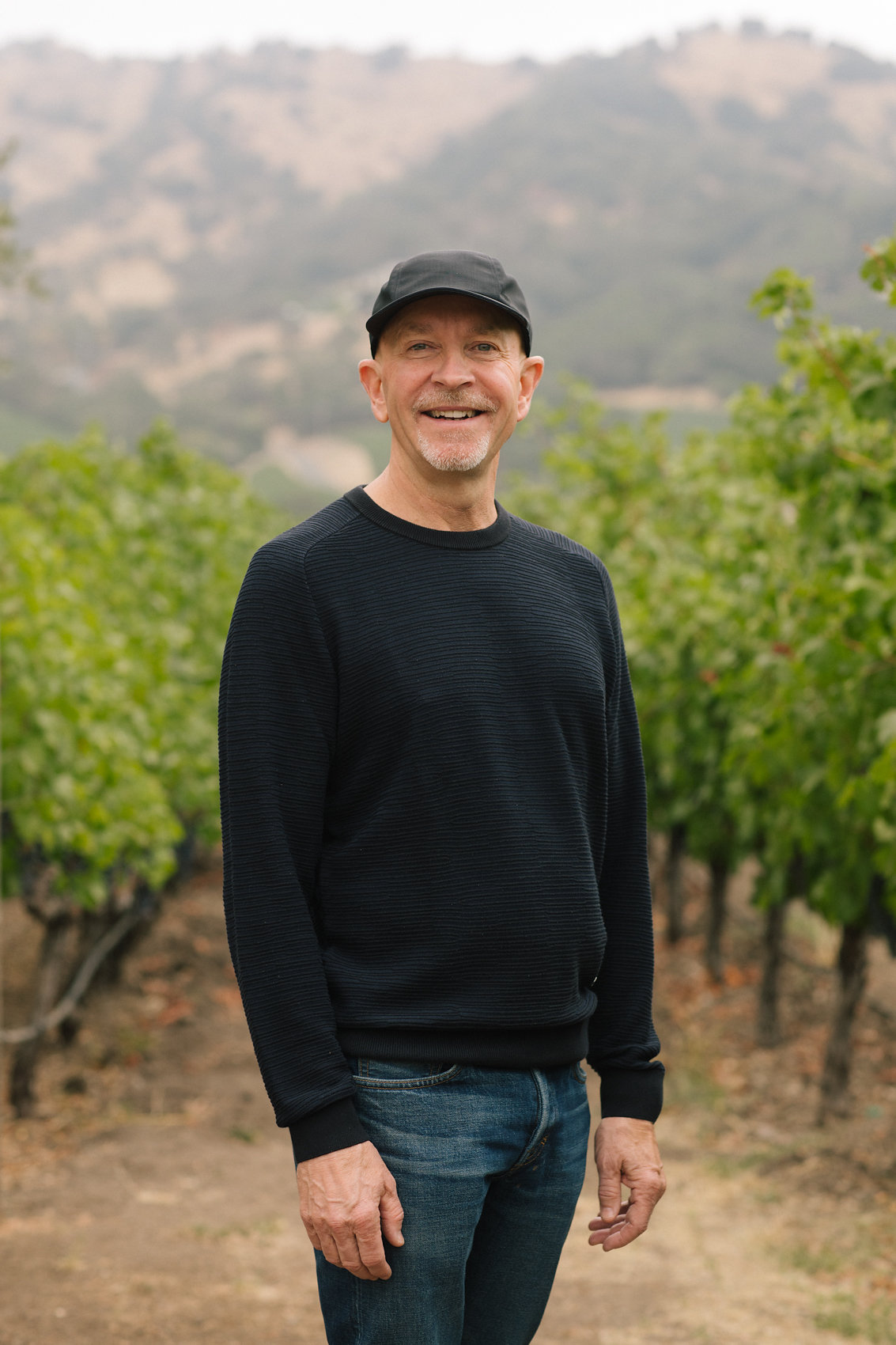 Founded in 2002 by Cliff Lede (pronounced "lady"), Lede Family Wines started with 60 acres in the Stags Leap district of Napa Valley. After hiring his friend and renowned viticulturist David Abreu to replant and farm the vineyards, Cliff, an avid fan of music from the 60s and 70s, decided that the easiest way to keep track of the many blocks of plantings, each very specific to the soil type and exposure, was to name them after his favorite rock songs and albums.
The FEL label was added to the portfolio in 2009 upon the purchase of property in the Anderson Valley. It's named after Cliff's mother, Florence Elsie Lede, whose home winemaking hobby sparked Cliff's curiosity in wine as a child.
Remi Cohen, Vice President and General Manager of the estate and Cliff's right-hand woman, visited Grape Collective to tell us more about this up-and-coming estate.
Lisa Denning: Tell us about your personal journey that led you to Cliff Lede.
Remi Cohen (on the left in the photo below): I grew up in New Jersey and I was very science inclined but also a little bohemian and I had the opportunity to go to UC Berkeley and so I moved across the country when I was 17, and at the time I was pre-med, I was studying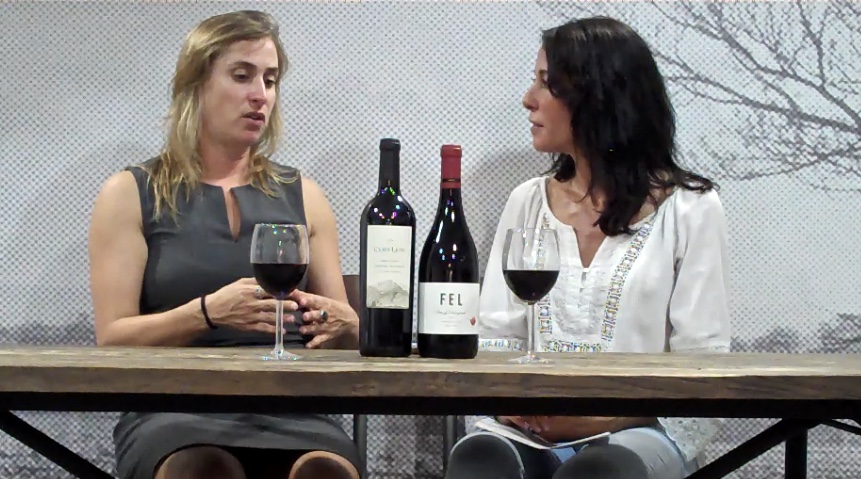 molecular biology and I met a professor of plant and microbiological Dynamics and he was really into wine and opened me up to the whole world of plant science and so I fell in love with the Bay area and wanted to stay there. I was looking at different programs for grad school and I saw that UC Davis has this amazing program to study viticulture and enology and I called up one of the leading professors Andy Walker and he said, "oh you went to Cal? You went to the mother ship and studied genetics?" And I said, "yes" and he said, "well, you're in! You'll have to apply as a formality". So then I studied under Andy. He's an amazing viticulturist and launched my career in viticulture, moved to Napa Valley when I graduated in 2001 and that makes it really easy for me to count harvests so 2017 will be my 17th harvest.
Tell us a little bit about Cliff Lede's background and how he got into wine.
Cliff is from Edmonton Canada. He's a really great guy. He and his older brother inherited a construction firm from his father when they were quite young and they really grew it to be a tremendous success but it was never really Cliff's dream and passion and he really fell in love with wine. He was collecting Bordeaux wine and he was thinking to himself, I would love to make wine but I don't speak French so I'm not going to move to France to make wine in Bordeaux but when he visited Napa Valley, he fell in love with the Bordeaux style of wines that were being made in Napa and decided to shift his focus and in 2002 he purchased a property in the Stags Leap district of Napa. He started Cliff Lede Vineyards. Several years later he acquired a small winery in Anderson Valley that used to be called Breggo and he renamed it after his mom and so FEL are her initials, Florence Elsie Lede. Now we are Lede Family Wines which encompasses both wineries, Cliff Lede Vineyards Stags Leap District Napa, our Bordeaux varieties, Cabernet Sauvignon, Sauvignon Blanc, and FEL based in Anderson Valley, Pinot Noir, Chardonnay and Pinot Gris. Both have their own winemaker as well also. Chris Tynen is the winemaker for Cliff Lede and Ryan Hodgins is the winemaker for FEL.
I understand that art and music are integrated into the winery. Can you tell us how?
Yes. All of Cliff's favorite things are at our winery in Napa. A lot of beautiful modern art, great classic rock music, delicious wines! When he purchased the property in 2002 he enlisted the help of his good friend and legendary viticulturist David Abreu to help him replant the vineyards. As they were replanting the vineyards, David had named all the vineyard blocks alphanumerically A2, B3, C4 and Cliff thought that that was a little bit boring and David said, "Well, people name them after things that are meaningful to them like their children" and Cliff was like, "Well I don't have that many children"! He ended up naming all of our vineyard blocks after his favorite classic rock songs. So when you come to the winery, there are a few of them that are mnemonic, Born To Run which is along his favorite Running Trail. One of my favorite blocks is Sympathy for The Devil by the Stones in the steepest block in our Poetry vineyard which is our hillside vineyard. Hotel California is also in our Poetry Vineyard and it leads up to the Poetry Inn our small luxury hotel.
Oh that's so fun!
It is fun. That's a fun element. The wine is serious but we are playful about it.
What was the first vintage at Cliff Lede?
When Cliff started there was some wine in the little winery that he had acquired and we did bottle a 2001 vintage which was some of our favorite wines that we bottled at the time but we believe that 2002 was our first vintage where we farmed the grapes, made the wine start to finish and were completely in control of the process.
What was the name of that previous winery?
S. Anderson. The Anderson family had a little winery along the Yountville crossroad. When Cliff acquired it, he turned their home into our hospitality center. Their winery is now our administrative building and he worked with Howard Backen to build a brand new beautiful winery that was opened in 2005.
Tell me about the varieties that you grow.
Our estate in Stags Leap District focuses exclusively on the main Bordeaux varieties so mainly Cabernet Sauvignon but also we have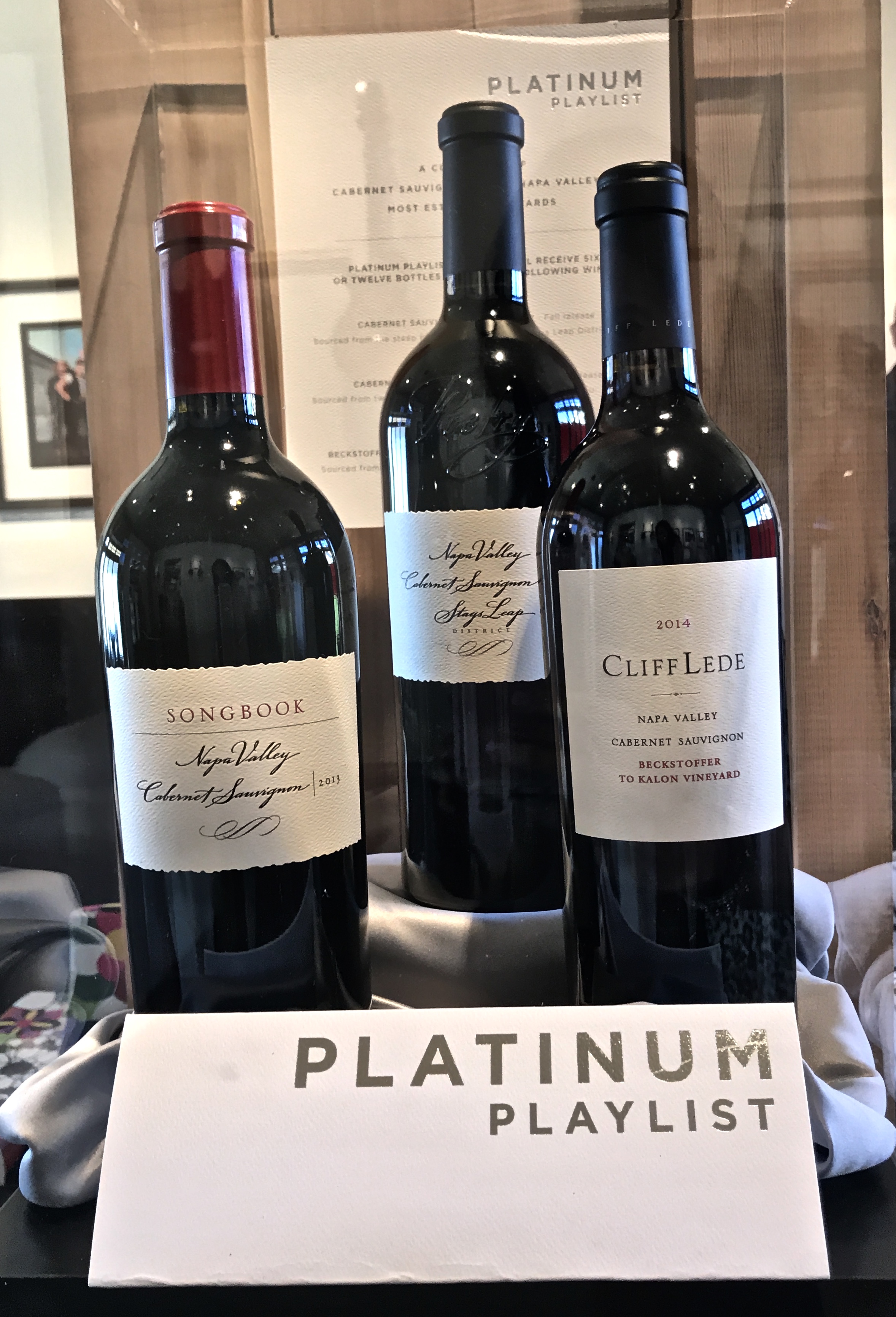 Merlot, Cab Franc, Malbec and Petit Verdot so all five varieties go into our Cliff Lede Stags Leap District Cabernet. We make mainly Cabernet Sauvignon and Bordeaux variety blends under the Cliff Lede program. Our flagship is called Poetry, which is only from the hillside called Poetry Vineyard, we have two different estates in Stags Leap, one is nestled amongst the rolling hills and we call it Twin Peaks and then our hillside vineyards called Poetry and we make a small amout of wine called Poetry and it's exclusively from the Poetry vineyard. We make one white wine and it's Sauvignon Blanc and it's a blend with Semillon and Muscadelle. For the FEL portfolio we work with vineyards in the Anderson Valley. Our estate vineyard is called the Savoy vineyard and it's the flagship of the FEL portfolio. Savoy is really an incredible vineyard that Rich Savoy developed and was really one of the leaders in Anderson valley for bringing the right clonal material, farming organically, putting the right amount of attention to make Anderson Valley as exciting as it is today for growing Pinot Noir and Chardonnay.
Your vineyards are certified as Napa Green. Can you tell us what that means?
Yes, Napa Green is a program that was initially created by Laurel Marcus Fish Friendly farming and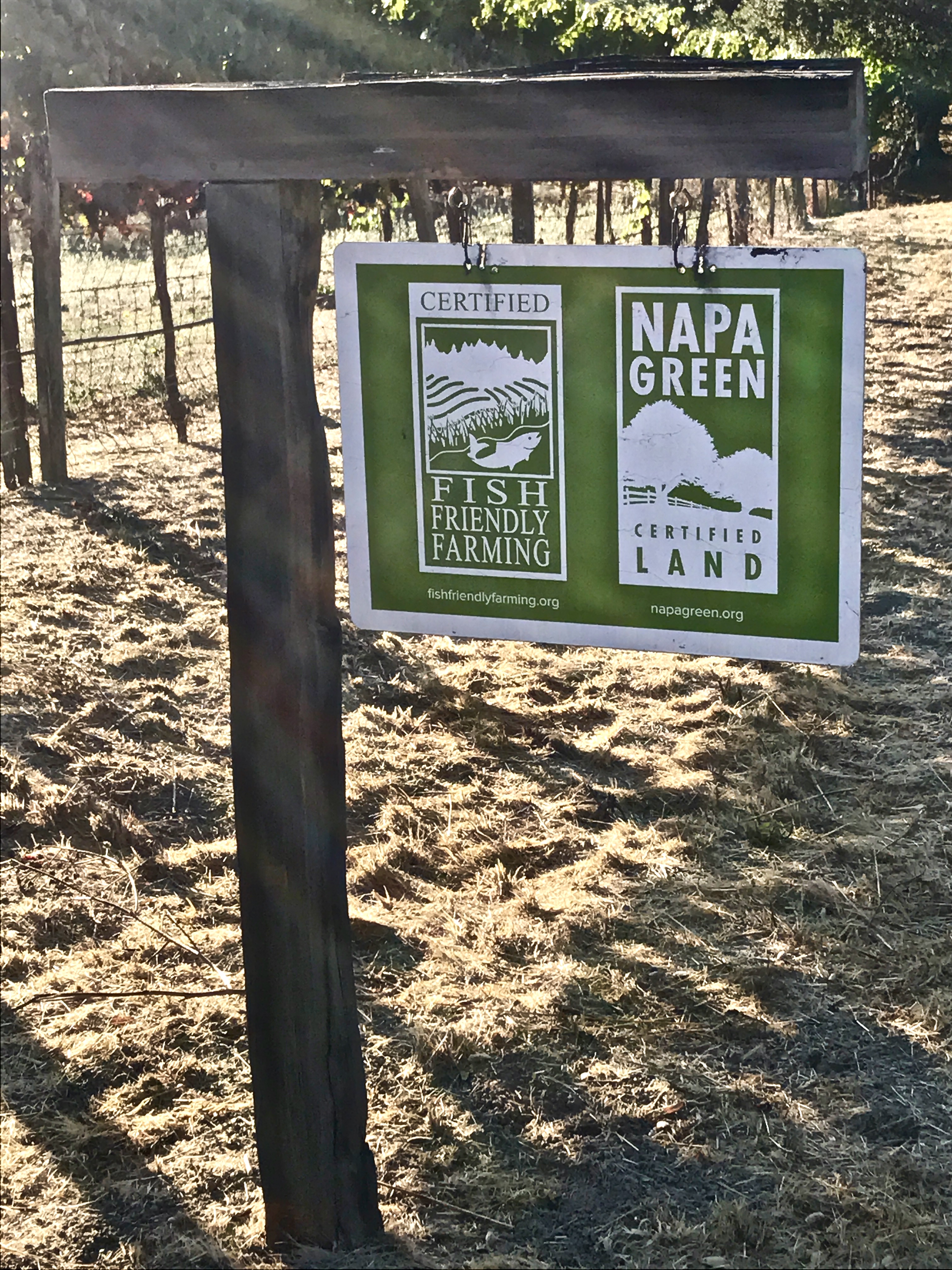 what she set out to do is to make a sustainability certification that really addressed the conundrums of vineyards in Napa Valley. One of the main issues with all the hillside farming is erosion and sedimentary erosion can pollute the waters and that was an issue in Napa in the 80s and 90s with all the hillside development. One of the main things that the Napa Green program looks at is how to retain soil, how to build healthy soil and how to prevent erosion from hillsides and roadways and it really looks at the farm as a holistic system so it's not just the acres you're farming. lt's your roads, your farms; it's your water ways and really making sure to protect those valuable resources. It encompasses a lot more than what an organic certification would do which is specifically reliant upon the materials that you're using in the vineyards like pesticides and fertilizers, and making sure that they're naturally derived. Sustainability in general can be a little broader-focused, encompassing how you treat your workers, again building healthy soils, preventing erosion, many other aspects as well. A lot of people who farm organically also farm sustainably. Sometimes sustainable farmers don't always farm organically because they use a wider selection of tools in their tool box.
Is organic farming something that you are considering?
We use a lot of organic practises and at the Savoy vineyard we are farming it organically. We're not certified but we use alot of organic farming practices at Cliff Lede. We try to use compost instead of fertilizers wherever possible. We try to minimize the use of pesticides. We use alot of mechanical weed control instead of herbicides. We're not officially certified organic but we are fish friendly certified at both properties and Napa Green certified at Cliff Lede.
What is the philosophy of winemaking at Cliff Lede?
The main focus is to work with the best vineyards and we're really lucky that for both wineries we have access to amazing vineyards both with our flagship estates, so the Savoy with FEL and the Poetry Vineyard with Cliff Lede but we also work with some partner growers with both of the brands and at Cliff Lede, for example we have this amazing opportunity to make wine from David Abreu's personal properties. He has a couple of legendary vineyards in Napa and we make a wine that's a sister wine to Poetry that's called Songbook from the Abreu Madrona Ranch and the Thorevilos vineyard. With the FEL portfolio, in addition to working with our estate vineyard, the Savoy vineyard, several other producers make Savoy vineyard designates so we sell some grapes from the Savoy vineyard to other producers — Littorai, Radio Coteau, Peay, Failla.They all make vineyard designates. We also purchase grapes from some other legendary vineyards in Anderson Valley so we work with the Ferrington vineyard, Donnelly Creek vineyard and the one wine that we make that's outside of Anderson Valley, we have this great opportunity to work with the Hirsch vineyard on the Sonoma Coast.
I think that mainly the philosophy is to start with the right vineyards and from there we hope that the winemakers job is easy and they can do as little as possible to preserve the integrity of the wine that comes from that site. We really want our wines to taste like Anderson Valley PInot Noir, our Stags Leap district Cabernet we want to be recognizable to the person who's enjoying it.
It seems to me that in Napa there are two different camps of winemakers, those who want to make the larger, higher in alcohol wines that can be the ones that get the big scores or the other ones, that want to have more food-friendly, lower alcohol wines. What camp would you say you're in?
I would say that we don't really chase trends. I feel like we are somewhere in between those two styles and always have been. My friend Shannon Staglin said what I thought was really interesting once which is "a classic is a classic for a reason" and if we're chasing trends then you're not going to be a classic. I think we want this wine to taste like a Stags Leap District cab so if you're going to leave the grapes hanging until they're thirty brix and harvest them, it's going to taste like a thousand other red wines. You're not going to know where it's from, it's not going to have the typicity that you want that wine to have. On the other hand, if your pick is so early to make a statement of racy, high-acidity, lower-bodied, then again, it's not tasting like a Stags Leap Cab. So I think we tend to ride the line pretty well with the balance there. We tend to pick a little on the early side but then we make pretty voluptuous wines, they're truly Californian because they're exuberant and they have really beautiful fruit but both winemakers Ryan and Chris get inspired by European winemaking styles and Cliff is a big collector and lover of Bordeaux and Ryan has always loved Burgundy and Alsace wine and so I think there's a European influence in their winemaking style. But I think we are also expressing the fact that we are in CA and we have lots of sunshine and can make prettty exuberant wines.
What is the total production of Cliff Lede?
So the Cliff Lede is about 18,000 cases of wine, mainly the Stags Leap District Cabernet and the Sauvignon Blanc and then we make smaller amounts of Poetry, the flagship wine from the hillside, and some other wines. FEL is about 6-7,000 cases.
You are a fairly new winery. What sort of direction do you see it going?
We're always looking at new opportunities and looking to source some exciting grapes. We just started working with a new vineyard in the FEL portfolio called Wendling. And a couple of producers make vineyard designates from that and so maybe that's something you'll see more of down the line. We started working with Tokalan in the CL portfolio and we make a small amount of Beckstoffer Tokalon vineyard and that's a relatively new project for us. We're always looking for the right place to work with in terms of wines and we just bought a little vineyard in Calistoga so maybe that'll turn into something we're making a small amount of, Calistoga Cab under the Cliff Lede label but that might eventually grow into its own thing. So we're always pushing the limits, seeing where we can explore winemaking and expand the Lede Family wine portfolio. We also make many delicious white wines and I think that both winemakers make an outstanding white wine. Ryan for FEL makes an Anderson Valley Chardonnay and what he's done is so exciting and fresh with the Chardonnay. He makes it barrel fermented but no new oak and no malolactic fermentation so it's got the richness and the mouthfeel and the weight of a barrel-fermented wine but it has an incredible minerality, crispness; it's super refreshing and also has some longevity to it because of all the acidity. It's really an exciting wine in the FEL portfolio. I know you've had the Sauvignon Blanc from the Cliff Lede portfolio and I think that that's also a wine that overdelivers. It's a very thoughful wine for Sauvignon Blanc. It's one that we make with Semillon and Muscadelle, a true Bordeau Blanc style and that's a change when Chris Tynen became our winemaker, he brought in a higher percentage of Semillon into the blend and we do about 40-50% of the SB fermented in neutral oak barrels, about 10% in concrete egg shaped fermenters and then the rest in stainless steel to preserve the freshness. It's a Sauvignon Blanc that's pretty evocative and thoughtful and weighty but still fresh and vibrant and refreshing.
Doesn't Cliff call it his "Gateway Drug"?
Exactly. Both of those wines in general we know that a lot of people are going to get turned on to and try first, the Anderson Valley Chardonnay or the Cliff Lede Sauvignon Blanc and so we want to make sure that it's a great first impression and so we have a kind of joke in-house that it's the gateway drug, the Sauvignon Blanc.
How much Muscadelle do you put in the blend?
It's really on 2 - 3% depending upon exactly what the yields are each year. The vines were planted in 1947 so some of the oldest vines in Napa Valley had trained vines up in Chiles Valley and it's really incredible and we're really blessed to work with the vineyard and I think it adds a really nice white flower/green flower component to it, little nuances and complexity.
It was delicious! Is there anything else you would like to tell us?
I always love to say, I hope you come visit. I know you've been there but it's a great place for everyone to visit, it's really fun. I think in general it's the right balance between being a fun, welcoming place that has great music and beautiful art and you can really enjoy it, but also we're serious about winemaking and that's why I love working there. It's the right balance between those two things.
Read more from Lisa Denning on Grape Collective and on The Wine Chef.