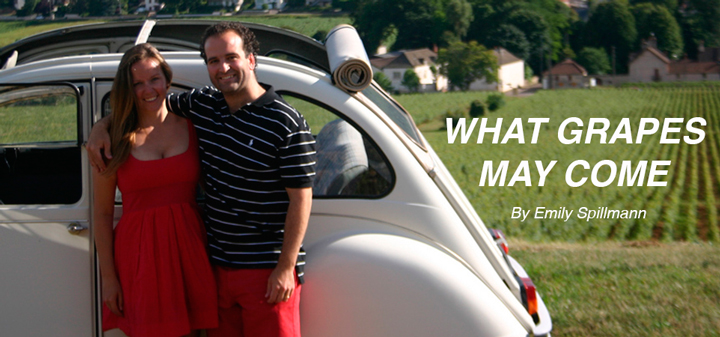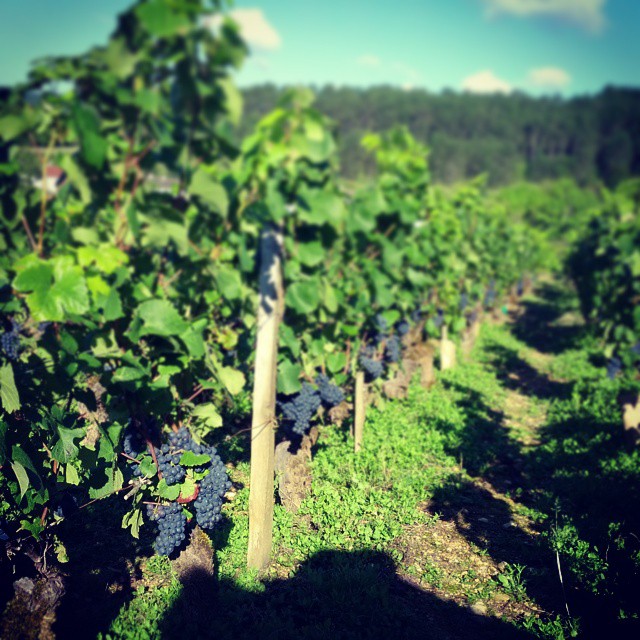 "Willful ignorance!" That's the phrase that came to mind – and that I less than elegantly blurted out – when I first met with Colleen and Nicholas Harbour at their home in Savigny-lès-Beaune a few weeks back. It was meant to be a compliment, as in they willfully refuse to be fazed by the challenges of their winery project. It says a lot about their good natures that they accepted it as such. In fact, they even agreed with me.
"We jumped ship from our old lives," said Nicholas.
"And we still can't see the island yet," added Colleen. "But we're swimming, and drowning's not an option."
A fitting if inadvertent metaphor, given their name.
The Harbours, a Canadian-American duo, ditched their careers in Luxembourg finance and moved to Burgundy three years ago with the broad goal of making a new life in the wine world. They had little wine knowledge and no family in the business. Did they know they had chosen the most traditional, patrimonial winemaking region of France to accomplish their goal? Crazy, you might assume. Or willfully ignorant. But, with a fourth of their 2013 vintage already pre-sold and their second harvest well underway, they've been more than a little successful as well.
The secret, they say, is not to have a Plan B.
"We've always focused on what's important right now, without looking too far ahead," says Nicholas, whose beard and sun tan make it impossible to see him crunching numbers in a suit and tie. "Right now we're focused on harvest, and we'll see after that."
There are moments of uncertainty, assures Colleen, Nicholas' smiling matter-of-fact counterpart. "But we have to keep it together because we are in it now. We move forward because if we stop, that's when it gets scary."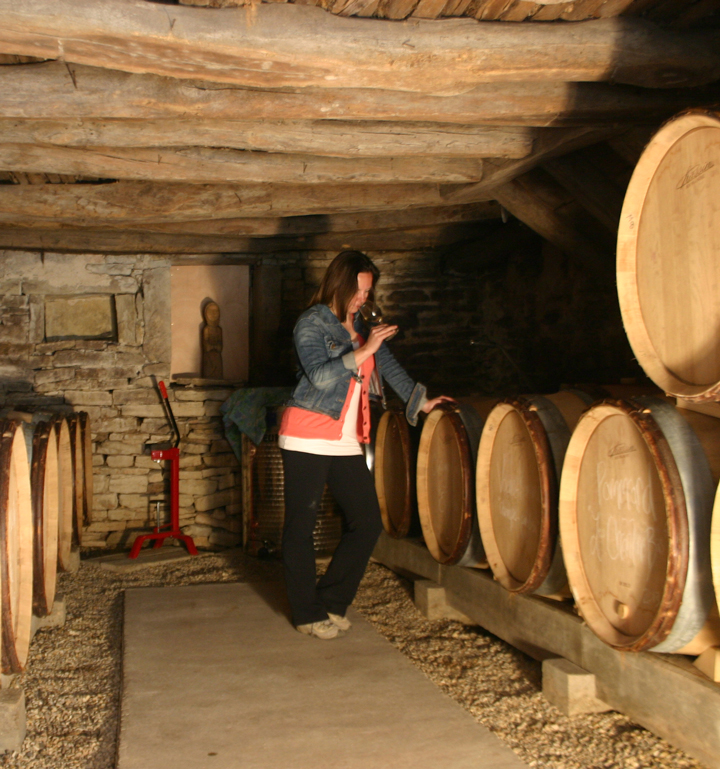 Colleen and Nicholas' nonchalance makes it seem as if they've simply followed their whims and the stars have aligned. They applied and were accepted into wine programs in Beaune, Colleen specializing in the commercial side and Nicholas taking on viticulture and enology. Then they found an old stone farmhouse that needed some repairing, but came with ample winery and cellar space. They collected winemaking equipment here and there and started asking around about grapes. Things fell into place.
Despite appearances, it wasn't all that easy. The story truly begins well before things began falling into place, when after their honeymoon they decided to move in with Colleen's father to save money for the project.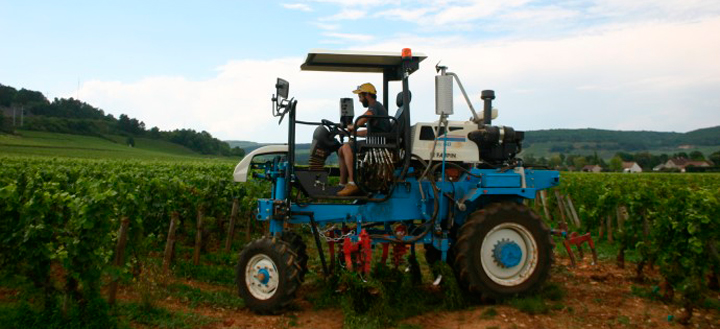 "Three months after we got married!" emphasizes Colleen, as if still in disbelief.
They lived with him for a year before cashing out and moving to Burgundy, where Nicholas already had "a small foothold" thanks to his parents' vacation home in Savigny.
In France, even a large foothold wouldn't have prevented challenges from some Burgundy veterans. When Colleen presented her winery business plan at the entrance interview for her master's program in Beaune, for example, she was called a "dreamer." Nicholas' professors labeled his internship report detailing his first vinification a "vacation diary." Even their Burgundian friends, whom they say were quick to open their doors and roll out a tank or a pump in a pinch, weren't sure they could pull it off at first.
"Our friend Michel [Ecard, of Domaine Michel & Joanna Ecard, their neighbors in Savigny-lès-Beaune] had warned us," says Nicholas. 'Look at your hands: they're so soft and feminine'" — "and they were!" interjects Colleen, laughing at the memory — "'but look at my hands,' said Michel, holding up what Nicholas compares to 'old leather bags.' 'This is what your hands will be like if you want to work in wine.'"
It's true that the first lighthearted entries of the couple's blog abound in romantic visions of life in France: exploring the local markets and brocantes, catching a glimpse of Mont Blanc from the hills of Burgundy, and learning to drive their vintage 2CV without power steering in the vineyards.
"People thought we weren't serious enough to do it, that we were just writing a vacation diary," says Nicholas.
Still, the couple's youthful exuberance seems to be exactly what attracts people to the Maison Harbour story. Colleen and Nicholas confront skepticism with a shrug and a smile, like two kids at a lemonade stand, watching the cars go by.
"At first we just joked about doing it, and people laughed with us about the idea. But we kept asking questions, and built up a network, and we're still laughing," says Nicholas.
"We're here to work hard and to have fun, one step at a time. We aren't trying to be the most prestigious winery in Burgundy."
And so, through moments of uncertainty, Colleen and Nicholas quietly went about their day-to day business, filling out administrative paperwork and equipping their garage-cum-winery with tanks and press, all while accruing valuable experience, and necessary income, working full time jobs at a large negociant house (Colleen) and several family-run domaines (Nicholas).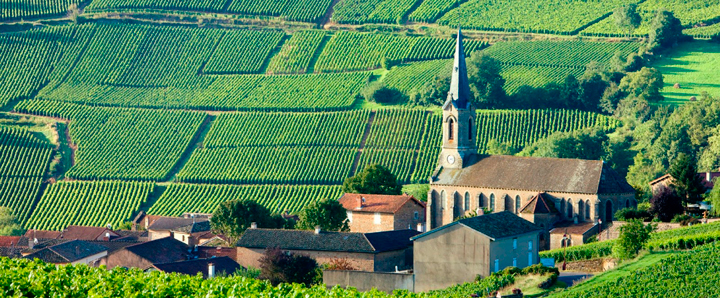 "Having lived here long enough to establish this network makes us feel at ease," says Colleen, implying that they have been paying their dues. "When we graduated from our programs and started working and making our place, people started to accept us. We can't count the number of oenologists and winemakers who have always been willing to help."
When Colleen and Nicholas secured their first grape contracts with growers, the skeptics began to take notice.
"Anyone can start a company, anyone can buy a winery," says Nicholas, "but when we got good grapes, especially coming out of two hard years in Burgundy, people were shocked."
Their lineup of 2013 wines includes a Gevrey-Chambertin and Vosne-Romanée village as well as four premier crus from Pommard, Gevrey-Chambertin, and Chassagne-Montrachet. Unheard of, according to the wine brokers.
"Our wine friends knew what we were looking for," explains Colleen. "They heard whispers [about available grapes] and they would call on our behalf. They stuck their necks out for us."
Motivated by pioneering Burgundy transplants like ex-Formula One engineer turned vigneron David Clark, as well as their growing group of dynamic young winemaker friends, the fledgling winemakers were exacting, even when it came to buying their first grapes. They visited "five or six" growers before finding their first good match.
"We were looking for a certain philosophy and a certain type of vineyard, and until we found it, we said, 'no, no, no,'" says Nicholas. Meanwhile, their parents encouraged them to take something, anything. They had their accountant to pay!
"We didn't sleep for two months," Nicholas adds.
In Burgundy, negotiating grape contracts is an intimate endeavor, seldom communicated through the regular channels, and requiring connections, pluck, and trustworthiness to achieve. Growers use their late summer harvest estimations to determine if quantities will allow for new contracts, which more often than not come about as the result of a rare change in a preexisting contract. A longtime buyer might renounce a parcel that has proven particularly susceptible to hail, for example, leaving that fruit available to be snatched up by the next luckiest bidder. The pickings are slim in this tiny region, where two rows of vines might be a farmer's most valuable asset. Nothing is set in stone before the grapes are delivered, and even then the contracts remain oral arrangements. For the Harbours, it was mid-September 2013 before they confirmed their first contract — twoweeks prior to harvest.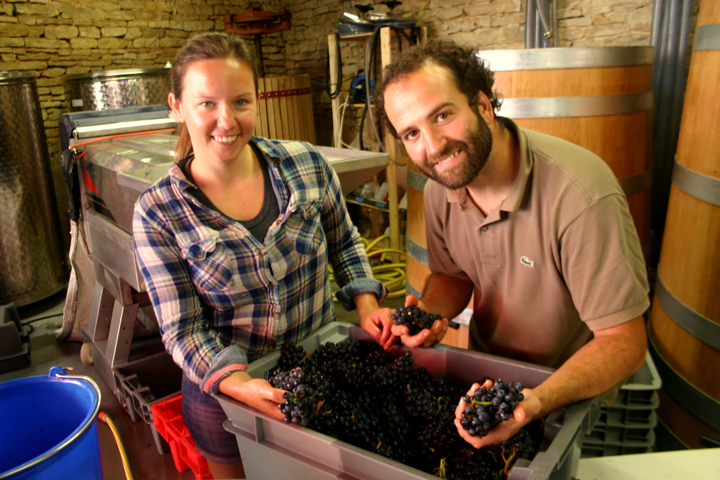 Colleen and Nicholas ended up with enough grapes to make 14 barrels – around 4,200 bottles of wine. Not surprisingly, they applied a relaxed, non-interventionist approach to their winemaking.
"We're the newcomers, we're just learning," says Nicholas. "I think the grapes can teach us a lot more than we can teach them."
"Two gentle punch downs, just to make sure the cap got covered, to extract a little color," Colleen explains. "One or two pump-overs to help with the fermentation, but it was super gentle."
To celebrate their first harvest, the Harbours had invited friends and family to help sort the grapes.
"There we were," says Nicholas, "our first year, our first grapes coming in, beers on the sorting table, and we're like, 'yeah, let's go, let's sort something!' Then the grapes came across the table, and they were just a dream. Even after a difficult year, where the fruit had a hard time ripening and battled lots of disease, we got these perfect grapes."
In spite of the numerous hands on deck, there wasn't much to sort.
Colleen and Nicholas don't look like they'll be heading back to banking anytime soon, but they've known how to capitalize on unique opportunities with the ease of analysts. Their "vacation diary" blog, for example, became the source of a healthy mailing list for their futures promotion, allowing them to pre-sell over two barrels of wine.
"We're grateful so many people not only follow our blog, but also support us enough to invest in bottles they're not even going to see until next spring," says Colleen.
"People enjoy the fact that we're just normal people, that we don't know how to do this, but we're trying," says Nicholas. "Last year we didn't even have electricity in the winery until the day of harvest. The grapes were coming in, and EDF (Electricité de France) was there hooking it up."
Always faithful to the No Plan B philosophy, Colleen and Nicholas continue to take the process one step at a time. The next challenge will be to figure out the tricky business of exporting their wine to the States. And then, the bottles will need to be labeled, which means coming up with a logo for Maison Harbour. As long as the 2013s are still in barrel, they have time, right?
"We're going to get through harvest and then step back and ask ourselves: after two vintages, what is Maison Harbour?" says Colleen, casually. "To be determined."
In 2014, the story carries on with as many if not more victories than last year. Two weeks before harvest, when I asked whether they had been able to renew their grape contracts this year, they hesitated to answer with any certainty. In theory, yes, they had verbally reconfirmed a number of their contracts. But, as at last year at this time, they were still on the lookout, "for just a little more."
Recently, a picture of the smiling couple, holding a bin of perfectly plump red grapes came up on my Instagram feed: "The last case of Corton Grand Cru goes into the tank," read the caption. "2014 is beautiful!"
Want to learn more about their adventure? Keep up with Colleen and Nicholas at MaisonHarbour.com, and be sure to follow them on Instagram and Twitter.