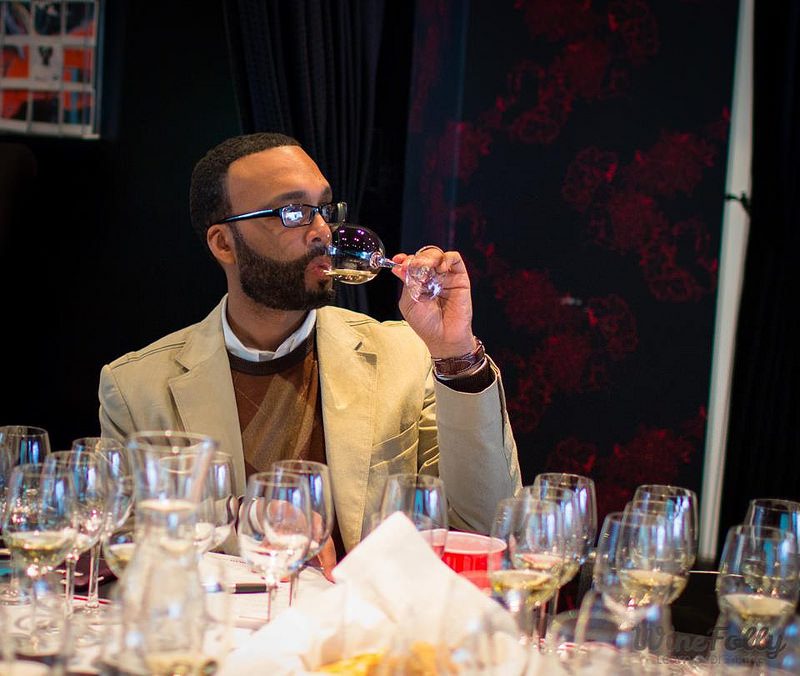 From Virginia's Viognier to Wisconsin's Wollersheim winery, Dezel Quillen of My Vine Spot tastes a lot of unique wines thanks to his boundless enthusiasm for exploring the world of the fermented grape. You might find him relaxing in his backyard, sipping in solitude with a wine "as bright as a lightning bug", or digging through the musical archives to unearth a hard rock gem. Enjoy his eclecticism in our latest SpeakEasy series of interviews with bloggers.
You call yourself a "late bloomer" when it comes to wine. Was their a specific "aha" moment that changed things for you? What advice would you give other people looking to get into wine?
There was an "aha" moment for me. I caught the wine bug here in Virginia and was initially drawn to "wine country." The curiosity about the wine inside the glass and how it came to be hit me about 4 months later. What's funny is when I first visited Charlottesville, Virginia, I did so to tour Monticello (Jefferson's hilltop abode), Michie Tavern, and several other historic landmarks – not to drink wine. Having a little extra time after one of the tours, I visited a winery for the first time ever. By the end of the day I was looking for other tasting rooms to visit. That was in 2005.
Something I did back then that I still do today is visit wine shops just about every weekend – not only to taste, but to listen, learn, and engage. At many tastings I regularly see people forgo an opportunity to sample a certain wine because of some preconceived notion they have developed about the wine. I see this especially with Riesling (thought to be too sweet) and Chardonnay (thought to be to oaky).
My advice is simple: keep tasting and trying new things. If something doesn't tickle your fancy, you always have the option to spit it out. Lastly, it is great to have a favorite or three, but don't treat wine as you would soda pop. Spice things up and keep looking for new favorites. With wine, it is okay to be a cheater – be seduced, have one-bottle stands, and fall in love as often as you can!
I saw you recently tried a Tannat from Russian River Valley. What other wines, whether an unfamiliar grape or one from an unexpected place, have you sampled that surprised you? (I see you've even had wine from Wisconsin!)
Yes, the 2013 Domaine du Sac, a blend of 90% Marechal Foch and 10% 'Léon Millot from Wisconsin's Wollersheim Winery, was very agreeable and a nice bottle to add to your Thanksgiving Day line-up. Other recent pleasantries include a gorgeous Syrah from Black Ankle Vineyards; an up-and-coming producer in Maryland. Old Westminster Winery, also in Maryland, is a relatively new producer that is run by three siblings – all twenty-something – they opened up with solid offerings including a delicious Chardonnay and savory Cabernet Franc. Approximately 500 miles or so to the north is a natural producer in Vermont called La Garagista. Their Coup de Foudre, a pétillant-naturel -- a style of sparkling wine – is both interesting and delightful. In terms of regions, I always encourage people not familiar with Cru Beaujolais to put the 10 Crus of Beaujolais on their palate radar. Refreshing whites from Jurançon, an appellation in southwest France, and Dry Furmint from Hungary – a region better known for its appealing dessert wines, will surprise you and are wine producing regions well worth becoming familiar with.
We both took part in an online Riesling tasting showcasing the diversity of the grape. What did you take away from those wines, and do you feel Riesling is still a less-understood and under-appreciated grape?
Riesling has many charming faces. However, for a grape with excellent name recognition, I find it to be more misunderstood than under-appreciated among consumers. Over the years, I have noticed that when a Riesling is included in a shop's weekend tasting, and they often are, it is usually a bottle that is under $12, mass-produced, and slightly sweet. Though ordinary, these wines are oftentimes clean and satisfying for the money. Rightly or wrongly, since these are the Rieslings many consumers are exposed to, they generally think of "Riesling" as inexpensive, simple, sweetish wines ideal for summertime quaffing.
We both know that Riesling is dynamic and offers so much more. I drink them year-round. Wines produced from the Riesling grape have the potential to span a broad range of styles from refreshingly dry to luscious and sweet, and everything in between. Select examples can stand the test of time and develop beautifully in the bottle. And mineral-driven, richly textured styles with bracing acidity are just glorious. My advice: Let's keep spreading the word, sharing better pours with those around us, and assist in helping others appreciate this extraordinary, noble grape variety.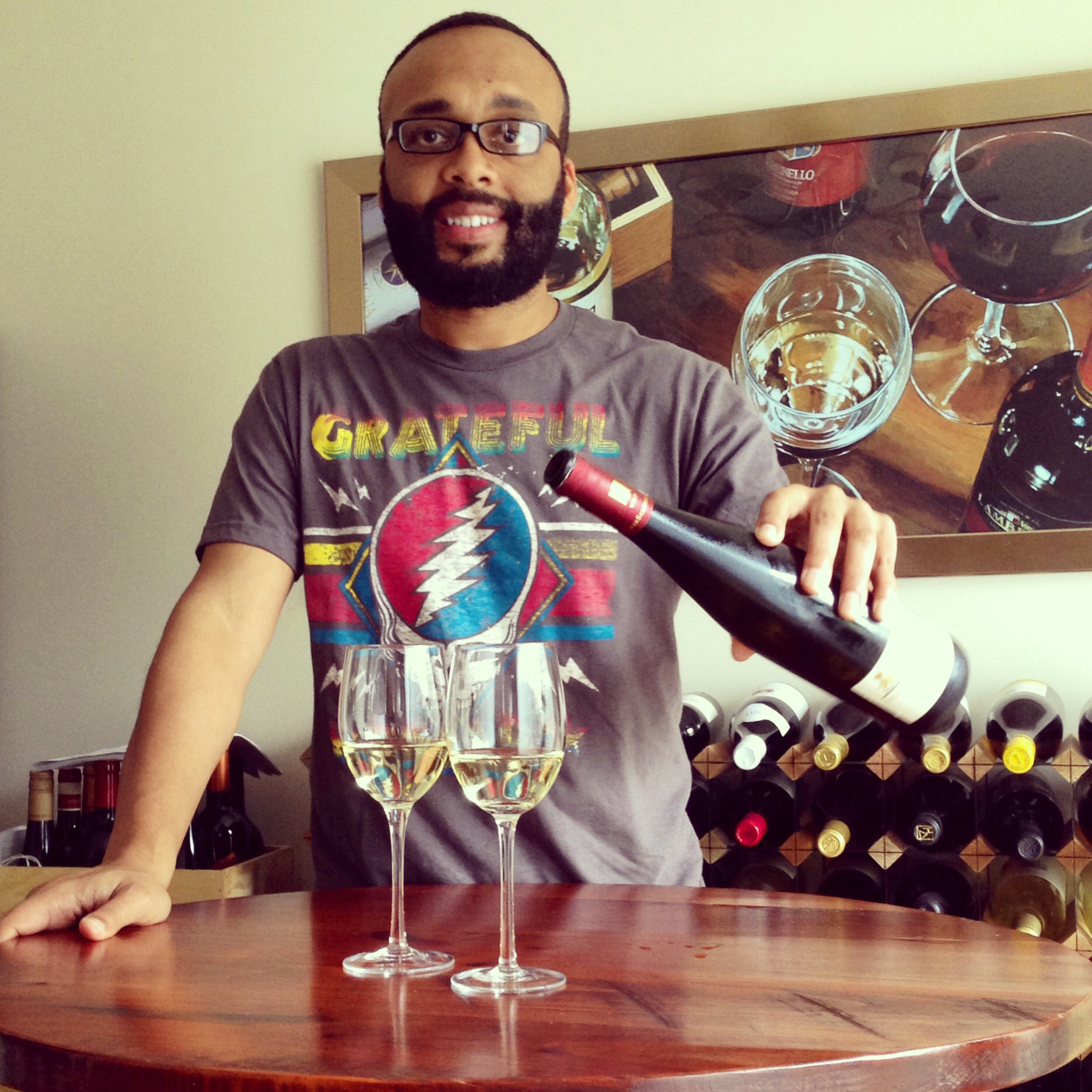 I recently interviewed Frank Morgan and, naturally, we talked about Virginia wine. What is your take on the state of the state's wine industry and where do you recommend (grapes, wineries) people who are curious start exploring?
Virginia is an emerging young wine region that's generating a good amount of well-deserved attention and accolades. And despite being young, there is a considerable amount of expertise here -- both in the vineyard and cellar -- that those new to the wine scene can leverage off of. The importance of site selection and matching the site with appropriate grape varieties is very important in these parts. The grapes that perform the best for a specific site may not carry the universal name recognition and broad appeal, but when Mother Nature smiles upon the harvest so to speak, the passionate ladies and gentleman here who are getting it right are crafting wines that are quite delicious.
Producers here are creating demand and building name recognition through the quality of their product for wines such as Cabernet Franc, Petit Verdot, Petit Manseng, and Viognier – all of which, save for Viognier, are regarded as blending varieties in their respective country of origin. I'll be remiss if I didn't mention the wonderful red blends you can come across here as well as the reemergence of hard cider. Producers whose wines I enjoy regularly include Glen Manor Vineyards, Linden Vineyards, Keswick Vineyards, King Family Vineyards, Veritas Vineyards, Northgate Vineyards, and Stinson Vineyards. This is an area for mining, my friend! There are a lot of hidden gems to be found in Virginia.
For those who have never been to Lodi or experienced the wines from that part of California, can you tell me what impressed you from your trip there earlier this year?
I was quite impressed with the overall diversity of the region – diversity in style, people, and grape varieties. Stylistically, the wines were all over the place (both red and white); from highly concentrated and ripe, pleasantly supple and elegant, to fresh, fruity, and easy-drinking. While Lodi is known as Zinfandel country, the region does a lot of things very well.
The grape farmers, wine-growers, and vintners I met with are all dedicated and passionate people. Many of them brought their ideas, inspiration, or cultural heritage to Lodi and the land rewarded their determination and effort with delicious wines. For example, Sue Tipton, owner of Acquiesce Winery, fell in love with the wines of France's Rhone Valley and now grows and produces a solid line-up of vibrant Rhone-styled white wines. As owner of Bokisch Vineyards, Markus Bokisch's love of Spanish wines and family heritage compelled him to grow and produce delicious Spanish-styled wines. Uvaggio grows and produces very delightful Italian-styled wines. Borra Vineyards specializes in interesting and bright blends produced from cool-climate German varieties. Ryan Sherman of Fields Family Wines produces pleasing and enjoyable wines, including an appealing Syrah and Tempranillo. Ryan's wines are meant to be poured over dinner with a table of friends. This isn't even the tip of the spear – this place is diverse. Oh, did I mention there are over 100 different grape varieties planted in Lodi as well as some of the nation's oldest continuously farmed vineyards? I encourage your readers to check out lodiwine.com and visit the region.
Besides wine photos you have a lot of photos of birds and the goings-on in your backyard. What are your favorite wines to sit out in the garden with while your feathered friends pay you a visit?
A. When I'm bird watching out back, which I do often, I'm usually listening to music and enjoying something that drinks nicely on its own. A solitary sipper for me, be it a red or white wine, is typically something elegant in personality, structurally harmonious, and bright as a lightning bug.
Contrasting the tranquility of the garden, when it comes to music I know you are a keen student of metal. And not just the classics that everyone knows; you often surprise with some esoteric picks. What are some bands and albums that you think aren't getting their due?
I do enjoy early to late-80s metal! I have eclectic taste in music, but my teenage years were fueled by heavy doses of punk rock, heavy metal, thrash, and light touches of old-school rap and old-school R&B. I still listen to a lot of those tunes today – many remain timeless. As you'll notice from the list, I have more success finding new "old" music than new music. Several influential acts I really enjoy that probably didn't get their due during their prime in my opinion are:
Love – Forever Changes 1967
New York Dolls – New York Dolls 1973
Budgie - Never Turn Your Back on a Friend 1973
UFO - Phenomenon 1974
Hawkwind - Hall of the Mountain Grill 1974
The Dead Boys - Young Loud and Snotty 1977
Television - Marquee Moon 1977
Exodus - Bonded by Blood 1985
Flotsam and Jetsam - Doomsday for the Deceiver 1986
** I highly recommend checking out any title you are unfamiliar with **