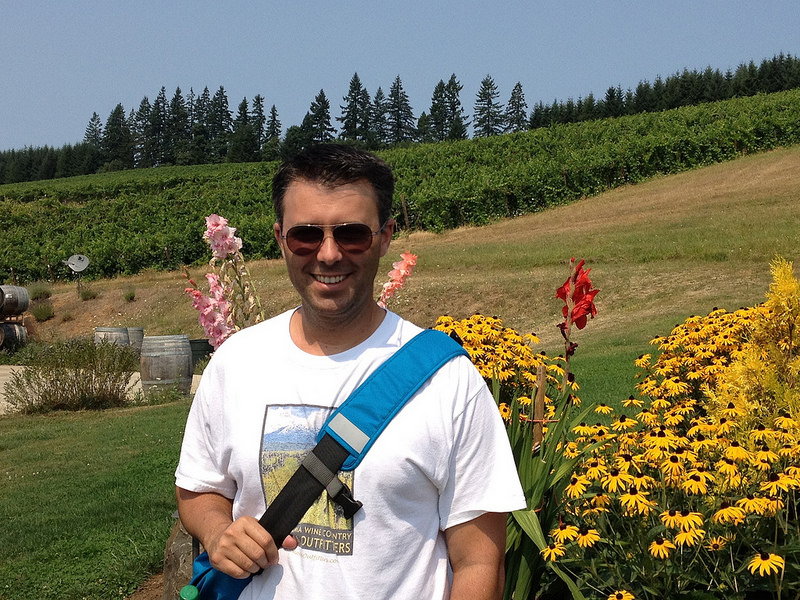 Drink What You Like. It's not only a great piece of advice for those constrained by wine snobbery, but also the name of a blog authored by Chesapeake, Virginia resident Frank Morgan. Naturally I ask for his thoughts on the wine industry in his home state for this edition of my series of SpeakEasy interviews. But we also touch on wines from around the world and why Morgan had me running to Google to search for "polyphasic sleep".
I attended the Wine Bloggers Conference in Charlottesville, VA, three years ago. What would you say has changed in Virginia's wine industry since then? And do you feel the attention brought to the region and its wines has had a lasting impact?
In terms of growth and recognition, much has changed in the Virginia wine industry since the 2011 Wine Bloggers Conference. In 2011 there were 193 farm wineries in Virginia. Three years later, there are now about 250 wineries in Virginia, almost a 30% increase in the number of wineries in just three years. The last three years have been big years in terms of national and international recognition with positive profiles in Forbes, Decanter Magazine, The New York Times, Food & Wine Magazine, and The Wall Street Journal. This level of media coverage does help with raising awareness of the region but the lasting impact will not be known for quite some time. Unfortunately, there is grape shortage in the Virginia and plantings (of varieties that work for a given site) need to increase exponentially.
For the record, for those that attended WBCHeatmaggedon2011, that week of 100 degree heat and oppressive humidity was an anomaly. Please come back for a visit. Fall in central and western Virginia is particularly beautiful.
Living in Washington State, we seem to have a lot of conversations (pro and con) about the state needing to have a "signature grape". Do you encounter that in Virginia as well?
Ah, this whole discussion about designating a signature grape is worthy of a longer discussion. In May 2011, Viognier was officially designated as the official signature grape of Virginia. While I do believe this was the right decision for the Virginia wine industry as a whole, I'm not sure this designation has moved the 'Virginia Viognier needle.' Only about 90 of Virginia's 250 wineries produce a Viognier.
Some close to the industry will disagree with me, but I do believe Viognier provides (or, can provide) Virginia winegrowers, and the industry as a whole, an opportunity for differentiation. Unfortunately, there is just not enough Viognier planted… yet.
So what grapes and wineries have really caught your attention that are showcasing the best of Virginia?
In terms of wineries and winemakers, the 'old guard' is still 'the guard' in my opinion. Many of Virginia's modern day wine pioneers like Jim Law, Luca Paschina, Gabriele Rausse, Dennis Horton, and Jeff White make some of my favorite wines.
With all this promoting of Viognier I'm thinking I should receive a commission from the Viognier producers of America. I feel Viognier can be a differentiator for Virginia and (can) showcases the best of what Virginia has to offer, along with Cabernet Franc, and Petit Verdot (though red Bordeaux-style blends seems to be Virginia's wine sweetspot). A number of wineries in Virginia produce varietal Petit Verdot, which is not something that is widely available in other regions.
Varieties like Petit Manseng, Vermentino, and Albarino are showing great promise too.
I've recently tasted a number of interesting wines made from hybrid varieties like Traminette, Cayuga, and Marquette. Devoting economic resources to wines made from hybrid varieties is not a practice that I engage in often but I do appreciate some of these wines.
I had no idea you worked in the data protection/privacy field. What are simple tips you can give people to help protect themselves, especially when we live our lives and have our most important information online?
Ha, another topic worthy of a much longer discussion. Unfortunately there is no absolute way to protect one's information online (aside from attempting to go off the social media/online grid) however, a few basics to consider: investing in a credit monitoring service (I've personally found this very valuable), setting up purchase alerts on your credit cards, using temporary or virtual credit card numbers for online purchases, and using 2-step verification when possible.
You call yourself a "chronic traveller" on your Twitter profile. What are your secrets to surviving that grind?
Patience! The most important key to maintaining sanity of the travel grind is patience. I've learned that guy Murphy tends to loiter in airports—so, what can go wrong will go wrong. In the 1.3 million miles that I've flown, I have never witnessed a travel situation improve as a result of the expression of frustration. A close second to patience is embracing the virtue of sleep. When traveling to a new city it's tempting to borrow itineraries from the Clark Griswold travel guide. However, we sadly can not outrun the need for sleep. (This coming from someone that practiced polyphasic sleep for a while).
Having TSA Precheck and/or Global Entry and packing light (you only really need one pair of socks and undies) helps. Treating gate agents and flight attendants gently and with the utmost courtesy is highly recommended. These folks can make or break one's travel experience and make the travel grind much harder if they so choose.
Though you're a passionate advocate and consumer of Virginia wine, I notice you do a pretty fine job of enjoying wines from around the country and the globe. What are some regions/producers/grapes you're particularly enjoying?
I prefer wines that provide both gustatory and economic pleasure. Aside from supporting the winegrowers here in Virginia, I love the sparkling wines of Franciacorta, most wines from throughout the Beaujolais region, and wines from across the Loire.
I first visited the Franciacorta region in 2011 as part of the European Wine Bloggers Conference (now called Digital Wine Communications Conference) and again last year. The people, the beauty of the region, and the quality and complexity of the wines make Franciacorta one of my favorites to drink and share.
In the Loire, I appreciate the delicious simplicity (in a good way) of Muscadet, the dry, robust Chenin Blancs of the Savennieres region, and Cabernet Francs of Chinon and Saumur-Champigny. So much value and food-friendliness throughout the entire region.
I continue to be a fan and advocate for wines made from the oft-overlooked gamay grape, in particular those from the Crus of Beaujolais. The wine world at large may be catching on as there has been notable price creep for my favorite Cru Beaujolais in the last few years.
Check out Grape Collective's video interviews with Virginia wine pioneers Luca Paschina and Gabriele Rausse.